Lack of Live Sports Likely Accelerating Pay-TV Subscriber Losses Amid Pandemic
39% of those considering canceling cable, satellite or virtual MVPD subscriptions cite sports shutdown
Key Takeaways
Cable and satellite subscriptions fell a record 7.6% during the first quarter of 2020.

More than a quarter of pay-TV subscribers say they've considered canceling within the past two months.

63% of those considering canceling cite the pandemic's economic impact as an important factor.
Media industry observers have hailed live sports as the "glue" holding the traditional pay-TV ecosystem together amid the proliferation of on-demand streaming content in recent years. Now, with most major sports properties sidelined due to the coronavirus pandemic, that theory is being put to the test.
The early results, in the form of subscriber losses reported in pay-TV providers' first-quarter results, have been a source of significant concern about the future of cable and satellite television as we know it today. Subscriptions fell by a record 7.6 percent from the same period in 2019, according to reported results and estimates from industry analysts at the boutique research firm MoffettNathanson, marking the seventh straight quarter in which subscriber loss accelerated.
More concerning for the pay-TV industry is that first-quarter results, which reflect business from January through the end of March, only include the earliest days of the coronavirus pandemic in the United States and corresponding sports shutdown. Industry analysts expect even more pronounced declines in the current period as the sports shutdown and economic fallout of the pandemic wear on.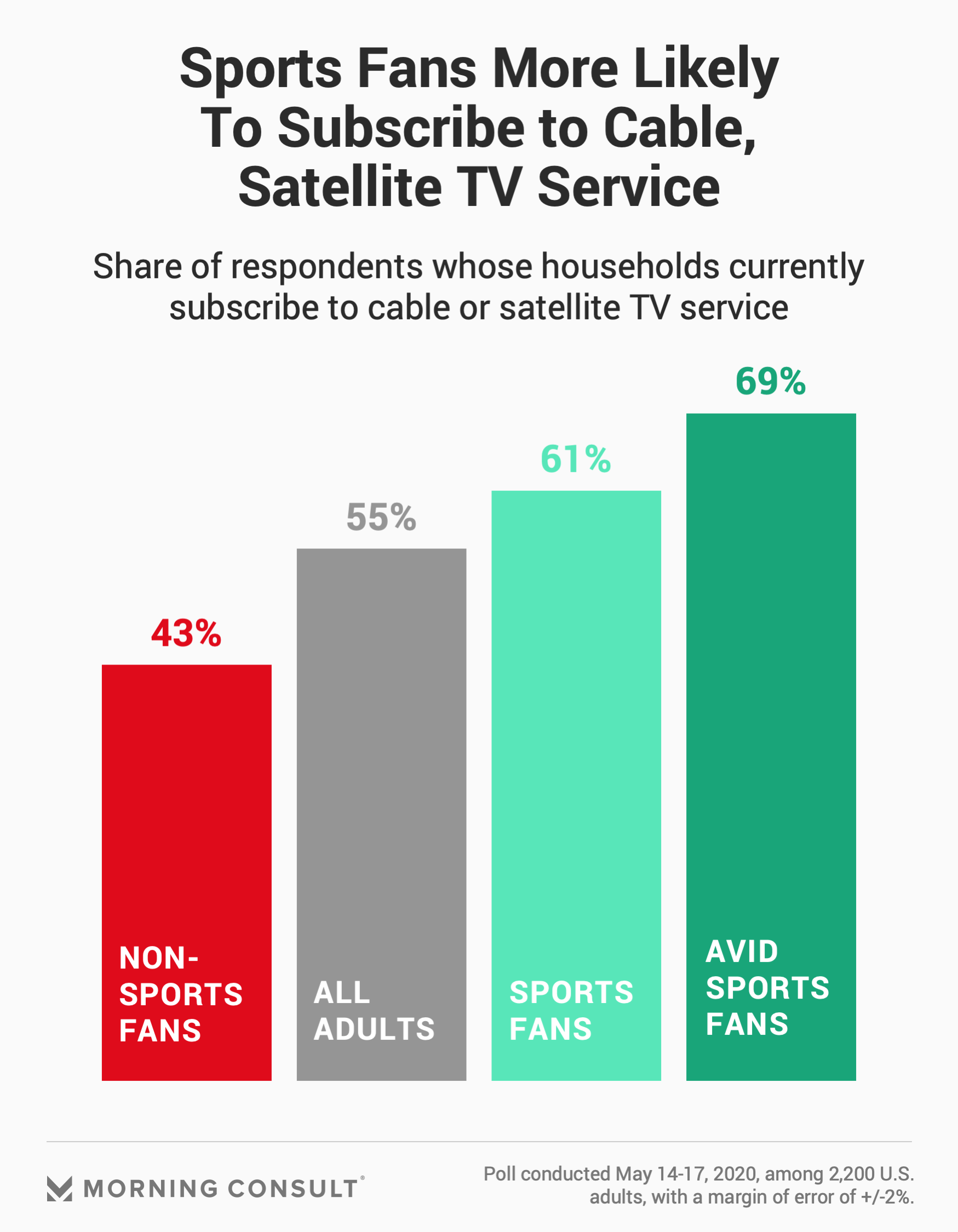 The results of a recent Morning Consult poll indicate that is playing out, as 8.3 percent of traditional pay-TV subscribers said that they dropped their service in the past three months, a period that includes portions of both the first and second quarters.
Sports fans subscribe to cable and satellite television service at a significantly higher rate than average adults and non-sports fans. The May 14-17 survey found that 61 percent of sports fans and 69 percent of self-identified avid sports fans subscribe to traditional pay-TV, compared to 55 percent of U.S. adults and 43 percent of non-sports fans.
In addition to cable and satellite losses in the quarter, net subscriptions to live TV streaming services, known as virtual MVPDs, dipped for the first time since those services became available in 2015, shedding around 341,000 subscribers, per the MoffettNathanson note. 
Bruce Leichtman, president and principal analyst for Leichtman Research Group, Inc., said in an interview that virtual MVPDs, which allow users to cancel with a couple of clicks, were likely the first to feel the impact of the sports shutdown. Dish Network Corp., a satellite provider that also owns the Sling TV streaming service, cited the lack of live sports as a factor in its quarterly Sling subscriber losses, but not in its satellite subscriber losses.
"Live sports were arguably the last, best reason for choosing a vMVPD over a sampling of" subscription video on demand services, the MoffettNathanson note said. "And then sports stopped."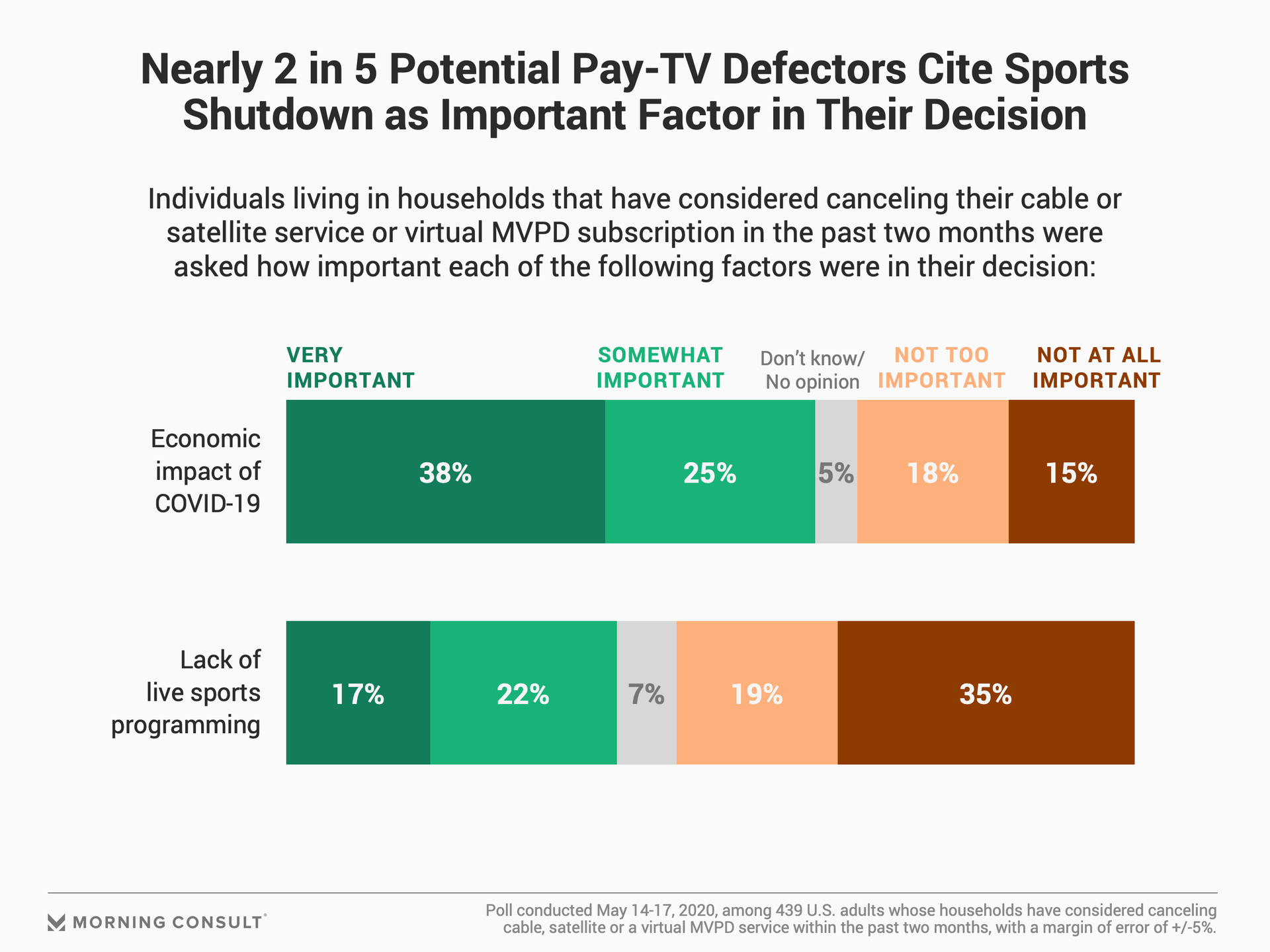 As the sports shutdown drags on, the pay-TV industry becomes more vulnerable to further acceleration of subscriber losses. 
According to the Morning Consult survey, about 1 in 4 households with either a traditional pay-TV or virtual MVPD subscription have considered canceling that service since the emergence of the pandemic in the United States. Of those on the fence, 39 percent cited the lack of live sports programming as a "very important" or "somewhat important" factor in their decision-making. More than 60 percent pointed to the economic impact of the pandemic.
Among respondents who said they have already canceled cable or satellite service in the past three months, 42 percent cited the lack of live sports, including 12 percent who called it a "major factor."
While live sports programming is among pay-TV's biggest deterrents to cord-cutting, the high costs associated with networks that carry sports contribute to the rising prices that have driven away many customers, particularly non-sports fans. The cost of sports programming, which subscribers pay regardless of whether they watch the sports content included in their package, has received a lot of attention since the sports shutdown, including from the attorney general of New York, as distributors and their customers are still paying the same amount for sports channels even though live play isn't currently available.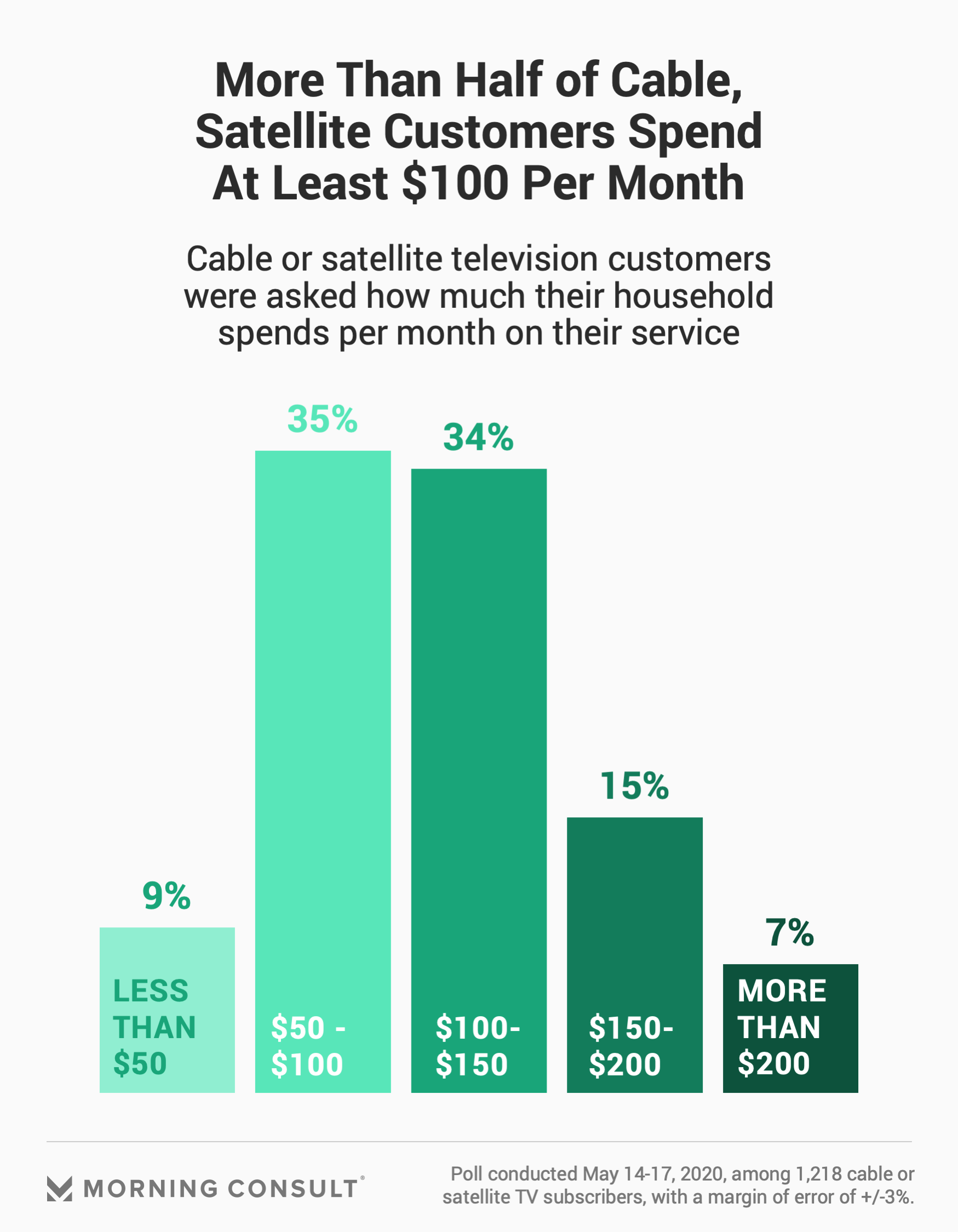 Kagan, the media research unit of S&P Global Market Intelligence, estimated sports programming accounts for an average of $20.82 on consumers' cable and satellite bills and about 24 percent of pay-TV providers' revenue per customer. Thirty-five percent of cable and satellite subscribers in the new poll said their household would be "very likely" to give up all live sports if it meant saving 25 percent on their bill, with another 14 percent saying they would be "somewhat likely" to accept that trade-off. 
The Morning Consult poll, conducted among 2,200 U.S. adults, has a margin of error of 2 percentage points. The subgroup of 1,218 current pay-TV subscribers has a margin of error of 3 percentage points, while the group of 434 subscribers considering canceling their traditional pay-TV or virtual MVPD service has a margin of error of 5 percentage points. The group of 110 individuals who said they canceled cable or satellite service in the past three months has a margin of error of 9 percentage points.
Clarification: This story was updated to clarify that the 7.6 percent drop in cable and satellite television subscriptions for the first quarter of 2020 is a year-over-year figure.
Alex Silverman previously worked at Morning Consult as a reporter covering the business of sports.
We want to hear from you. Reach out to this author or your Morning Consult team with any questions or comments.
Contact Us