When It Comes to Gen Z's Brand Preferences, the Most Important Influencers Are Their Parents
Over 50% of Gen Zers said they use the same brands of cleaning and grocery items as their parents
Billions have been spent on the influencer marketing industry in an effort to reach Generation Z, one of the most desirable consumer markets.  But instead of pouring money into sponsored content, brands might want to consider focusing on a more influential influencer to reach Generation Z: the youngest generation's parents.
In an Aug. 21-23 survey of 253 Gen Z adults, Morning Consult asked consumers if their favorite brand across 11 product categories matched the brand that their parent or guardian uses now or has used in the past. Across all of the product categories, on average 51 percent of Gen Z adults said their favorite brand is the same one their parents use, compared with 36 percent of adults of all generations. (The margin of error for the Gen Z sample is 6 percentage points, while the margin of error for the wider survey of 2,200 U.S. adults is 2 points.)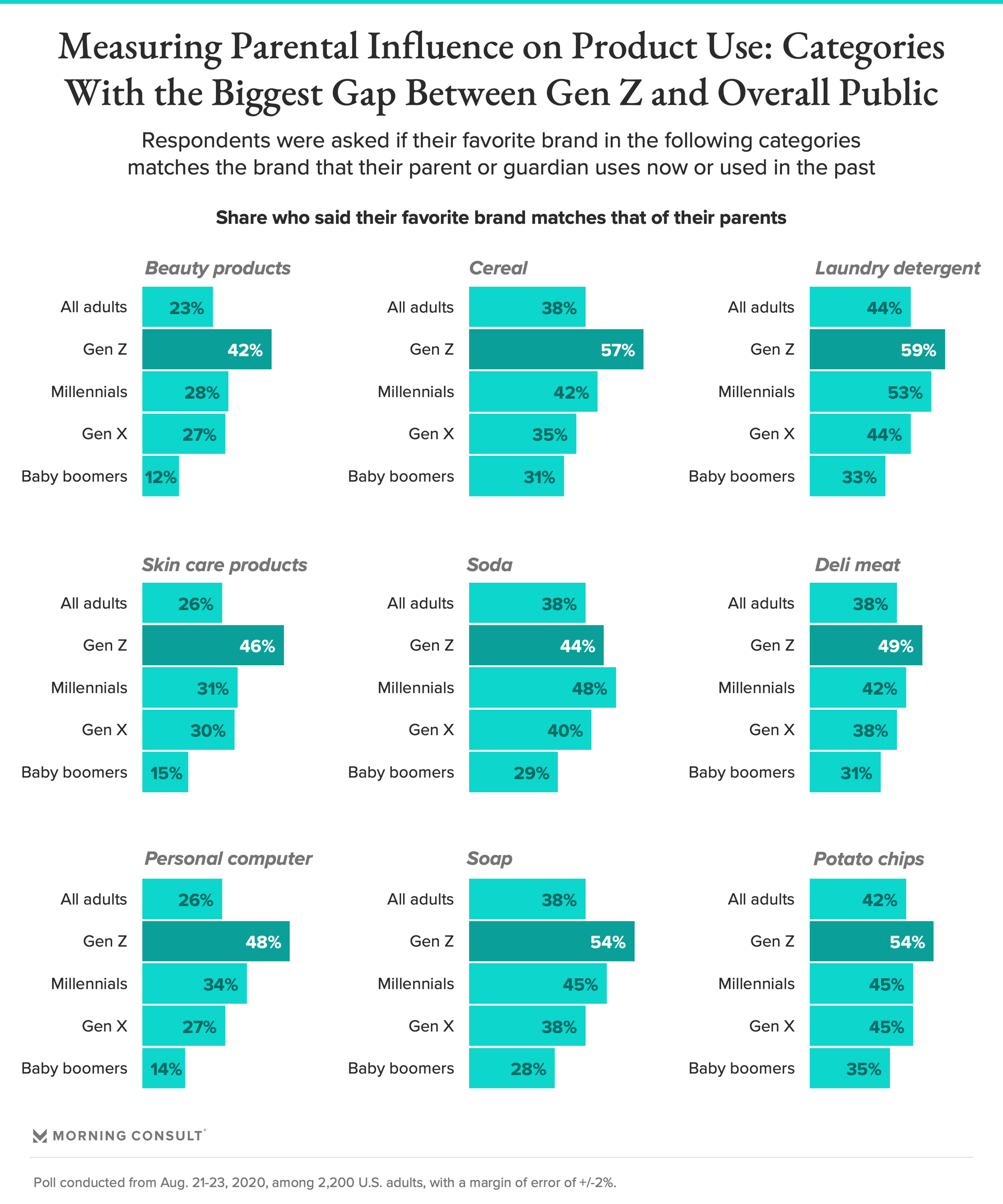 Majorities of Gen Z adults said they use the same brands of soap, laundry detergent, cleaning supplies, cereal and potato chips as their parents, compared with 42 percent of all adults on average who said the same of those products.
Beauty and skin care products account for some of the most dramatic differences between Gen Z and all adults: 42 percent of Gen Z adults said they use the same beauty brands as their parents, compared to just 23 percent of all adults. Forty-six percent of Gen Z adults said the same of skin care brands, compared to 26 percent of all adults.
Gen Zers are also almost twice as likely than the general population to use the same brand of personal computer than their parents or guardians. 
The polling comes as many new direct-to-consumer skin care and beauty companies, such as The Ordinary and e.l.f. Cosmetics, lure in Gen Zers online and via social media influencers. The survey found that of those who don't turn to their parents for brand recommendations, only 9 percent of Gen Z adults on average learned of their favorite brand from an influencer. 
Still, that number is more than three times as high as the average share of all adults who said their favorite brand does not match that of their parents and was found via an influencer or celebrity. 
When it comes to household goods — such as soap, laundry detergent and cleaning supplies — and food and soda brands, the difference between adults of the youngest generation and consumers of all ages is less dramatic, but still significant.
Victoria Sakal, managing director of brand intelligence at Morning Consult, who recently authored a report on Gen Z consumption behaviors and brand preferences, said while the group is known for their curiosity and willingness to try new things, including brands, members also have a low tolerance for insincerity and place high value on personal relationships.
"Gen Z is certainly one of these generations where they hear about a product through social, because that's where their eyeballs spend a lot of time," she said. "But they don't like to feel like products are being pushed on them."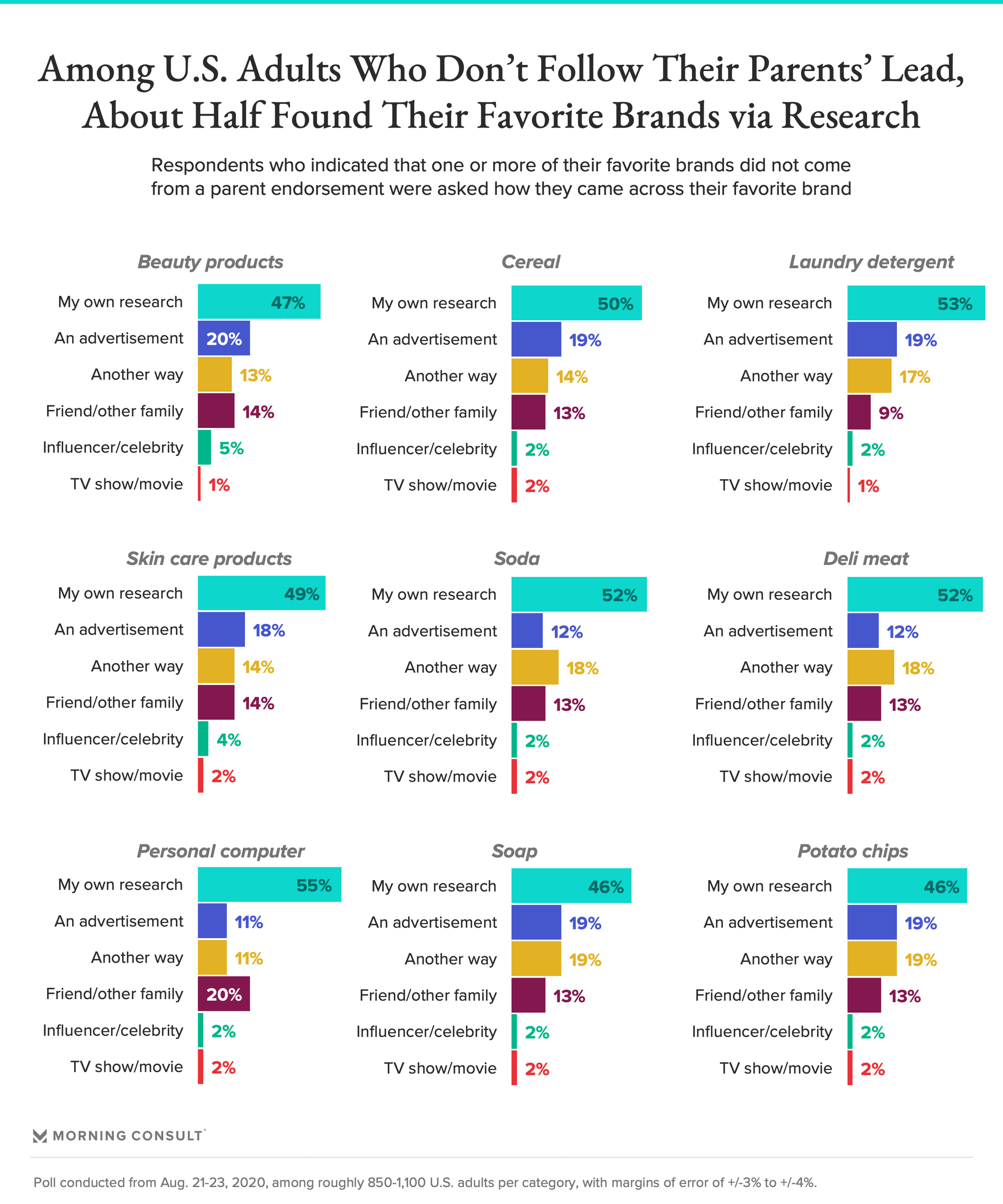 For consumers of any generation who indicated that one or more of their favorite brands did not come from a parental endorsement, about 17 percent on average said they first heard about their favorite brand from an advertisement.
While advertising works well to build brand reputation and awareness, Sakal said, consumer skepticism of ads means many people likely won't hold them in high regard when it comes to deciding on a favorite brand.
But even more so than paying attention to personal recommendations or advertising, for those who aren't taking brand recommendations from their parents, their own research is a major factor in the brands they favor. 
An average of 51 percent of these consumers said that across the 11 product categories listed in the poll, they found their favorite brand by conducting their own research, although that number drops to 31 percent among Gen Z adults. That comes as somewhat of a surprise considering the youngest generation grew up with easy access to information on brands and products, Sakal said.
"Boomers didn't have all the options available for doing research, and there were less options available," she said. "Then you have Gen Z, where they can scan a site or tap into a number of digital relationships."
In the context of the pandemic, which is still driving high demand for popular brands to the point that the products are often sold out, there's an opening for lesser-known brands to potentially become favorites in their categories, Sakal said. 
"People are willing to switch because they need what they need, and if the brand they're used to isn't there, they're open to switching," Sakal said. "For brands and marketers, it's a massive opportunity to think about the medium- to long-term retention relationship with consumers, as opposed to being the best option for this temporary time period."
Alyssa Meyers previously worked at Morning Consult as a reporter covering brands and marketing.
We want to hear from you. Reach out to this author or your Morning Consult team with any questions or comments.
Contact Us