The Hottest New Travel Destination Is Your Backyard, a Trend That's Likely to Continue Post-COVID
With many Americans timid about venturing too far away, staycations, whether in your own home or at a local hotel, are having a moment
Key Takeaways
Roughly a quarter (26%) of U.S. adults have taken a staycation during the pandemic.

40% said they're likely to take one still, and 58% said they will post-COVID.

Hotels, Airbnb hosts and other travel destinations have noticed the trend, as more of their guests have been locals.
Tuscany is off the table, but how about an at-home wine tasting? That boutique hotel you've had your eye on is a flight away, so how much is the one down the street charging? 
With about half the country canceling their vacation plans this summer, or with international trips scrapped due to travel restrictions, many are getting restless to break their routine or indulge in something that roughly resembles rest and relaxation. Enter the staycation.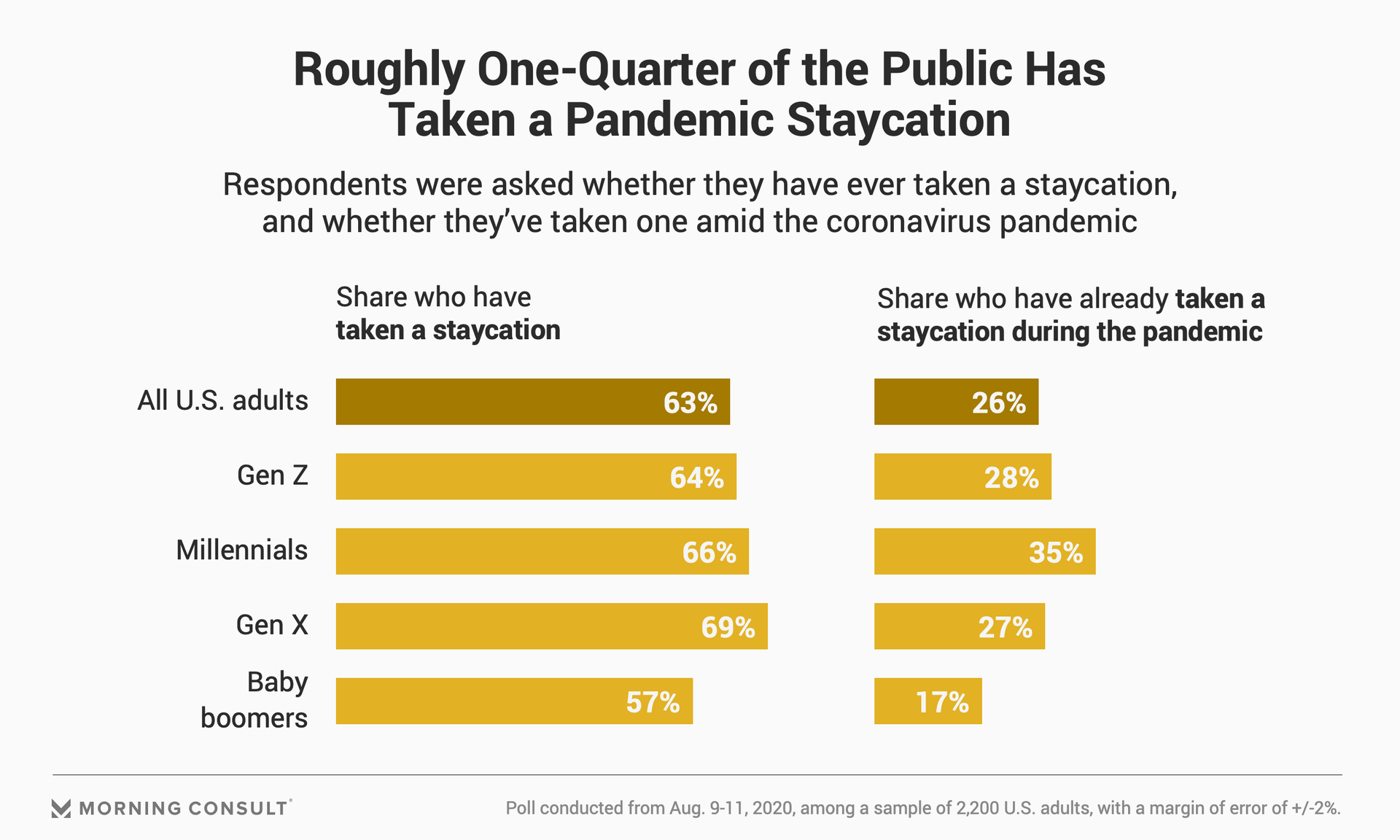 Just 17 percent of U.S. adults said they've taken a vacation this year, but 63 percent have at some point in time taken a staycation — a portmanteau of "stay" and "vacation" in which a person carves out time for a vacation at home or close to home — and 26 percent have taken one amid stay-at-home orders, according to new Morning Consult polling.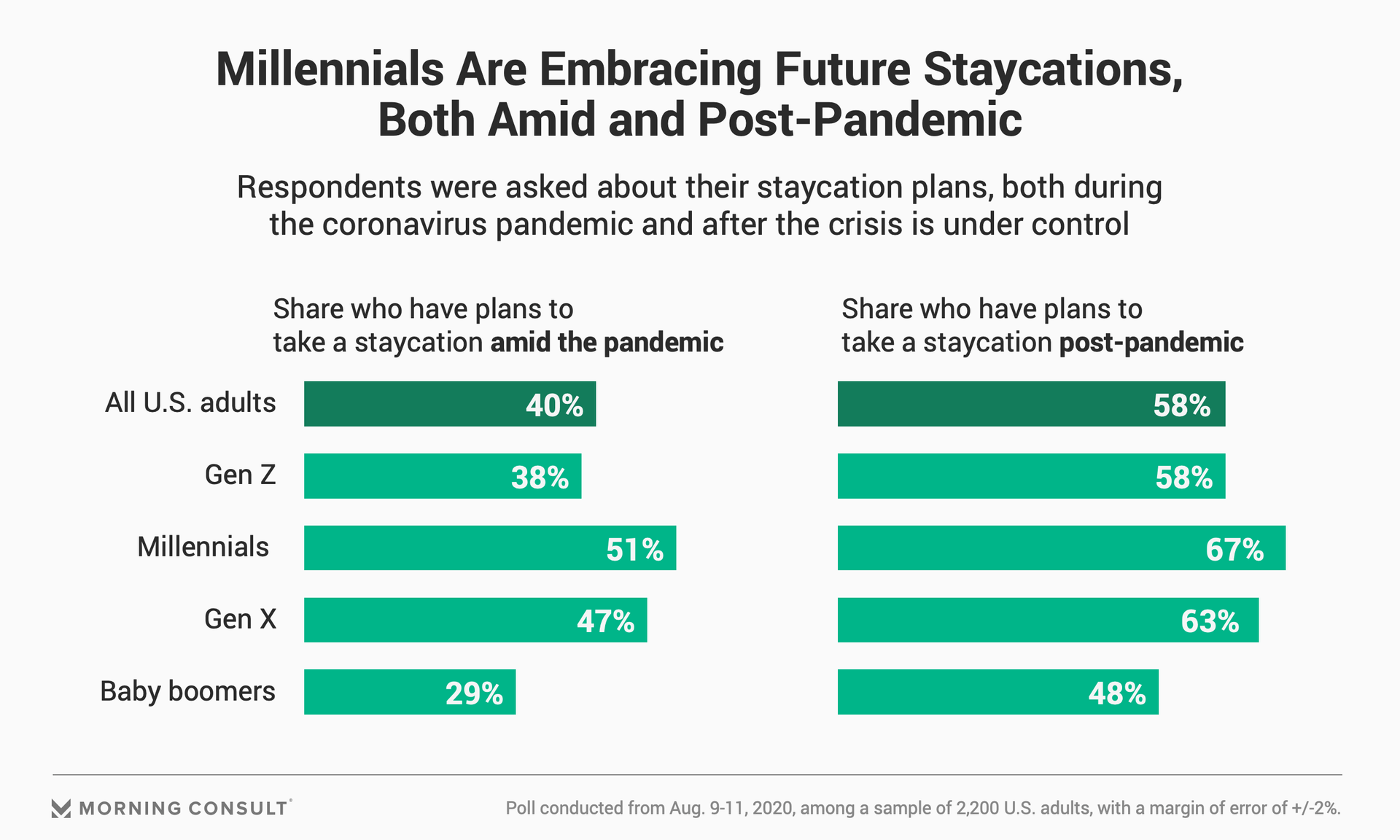 Another 40 percent said they're likely to take one still during the pandemic, and 58 percent said they're likely to take a staycation after the virus is under control, a boon for businesses looking to cash in on the trend. The poll, conducted Aug. 9-11 among 2,200 U.S. adults, has a margin of error of 2 percentage points.
At the Three Sticks winery in Sonoma, Calif., co-founder Prema Behan has seen more California and Bay Area locals than usual since reopening within safety guidelines.
Most visitors now tend to come up from Los Angeles and San Diego, Behan said, whereas before the pandemic, people were traveling from around the country. 
"Typically at this time we would have visitors from all parts of the United States, and that has definitely changed," Behan said in an email. "We're lucky to have pretty steady visitation with the weekends being fully booked within the guidelines" after the winery converted its parking lot into a lounge with private seating.
The percentage of bookings made on Airbnb Inc.'s platform from users traveling less than 200 miles to their destination has increased from one-third of all bookings in February to over half in May, according to a survey released by the home-sharing platform in June. Tripadvisor Inc. has also found that the public is 45 percent more likely to say they'll take a staycation as opposed to travelling further.
The Morning Consult poll shows that 40 percent said they would feel more comfortable taking a vacation without leaving their state, while only 6 percent said they would rather travel out-of-state. Thirty-eight percent said they do not have a preference, and 15 percent offered no opinion. 
Sarah Unger, senior vice president of cultural insights and strategy at Civic Entertainment Group LLC, a marketing services firm whose clients include Airbnb, has been tracking travel trends long before the pandemic. 
While the most obvious reason for the recent interest in staycations is that they're the safest travel option consumers have these days, Unger added that lockdown restrictions have compelled people to explore activities and attractions close to home that they never felt urgency to experience prior to the pandemic. 
"When you visit somewhere, you tend to do lots of activities because you want to make the most of your time, but when you live somewhere you tend to put things off for the future," she said. "People are realizing what their local areas have to offer out of necessity, because it's not as safe to go further."
The economic downturn is also financially crippling millions of consumers, making long distance travel less sensible if local attractions are available, Unger said.
Trend data from Deloitte supports her point: As of July 11, 27 percent of consumers said they planned to spend less on travel over the next four weeks. And the new Morning Consult poll found that 42 percent of adults who took staycations during the pandemic said they spent less than $50 on the experience. A quarter said they spent between $51 and $100, 18 percent spent $101 to $200 and 15 percent spent more than $200. 
NobleDEN Hotel, a boutique hotel in New York City, has noticed a similar trend to what Three Sticks winery found since reopening on June 1. Nowadays, almost all of its guests come from Manhattan, Staten Island, Brooklyn, the Bronx or New Jersey, said Morgan Humphries, the hotel's general manager.
"We don't have any 'vacationers,' so to speak," he said. "They can't do anything they'd normally come to do, because everything is closed down."
The hotel is filled instead with locals, Humphries said, some apartment hunting after ending leases to move home when New York City became the epicenter of the coronavirus, and some simply looking for a change in scenery. 
City-dwellers are the group of consumers most eager to travel again, according to search intelligence company Captify, representing more than 30 percent of those who said they feel positive about resuming travel.
And New Yorkers in particular seem to be particularly keen on local travel. Airbnb hosts in the state earned more than $5.8 million from June bookings made by guests who live within 300 miles of their destination, the home-sharing company said. Hosts in Oneonta, N.Y., earned 198 percent more from local bookings this June than they did over the same month last year, while hosts in Albany saw an increase of 161 percent in local bookings.
French Quarter Inn, which was recently named the No. 1 hotel in the United States as part of Tripadvisor's 2020 Travelers' Choice Awards, has also seen spikes in bookings from South Carolina locals this summer. Since June 1, the downtown Charleston hotel said that its revenue from South Carolinians booking on its website increased 70 percent year-over-year.
"People are more comfortable at a hotel than flying, and now car rental numbers are higher than domestic flights," said Anthony Jackson, a principal at Deloitte who leads the firm's U.S. airline industry insights.
Booking habits have changed, too, NobleDEN's Humphries said. Most guests tend to book a one- or two-night stay, then extend their reservations daily, sometimes for up to nine nights.
"And they're all wanting balconies and terraces," he said.
NobleDEN's current crowd is primarily millennials, with the occasional booking from a family with young children, whereas prior to the pandemic, the hotel hosted a wider range of guests.
The hotel is at about 20 percent capacity during the week and as high as 64 percent capacity on weekends. Prices are down about 50 to 60 percent from what they were pre-pandemic, with rooms currently going for $120 to $170 per night.  
"Right now, everyone has their prices down, so locals are taking advantage of it, but there's no way anyone can stay open at these prices," Humphries said. "Once the pandemic is under control, our prices will go back more to normal, and I think the locals will stop coming in at that point."
Summer has long been the most heightened time of the year for the travel industry, and Unger predicted the same will likely be true in 2020, with interest in vacations dropping come fall, even with many schools adopting some level of virtual learning.
Jackson said there is pent-up demand for travel, and that when a vaccine is made available, people will once again look to do more than staycations, with younger consumers leading the resurgence.
"I think some people will be a little quicker to jump back out there, and some might take a little longer to be comfortable to see if the vaccine is working," Jackson said. "I do think that the demand and the interest will be there, but I don't think it'll be an immediate jump. It'll be a gradual increase as people get more comfortable." 
Alyssa Meyers previously worked at Morning Consult as a reporter covering brands and marketing.
We want to hear from you. Reach out to this author or your Morning Consult team with any questions or comments.
Contact Us