More Gen Zers Have Negative Views About Capitalism Than of Critical Race Theory
But opinions regarding America's latest cultural debate are largely undeveloped among its younger cohort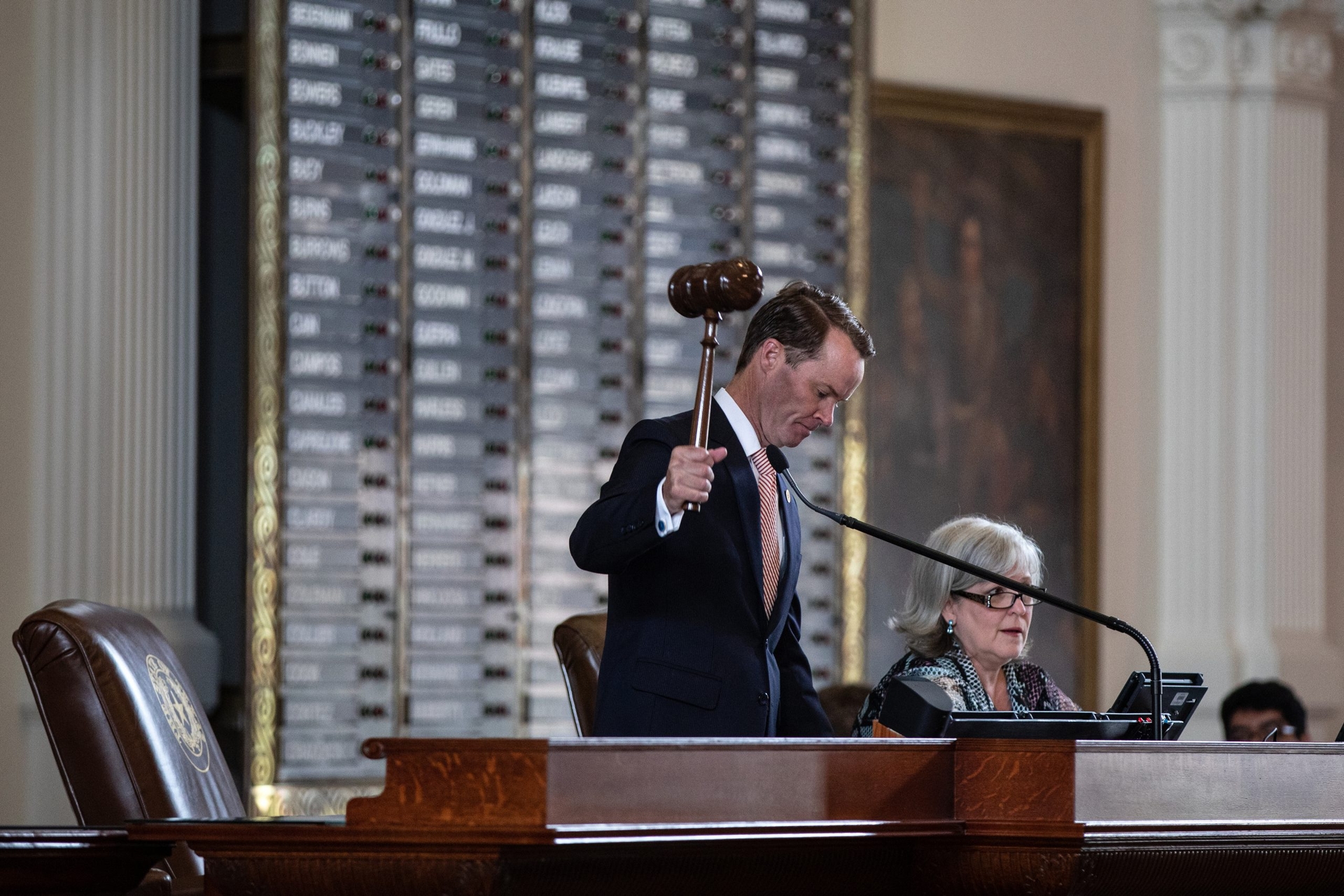 Key Takeaways
31% of Gen Zers hold negative views of capitalism, while 19% say the same of critical race theory.

Baby boomers are 22 points more likely to hold views about critical race theory than those ages 13-24.

55% of Gen Zers view cancel culture negatively.
The summer of 2021 brought a fierce backlash among conservatives about what they think the youngest Americans are learning about in schools.
If "indoctrination" toward critical race theory is teachers' goal, as some prominent figures on the right have charged, new Morning Consult polling of Generation Z found that educators have some work to do. But perhaps to the chagrin of those conservatives — and likely much of the U.S. political establishment on either side of the aisle — those respondents ages 13-24 who grew up in the aftermath of the Great Recession are more likely to harbor negative attitudes toward the capitalist economy than toward the latest cultural flash point, especially when compared to many of their elders.
The bulk of teenagers and young adults born between 1997 and 2008 (61 percent) are either unsure or at least neutral on the topic of critical race theory, the latest culture war issue for conservative media figures and state-level Republican officials who have accused schools of attempting to brainwash children with an academic and legal theory about the deep roots of systemic racism in the United States.
Just over 1 in 5 (22 percent) Gen Zers view critical race theory positively and 19 percent view it negatively, with college-aged or older Gen Zers (those between the ages of 21 and 24) being slightly more likely to approve of it.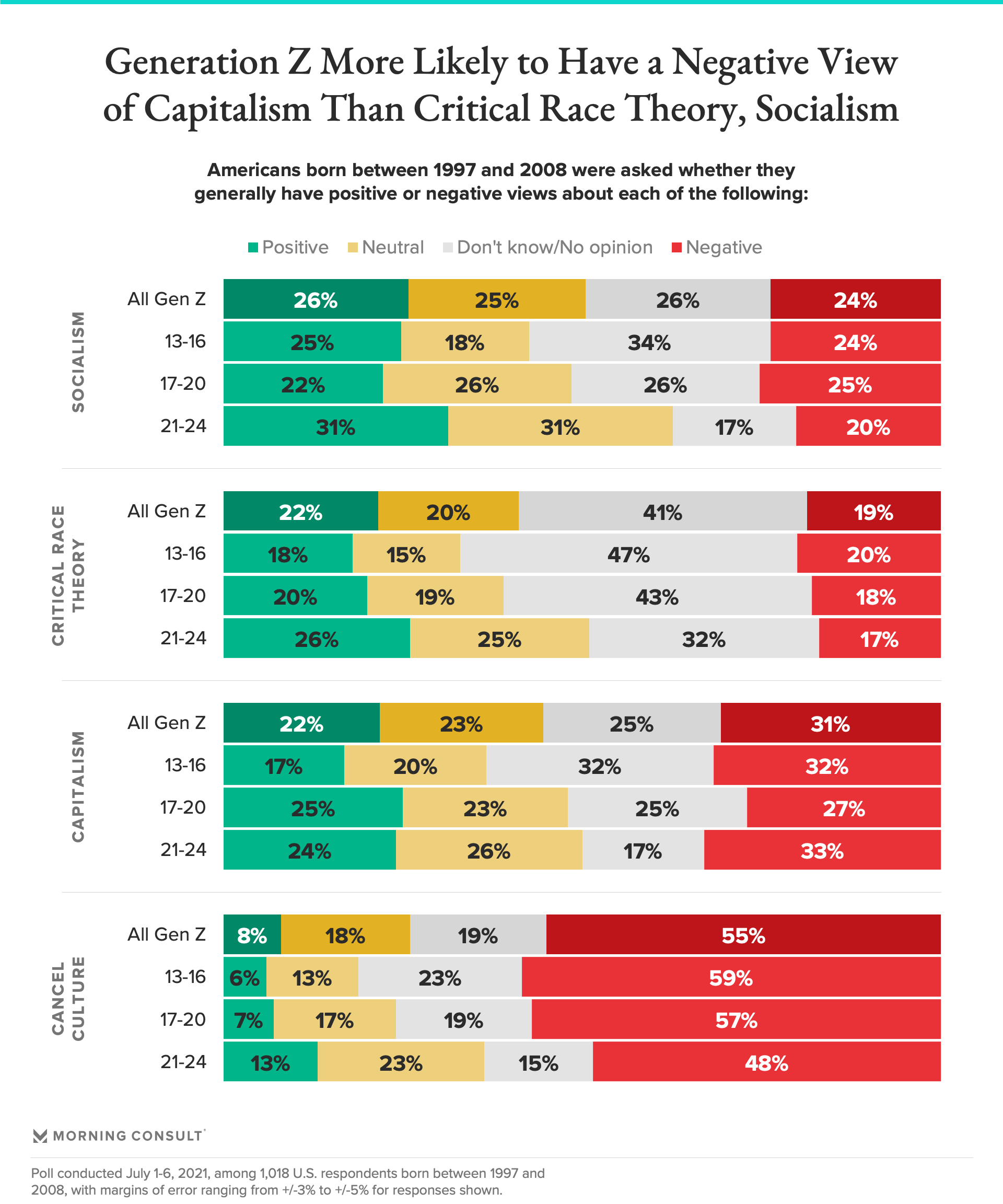 The polling was conducted July 1-6 in two parts: One survey sampled 1,018 respondents ages 13-24, while another gauged views among a broader population of 2,201 U.S. adults. The Gen Z poll has a margin of error of 3 percentage points, compared with a 2-point margin of error for the larger survey.
Taken together, the findings reveal a younger population that's less averse to socialism and far less friendly toward capitalism than older generations, including millennials. The gap widens among older Gen Zers, particularly in favorable views toward socialism, in a sign of their potential to shift the political debate in the years to come as they begin to increasingly constitute a larger share of the electorate.
Along with the economic issues, the comparison between generations revealed that older Americans – especially baby boomers, but also those in Generation X – drive much of the negative sentiment about critical race theory: Baby boomers are about twice as likely as those ages 13-24 to express their views on the issue, which are most likely to be negative.
Still, despite their conflicting views on one social matter, the oldest and youngest generations hold very similar views regarding cancel culture. Half of baby boomers and 55 percent of Gen Zers (with little variation based on race or gender) expressed negative views about the cultural phenomenon that's led to the ostracization of various figures for acts or statements the public considers unseemly. Millennials, at 36 percent, were the least likely to view cancel culture negatively.
Eli Yokley is Morning Consult's U.S. politics analyst. Prior to his current role, Eli was Morning Consult's senior reporter covering U.S. politics. Eli joined Morning Consult in 2016 from Roll Call, where he reported on House and Senate campaigns after five years of covering state-level politics in the Show Me State while studying at the University of Missouri in Columbia, including contributions to The New York Times, Politico and The Daily Beast. Follow him on Twitter @eyokley. Interested in connecting with Eli to discuss his analysis or for a media engagement or speaking opportunity? Email [email protected].
We want to hear from you. Reach out to this author or your Morning Consult team with any questions or comments.
Contact Us