Digital-Native Gen Zers Have Yet to Fully Embrace Podcasts. Networks Have a Plan to Fix That: Influencers
32% of Generation Z classify themselves as regular podcast listeners
Key Takeaways
Just over half (52%) of Gen Z said Spotify was their preferred platform to listen to podcasts.

Comedy was the No. 1 podcast genre among Gen Zers: 3 in 4 said they are interested in comedy podcasts.
Read more stories about podcasting in Morning Consult's special report, 'The Public's Perceptions on Podcasts.'
For a generation that's always online, relatively few Gen Zers regularly tune into podcasts. But as the podcast ecosystem grows, many players in the industry are working to attract the up-and-coming generation by putting their favorite social media stars behind the mic. 
Thirty-two percent of Gen Z classified themselves as regular podcast listeners, according to a Morning Consult survey conducted Aug. 21-23 among 1,000 Gen Zers between the ages of 13 and 23. That's a smaller share than the 49 percent of the 4,400 U.S. adults surveyed in an Oct. 8-11 poll who indicated that they listen to podcasts at least a few times a year.
For those Gen Zers who do listen to podcasts, just over half prefer to use Spotify, while 16 percent consider Apple Podcasts their go-to. A third of adult podcast listeners overall use Spotify, while more than a fifth prefer Apple Podcasts. 
The Gen Z survey has an overall margin of error of 3 percentage points, and the regular listener subsample has a 5-point margin of error.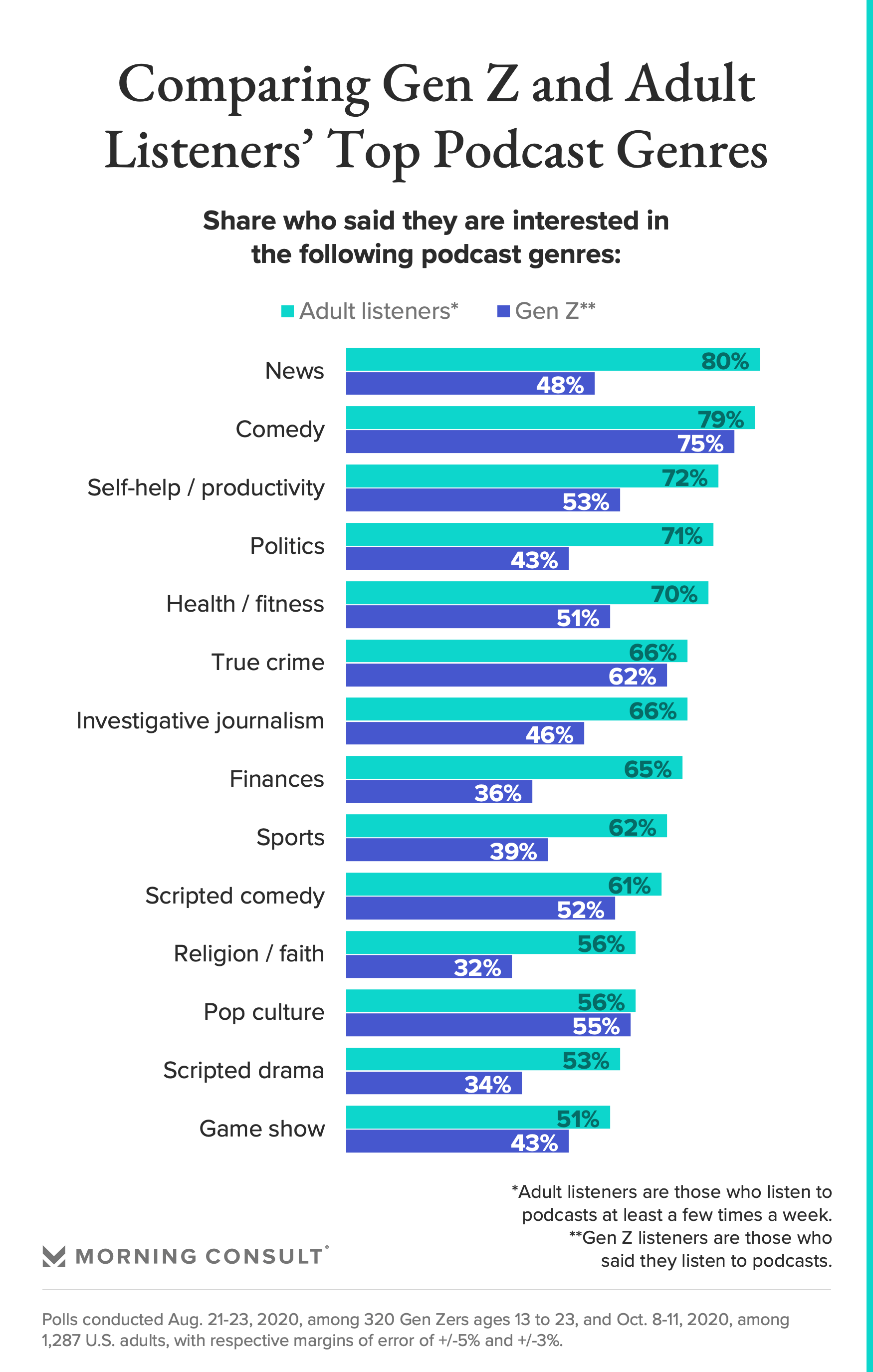 Gen Zers are most likely to be fans of comedy podcasts, with 75 percent of young listeners saying they are interested in the genre, a view shared by nearly 4 in 5 percent of frequent adult listeners -- categorized in the October survey as those who said they listen to podcasts at least a few times a week. Gen Z listeners also showed interest in true crime (62 percent) and pop culture (55 percent) podcasts, while adults who are frequent listeners favored news (80 percent) and self-help or productivity podcasts (72 percent). 
The frequent listener subsample among all adults has a 3-point margin of error. 
While news podcasts are more popular among all adults than they are among Gen Zers, younger audiences are showing more interest in the genre, especially since the election, said Chris Corcoran, chief content officer at podcast company Cadence13. The Entercom Communications Corp. division started out developing and monetizing shows for other networks, but now creates its own original content, including a network dedicated to some of the podcast hosts Gen Z likes best: influencers. 
Ramble, the result of a partnership between Cadence13 and United Talent Agency, is home to original shows from internet celebrities such as Charli and Dixie D'Amelio ("Charli and Dixie: TWO CHIX"), Emma Chamberlain ("Anything Goes with Emma Chamberlain") and The Try Guys ("The TryPod with the Try Guys"), which are all available on Spotify.
Influencer-led pop-culture podcasts are also gaining traction, Corcoran said, and helping the general podcast audience grow as a result.
"We're seeing a huge increase in Gen Z audiences," he said. "Because these stars are coming into the space, they're bringing their fans with them."
Comedy podcasts represent another genre that has been on the rise, said Russell Weissman, vice president of marketing and audience for All Things Comedy, a top comedy podcast network founded in 2012 by comedians Bill Burr and Al Madrigal. 
Comedians were early adopters in the podcasts space, giving the genre a leg up over more emerging categories, but Weissman said the network experienced a "consistent climb" in listeners throughout the lockdown period at the start of the coronavirus pandemic.
Weissman attributed that success in part to the typical style of an All Things Comedy show: unscripted, personality-driven content that's easily accessible and easy to discuss. That's a format familiar to most influencers as well.
"Our engagement from fans has become stronger and louder, because they're looking for that community-based activity," he said. 
Both Cadence13 and All Things Comedy promote their shows and encourage engagement by stepping outside the realm of audio to attract a wider audience, meeting Gen Z on familiar platforms such as YouTube and TikTok. Securing big-name influencers, and their even bigger followings, doesn't hurt either.
 "Their fans look at everything they do and are aware of that," said Corcoran. "They're going to have the built-in base already."
Sarah Shevenock previously worked at Morning Consult as a reporter covering the business of entertainment.
Alyssa Meyers previously worked at Morning Consult as a reporter covering brands and marketing.
We want to hear from you. Reach out to this author or your Morning Consult team with any questions or comments.
Contact Us