Converting Podcast Listeners Into Paying Customers Isn't Easy, but Taking Out the Ads Is a Good Start
Morning Consult data shows ad-free service, bundling are the features most likely to draw subscribers
Key Takeaways
21% of podcast listeners subscribe to a paid podcast service, a figure that increases to 30% among frequent listeners.

Among frequent podcast listeners who don't currently subscribe to a paid podcast platform, 27% said they are likely to do so.

31% of podcast listeners said their favorite podcast platform is Spotify, making it the most loved platform.
Read more stories about podcasting in Morning Consult's special report, 'The Public's Perceptions on Podcasts.'
As subscriptions to video streaming services such as Netflix Inc. have become essential in households across the country, podcast companies are betting there is similar interest in subscription audio. The hard part: getting podcast listeners to pay for something they are used to getting for free.
Podcasting has become more popular in recent years: Spotify Technology SA reported 320 million monthly active users for the third quarter, and iHeartMedia Inc. and Wondery had more than 250 million and 60 million global downloads and streams, respectively, in the month of September, according to industry analytics site Podtrac.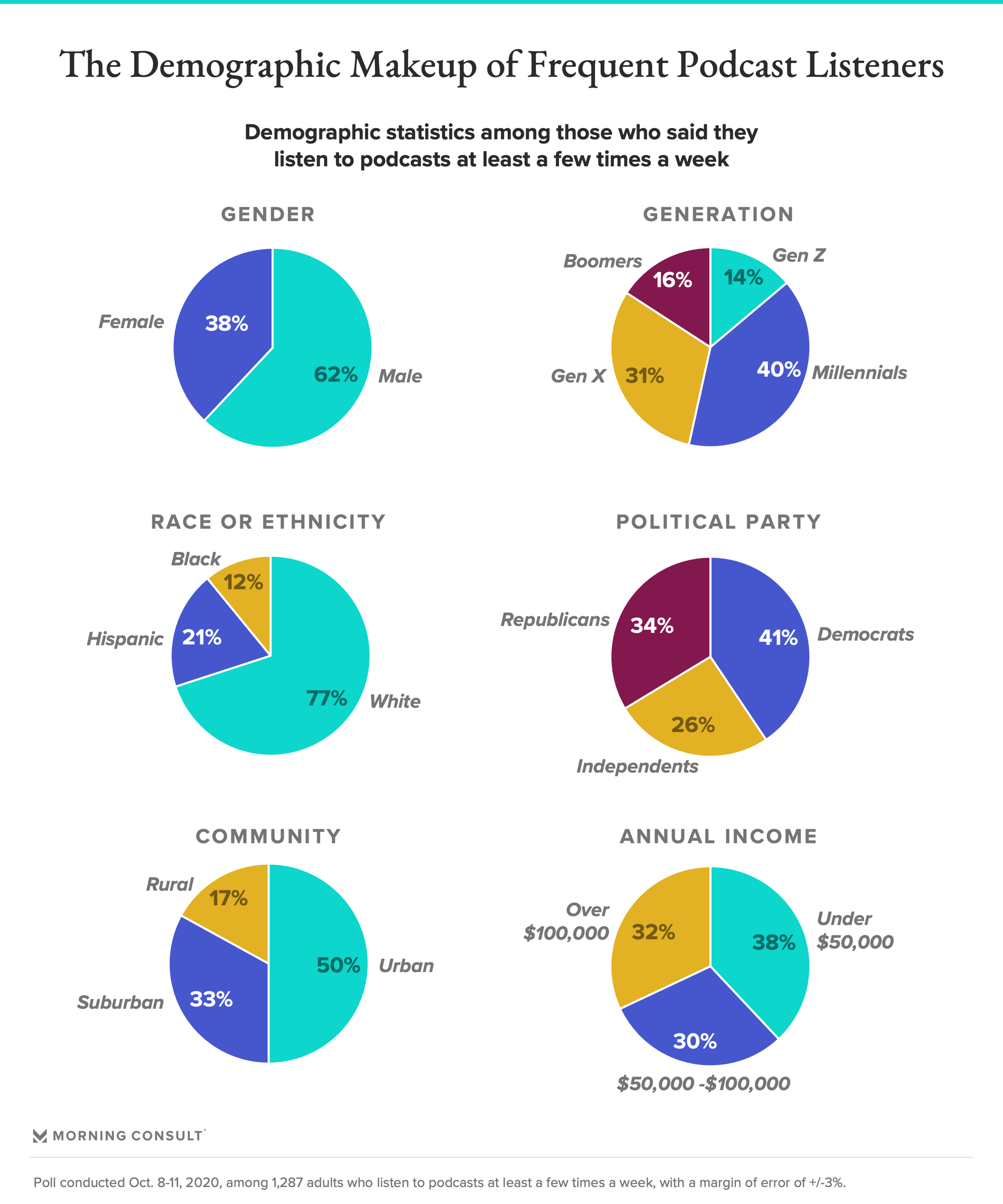 Frequent podcast listeners tend to skew more male and significantly more white, according to an Oct. 8-11 Morning Consult survey conducted among 1,287 adults who said they listen to podcasts at least a few times a week. Millennials also listen more than other generations, while Democrats tune in more than Republicans. 
Yet the medium is still foreign to many consumers, and subscription podcast platforms are even less well known. Plus, since their inception, podcasts were freely available to anyone with a computer or smartphone, "so there's an element of how listeners have been trained," said Jen Sargent, chief operating officer of Wondery, the podcast company founded in 2016 behind titles such as "Business Wars" and "Dr. Death."  
For this reason, podcast company executives said, shifting from an advertising-based business model to one more equally reliant on subscriptions will take at least a few more years, if not longer. But podcast platforms, as well as Morning Consult data, have identified potential demand for paid services right now and what drives people to pay. 
Ad sales are "by far the largest part of our revenue," said Chris Bannon, consulting executive producer for podcast company Stitcher, an early entrant to the subscription podcasting space with the launch of Stitcher Premium in August 2015. But he said binge listeners' interest in a paid product was the impetus for the premium service, and that interest is growing.  
For instance, when Stitcher dropped the second season of narrative podcast "Unfinished: Short Creek," with the first episode available for free and the rest behind the paywall, many listeners couldn't resist signing up to access it all at once.
"As soon as the first episode was out there, we broke the free trials machine as people came in to hear the whole show," Bannon said.
But there were still listeners who opted to wait for each episode week to week without subscribing, so Stitcher continued to release them in front of the paywall with ads, generating more revenue from the same show.
The premium service has also seen a significant uptick in subscribers following its partnership with Marvel for the comic giant's first scripted podcast, "Wolverine: The Long Night," first released in 2018. (Stitcher didn't respond to questions about premium subscription figures.)
Wondery's Sargent also cited the network's "hardcore superfans" in its creation of a paid Wondery+ service in June, who she said were asking for an easier way to find Wondery content instead having to wade through thousands of podcasts on one of the free platforms. 
Sargent added that Wondery+ has seen its seen subscribers spend more than 90 minutes per day engaging with four to five shows on its app, which she said has downloads in the six-figure range, although she declined to go into more detail.
An Oct. 8-11 Morning Consult poll found that among 2,171 U.S. podcast listeners (those who tune into podcasts at least a few times per year), 21 percent currently subscribe to a paid podcast service. Among the listeners who don't currently subscribe, one-fifth said they're open to paying.
Among frequent podcast listeners, 30 percent said they currently subscribe to a podcast platform, and 27 percent said they're likely to do so at some point.
Beyond the extra revenue that a paid product could generate, Bannon said putting a paywall in front of certain podcasts such as those that feature explicit content allows them to green light shows they think are worthwhile content but might not attract advertisers due to brand safety concerns.
Another benefit to operating a paid platform is that it can provide data about listener engagement and what content consumers will pay for, something major podcast platforms such as Apple Inc. and Spotify don't tend to share.
Ad-free podcasts and bundling were the most attractive features in a paid product to podcast listeners, according to Morning Consult data. 
Fifty-three percent of adults who listen to podcasts but don't currently subscribe to a platform said they would be more likely to subscribe to a service without ads, while 52 percent said the same of one that bundled itself with other streaming options, similar to Spotify's 2019 deal with Hulu. 
Exclusive deals with famous people have become more common, as with Spotify signing comedian Joe Rogan and former first lady Michelle Obama, but that's less popular among listeners who haven't yet subscribed: 45 percent said exclusive podcasts would make them more likely to shell out for a subscription. 
As more celebrities get into podcasting, Stitcher Chief Marketing Officer Amy Fitzgibbons said the celebrities' fans may have to locate their podcasts behind a paywall due to the expense of paying for the marquee talent.
"The talent is expensive, and you want a certain return on investment," she said. 
Luminary, the podcast startup that launched last year with $100 million in venture backing, has based its subscription-only model on exclusive shows hosted by journalists and celebrities. However, it has been losing money, having attracted about 80,000 paying users, Bloomberg reported in May, citing unidentified people.
In interviews, podcast executives suggested that the startup faced barriers such as its relatively small original content library, at least compared to video streaming platforms, with just 35 of its own shows, and not enough brand recognition. (Luminary did not respond to requests for comment.) 
When podcast listeners are willing to pay for a service, Morning Consult data shows they would pay even more than what podcast companies are currently charging.
The Morning Consult survey used the Van Westendorp model, which finds an optimum price point for a service by considering what prices consumers believe are "too expensive" and "too good to be true," to find the ideal price point for a paid podcast subscription. 
Podcast listeners said that $10 was their optimal price point, higher than the $7 preferred by the general population, but they were OK with paying up to $14. By comparison, subscriptions to Stitcher Premium, Wondery+, Luminary or Pandora+ cost $4.99 a month, while Spotify Premium and Pandora Premium cost $9.99 a month.
Even as other podcast platforms get into the subscription business, one of the biggest industry players is holding off for now. 
Conal Byrne, president of iHeartMedia's podcast division, said iHeartMedia subscriptions are off the table for now so its podcasts are easily accessible to as many people as possible, not only for the benefit of listeners, but also to provide audiences at scale for advertisers. 
"We believe at the most fundamental level, that especially at this point in the industry's life cycle, that the wide-distribution model is the better one," he said.
That doesn't mean the company isn't assessing the appetite for paid podcast content, said Hetal Patel, iHeartMedia's executive vice president of corporate research and analytics, who conducts quarterly research check-ins across iHeartMedia listeners.
"We don't see a huge appetite for it, and we haven't seen an uptick in the past few months, either," she said. "With the tightening of pocket strings right now because of the pandemic, I don't see them wanting to spend money on another subscription."
Stitcher Premium, however, has seen continued growth through the pandemic, said Fitzgibbons, the Stitcher CMO.
"It's not a huge expense, and we were feeding them some good content and some good new shows over that period of time, so people were still finding their way toward it," she said. 
Spotify has thus far avoided creating a subscription offering specifically for podcasts, but it appears to be exploring the possibility, according to Andrew Wallenstein, the chief media analyst and president of Variety's Intelligence Platform, who said Friday that he spotted a survey about premium podcasting on Spotify's app.
"At Spotify, we routinely conduct a number of surveys in an effort to improve our user experience," a Spotify spokesperson said in a statement to Morning Consult. "Some of those end up paving the path for our broader user experience and others serve only as important learnings. We have no further news to share on future plans at this time."
General audio companies that offer music in addition to podcasts, such as Spotify, Apple and SiriusXM Holdings Inc.'s Pandora, are better positioned to win over podcast subscribers because they can offer a wider range of content. Consumers who are used to listening to their favorite artist on these platforms may be more likely to turn to them for podcasts.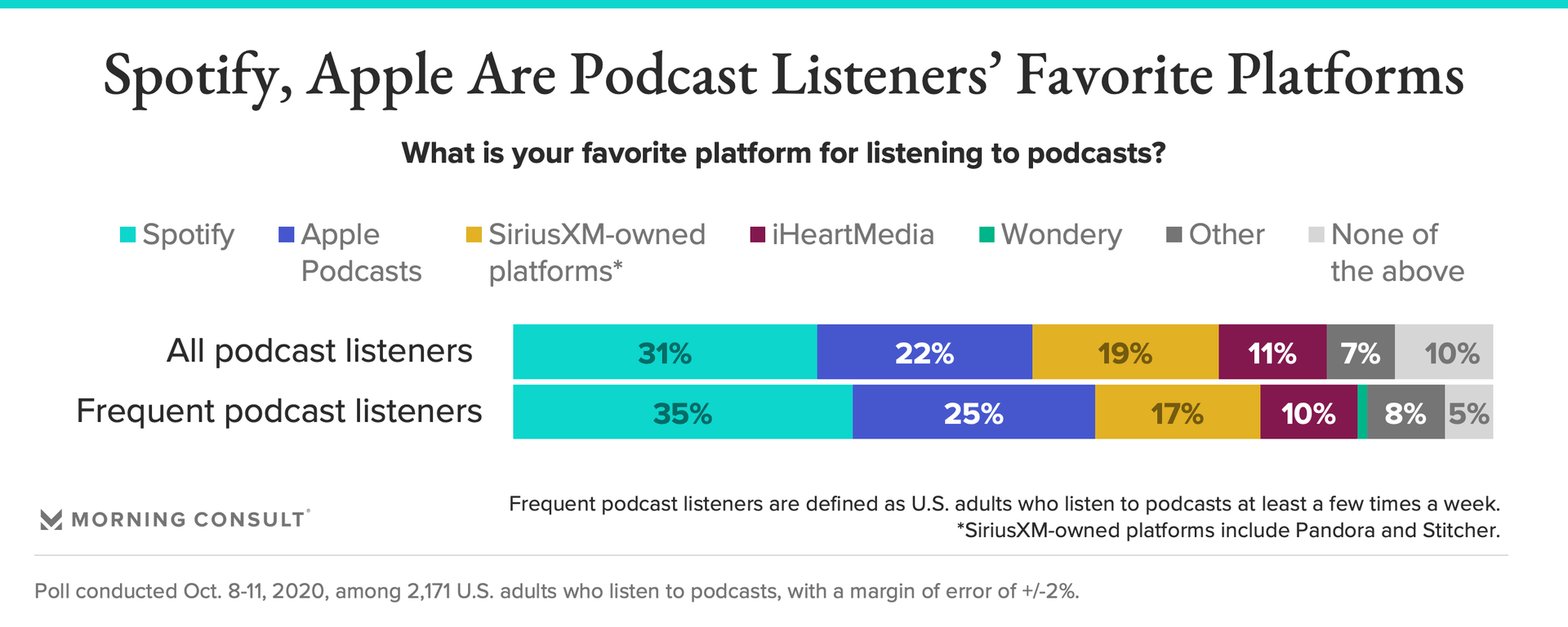 Thirty-one percent of podcast listeners said Spotify is their preferred podcast platform, followed by Apple, SiriusXM and SiriusXM-owned Pandora and Stitcher, and iHeartMedia. 
Companies that operate only within the podcast niche, as opposed to audio in general, including music, are less popular among the general public, but are still finding increasing success by combining the subscription model with traditional advertising sales.
Though Wondery+ has been gaining subscribers every month since its debut, Sargent said podcasting needs to widen its audience before the subscription model becomes viable on its own.
"Advertising continues to be our bread and butter, and is more than 50 percent of our revenue at this point," she said. "We can see in the future it definitely rivaling some of our revenue streams, but it's hard to see subscription revenue overtaking advertising revenue in the next few years."
Sarah Shevenock previously worked at Morning Consult as a reporter covering the business of entertainment.
Alyssa Meyers previously worked at Morning Consult as a reporter covering brands and marketing.
We want to hear from you. Reach out to this author or your Morning Consult team with any questions or comments.
Contact Us