National Scrutiny Over New Abortion, Voting Laws Hasn't Changed Texans' Perceptions of Greg Abbott
But rising COVID-19 cases have taken a toll on the Texas governor's approval ratings
Key Takeaways
Abbott's approval ratings are essentially unchanged in the aftermath of the enactment of the state's controversial laws on abortion and voting rights.

But mounting COVID-19 cases and deaths were followed by negative swings in sentiment about his job performance.

Ahead of a 2022 primary challenge, Abbott remains relatively strong with the base: 78% of GOP voters approve of him, including 42% who do so strongly.
The national spotlight on new Texas laws hardening restrictions on voting and abortions does not appear to be messing with Texans' perceptions about their second-term governor. 
According to the latest Morning Consult Political Intelligence tracking conducted Sept. 5-14, 47 percent of registered voters in the Lone Star State approve of Republican Gov. Greg Abbott's job performance and 47 percent disapprove. The figures are within the polls' 2-percentage-point margins of error compared with surveys taken Aug. 22-31, before the controversial measure that bans nearly all abortions went into effect on Sept. 1 and a voting bill was enacted a week later.
The lack of change in perceptions of Abbott in recent weeks was reflected among Democrats and independent voters. There was no notable change when accounting for gender, either, despite the national attacks from Democrats, who cast the voting and abortion measures as unified Republican governance run amok. 
However, the shares of Democratic and unaffiliated women who said they prioritized issues such as abortion, contraception and equal pay when considering their votes for federal office each increased 6 points since the beginning of the month, to 17 percent and 12 percent, respectively. Democratic men also recorded a 5-point uptick in prioritization of those issues, to 8 percent, while the share of Republican women who said the same ticked up from 2 percent to 4 percent.    
Texas Republicans are solidly in Abbott's corner, giving him a 78 percent approval rating. Forty-two percent back his job performance strongly as he faces Republican primary challengers.
After a walkout this summer by Texas Democrats propelled the state's voting rights conversation into the national spotlight, the abortion law got the bulk of the attention in recent weeks due to the countrywide implications of the Supreme Court allowing it to go into effect, spurred on by Abbott's dismissive comments about the law's lack of an exemption for rape or incest, in which he vowed to "eliminate all rapists" from the state.
Texas voters' reaction to the most recent events in state government stand in contrast with how they responded to the surging COVID-19 pandemic. Much like Republican Gov. Ron DeSantis in Florida, Abbott appears to have paid a political price for his handling of the nation's top threat to public health.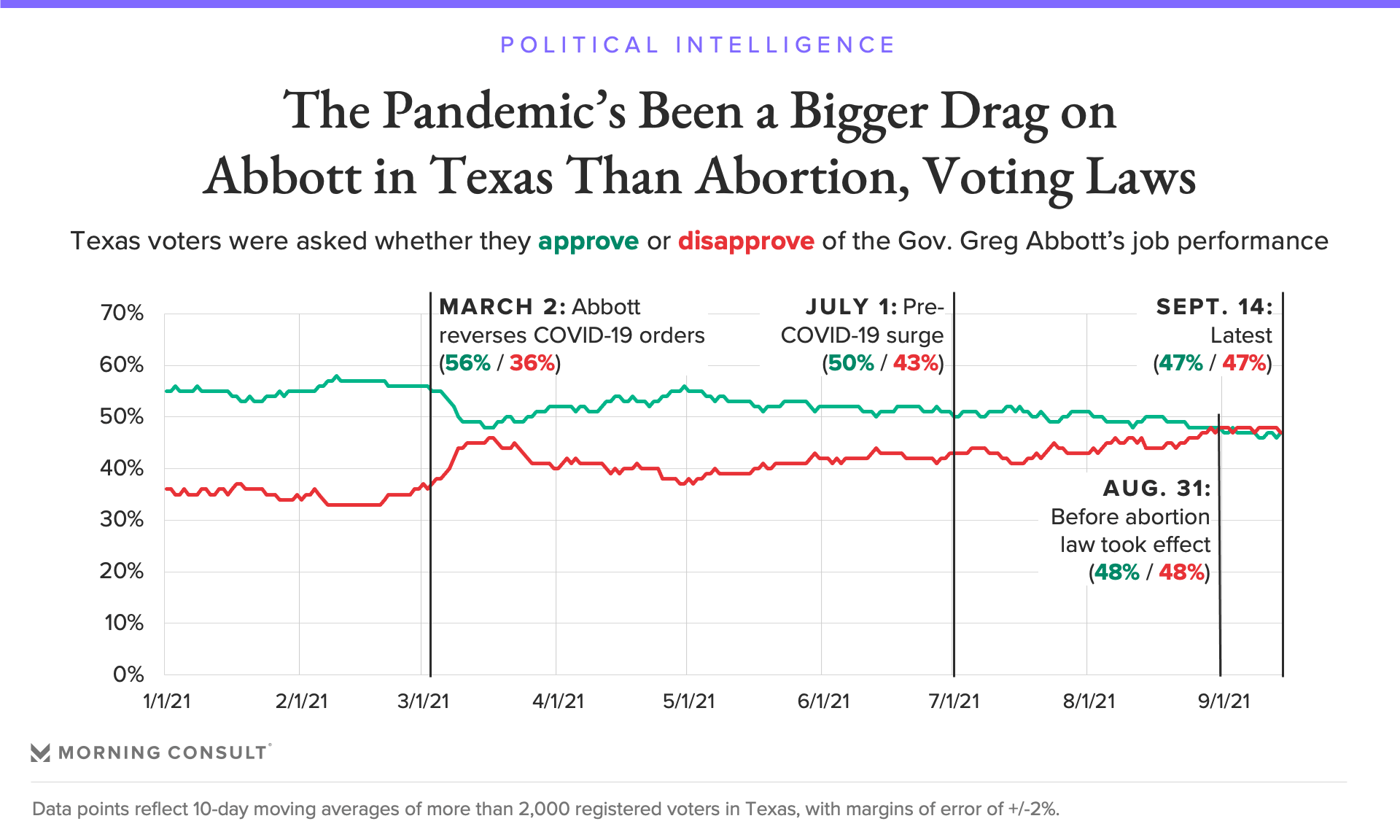 Since the beginning of July, when the COVID-19 delta variant began to take off in the state, Abbott's net approval rating (the share who approve of his job performance minus the share who disapprove) fell 7 points, compared with almost no movement over the past two weeks. Morning Consult tracking also shows that Abbott's decision to reverse COVID-19 orders concerning masking and business occupancy earlier this year was also followed by a decline in popularity.
Overall, Abbott's approval rating has hovered at or below 50 percent since the start of August due to almost no improvement among Republican voters and a souring among independents.
Eli Yokley is Morning Consult's U.S. politics analyst. Prior to his current role, Eli was Morning Consult's senior reporter covering U.S. politics. Eli joined Morning Consult in 2016 from Roll Call, where he reported on House and Senate campaigns after five years of covering state-level politics in the Show Me State while studying at the University of Missouri in Columbia, including contributions to The New York Times, Politico and The Daily Beast. Follow him on Twitter @eyokley. Interested in connecting with Eli to discuss his analysis or for a media engagement or speaking opportunity? Email [email protected].
We want to hear from you. Reach out to this author or your Morning Consult team with any questions or comments.
Contact Us