Half of Voters Back Impeaching Trump, Removing Him From Office
50% support inquiry, impeachment and Trump's removal
Key Takeaways
44% of voters oppose the impeachment inquiry, similar to the shares who oppose the House impeaching Trump and the Senate removing him from office.

41% said they'd be more likely to vote for a representative who backed impeachment vs. 35% who said they'd be less likely.

57% of Republicans support Trump's call for Biden investigation by China, Ukraine.
House Democrats are still in the early stages of their impeachment inquiry into President Donald Trump, but the lion's share of voters are way ahead of them. 
Just two weeks after House Speaker Nancy Pelosi (D-Calif.) announced the launch of an impeachment inquiry, a new Morning Consult/Politico poll found half of voters support both the House voting to impeach the president and the Senate voting to remove him from office. 
The Oct. 7-8 survey of 1,991 registered voters was conducted after new details emerged about the Trump administration's efforts to lean on Ukranian President Volodymyr Zelensky to reopen investigations involving former Vice President Joe Biden and his son, Hunter Biden, as Zelensky was seeking U.S. military assistance and an invitation to the White House. Those details included text messages between diplomats, the emergence of a second possible whistleblower and Trump's public call for Ukraine and China to investigate the Bidens. 
Some source documents have already been made public, including the intelligence community whistleblower complaint that sparked the House's impeachment inquiry, released by the House Intelligence Committee, and the White House's release of its record of the July 25 call between Trump and Zelensky at the center of it. But the administration is facing subpoenas from lawmakers for other documents and interviews, including the testimony of Gordon Sondland, the U.S. ambassador to the European Union whose deposition was blocked by the administration Tuesday.
The revelation of the initial whistleblower complaint preceded a surge in support for the House to open an impeachment inquiry, among both Democratic lawmakers and the public, which narrowly favors Pelosi's caucus as it pushes ahead with the probe. 
Half of voters support the probe, statistically unchanged from a Sept. 27-30 poll. Forty-four percent of voters oppose the inquiry, mirroring the shares who oppose the House voting to impeach Trump and the Senate voting to remove him from office.  
While voters make little distinction between their support for the impeachment probe and its potential end result, some Democratic lawmakers -- particularly those who represent competitive districts -- have left themselves some wiggle room. For example, Rep. Josh Gottheimer (D-N.J.) said in a Sept. 24 statement supporting the impeachment inquiry, "I will base my final judgment on whether impeachment is warranted on the information garnered through this inquiry, not on hearsay, social media, or conflicting news accounts."
That restraint to go all in on impeachment raises questions about who has a political advantage as House Democrats defend their majority. Republicans argue they have an upper hand, with the National Republican Congressional Committee criticizing several vulnerable Democratic incumbents for backing the inquiry.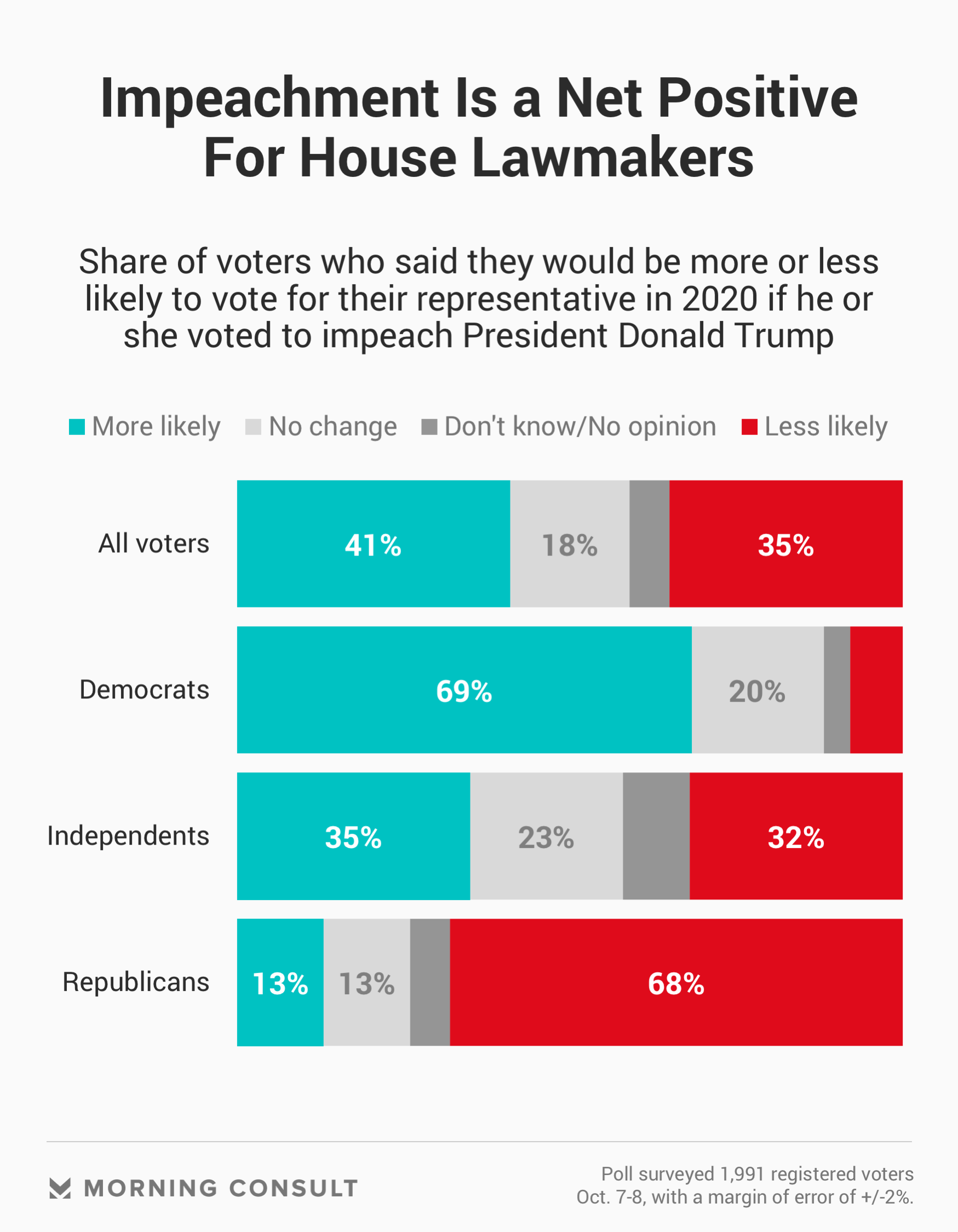 Republican leaders have sought to make this case to rank-and-file Republican lawmakers. According to polling conducted for House Minority Leader Kevin McCarthy (R-Calif.) and the NRCC, voters in Democratic-held districts Trump won in 2016 do not believe the president's call with Ukraine amounts to an impeachable offense, and do believe the impeachment push is about politics. 
The Morning Consult/Politico poll suggests that, at least for now, Democrats have a slight advantage nationwide. Forty-one percent of voters in the poll -- which has a margin of error of 2 percentage points -- said they would be more likely to vote for a member of Congress if he or she voted in favor of impeachment, while 35 percent said they'd be less likely to do so. Independent voters were split, 35 percent to 32 percent, while voters in the suburbs, who largely gave Democrats the majority in 2018, roughly matched the overall population. 
Among Republicans, 68 percent said a vote in favor of impeachment would make them less likely to support their member of Congress in 2020, and 13 percent said it would make no difference. 
Unlike the overall population, most Republican voters are supportive of Trump's actions that have enraged Democrats and concerned some Republican office holders such as Sen. Mitt Romney (R-Utah). Fifty-six percent of Republicans said they are supportive of the president encouraging foreign powers to investigate the business dealings of Americans, and 57 percent described his public call for China and Ukraine to investigate the Bidens as appropriate. 
Eli Yokley is Morning Consult's U.S. politics analyst. Prior to his current role, Eli was Morning Consult's senior reporter covering U.S. politics. Eli joined Morning Consult in 2016 from Roll Call, where he reported on House and Senate campaigns after five years of covering state-level politics in the Show Me State while studying at the University of Missouri in Columbia, including contributions to The New York Times, Politico and The Daily Beast. Follow him on Twitter @eyokley. Interested in connecting with Eli to discuss his analysis or for a media engagement or speaking opportunity? Email [email protected].
We want to hear from you. Reach out to this author or your Morning Consult team with any questions or comments.
Contact Us