'Hamilton' on Disney+ Is Sparking Conversations About the Future of Digital Capture in Theater
Experts say theatrical content on streaming services would be a win-win, but obstacles stand in the way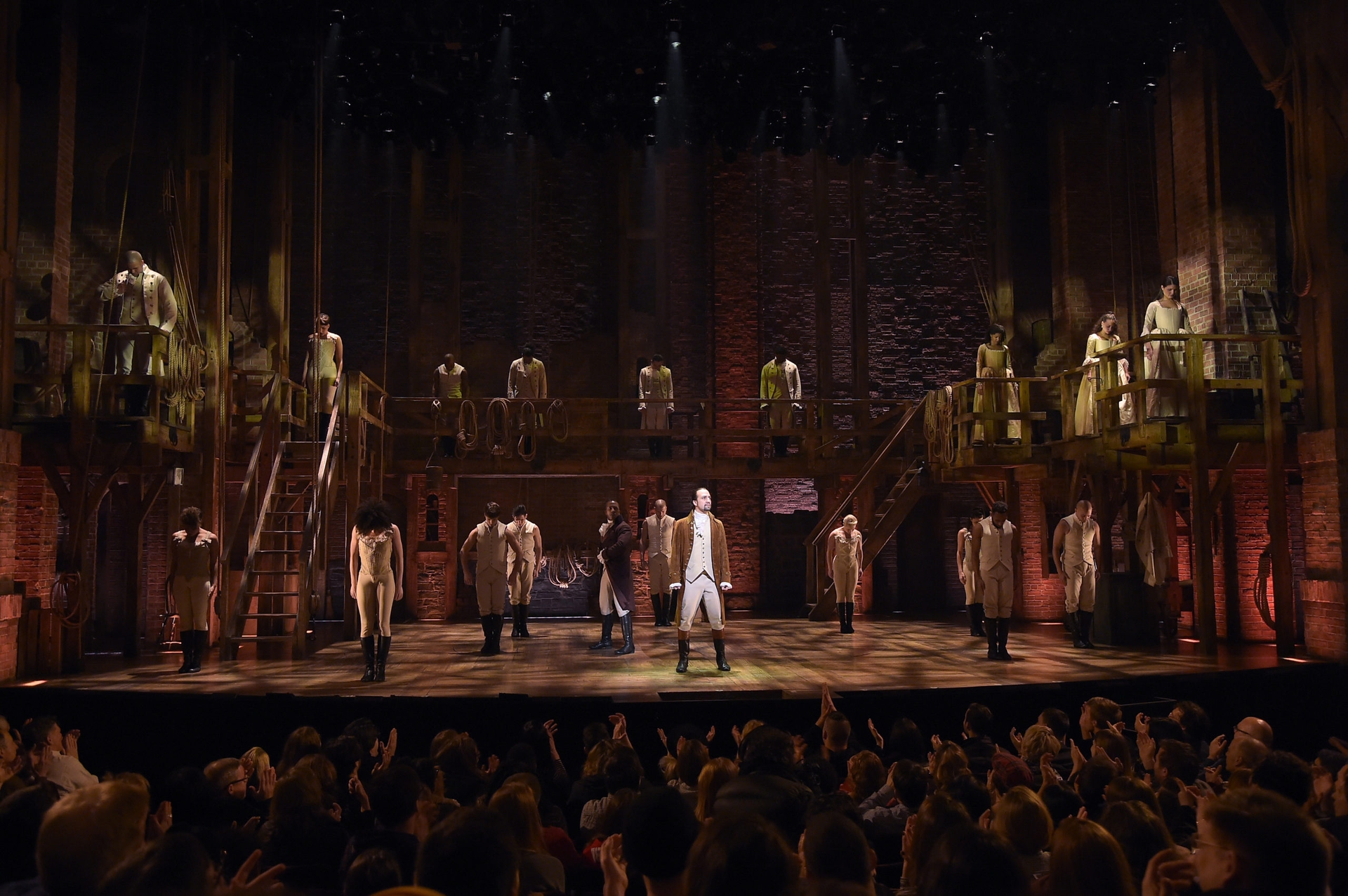 Key Takeaways
18% of the public has watched "Hamilton" on Disney+ since its July 3 premiere.

73% of those who watched "Hamilton" -- including 84% of non-theater fans -- said they were interested in seeing more live performances after watching the digital capture.
Disney+ brought "Hamilton" into audiences' homes earlier this month, taking millions of people inside the room where it happened for just $6.99. Now, Disney has another hit on its hands, and new polling finds that audiences -- even those who don't attend theater performances regularly -- are interested in more theatrical content, whether that's onstage or onscreen. 
But while streaming services may be looking for the next hit, Broadway producers caution that the theater industry at large is not quite ready to make the leap to universal digital captures.
A July 7-9 Morning Consult poll found that 18 percent of U.S. adults said they've watched the digital capture of "Hamilton," which debuted on Disney+ on July 3. The recording, which Disney reportedly acquired for $75 million, was initially slated for an October 2021 theatrical release, before Disney shifted the date in response to the COVID-19 pandemic. Thirty-eight percent of non-theater fans -- those who attend live theater performances once a year or less -- also watched the performance. Roughly three in four adults who watched "Hamilton," as well as 82 percent of non-theater fans who watched, said the musical made them interested in seeing other digital captures.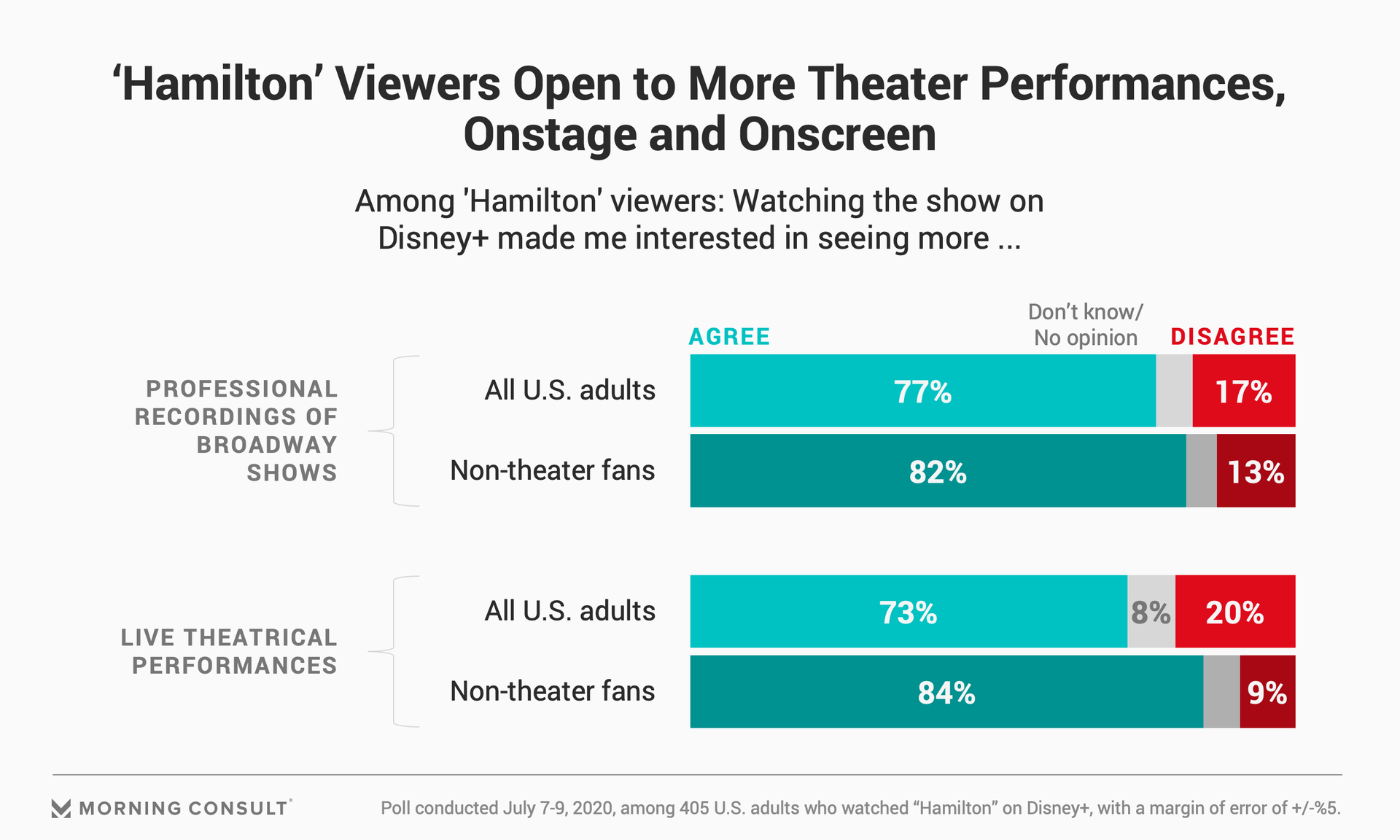 The survey, which was conducted among 2,202 U.S. adults, has an overall margin of error of 2 percentage points, while the non-theater fan subsample has a 4-point margin of error.
Digital captures are nothing new, albeit relatively unpopular among general audiences. PBS often runs captures of select shows; Netflix Inc. has included recordings of "Springsteen on Broadway" and "Oh, Hello" on its platform and Fathom Events routinely screens captures in movie theaters around the world. While Netflix does not release viewership numbers, box office data shows that theatrically released recordings often gross around a few million dollars: A 2017 release of "Newsies" brought in roughly $2.8 million worldwide, while a 2011 release of "Phantom of the Opera" grossed roughly $4.5 million, according to Box Office Mojo.
But "Hamilton" was the talk of town during its premiere weekend: First-time downloads of the Disney+ app were reportedly up roughly 79 percent weekend-over-weekend, according to data from Sensor Tower cited by the Los Angeles Times.
"'Hamilton' is so different from every other musical," said Jennifer Ashley Tepper, a producer and theater historian. "It's just a complete landmark show, zeitgeist shifter. And so how it functions culturally is just not how the average musical -- even a hit musical -- functions."
When it premiered at the Public Theater in 2015, "Hamilton" quickly took the world by storm. When it made it to Broadway the following year, performances were sold out, with tickets often selling for hundreds of dollars — sometimes even thousands -- turning the show into a pop culture punchline, albeit one that earned 11 Tony Awards in 2016.
Investing in other theatrical content -- revolutionary musical or not -- could give streaming services a boost, said Brett Sappington, vice president at Interpret LLC, a global market research company specializing in the entertainment industry, especially as streaming services look for more content in the midst of a production standstill. 
Metrics such as ticket sales can identify shows that may be good candidates for captures, he said, adding that prep time would be minimal, as casts are already experienced in performing.
"There's certainly a lot there to be appealing to streaming services," he said.
Standing in the way of the digital capture trend is the misconception that recordings of theatrical performances will deter audiences from seeing the show live, according to Tepper. That said, the survey found that 73 percent of all adults who watched "Hamilton" -- along with 84 percent of non-theater fans who watched -- said they were interested in seeing more live performances after watching the digital capture.
"The one thing I know about Hollywood is that whenever something is successful there, they just try to do the same thing with something else. And sometimes it works and oftentimes it doesn't," said Ken Davenport, a producer who writes about the theater industry on his blog, The Producer's Perspective. But, he believes the "Hamilton" buzz could spark a trend in the theater industry with more shows considering digital captures.
"There's no question what this has done is proven that the model works when there is something that is in demand," he said. "People will see it in whatever form they can get. And right now, they just don't have any other opportunity. So it's a very, very good time to get that kind of tender."
But there are more roadblocks to creating these recordings. 
Both Davenport and Tepper said the high cost is one of the most prohibitive factors. Davenport said that archival recordings of performances can cost tens of thousands of dollars, with higher-quality digital captures such as "Hamilton" costing even more, something most productions can't afford. Tepper pointed out that when given the chance to run live for longer or produce a recording, many shows will choose the live performances. Additionally, all unions involved in a production must come to an agreement for the capture, which can make contract negotiations difficult.
However, the producers said the current COVID-19 induced work stoppage, which began on March 12 and is slated to last until January 2021, is shifting conversations around digital captures.
"People have really seen that digital capture can be a source of revenue that's ongoing for both artists and for the show during a time when we might have less people seeing live theater and less theater jobs," Tepper said. "I think everyone has definitely digested that in a new way."
Davenport said he regrets not recording his shows while they were running and hopes that the dimming of the Broadway lights will spur lasting change so that all shows can be recorded and saved for a rainy day.
"The more opportunities we have for revenue, the better for everybody," he said.
Sarah Shevenock previously worked at Morning Consult as a reporter covering the business of entertainment.
We want to hear from you. Reach out to this author or your Morning Consult team with any questions or comments.
Contact Us