BroadwayHD Is Vying for Big Role on Crowded Streaming Stage
Theater audience sees potential, but media analysts wary that niche service can stand out in fragmented market
Broadway theater has traditionally been an artform limited to roughly three dozen brick-and-mortar buildings in Manhattan -- but BroadwayHD, a streaming service featuring digital captures of live theater, is attempting to make it accessible to the masses.
Members of the theater community think this service has the potential to positively impact the industry, but streaming media analysts are skeptical that the niche service can draw a sustainable audience among larger streaming services that could eventually offer similar content.
In 2015, producers Stewart F. Lane and Bonnie Comley started BroadwayHD as a means to feature digitally captured shows they had produced, as well as content from colleagues. The streaming service originally featured just over 100 titles, and the library has grown to house 270 shows. That increase in inventory has also come with a 188 percent boost in subscriptions since 2017, the duo said, with subscribers in more than 20 countries. BroadwayHD declined to release the service's actual number of subscribers.
The service's subscription costs $8.99 a month or $99.99 a year.
The U.S. market of over-the-top media services grew roughly 11 percent in 2018, with 170.1 million people expected to have an OTT subscription that year compared with 153 million the year before, according to eMarketer. The Walt Disney Co., Warner Media LLC and NBCUniversal Media LLC are planning to launch OTT services over the next two years, further fragmenting the market.
Online viewing changes the game for Broadway, which has traditionally relied on audiences seeing and engaging with the shows in person. Comley said that the fear of encroaching on the live theater market is something the BroadwayHD founders have heard anecdotally from colleagues.
"It is our belief that no one doesn't want to have a beautifully captured video of their show," she said. "What the fear is, is if that beautifully captured digital experience is available online, will that cannibalize the live ticket sales?"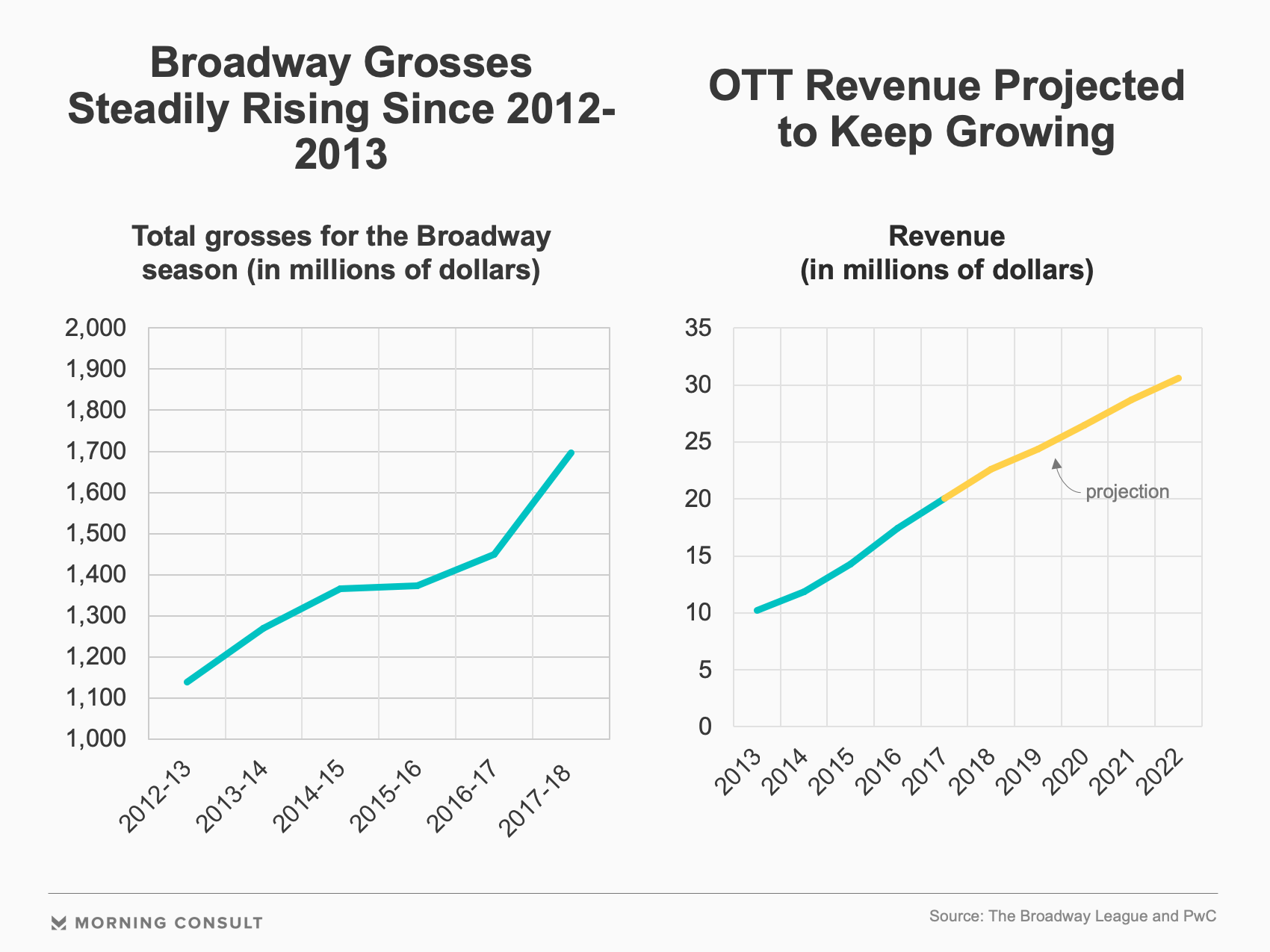 However, Broadway League President Charlotte St. Martin said the League thinks BroadwayHD will actually create more interest for Broadway. The streaming service "makes Broadway more accessible to more people," she said.
Ken Davenport, a producer and author of "Broadway Investing 101," has firsthand experience with streaming theater. In December 2015, Davenport live-streamed a performance of "Daddy Long Legs" as a method of getting "more eyeballs" on the show. Davenport and his team invested no money in marketing the event, but over 150,000 people in 135 countries watched the live stream of the show, which, according to Davenport, equaled 2.7 years of sold-out performances at the 130-seat theater at which the show played.
"Broadway producers live in a state of fear constantly," Davenport noted, due to the high-risk nature of the industry, which could contribute to some reticence for streaming.
"Our usual reaction is to not push the envelope because we are afraid it will upset our very fragile economic model," Davenport said. "However, we now have enough data, I believe, that proves the opposite of that fear."
Dragica Dabo, the media business representative for Actors' Equity Association, said there has been a steady increase of streaming contracts since 2014, adding that the union is happy to see BroadwayHD creating a platform to make theater content available to a wider audience.
But Marisa Sechrest, a co-producer of the Broadway musicals "Mean Girls" and "Waitress," as well as the live stage representative for Paramount Pictures Corp., suggested that the theater industry may not benefit from a one-size-fits-all approach to streaming.
Speaking as an independent producer, "I would really look at the show I'm representing and analyze the pros and the cons of providing that show on BroadwayHD," she said.
Comley said that BroadwayHD mainly focuses on capturing limited runs or shows that are closing, which Sechrest noted are good candidates for streaming platforms.
Despite BroadwayHD's positive reception in the Broadway community, analysts in the streaming media sector aren't completely sold on its chances of survival.
Dan Rayburn, an analyst with market research firm Frost & Sullivan, said that while niche streaming services can work if they target a big-enough audience, BroadwayHD is unlikely to draw a large-enough subscriber base on its own. "I don't think there's really enough of an audience out there to where you can grow that to a couple million subscribers," he said.
Netflix Inc. currently has a select number of recorded shows, including Bruce Springsteen's "Springsteen on Broadway," but BroadwayHD doesn't see larger streamers as competition.
"Having Netflix take such an interest in what we're doing actually shows the importance of what we have here," Lane said. "There is something being mined. It just gives more credence and credibility to the new form that we've got here."
Michael Pachter, an analyst with Wedbush Securities, thinks BroadwayHD could have a future if it partners with a larger service. "As part of a Netflix or Amazon or Hulu offering, I totally think this makes sense," he said.
Netflix, Hulu LLC and Amazon.com Inc. did not respond to requests for comment.
In the end, Lane is content knowing that BroadwayHD has helped the worlds of theater and streaming combine.
"We seamlessly capture the thrill of live performances, bringing it from stage to screen. I've got to tell you, if that's our legacy, I'll be really proud of that."
This story has been updated to include additional information about the streaming service.
Sarah Shevenock previously worked at Morning Consult as a reporter covering the business of entertainment.
We want to hear from you. Reach out to this author or your Morning Consult team with any questions or comments.
Contact Us