Harris Loses Steam With Democratic Primary Voters After Detroit Debates
Sen. Elizabeth Warren, meanwhile, outperformed pre-debate expectations
Key Takeaways
9% of Democratic primary voters said Sen. Kamala Harris was their first choice for president, down 3 points from ahead of the debates.

Warren picked up 2 points of first-choice support, solidifying her third-place standing over Harris, 15 percent to 9 percent.
Sen. Kamala Harris had a breakout performance in the first round of Democratic debates in June, raising her standing in Morning Consult polling tracking the party's presidential primary and also lifting expectations for the second round of debates.
But when she appeared on stage last week alongside former Vice President Joe Biden, the California Democrat underperformed voters' expectations — and lost ground in the race. 
According to Morning Consult's Aug. 1-4 primary tracking data, the share of Democratic primary voters who said Harris was their first choice fell 3 percentage points from the week before the debates, to 9 percent. That was accompanied by an 11-point drop in her net favorability, with 52 percent of Democratic primary voters now expressing favorable views and 22 percent expressing unfavorable views.
The latest survey was conducted among 9,845 registered voters who indicated they may vote in the Democratic primary or caucus in their state. Both surveys had a 1-point margin of error.
At the same time, Massachusetts Sen. Elizabeth Warren widened her lead for third place over Harris by 5 points from the pre-debate survey, leading her 15 percent to 9 percent. The bulk of the movement appears to have happened after the first night of debates, when Warren was on stage with Sen. Bernie Sanders (I-Vt.). 
Warren also picked up 8 points on Harris in the early nominating states of Iowa, New Hampshire, South Carolina and Nevada, with those voters favoring the former Harvard professor over the former California attorney general for the party's nomination by a 2-to-1 margin in the latest survey. 
Harris saw her standing improve among the Democratic electorate after the first debate, when she attacked Biden for his long-held position on the federal government's involvement in busing to desegregate schools. But in the second round of debates, it was Harris who faced some of the fiercest attacks over her record as a prosecutor from Biden and Rep. Tulsi Gabbard (D-Hawaii). 
After her surge in first-choice support following the first debates, the polling conducted after the second round shows Harris has lost most of the ground she had gained.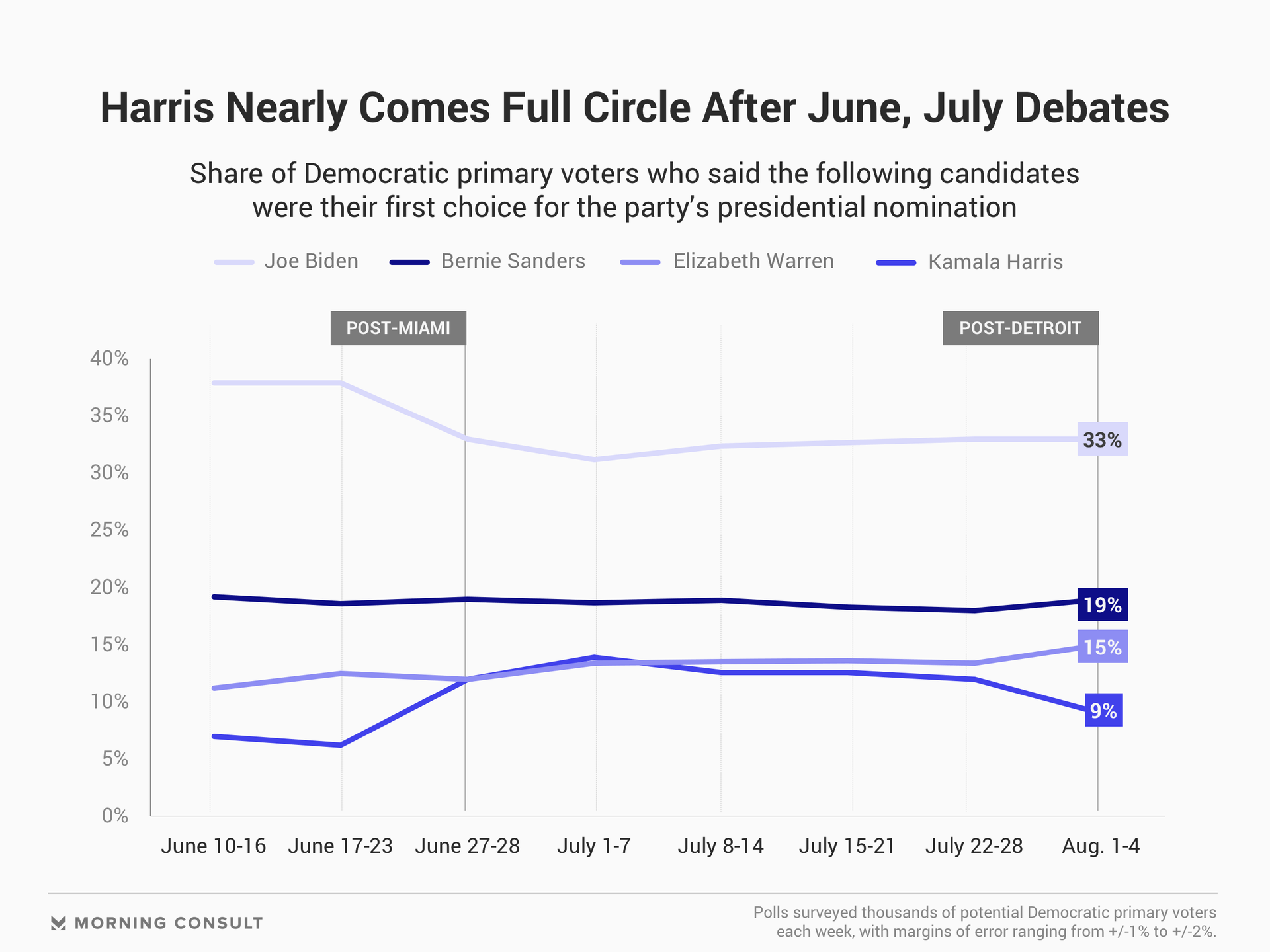 Expectations had soared for Harris, with 16 percent of Democratic voters expecting her to perform best among the 20 candidates on stage over the two nights, a 10-point increase from before the June debates. But only 8 percent of Democratic voters who said they watched the debate in the latest Aug. 1-3 Morning Consult/Politico poll graded the California Democrat best, putting her behind Biden, Sanders and Warren — all of whom she trails in the latest tracking poll. 
Warren, who appeared on stage alongside Sanders in last week's debates, exceeded expectations. Over a third of Democrats (35 percent) who watched the debate thought Warren performed best in Detroit, compared with 14 percent who said so ahead of the forums. 
Despite her rise, just 13 percent of Democratic primary voters said they think Warren has the best chance of beating Trump in the general election, compared with 42 percent who said the same of Biden.
Like Harris, Biden also underperformed pre-debate expectations among Democratic voters who watched the debates, while Sanders slightly overperformed expectations. But for the top two contenders, their standing in first-choice vote share went unchanged in the days following the debate. 
That may be because just 40 percent of Democratic primary voters said they watched either of the debates. Asked to rate their importance, 3 in 10 said the debates are "very important" when it comes to their decision about which candidate to support.
Eli Yokley is Morning Consult's U.S. politics analyst. Prior to his current role, Eli was Morning Consult's senior reporter covering U.S. politics. Eli joined Morning Consult in 2016 from Roll Call, where he reported on House and Senate campaigns after five years of covering state-level politics in the Show Me State while studying at the University of Missouri in Columbia, including contributions to The New York Times, Politico and The Daily Beast. Follow him on Twitter @eyokley. Interested in connecting with Eli to discuss his analysis or for a media engagement or speaking opportunity? Email [email protected].
We want to hear from you. Reach out to this author or your Morning Consult team with any questions or comments.
Contact Us