Horror Films Seeing Appeal Lasting Beyond Opening Weekend
Rise of genre contributing to strong multiples at box office, plans for shared cinematic universe
If box office estimates are accurate, Jordan Peele's "Us" is set to make up to $50 million domestically by Sunday. Expectations of a blockbuster opening weekend for Peele's latest horror film aren't surprising given the success of 2017's "Get Out," but what's worth watching are the subsequent weekends, as the rise of so-called prestige horror and social media buzz have provided a staying power to horror films that was missing in the past.
And the sustained success of horror films is inspiring a new direction for the genre, in the form of shared cinematic universes.
"Usually what you will see for a horror film is the opening weekend is a big percentage of what it will make in total at the end of the day," said Paul​ Dergarabedian, a senior media analyst at Comscore Inc., as films in the genre tended to see a steep decline in grosses after their opening weekend.
But in recent years, he said, films such as "It," "Get Out" and "A Quiet Place" have been bucking that trend and seeing sustained success, or a strong multiple, at the box office.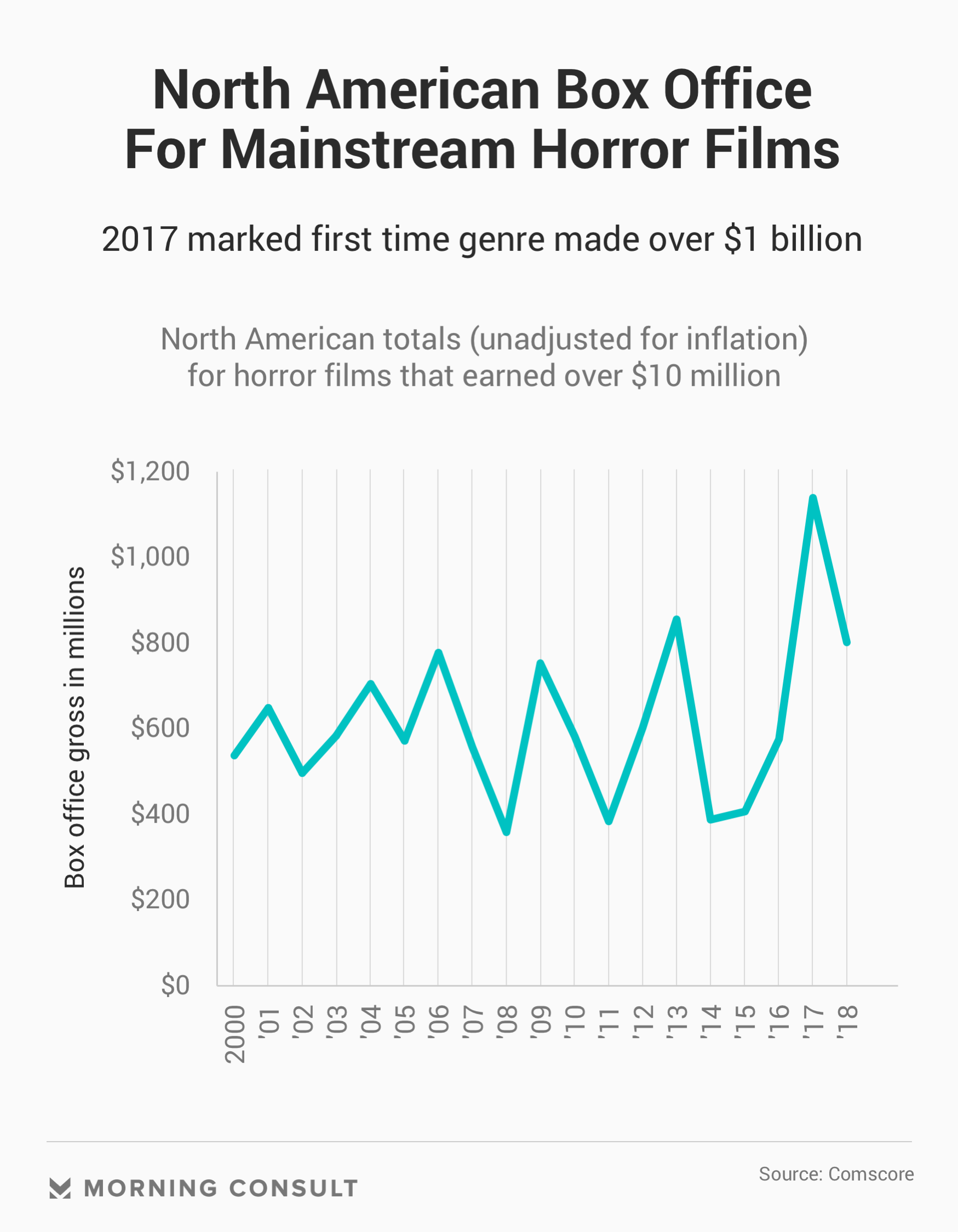 According to Comscore data, "Get Out" made roughly $33.4 million at the North American box office its opening weekend and ended up making $176 million, the 15th highest-grossing film domestically in 2017. "A Quiet Place" saw a similar path to success: Opening weekend, it brought in about $50 million, with a total North American box office of roughly $188 million, becoming the 16th highest-grossing film of 2018.
Dergarabedian likes to refer to 2017 as "the year of the horror movie," the first year in which the genre brought in over $1 billion at the North American Box Office -- due in part to the success of "It," which made over $327 million, becoming the highest-grossing horror film of all time when box office figures aren't adjusted for inflation.
And these high box office grosses also mean high profit margins: Horror films don't require as much money to produce compared to movies in other genres. "It" had a reported production budget of $35 million, while "A Quiet Place" had a budget of $17 million, and "Get Out" was made for $4.5 million. "Thor: Ragnarok," released the same year as "It" and "Get Out," had a reported budget of $180 million, but made roughly $12 million less than "It" at the domestic box office.
Andrew Scahill, an assistant professor of film at the University of Colorado Denver, said word of mouth through social media and better films are factors contributing to this strong multiple, but he also cites innovation in the genre and variety at the box office as key factors.
"A lot of it is really endemic to the other offerings at the box office and the preponderance of the superhero genre, which is so reiterative and formulaic," Scahill said. "What people are finding in these horror films is something innovative and that seems to be the long term draw of these."
While a preponderance of streaming options encourage people to stay home to watch movies, Phil Contrino, the director of media and research for the National Association of Theatre Owners, said the technological advancement of horror films compared to previous genre offerings provides a compelling reason to go to the movies.
"You can't top watching a really good horror movie with a crowd," he said. "It's not the same in your living room."
Both Contrino and Dergarabedian said social media has contributed to horror movies' strong multiples. For instance, "A Quiet Place" used special Twitter emojis and hashtags, as well as Snapchat filters, as part of its marketing campaign, while the experience of watching the movie itself inspired memes. Contrino also noted social media also encourages people to see a film while it's in theaters out of a fear of being exposed to spoilers online.
The next step for the genre is the shared cinematic universe, an "interconnectivity sort of like the Marvel movies where you have all these characters sort of cross-pollinating to different movies," Dergarabedian said.
For example, the "Conjuring" universe, which began with 2013's "The Conjuring," has since been linked to six additional films, including next month's "The Curse of La Llorona," and the "Annabelle" films, which will see the next installment released in June. That's in addition to "The Conjuring 3" and Conjuring spinoff "The Crooked Man," which are in the works.
In 2017, it was revealed that M. Night Shyamalan's "Split" was part of a long-gestating mini-cinematic universe connected to 2000's "Unbreakable," which concluded with this year's "Glass." In a February interview with CinePOP, Jason Blum of Blumhouse Productions LLC, who has served as a producer of films including "Get Out" and "Split," said he was thinking about creating a Blumhouse cinematic universe.
And Jordan Peele signaled an interest in interconnecting his films during the "Get Out" press tour, saying in an interview with journalist Kevin McCarthy, "I've put some Easter Eggs in there, and I'll probably continue to weave in the universe in my next movie."
Representatives for Peele, Blum and Blumhouse did not respond to requests for comment.
Sarah Shevenock previously worked at Morning Consult as a reporter covering the business of entertainment.
We want to hear from you. Reach out to this author or your Morning Consult team with any questions or comments.
Contact Us