Support for Hydroxychloroquine as COVID-19 Treatment Weakens Among GOP Voters
Republican backing for the drug dropped to 41% from 52% a month ago
Key Takeaways
Democratic opposition to the drug as a COVID-19 treatment jumped 9 points to 65%.

Nearly 7 in 10 voters say they are unlikely to use hydroxychloroquine themselves in light of the coronavirus, including 59% of Republicans.
Support for hydroxychloroquine's use as a COVID-19 treatment has dipped in recent weeks, as more clinical trials have been unable to confirm its effectiveness in treating the virus and health agencies have warned against its use outside of a hospital or trial setting. Meanwhile, President Donald Trump has continued to push for the drug as a treatment and said he was taking hydroxychloroquine to prevent infection from the coronavirus.
While Democrats and independents have increasingly voiced opposition toward unsupervised use of hydroxychloroquine, Republicans have tended to side with the president on this issue, according to Morning Consult/Politico polling. However, a new survey, conducted after Trump's announcement May 18 that he was taking the drug himself, shows that Republican support has slid compared to a month earlier, with fewer than half of GOP voters now supporting hydroxychloroquine as treatment for the coronavirus.
In the poll conducted May 22-26, a 45 percent plurality of voters said they oppose hydroxychloroquine's use as a COVID-19 treatment, with 24 percent voicing their support and 31 percent saying they did not know or had no opinion. Opposition to the drug's use against the coronavirus rose 8 percentage points from a month earlier, while support dropped 5 points during the same April 24-26 period.
Sixty-five percent of Democrats opposed hydroxychloroquine as a treatment in the latest poll, compared to 11 percent who said they supported it. A 43 percent plurality of independents said they opposed the drug's use, while 36 percent did not know or had no opinion and 20 percent did support it. 
The biggest drop in support over the past month came from Republicans. In late April, 52 percent said they supported hydroxychloroquine to treat COVID-19, but in the latest poll, support dropped 11 points to 41 percent. Twenty-three percent of GOP voters opposed the potential treatment this month versus 14 percent who said the same in late April. 
The lower support from Republicans is in stark contrast to their opinion about a similar question asked in early April. In that April 10-12 survey, voters were asked if they supported the use of hydroxychloroquine to treat COVID-19 before the conclusion of research by the National Institutes of Health, with 71 percent of Republicans saying they did.
All three surveys were conducted among roughly 1,900 registered voters and have a margin of error of 2 percentage points.
After Trump told reporters that he had been taking the drug daily for over a week to prevent COVID-19 infection, the news made rounds in the media, and 44 percent of voters said they had seen, read or heard "a lot" about Trump's announcement. (Trump said Sunday that he has finished taking hydroxychloroquine.)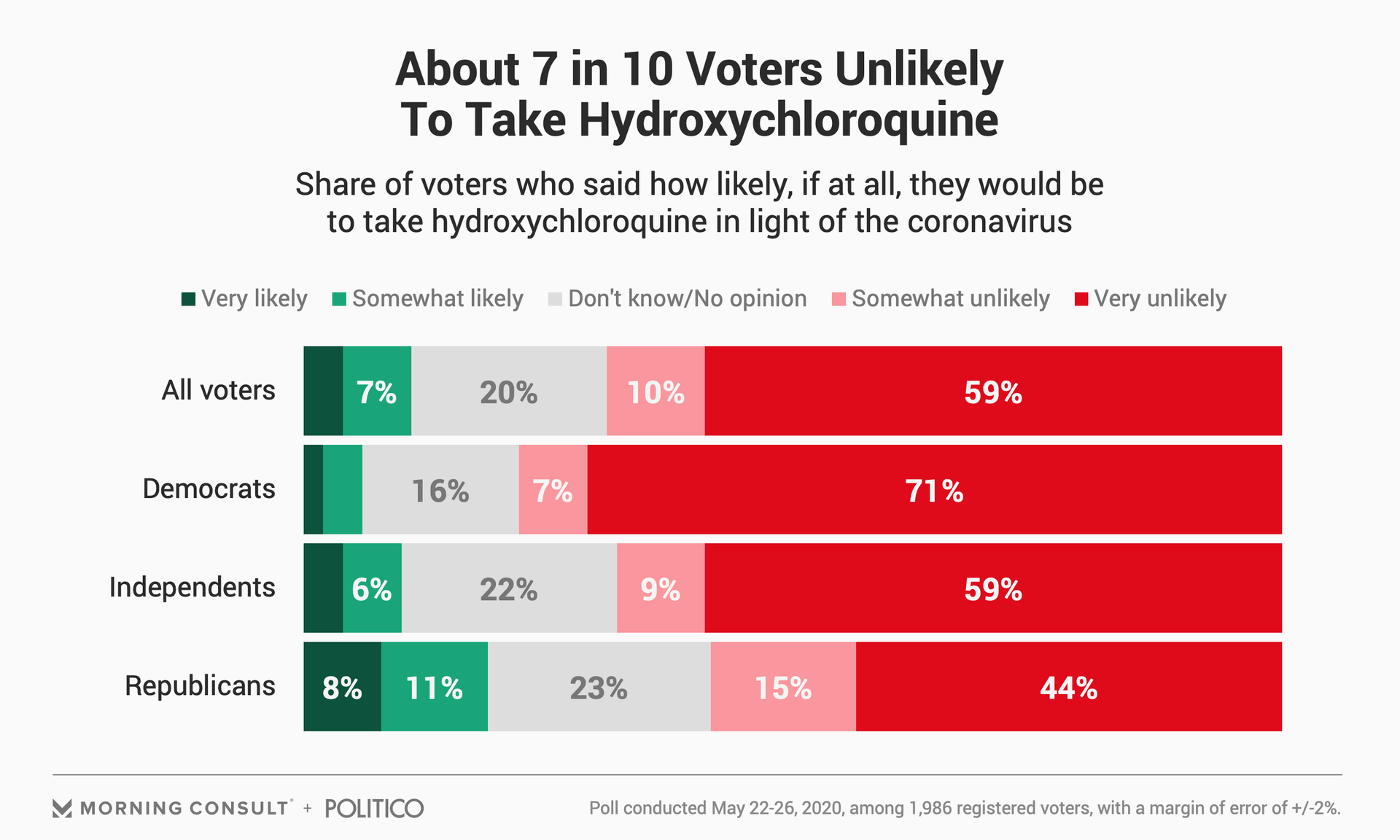 Trump's personal usage of hydroxychloroquine did not seem to persuade voters to try it for themselves. Nearly 7 in 10 voters said they were unlikely to take hydroxychloroquine in light of the coronavirus, with 11 percent saying they likely would and 20 percent saying they did not know. 
Seventy-eight percent of Democrats said they were unlikely to use the drug, while 68 percent of independents and 59 percent of Republicans said the same. The shares of opposition have increased compared to how voters said they felt in early April about their likelihood of taking hydroxychloroquine in light of the coronavirus.
Brian Yermal is a research editor on the Industry Intelligence team, where he edits the team's email newsletters, written analysis and reports. Brian previously worked as a copy editor at the Altoona Mirror newspaper in central Pennsylvania. He graduated from Penn State University with a bachelor's degree in journalism.
We want to hear from you. Reach out to this author or your Morning Consult team with any questions or comments.
Contact Us