Bloomberg's Exit Is a Likely Boon for Biden
Roughly half of former NYC mayor's supporters have Biden as their second choice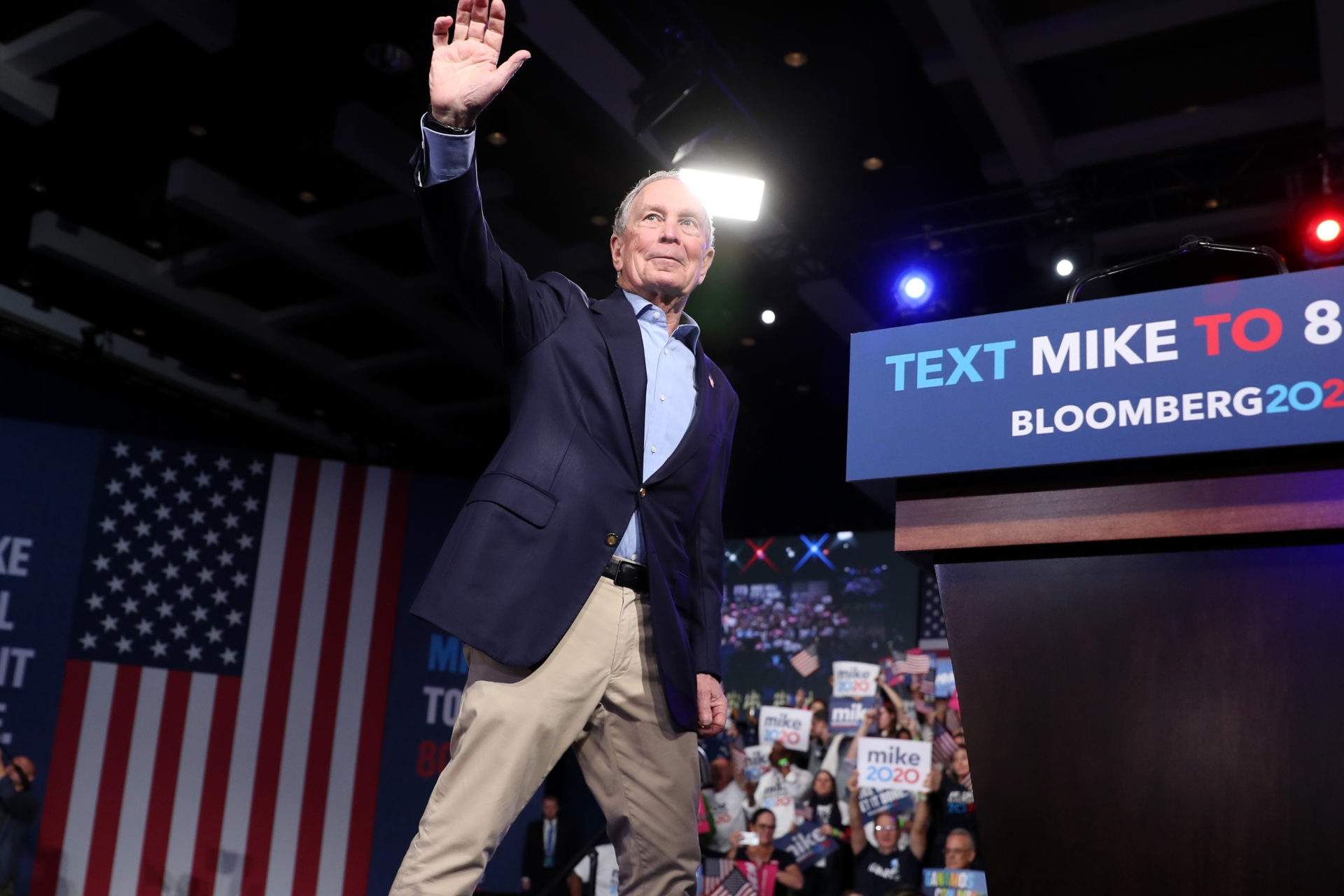 Key Takeaways
48% of Democratic primary voters backing Michael Bloomberg said Joe Biden is their second choice for president, compared with 25% who said Bernie Sanders and 15% who said Elizabeth Warren.

Polling experiment conducted in January suggests Bloomberg's endorsement could move even more of his supporters into Biden's camp.
Former New York City Mayor Michael Bloomberg ended his campaign for the Democratic presidential nomination after the moderate wing of the party coalesced around former Vice President Joe Biden, resulting in a poor showing in the Super Tuesday states on which the billionaire banked his candidacy. 
"The delegate math has become virtually impossible – and a viable path to the nomination no longer exists," Bloomberg said in a statement Wednesday morning. "I've always believed that defeating Donald Trump starts with uniting behind the candidate with the best shot to do it. After yesterday's vote, it is clear that candidate is my friend and a great American, Joe Biden."
The latest Morning Consult polling, conducted from 3 p.m. Monday through Tuesday, found that roughly half (48 percent) of the Democratic primary voters who said they were backing Bloomberg identified Biden as their second choice, resulting in a potential 8-percentage-point increase in support for the former vice president. Another quarter said they would support Sens. Bernie Sanders (I-Vt.), which would boost his base of support by 4 points, and 15 percent said Sen. Elizabeth Warren (D-Mass.), a potential 3-point boost. 
A Morning Consult polling experiment conducted in mid-January found Bloomberg's endorsement of Biden would be worth an additional 2-point bump. That data was collected at a time that Bloomberg was commanding less support among Democratic primary voters nationwide, suggesting the boost could be bigger today.
Bloomberg, who flirted with a bid in early 2019, entered the race in November with high unfavorables among Democratic primary voters, but managed to catch their interest through a blitz of advertising that aired as Biden struggled to gain traction in the early nominating contests in Iowa, New Hampshire and Nevada, where Bloomberg did not compete. 
Despite putting himself in a position to capitalize on Biden's stumbles, Bloomberg's chances were doomed by poor performances in debates, where he faced criticism for the New York City Police Department's treatment of minorities and his own treatment of women in the workplace at Bloomberg LP. It led to a sharp decline in favorability, stalling his momentum in the crucial weeks before Super Tuesday, where he had reportedly invested nearly $200 million on the airwaves since the beginning of the year.
Polling conducted Feb. 26-March 1 found 54 percent of Democrats had favorable views of him while 33 percent had unfavorable views, making him less popular than all the other leading candidates currently in the race.
Bloomberg supporters, along with those backing Sanders, were among the blocs least likely to commit to backing whomever Democrats eventually nominate to take on Trump, reflecting their conservative bent. That could pose a problem if Sanders ends up as the party's standard-bearer.
Eli Yokley is Morning Consult's U.S. politics analyst. Prior to his current role, Eli was Morning Consult's senior reporter covering U.S. politics. Eli joined Morning Consult in 2016 from Roll Call, where he reported on House and Senate campaigns after five years of covering state-level politics in the Show Me State while studying at the University of Missouri in Columbia, including contributions to The New York Times, Politico and The Daily Beast. Follow him on Twitter @eyokley. Interested in connecting with Eli to discuss his analysis or for a media engagement or speaking opportunity? Email [email protected].
We want to hear from you. Reach out to this author or your Morning Consult team with any questions or comments.
Contact Us