Impeachment Probe Support Equals Disapproval for Democrats' Handling of It
48 percent of voters disapprove of how House Democrats are handling the Trump impeachment inquiry
Key Takeaways
Support for the investigation remained unchanged from previous week as GOP stepped up opposition.

News about key moments in House investigation isn't breaking through to most voters.

More than half of voters described the media coverage of impeachment as "frustrating," "disappointing," "negative," "skewed" or "confusing."
While nearly half of voters continue to support the House's impeachment inquiry into President Donald Trump, new polling shows that an equal share is wary of the way House Democrats are running their investigation.
A new Morning Consult/Politico poll found that 48 percent of voters disapprove of the way House Democrats are handling the impeachment probe -- the same share of voters who back the impeachment investigation, which went unchanged from the previous week. The surveys sampled 1,997 and 1,989 registered voters, respectively, with margins of error of 2 percentage points for both polls.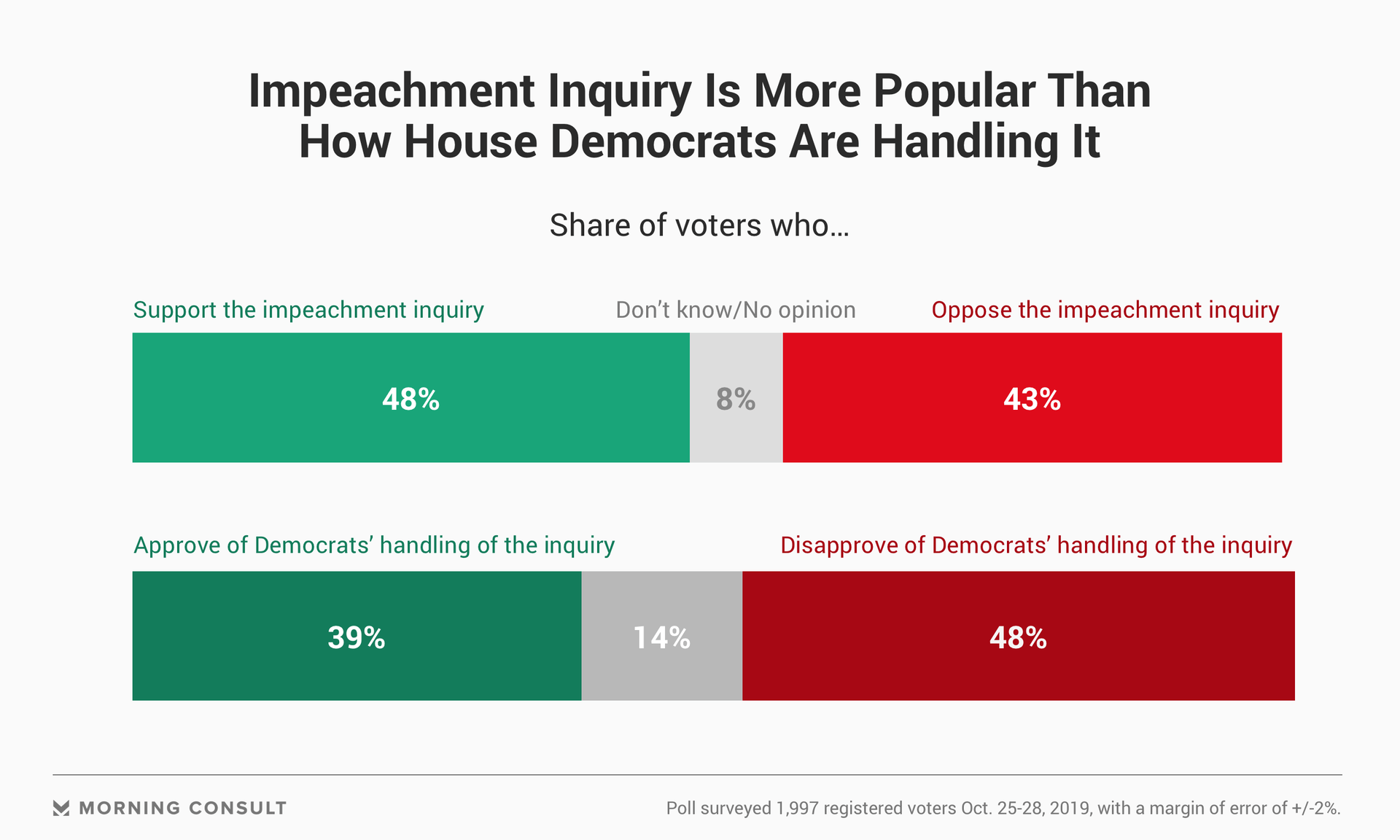 Supporters of impeachment -- a group that includes 85 percent of Democrats and 14 percent of Republicans -- have mostly positive views of the way Democrats are handling the probe, with 76 percent approving and 13 percent disapproving. 
The Oct. 25-28 survey comes on the heels of a week in which Republicans on Capitol Hill revved up their opposition to the impeachment investigation: All but three Senate Republicans signed onto a resolution by Sen. Lindsey Graham (R-S.C.) condemning the probe, and Rep. Matt Gaetz (R-Fla.) led House Republicans in storming a secure room in the Capitol complex with demands to be allowed to see the deposition of a Defense Department official.
But while the events of the month-long impeachment probe have attracted major headlines, the news is not breaking through to most voters.
Just 25 percent of voters said they'd seen, read or heard "a lot" about the testimony of William Taylor, Trump's acting ambassador to Ukraine, in which he said the administration withheld military aid from Ukraine as it tried to pressure the country's government to publicly announce that it was investigating Joe Biden and his son. Critics of Trump view his testimony as key to proving the case that Trump engaged in a quid pro quo on his July 25 phone call with Ukraine's president. 
The same share heard "a lot" about Republican lawmakers storming a secure room for the closed-door impeachment hearings, delaying Defense Department official Laura Cooper's testimony -- and even fewer (21 percent) said they'd heard a lot about Marie Yovanovitch, Trump's former U.S. ambassador to Ukraine, telling members of Congress that Trump pressured the State Department to oust her. 
Among all of the impeachment and Ukraine developments tested this year, House Speaker Nancy Pelosi's September call for a formal impeachment inquiry had the biggest impact, with 51 percent of voters saying they'd heard "a lot" about the event that produced a big bounce in support for the investigation. 
As they expressed displeasure with the House's handling of the impeachment inquiry, voters are also unhappy with the media's coverage of it. More than half of voters in the latest poll described the coverage as "frustrating" (63 percent), "disappointing" (55 percent), "negative" (54 percent), "skewed" (52 percent) or "confusing" (52 percent).
Eli Yokley is Morning Consult's U.S. politics analyst. Eli joined Morning Consult in 2016 from Roll Call, where he reported on House and Senate campaigns after five years of covering state-level politics in the Show Me State while studying at the University of Missouri in Columbia, including contributions to The New York Times, Politico and The Daily Beast. Follow him on Twitter @eyokley. Interested in connecting with Eli to discuss his analysis or for a media engagement or speaking opportunity? Email [email protected].
We want to hear from you. Reach out to this author or your Morning Consult team with any questions or comments.
Contact Us