In Blue Districts, Republicans More Likely Than Democrats to Use Twitter
But nationally, Democrats are more likely to be scrolling through tweets

Republicans are turning to Twitter in spaces that could be politically unfriendly to them.
The congressional districts with the highest share of Twitter users who identify as Republican and use Twitter at least weekly are all represented Democratic lawmakers. That's according to a review of 2,433,822 responses, gathered from Morning Consult polls conducted November 2018 through October 2019, that looks at which congressional districts have the largest share of weekly Twitter users.
To some extent, this is intuitive: Twitter tends to be used more in urban spaces, whose residents are more likely to be Democrats. But Republicans are using the platform disproportionately more than Democrats in these areas. 
The top 10 districts in which Republicans' Twitter habits far outpace Democrats' are all led by Democratic representatives, such as New York's 12th and Georgia's 5th, though Democrats overall are more likely to be weekly users than Republicans. 
Fewer people across the country use Twitter as often as they do Facebook: Nationally, roughly one-quarter log on to Twitter at least once a week, compared to 76.4 percent who do the same with Facebook. 
Sixteen of the top 17 districts for overall weekly Twitter use (three districts are tied for 15th place) have Democratic representatives, and 10 of the top 17 are located in Florida, California or New York.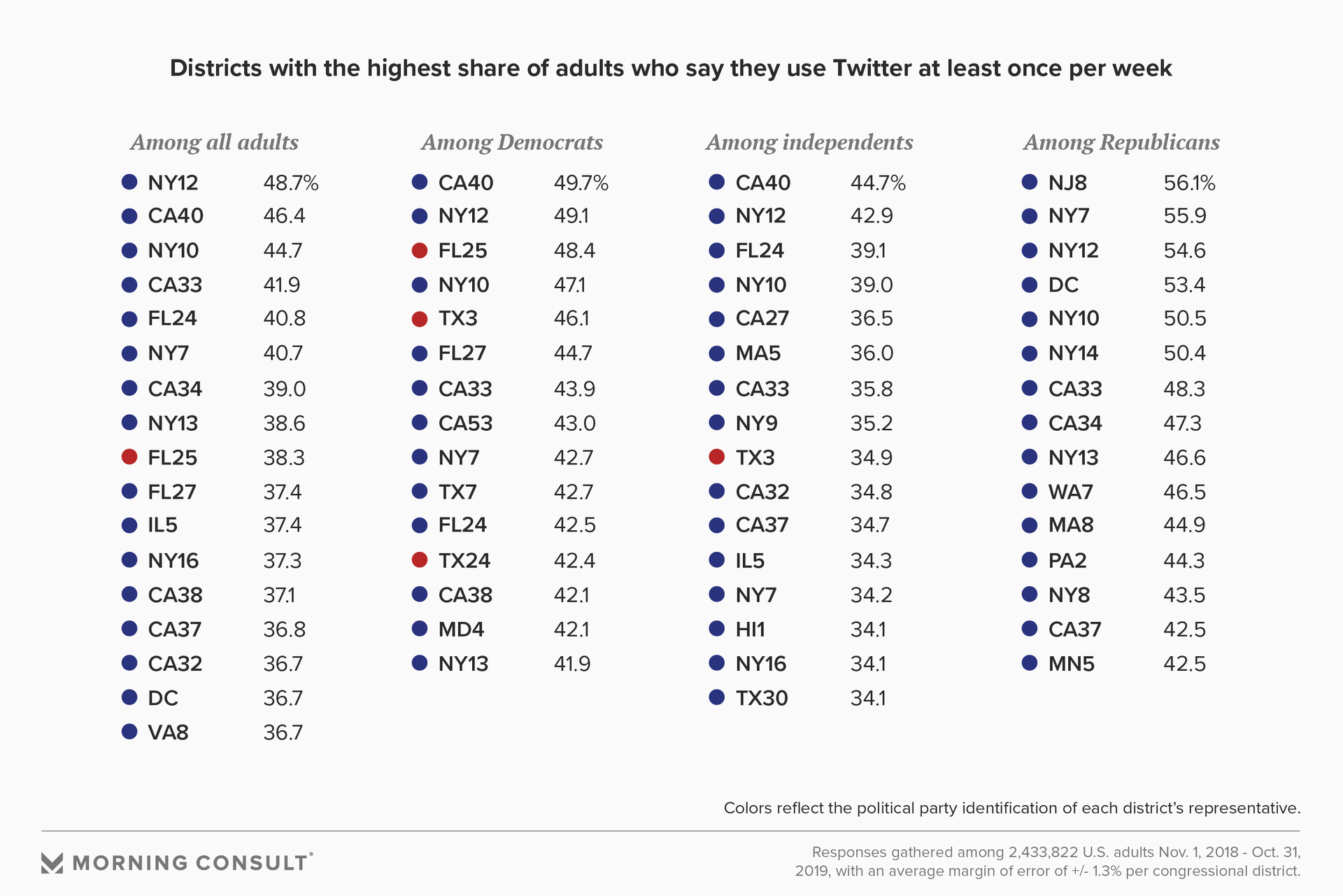 Despite Democrats' higher Twitter usage nationwide, Republican residents are more likely to be logging on than both Democrats and independents in the districts that have the highest share of U.S. adults on Twitter.
For example, in Washington, D.C., which ranks 16th nationally in Twitter use with 36.7 percent of residents scrolling through tweets at least once a week, Republicans are roughly 50 percent more likely to be on Twitter weekly than Democrats: 53.4 percent vs. 35.8 percent. That is the third-largest gap of Republican usage compared to that of Democrats, behind New York's 14th District and New Jersey's 8th.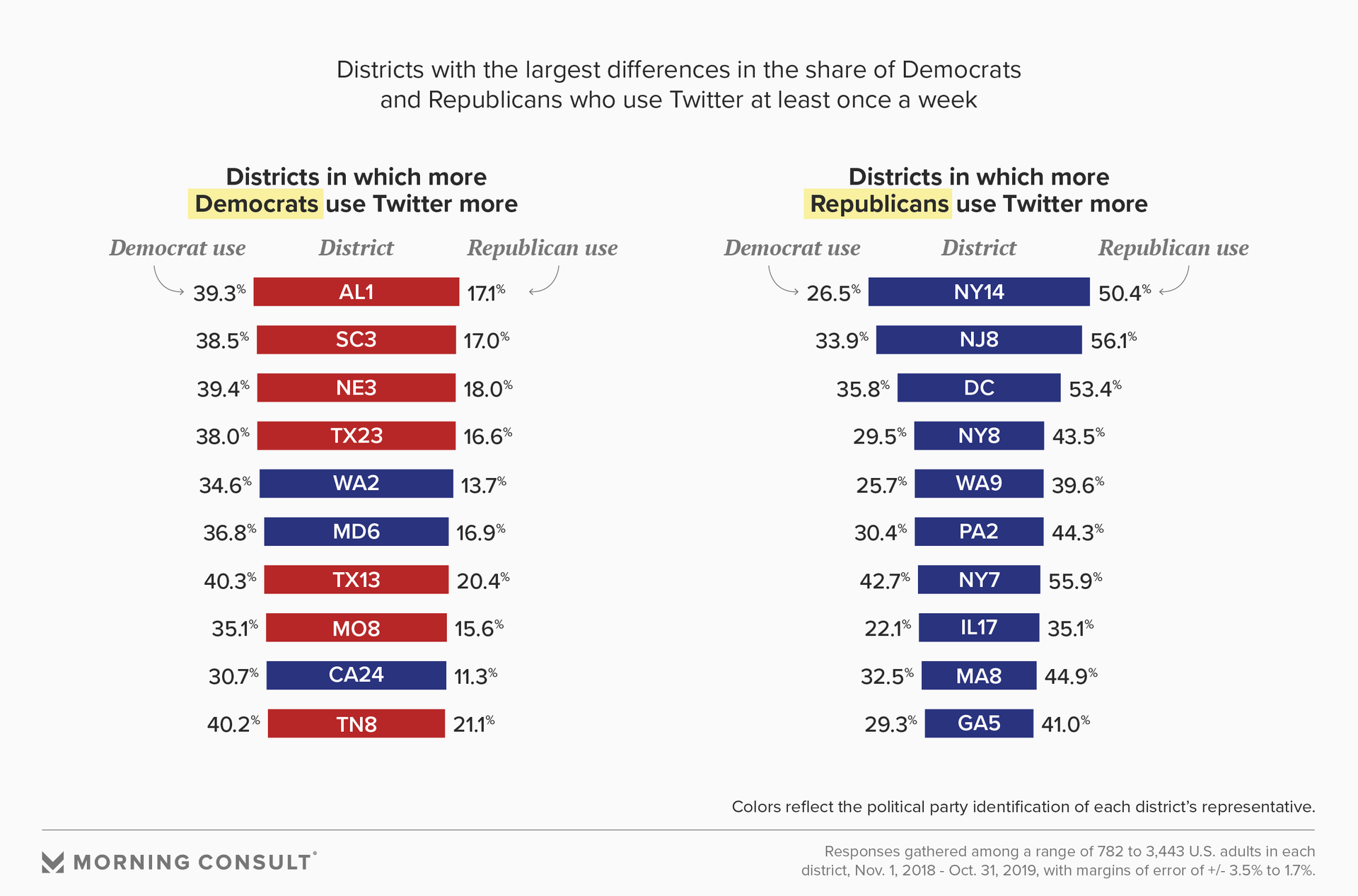 Though Democratic lawmakers represent districts in which Republicans are more likely than Democrats to tweet, a similar trend is not necessarily mirrored in districts with disproportionately more Democratic users: It's a bit more of a mixed bag, with three of those districts having a Democratic representative and seven districts having a Republican one.
And among the top five districts with the most Democratic use, two of those districts show more Twitter use from Republicans than either Democrats or independents.
Twitter declined a request for comment.
Jared Berry, Samantha Elbouez, Vladimir Gorshkov and Erin Morris assisted with data and visual production.
Joanna Piacenza leads Industry Analysis at Morning Consult. Prior to joining Morning Consult, she was an editor at the Public Religion Research Institute, conducting research at the intersection of religion, culture and public policy. Joanna graduated from the University of Wisconsin-Madison with a bachelor's degree in journalism and mass communications and holds a master's degree in religious studies from the University of Colorado Boulder. For speaking opportunities and booking requests, please email [email protected].
We want to hear from you. Reach out to this author or your Morning Consult team with any questions or comments.
Contact Us