The Congressional Districts Potentially Most Vulnerable to Facebook Misinformation
Ahead of the 2020 election, new analysis shows which districts have the highest concentration of weekly users
Misinformation ran rampant on Facebook throughout the 2016 presidential election, and critics remain concerned that the social media giant has not done enough to address the problem. 
With the 2020 election approaching, it's worth looking at which pockets of the country could potentially be the most exposed to misinformation -- that is, fake news -- or disinformation, the deliberate spreading of fake news with the intent to deceive, via the popular platform.
An analysis of the social media habits of 2,433,822 people around the nation, gathered from Morning Consult polls conducted from November 2018 through October 2019,  shows which congressional districts have the largest share of weekly Facebook users, and thus could be the most vulnerable districts in terms of potential misinformation, whether from political ads or false news articles, during the 2020 election cycle. 
(To be sure, a higher share of residential weekly usage of Facebook doesn't guarantee higher misinformation, but the potential for it is much greater.)
We are a social media-obsessed country: More than three-quarters (76.4 percent) of U.S. adults are on Facebook at least once a week.
The districts with the highest share of weekly Facebook users largely have one thing in common: Their representative is Republican. That's true for the top 15 districts, and 48 of the top 50 in terms of heavy usage. 
When reached for comment, Facebook directed Morning Consult to an October 2019 post on efforts it has made to protect the 2020 U.S. elections, including a section on viral misinformation. Per the post, Facebook is reducing the spread of misinformation by preventing certain posts from appearing in Instagram's Explore section and reducing posts' presence in Facebook's News Feed section. 
The post also notes: "Over the next month, content across Facebook and Instagram that has been rated false or partly false by a third-party fact-checker will start to be more prominently labeled so that people can better decide for themselves what to read, trust and share."
The vast majority of these districts are noncompetitive looking toward 2020, and most are in states that are firmly Republican. Two exceptions are Iowa's 4th, represented by Republican Steve King, and Michigan's 6th, represented by Republican Fred Upton, which are two districts to watch come November.
More residents in Kentucky's 5th, West Virginia's 3rd and Alabama's 4th are on Facebook than any other district, and they're logging on regardless of political party — which differentiates them from districts further down the list.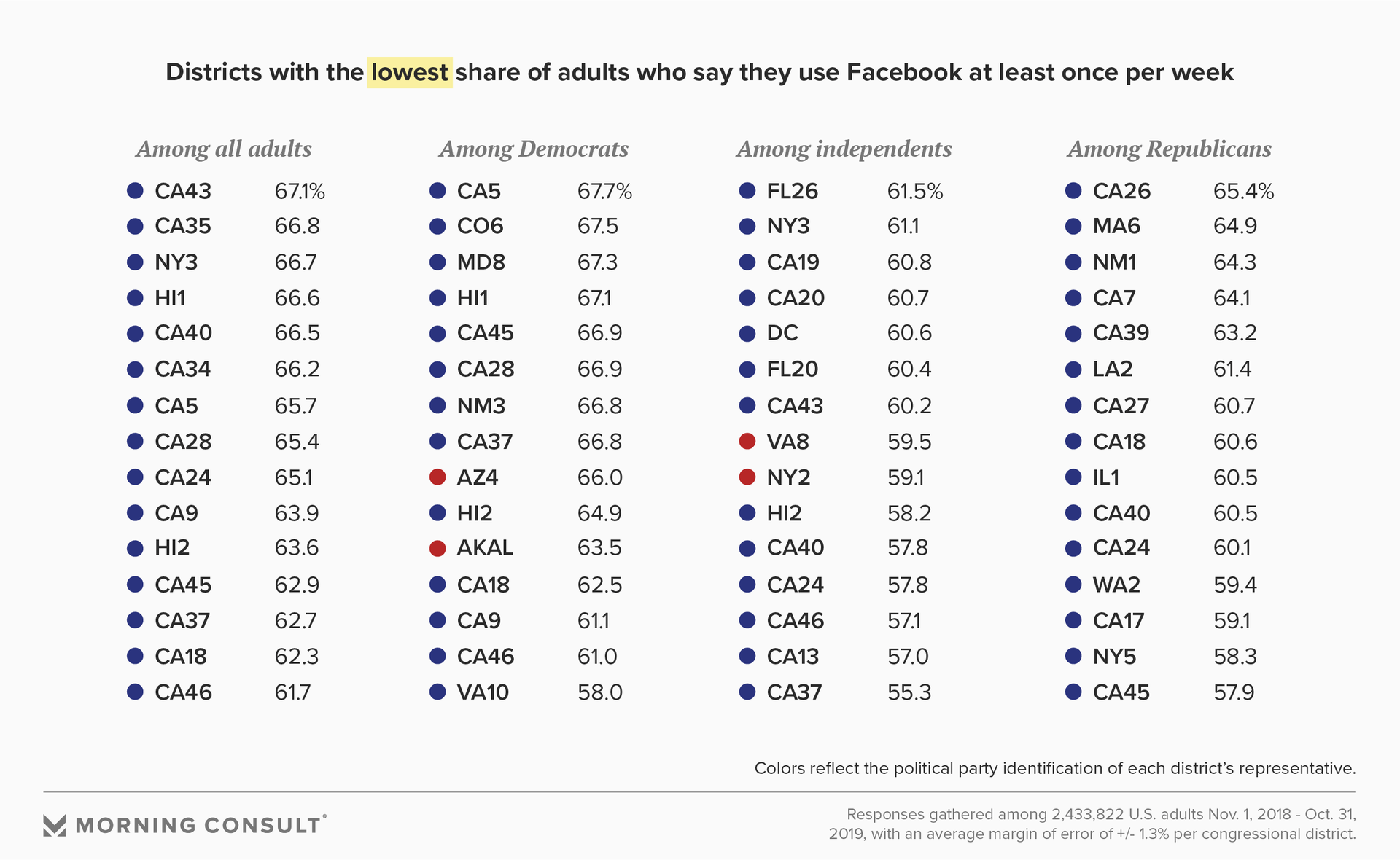 Conversely, the districts with the lowest use are represented by a Democratic politician, including 45 of the bottom 50. Notably, 12 of the bottom 15 are California districts.
Concerns over disinformation spiked when Facebook Inc. CEO Mark Zuckerberg told the House Financial Services Committee in late October that it wouldn't be fact-checking political ads, a position he has not wavered on even as other social media rivals have moved to crack down on false information in those ads, such as Snap Inc., or eliminated political ads altogether, such as Twitter Inc. 
To be sure, even the districts with the lowest Facebook usage still have 3 in 5 logging in at least once a week. Social media use is disproportionately high when compared to cable news consumption, for example.
Jared Berry, Samantha Elbouez, Vladimir Gorshkov and Erin Morris assisted with the data and visual production.
Joanna Piacenza leads Industry Analysis at Morning Consult. Prior to joining Morning Consult, she was an editor at the Public Religion Research Institute, conducting research at the intersection of religion, culture and public policy. Joanna graduated from the University of Wisconsin-Madison with a bachelor's degree in journalism and mass communications and holds a master's degree in religious studies from the University of Colorado Boulder. For speaking opportunities and booking requests, please email [email protected].
We want to hear from you. Reach out to this author or your Morning Consult team with any questions or comments.
Contact Us