Will the Inflation Reduction Act Live Up to Its Name? Just 1 in 4 Voters Think So
But at least half of voters still support the individual provisions in Democrats' signature legislation, with the exception of fresh IRS funding
Democrats' hard-fought spending package was signed into law by President Joe Biden on Tuesday, delivering hundreds of billions for climate and health care policy initiatives as well as increased funding for the Internal Revenue Service. A new Morning Consult/Politico survey, however, finds an electorate skeptical that the Inflation Reduction Act will live up to its name, though still supportive of most of the individual measures that make up the package.
About 1 in 4 Voters Think Democrats' Inflation Reduction Act Will Actually Reduce Inflation
Respondents were asked if they think Democrats' Inflation Reduction Act will make inflation better or worse, or have no impact at all on rising prices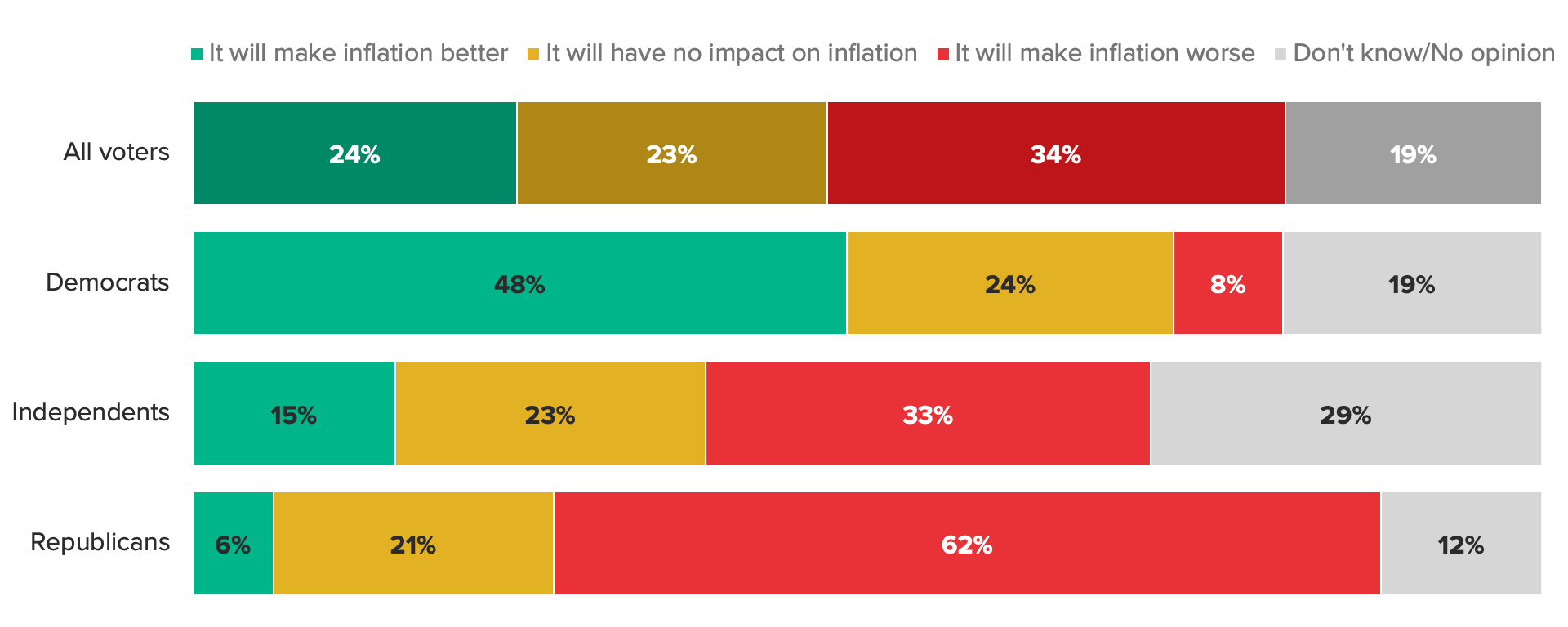 Survey conducted Aug. 12-14, 2022, among a representative sample of 2,005 registered voters, with an unweighted margin of error of +/-2 percentage points. Figures may not add up to 100% due to rounding.
Plurality of voters say Inflation Reduction Act will make inflation worse
The White House has lauded the package for offering financial relief for American families thanks to its tax breaks for green energy improvements and the potential for lower drug prices. But roughly a third of voters said they think the IRA would actually make inflation worse, including nearly 2 in 3 Republicans. GOP lawmakers have pursued a consistent campaign to paint the spending package as ineffective against inflation and amplified reports by institutions including the Joint Committee on Taxation and the Congressional Budget Office, the latter of which found that the package would have a negligible effect on inflation. 
Roughly 1 in 5 voters, regardless of party, thought the spending package would do nothing to affect rising prices one way or the other. Democrats were most optimistic about the legislation's potential to reduce inflation, with 48% saying they believed it would help with rising prices. 
Voters still support most of the individual pieces of the Inflation Reduction Act. Prior to the bill's passage in the Senate, a Morning Consult/Politico survey found that at least half of voters supported all but one of the major provisions in the act, and those sentiments have basically held true. In the latest survey, at least 1 in 2 voters said they support incentives for green energy, policies to help reduce prescription drug prices and corporate tax and deficit reduction measures. The lone exception continued to be increased IRS funding: 40% said they support the $80 billion infusion to the agency, compared to 43% in late July. 
Capping prescription drug price increases is the most popular provision in the IRA, with 76% of voters saying they support the measure, including 86% of Democrats, 71% of independents and 69% of Republicans. 
Half of voters backed the 1% excise tax on stock buybacks by corporations, a measure added to Democrats' package after the previous Morning Consult/Politico survey. The provision was part of the deal Democrats made with Sen. Kyrsten Sinema (D-Ariz.), who preserved private equity's carried interest tax break. 
The Aug. 12-14, 2022, survey was conducted among a representative sample of 2,005 registered voters, with an unweighted margin of error of plus or minus 2 percentage points.
Amanda Jacobson Snyder previously worked at Morning Consult as a data reporter covering finance.
We want to hear from you. Reach out to this author or your Morning Consult team with any questions or comments.
Contact Us