Among Voters, Biden's Infrastructure Package Has a Slight Edge Over GOP Proposal
Senate Republican plan drew 48 percent support, while the president's plan enjoys 52 percent backing
Key Takeaways
Biden's plan has 83% support from Democratic voters.

Support for Senate Republicans' plan clocked in at 61% among GOP voters.

A 15% corporate tax rate minimum was the most popular option to pay for U.S. infrastructure investments.
While infrastructure negotiations have started and stalled in recent weeks, support for some kind of package resonates with about half of U.S. voters, new polling shows. 
The White House and Senate Republicans have gone back and forth on offers that include options to pay for a plan via corporate tax increases to bargaining over the price tag of the proposal. President Joe Biden is now turning the page on negotiations with Sen. Shelley Moore Capito (R-W.Va.) and will instead move forward on talks with a bipartisan group of senators, and he'll do so at a position of moderate strength in terms of voter support. 
Fifty-two percent of voters back Biden's $2.3 trillion infrastructure package, according to a new Morning Consult/Politico poll. Senate Republicans' nearly $1 trillion counteroffer garnered 48 percent backing.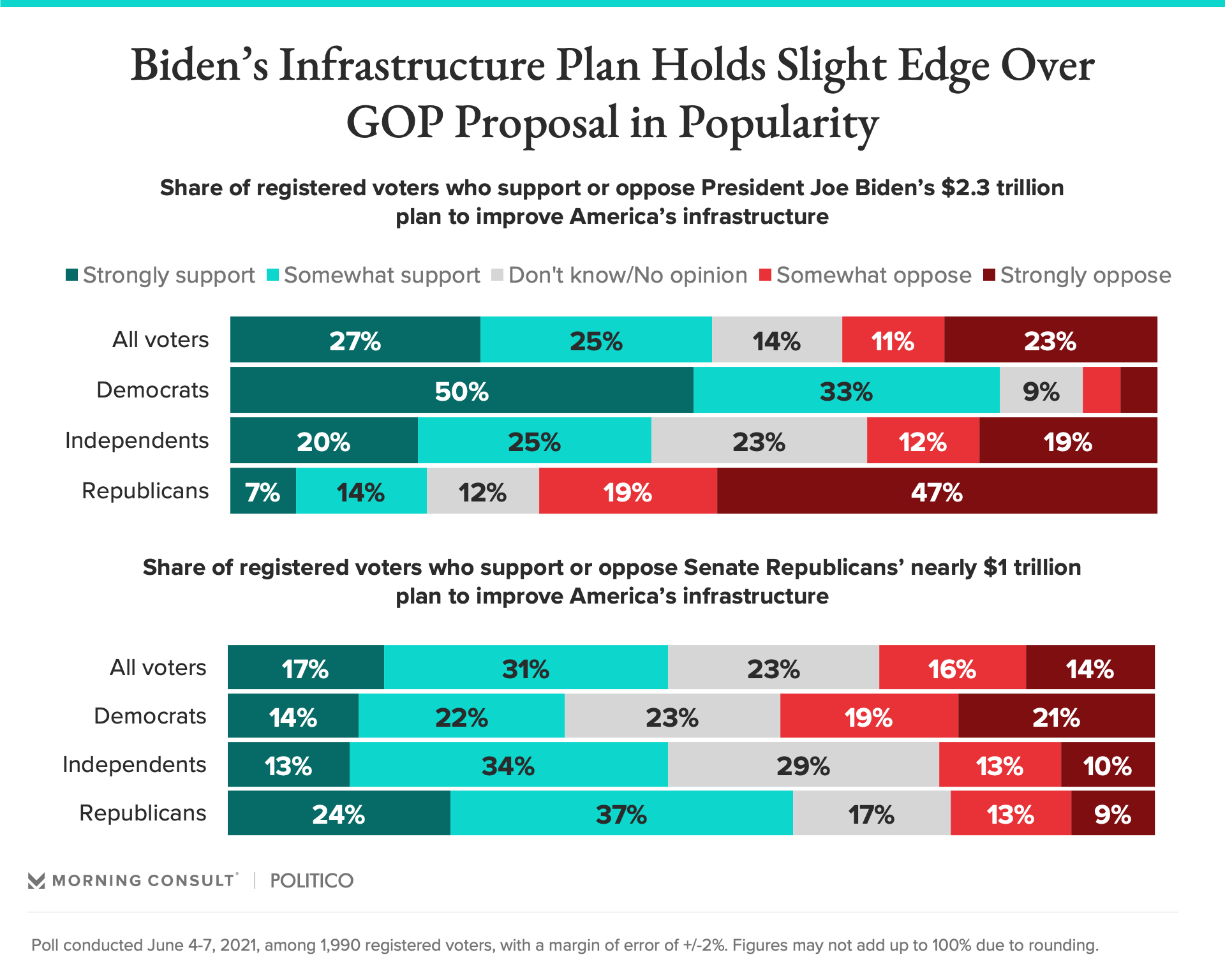 Unsurprisingly, Biden's infrastructure plan received its highest level of support from Democratic voters at 83 percent, compared to 45 percent of independents and 21 percent of Republicans. 
The Senate Republicans' plan, similarly, was primarily backed by GOP voters, but enthusiasm was more tepid. Sixty-one percent of Republicans support the plan, while 36 percent of Democrats and 47 percent of independents said the same. 
Generally, support for Biden's spending plans have hovered above 50 percent in recent months. In late April and early May, Biden's $1.8 trillion economic spending plan to improve child care, education and paid leave drew 58 percent support. A mid-April poll asking about Biden's infrastructure plan without providing respondents with any numbers garnered 57 percent backing. 
Throughout negotiations, one of the major sticking points between the White House and GOP lawmakers has been how to fund the large spending proposals, with Biden wanting to raise taxes on corporations, which Republicans have said is a nonstarter. Recently, the White House reportedly offered Republicans a potential concession — a 15 percent corporate tax minimum, aimed at very profitable U.S. companies that pay the federal government very little or nothing in taxes every year. 
That 15 percent minimum tax rate is the most popular of the potential payment methods, according to the poll. 
Fifty-seven percent of voters support the 15 percent minimum rate. Support for that possible funding source is closely followed by a 25 percent corporate tax rate at 50 percent and a 28 percent corporate tax rate at 47 percent. 
Claire Williams previously worked at Morning Consult as a reporter covering finances.
We want to hear from you. Reach out to this author or your Morning Consult team with any questions or comments.
Contact Us