It's No Joke: Audiences Want Antiheroes, Moral Ambiguity in Films
Experts say current appetite for films like 'Joker' reflect societal conditions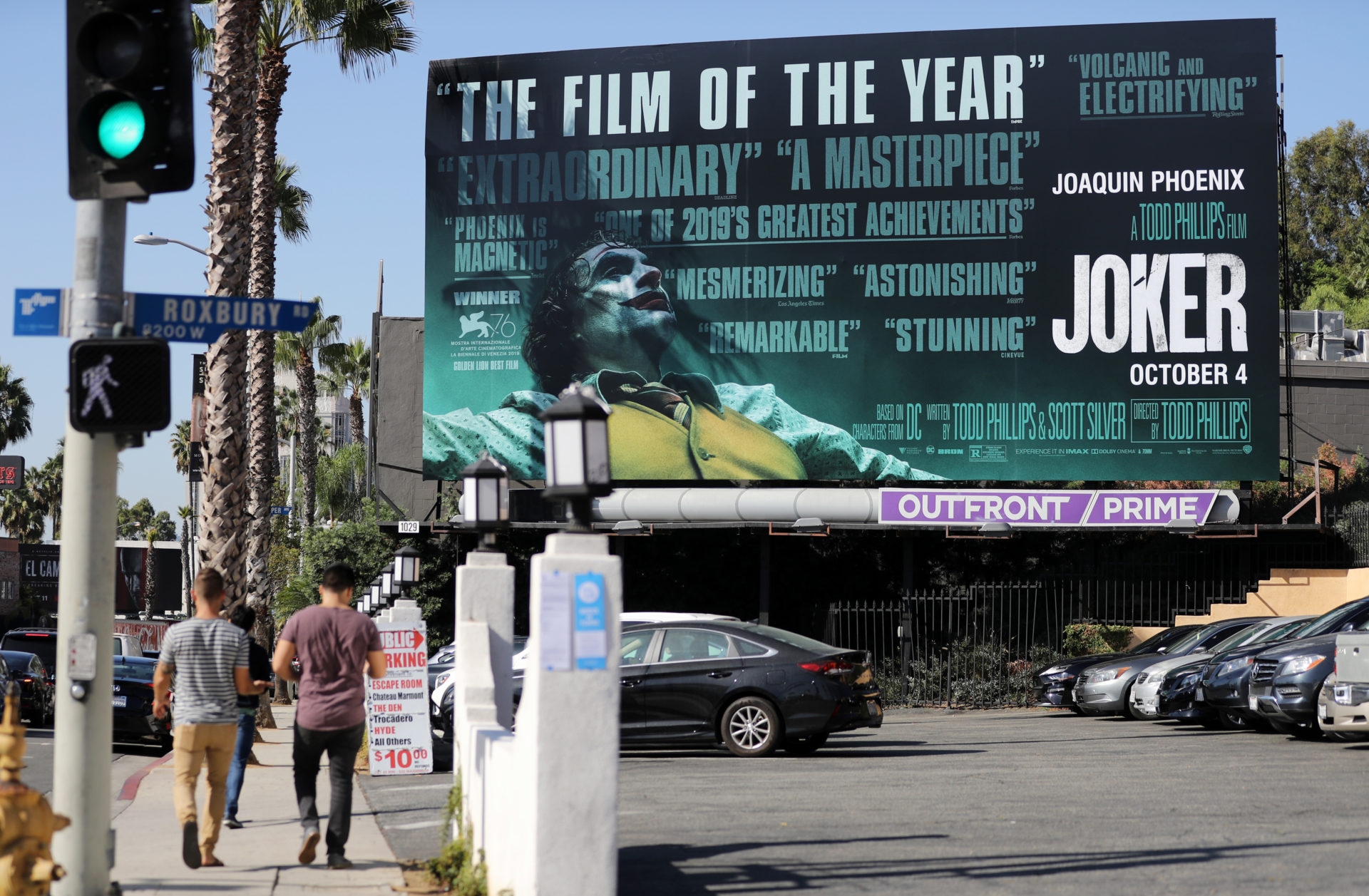 Key Takeaways
68% of those surveyed said a good piece of art or film should be rewarded and treated as such, even if it causes controversy.

51% of adults prefer films that feature an obvious hero and villain, while 49% enjoy films where those roles are less clear.
While "Joker" has smashed box office records, the film has also been the subject of controversy, leading some to question whether potentially problematic cinematic works deserve to be rewarded. But new polling suggests that this debate may only matter to Hollywood, with experts noting that audiences are primed for films that explore moral gray areas. 
An Oct. 11-13 Morning Consult survey found that audiences were nearly split on whether they preferred films with an obvious hero and villain (51 percent), or films without an obvious hero and villain (49 percent). Additionally, the 2,198 U.S. adults in the poll were almost evenly divided on whether films should clearly define right and wrong (48 percent) or whether they should embrace moral ambiguity (52 percent). 
The poll's margin of error is 2 percentage points.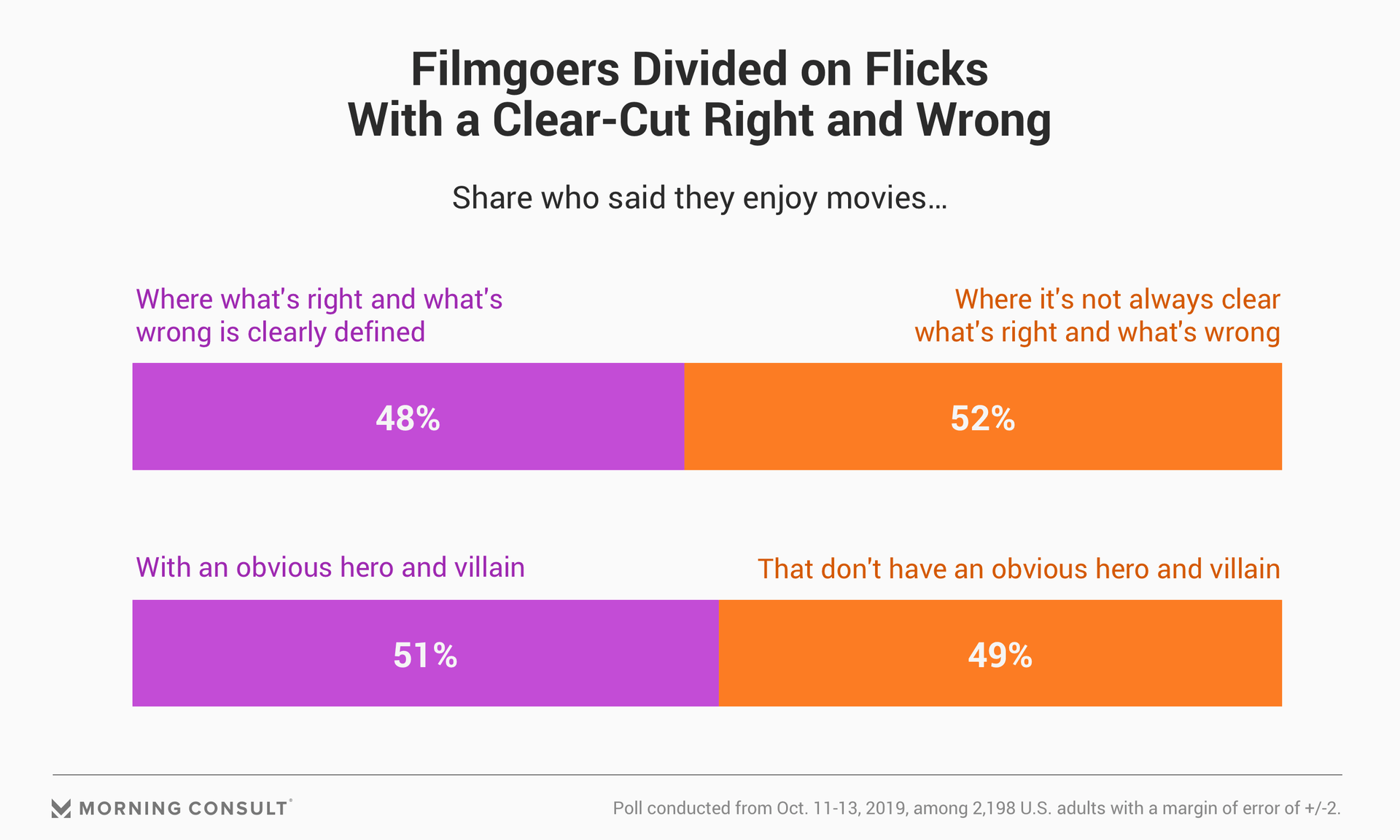 Concerns around the film's potential to incite violence arose even before its Oct. 4 release, with the families of those killed in the 2012 shooting in an Aurora, Colo., movie theater during a screening of "The Dark Knight Rises" sending a letter asking Warner Bros. to join efforts to prevent gun violence. Although there were several disturbances during screenings, no instances of violence tied to the film have been reported. 
According to Paul Dergarabedian, a senior media analyst at Comscore Inc., the success of "Joker" is "reflective of a desire by audiences to be challenged by movies," something that happened in the 1960s and 1970s with films like Martin Scorsese's "Taxi Driver" -- a work that "Joker" director Todd Phillips has cited as an influence on the film. "With so many films today being just all about franchises and very safe themes, a PG-13 rating keeps the film in the middle of the road," he added, with the dark violence saved for R-rated fare.  
Phillips and Warner Bros. did not respond to requests for comment.  
Kendall Phillips (no relation to the "Joker" director), a professor at Syracuse University's department of communication and rhetorical studies, said films like "Joker" are more likely to find success "during times of cultural or social upheaval," with audiences seeking out "darker fare" as a way to process the world around them.
He cited "Dracula" which was released during the Great Depression, and "Night of the Living Dead," which premiered in the aftermath of the assassinations of Martin Luther King Jr. and Robert Kennedy, as other examples of this phenomenon.  
The box office performance of "Joker" seemingly reflects the audience's desire for darker content: Despite -- or perhaps because of -- the controversy surrounding the film, it made more than $96 million domestically in its opening weekend, setting a record for October releases, and has netted more than $313 million in domestic ticket sales as of Nov. 12. Kendall Phillips said the buzz surrounding "Joker" cemented its status as an "event film," one that resonates so deeply with the public that even those who don't plan on seeing it are aware of its significance. 
But it's not just financial success: The film has also garnered critical attention, winning the Golden Lion at the Venice Film Festival. And Joaquin Phoenix's performance in the titular role has been heralded by many awards pundits as the one that may earn him his first Oscar. 
The growing fame of "Joker" -- and its potential to receive more awards attention -- has raised questions about the critical merit of controversial films, and whether they should reap the associated rewards. After the movie's release last month, The Hollywood Reporter published a story in which anonymous Academy members shared their feelings on the film. One member of the Academy's executives' branch told THR that "I don't think the Academy should honor a film with such controversial elements," while another member in the producers' branch said he was "torn" over the question of the "responsible" choice "as a voter." 
But audiences don't share this ambivalence, with 68 percent of survey respondents saying that a good piece of art or film should be rewarded and treated as such, even if it does cause controversy.
Alissa Wilkinson, a film critic for Vox.com, noted that in the past couple of decades, it hasn't been uncommon to hear someone say "this was one of the most controversial films of the year" when discussing Best Picture winners. For instance, "Three Billboards Outside Ebbing, Missouri," which won 2018's Golden Globe for Best Picture, Drama, and last year's Oscar winner for Best Picture, "Green Book," were both the subject of debate for their handling of racial issues. The historical accuracy of "Green Book" was debated in the run-up to its win, and "Three Billboards" was a topic of discussion in 2018 after catching fire for issues around representation and its redemptive arc for a racist character. 
Wilkinson said that the "debate happens among critics" because critics are focused on "how this movie fits into culture, whereas audiences are basically showing up to be entertained." 
She added that Oscars success depends on factors other than audience or critical response, with campaigning playing a significant role, and noted that "Joker," in her mind, is a film that will not "campaign well at all." 
Campaigning, Wilkinson said, can involve the personality and charisma of those tied to the movie. In this case, Phoenix has a history of bizarrely staged publicity appearances on the talk show circuit, and as noted by The New York Times' Kyle Buchanan, will "never be the shake-hands-and-kiss-babies type." And Todd Phillips made headlines when he told Vanity Fair that "woke culture" has made it difficult for him to make his preferred brand of comedy.
Among the 238 survey respondents who have seen "Joker," 76 percent think it should be nominated for an Oscar.  
Sarah Shevenock previously worked at Morning Consult as a reporter covering the business of entertainment.
We want to hear from you. Reach out to this author or your Morning Consult team with any questions or comments.
Contact Us