Key Players in Kavanaugh Confirmation Fight Reap Benefits from Base
Three GOP senators up in 2020 see boost among GOP voters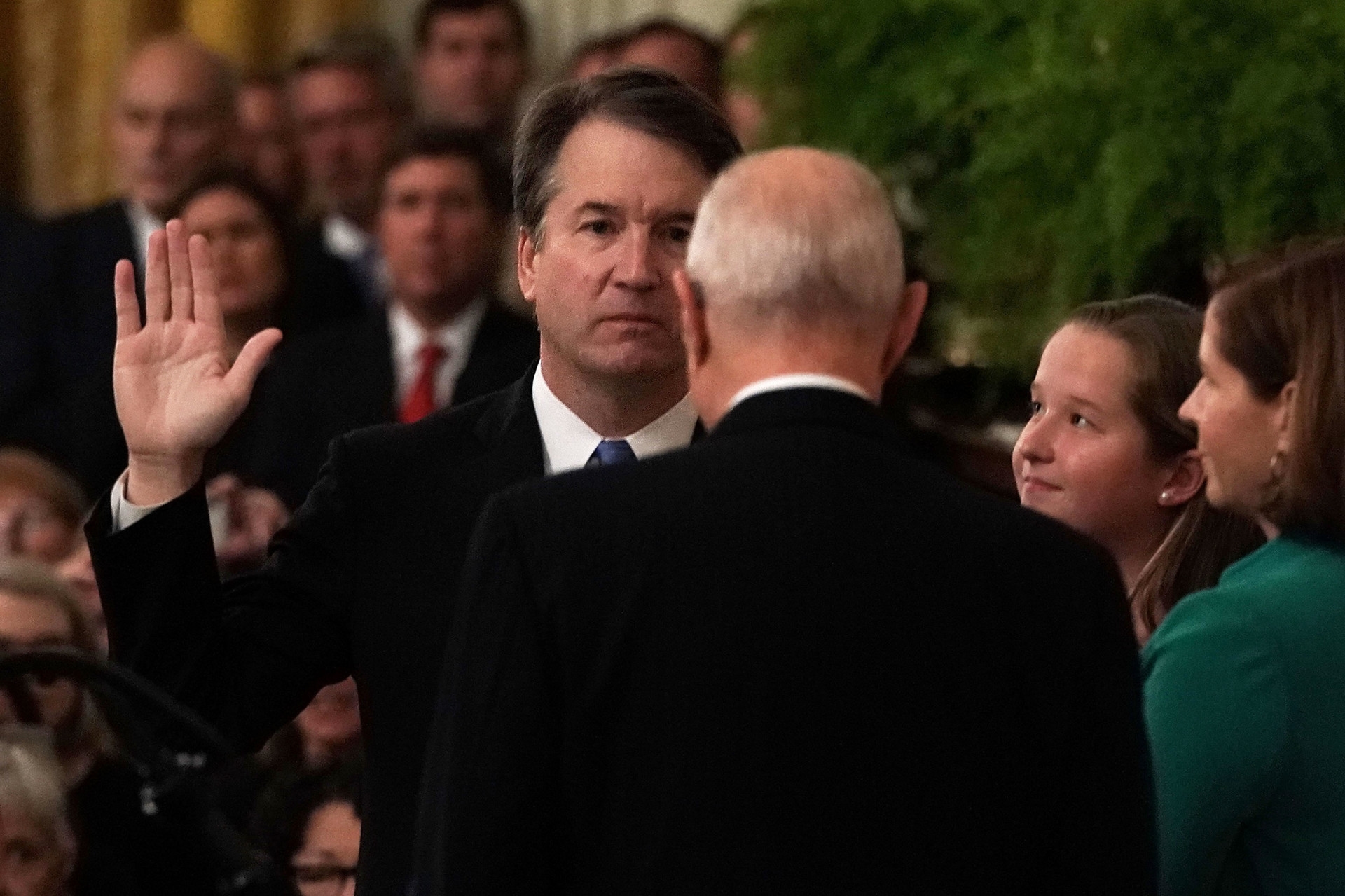 Key Takeaways
Sens. Susan Collins (R-Maine) and Lindsey Graham (R-S.C.) saw respective 46- and 43-point jumps in net approval among GOP voters in their states.

Kentucky Republicans grew fonder of Senate Majority Leader Mitch McConnell by 16 net points, lifting him out of the bottom spot of Morning Consult's Senate Approval Rankings.
Three Republican senators who could face primary challenges next year are beginning 2019 on the upswing with their party's base after playing pivotal roles in the successful confirmation of President Donald Trump's controversial Supreme Court nominee, Brett Kavanaugh.
Sen. Lindsey Graham of South Carolina, whose fiery speech defending Kavanaugh at a Judiciary Committee hearing helped rally and unify Senate Republicans; moderate Sen. Susan Collins of Maine, whose vote proved decisive in Kavanaugh's confirmation; and Senate Majority Leader Mitch McConnell of Kentucky, who's made reshaping the courts for conservatives his legacy, all saw double-digit increases in their net approval among GOP voters in their states, according to the latest edition of Morning Consult's Senator Approval Rankings.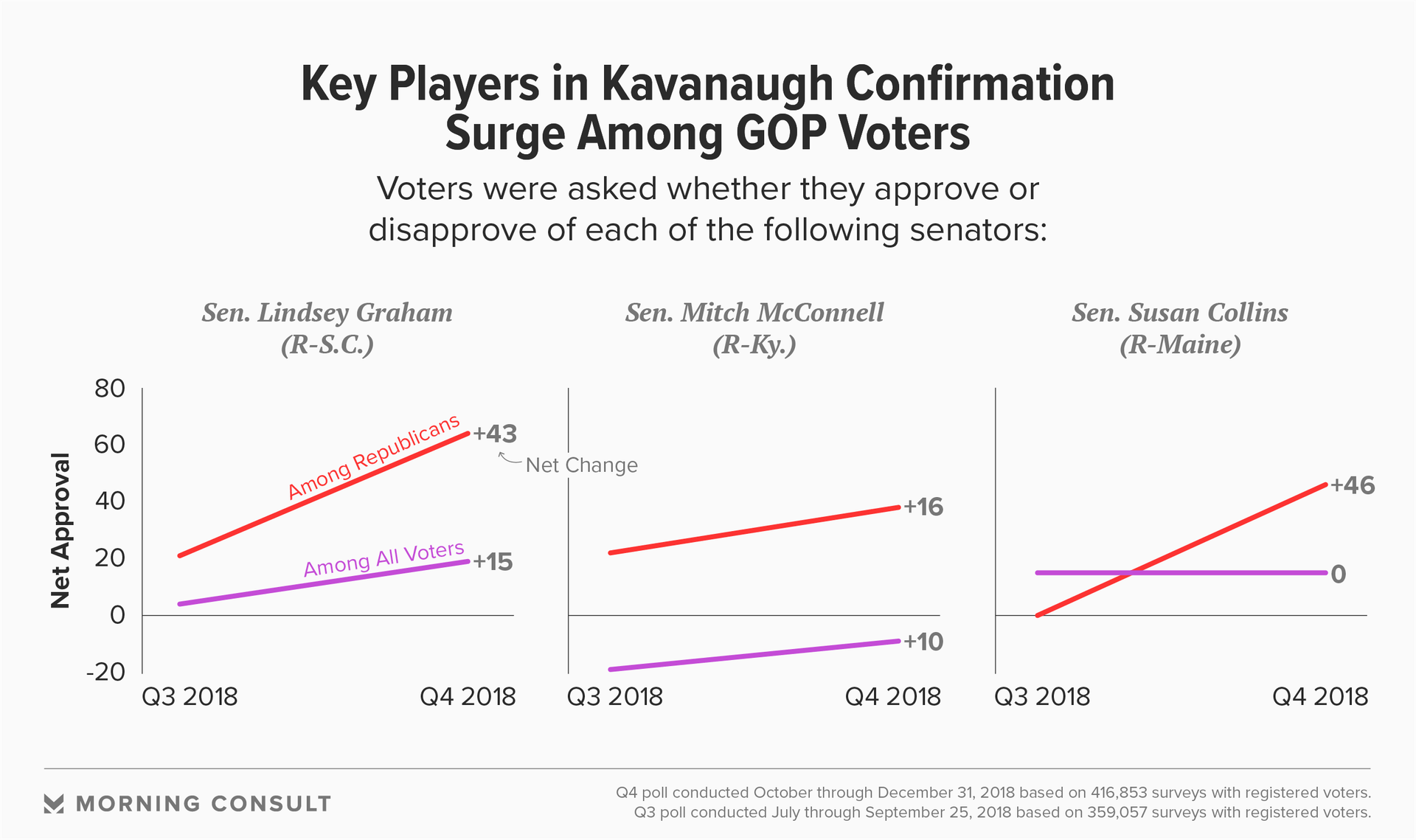 "A Supreme Court nomination unites Republicans across the board because it's viewed as an institutional function," Ron Bonjean, a GOP strategist who helped shepherd Trump's first Supreme Court pick, Neil Gorsuch, across the finish line, said in an interview. "It's something that every Republican believes, whether you're supportive of the president or a 'Never Trumper' in some of these more liberal areas."
The Kavanaugh fight was unique, pitting Trump's effort to solidify a conservative high court against the #MeToo era, culminating in Christine Blasey Ford's emotional testimony alleging that Kavanaugh sexually assaulted her while the two were in high school in the 1980s.
Gary Marx, a Republican strategist who advises the conservative Judicial Crisis Network, said their victory in Kavanaugh's nomination fight is "indelibly marked" in the memory of Republican voters.
"You cannot take away from Sens. Collins, Graham or McConnell the leadership each one uniquely showed," he said.
Bonjean, who spent years working for congressional leaders on both sides of the Capitol, said the Kavanaugh fight "is hugely important on the front end" of the 2020 fight as possible Republican challengers mull whether to launch campaigns.
Graham has faced primary challenges both times he's sought re-election to the Senate, including a tough fight against a field of tea party challengers in 2014 who criticized his stance on immigration and his support for then-President Barack Obama's Supreme Court nominees. Graham was also critical of Trump as they both vied for the Republican presidential nomination in 2016, at one point calling him "a kook" who was "crazy" and "unfit for office."
But since Trump became president, Graham has emerged as an outspoken ally -- serving as a staunch advocate for much of the president's agenda, and perhaps most notably, his diatribe excoriating Democrats for their treatment of Kavanaugh after Blasey Ford's testimony, uniting the right and steering the nomination back on track.
Republicans in South Carolina appear to have taken notice.
Graham experienced a boost of 43 percentage points in his net approval among those voters between the third and fourth quarters of 2018. That surge sent his net approval soaring 15 points among all voters in the Palmetto State as he ended 2018 with 51 percent approving and 32 percent disapproving.
Collins, whose coalition has consisted of Republicans and independent-minded Democrats since she was elected in 1996, has been one of the less-reliable votes for McConnell during his tenure as GOP leader, most notably helping sink the 2017 effort to repeal and replace the Affordable Care Act. That posture has at times put her crosswise with the base in her state, but her decisive vote in favor of Kavanaugh's confirmation appears to have gone a long way in repairing that relationship.
The fourth quarter brought Collins a 46-point uptick to her net approval among Maine Republicans, while her standing among all voters was unmoved: 53 percent approved, 38 percent did not.
McConnell, the longtime Kentucky Republican who's served in Senate leadership since 2003, has been unpopular in his home state since Morning Consult began tracking in 2015. In Washington, he's had to thread a needle between advancing many of Trump's policies and nominees while also managing Trump's antagonists in the chamber and resisting his calls to change the Senate's rules.
In Kentucky, the positive changes in McConnell's approval in the final three months of 2018 were smaller than the others but notable for the man who was, until Morning Consult's latest round of rankings, America's least popular senator. With Republicans, his net approval increased 16 points, with 63 percent now approving of him, while it increased 10 points with voters overall, leaving him just 9 points underwater at the end of the year.   
Eli Yokley is Morning Consult's U.S. politics analyst. Prior to his current role, Eli was Morning Consult's senior reporter covering U.S. politics. Eli joined Morning Consult in 2016 from Roll Call, where he reported on House and Senate campaigns after five years of covering state-level politics in the Show Me State while studying at the University of Missouri in Columbia, including contributions to The New York Times, Politico and The Daily Beast. Follow him on Twitter @eyokley. Interested in connecting with Eli to discuss his analysis or for a media engagement or speaking opportunity? Email [email protected].
We want to hear from you. Reach out to this author or your Morning Consult team with any questions or comments.
Contact Us