Trump's Popularity Revisits Low as Government Agencies Shut Down
Plurality of voters say president mostly to blame for funding lapse amid fight over border wall
Key Takeaways
39% approve of Trump, 56% don't -- matching nadir of his popularity in August 2017, after Charlottesville protests.

43% plurality says he is mostly to blame for shutdown; 53% also say he didn't do enough to stop it from happening.

52% of Trump voters believe he won't get full funding for border wall.
Days into a partial government shutdown triggered by President Donald Trump's demand for increased funding for his proposed wall at the U.S.-Mexico border, a new Morning Consult survey finds voters as bearish as ever on the president's job performance.
In the Dec. 21-23 poll, which began surveying registered voters two hours before some government agencies shut down amid an impasse over wall funding, 39 percent of registered voters -- including 80 percent of Republicans -- approved of the president's job performance, while 56 percent -- including 90 percent of Democrats and 57 percent of independents -- did not.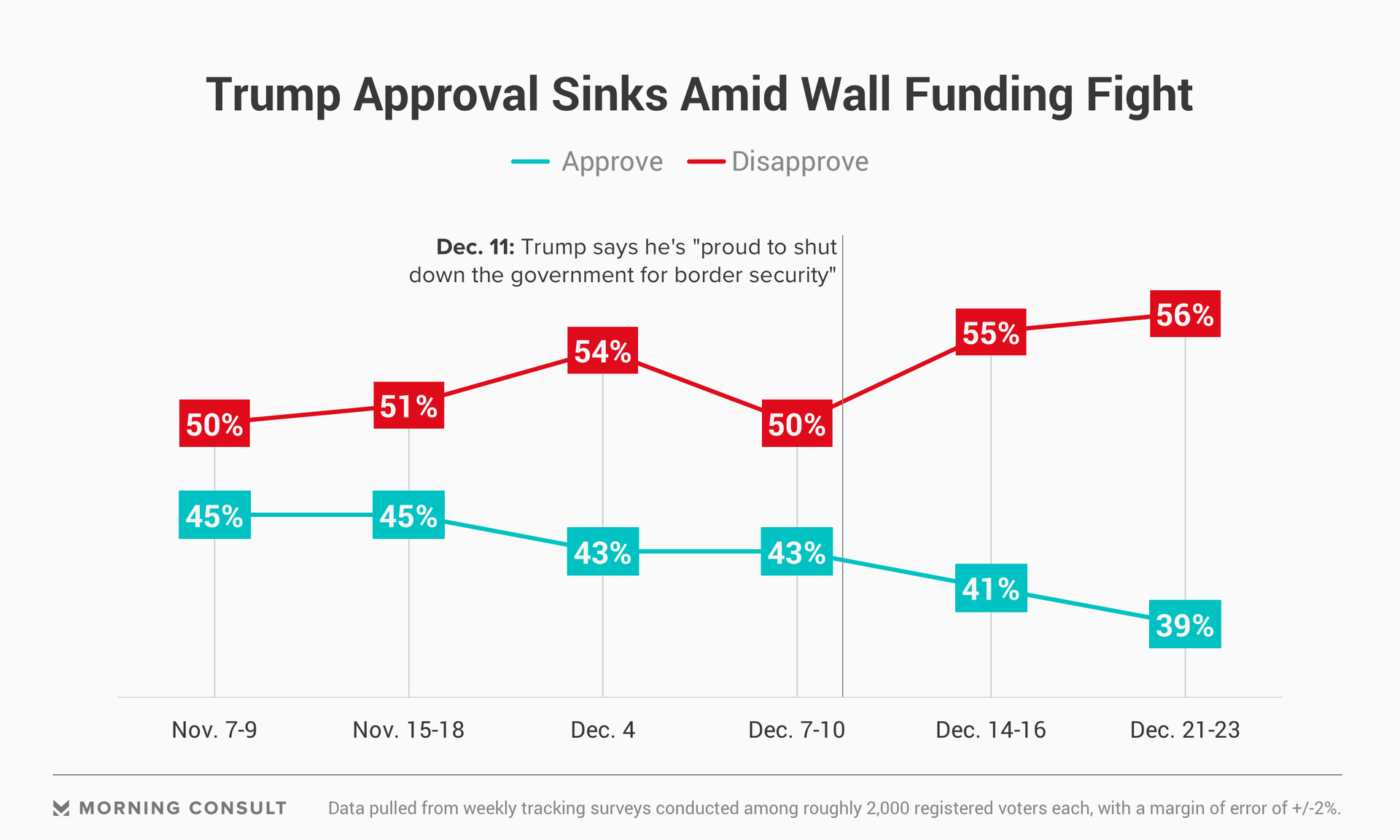 Those figures match the nadir of the president's popularity in August 2017 -- when Trump responded to the fatal melee between white supremacists and counter-protesters at the "Unite the Right" rally in Charlottesville, Va., by blaming "many sides."

The latest national online survey of 1,992 registered voters was conducted amid a hectic news cycle, when Trump made major news on a number of fronts.
He abruptly announced that U.S. troops in Syria would be coming home immediately -- alarming defense hawks in Congress and prompting the resignation of Defense Secretary James Mattis -- and has directed a large-scale drawdown of military personnel in Afghanistan, per a New York Times report. He also continued his criticism of the Federal Reserve after its latest hike in interest rates and asked advisers whether he could fire its chairman, Jerome Powell, according to a Bloomberg report.
And the survey also came as the government partially shuttered after Democrats in Congress refused to provide $5 billion in funding that Trump sought for his wall.
When asked how much they had heard about the shutdown, 78 percent of voters said they had heard at least "some" about the news, with 39 percent hearing "a lot." Sixty-eight percent also said they were familiar with the situation in Washington, and 63 percent said they understood what caused the shutdown.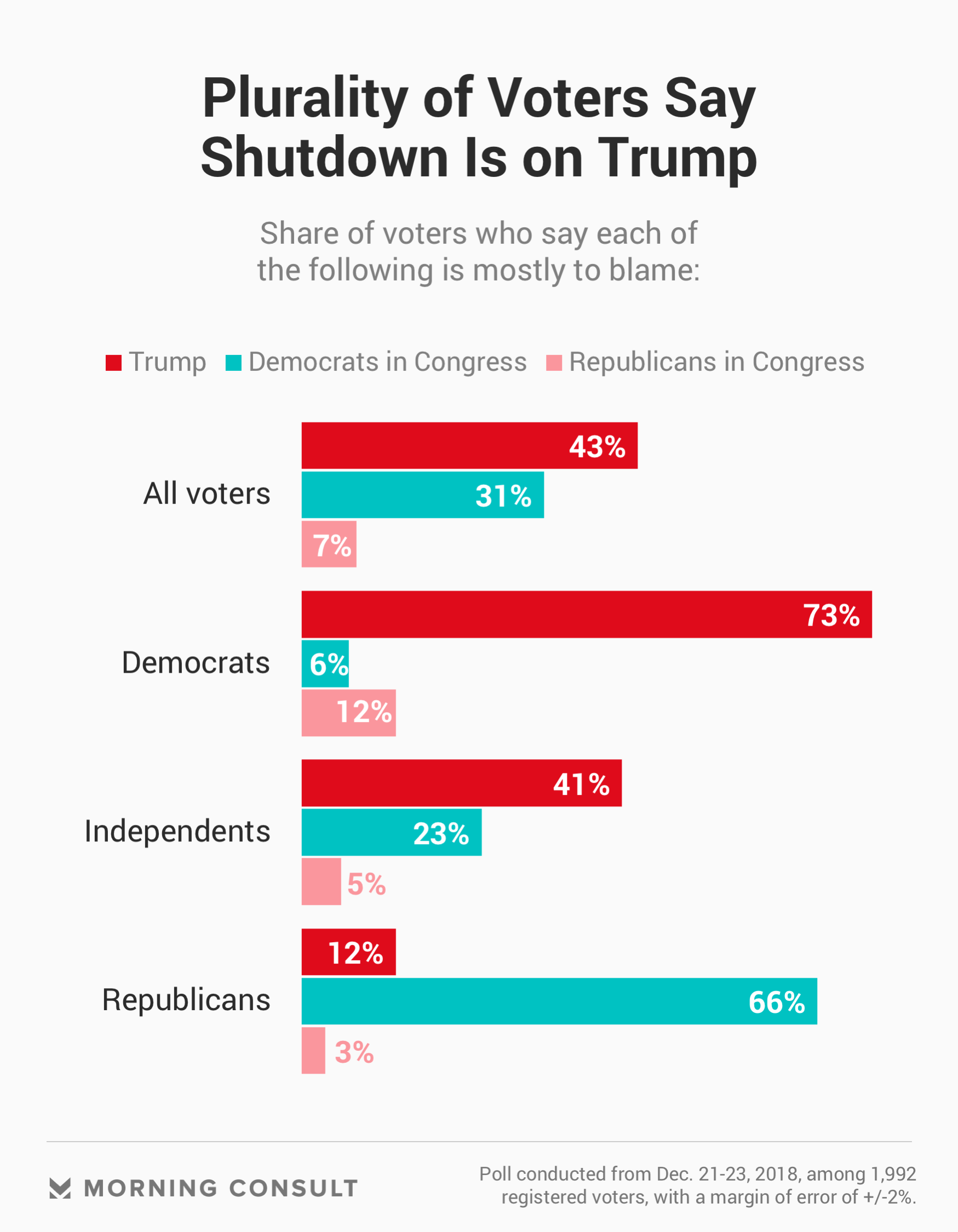 While Trump told Democratic leaders on live television on Dec. 11 that he'd be "proud to shut down the government for border security," in recent days, he's blamed those same Democrats. The new survey, which has a 2-point margin of error, finds the president taking the lion's share of blame for a shutdown that shows no signs of abating soon.
Forty-three percent of registered voters said Trump was mostly to blame for the shutdown, compared with roughly one-third who blamed Democrats and 7 percent who chose Republicans in Congress. Seventy-three percent of Democrats and a 41 percent plurality of independents blamed Trump for the shutdown, while about two-thirds of Republican voters said Democrats were mostly to blame.
Most voters (53 percent) also said Trump did not do enough to avoid the shutdown, including 52 percent of independents and 22 percent of Republicans.
White House budget director Mick Mulvaney told "Fox News Sunday" on Dec. 23 that the shutdown could last into January, when Democrats will take control of the House after picking up 40 seats in the November midterm elections. As Republicans' complete control of Washington comes to an end in the next week or so, the survey finds that even most GOP voters doubt the president will ever get full funding for one of his signature campaign promises.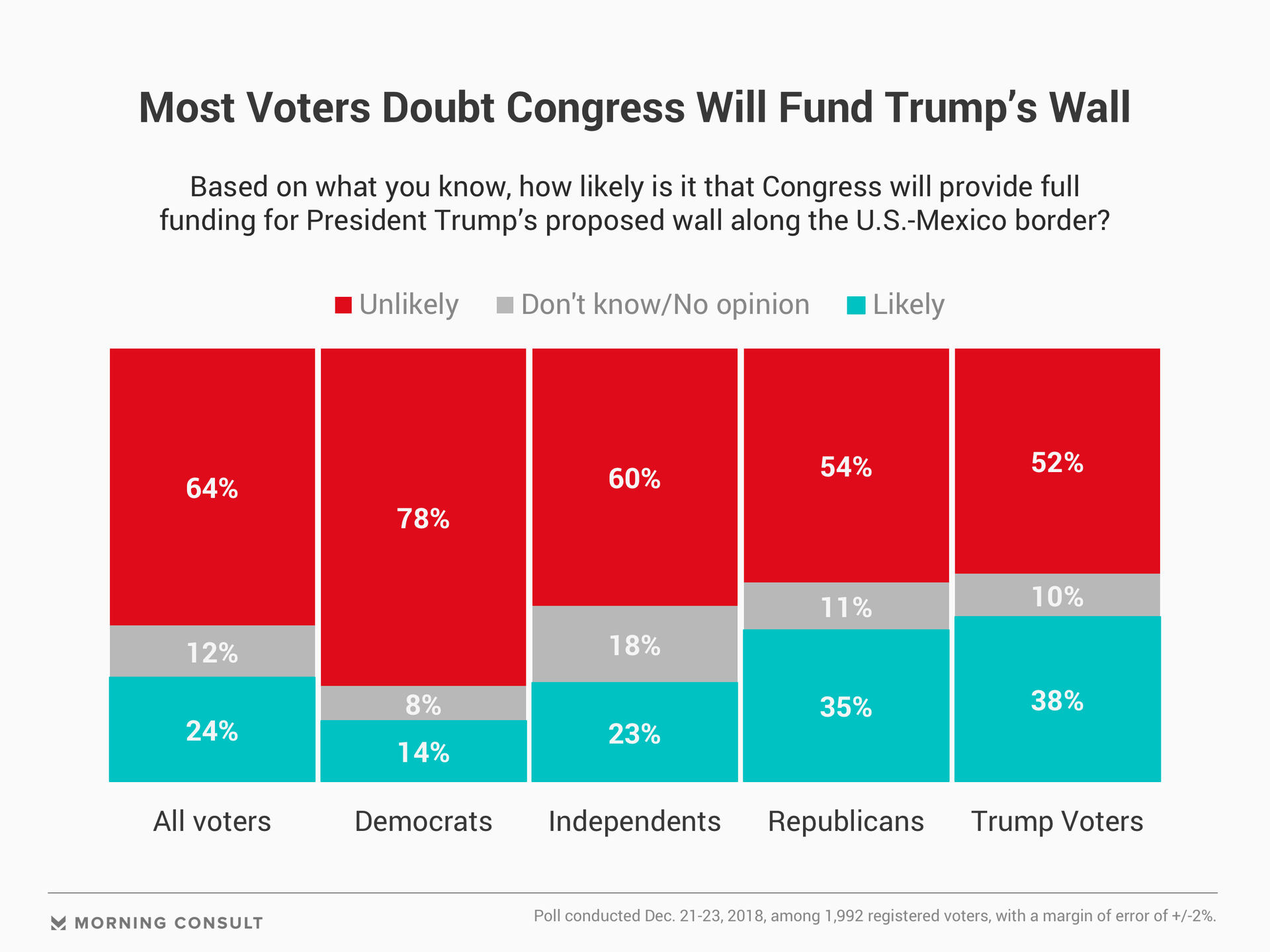 Fifty-four percent of Republicans polled said it was not too likely or not likely at all that Congress would provide full funding for the wall, compared with 35 percent who said it was very likely or somewhat likely. A similar pessimism was found among voters who said they cast their ballots for Trump in 2016: 38 percent said it was likely Trump would get full wall funding, compared with 52 percent who said it wasn't.
Cameron Easley is Morning Consult's lead analyst for U.S. politics. Prior to moving into his current role, he led Morning Consult's editorial coverage of U.S. politics and elections from 2016 through 2022. Cameron joined Morning Consult from Roll Call, where he was managing editor. He graduated from the University of North Carolina at Chapel Hill. Follow him on Twitter @cameron_easley. Interested in connecting with Cameron to discuss his analysis or for a media engagement or speaking opportunity? Email [email protected].
We want to hear from you. Reach out to this author or your Morning Consult team with any questions or comments.
Contact Us