Audiences Applaud Late-Night's Embrace of Remote Entertainment
But 44% want to skip the pandemic humor
Key Takeaways
29% of U.S. adults, including 44% of those ages 18-29, said they have watched videos from late-night hosts filmed at home and posted on YouTube or social media channels.

27% said they have watched full-length episodes that have been filmed remotely.

58% said it was appropriate for late-night shows to resume production amid the pandemic because the country needs some humor.
With production across the entertainment industry halted due to the coronavirus pandemic, late-night hosts are returning to the air via remote production — and new polling shows that audiences are applauding the move and are ready to laugh again, but maybe not about the pandemic. 
Fifty-eight percent of U.S. adults said it was appropriate for late-night shows to resume production amid the pandemic because people need a laugh, according to an April 2-4 Morning Consult/The Hollywood Reporter poll. An equal share said that late-night hosts are setting a good example while continuing to work, as the remote videos show them demonstrating social distancing.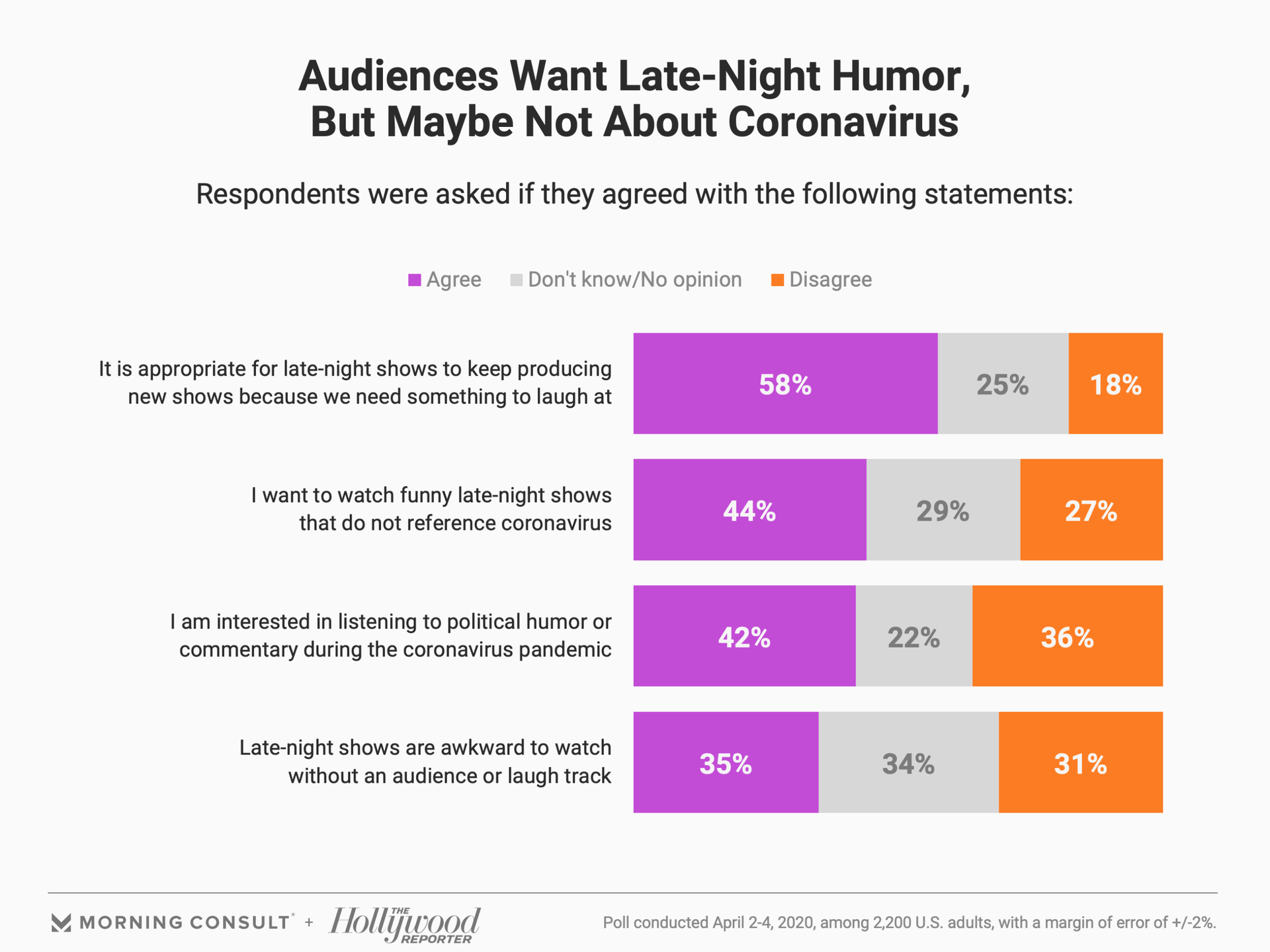 The poll surveyed 2,200 U.S. adults and has a margin of error of 2 percentage points.
As the coronavirus spread, some late-night shows nixed a live audience, while others dropped production altogether. But for Comedy Central's "The Daily Show with Trevor Noah," the move from full shows filmed in front of a live audience to short videos produced for digital and social channels happened almost instantly: Noah's last studio show was March 12, but he began posting videos on digital and social channels on March 16.
Ramin Hedayati, supervising producer and head of the digital team with "The Daily Show," said the move to sharing content via digital and social happened "pretty much immediately."
"Our social channels give us a platform to react to news at all times, and news has been breaking constantly the last few weeks," he said in an email. "We haven't really picked our heads up."
Online-only episodes of "The Daily Social Distancing Show with Trevor Noah," the title the show has adopted since they left the studio, aired March 18-20, before the show returned to airing linearly on March 23. 
Alison Camillo, an executive producer with "Full Frontal with Samantha Bee," said having a tech-savvy team made it easier to share extra content with its audience.
"People know where to look," Camillo said of their viewers. "Also, we know how to find them, and we know how to alert all of our social media users that we've got a new piece of video that they can watch and which platform it is going to be on and when."
And audiences are tuning in: Twenty-nine percent of adults overall -- and 44 percent of adults ages 18-29 -- have watched videos that late-night hosts filmed at home and posted on YouTube or social media channels, per the Morning Consult poll. Noah's interview with Anthony Fauci, the director of the National Institute of Allergy and Infectious Diseases, currently has more than 11 million views on YouTube, and his March 19 video discussing topics including how governors responded to the pandemic currently sits at more than 4.5 million million views on the platform.
Digital-only offerings from other programs have neared "Daily Show" numbers: Jimmy Fallon's first "The Tonight Show: At Home Edition" currently has more than 5.8 million views, while Stephen Colbert's "bathtub monologue" from March 16 has more than 2.8 million views.
"The Daily Show" and "Full Frontal," along with many of their late-night counterparts, have since resumed production on full-length episodes, now airing on linear networks. Many of these programs consist of hosts performing traditional monologues or written segments in their homes, as well as remote interviews with guests. Twenty-seven percent of survey respondents, including more than a third of adults under 45, said they have watched these types of episodes.
Most late-night shows are continuing to cover the country's headlines, which right now are almost exclusively connected to the coronavirus pandemic. That means many of the shows'  jokes or segments are dedicated to COVID-19, ranging from making homemade masks to the challenges of working remotely and social distancing. But the bulk of audiences aren't as interested in seeing that kind of humor: Forty-four percent of adults, including 47 percent of those ages 18-29, said they want to watch shows that don't reference the ongoing pandemic.
Jen Flanz, showrunner and executive producer with "The Daily Show," acknowledges that the program has had to adapt given the current circumstances but is working to keep the show "as intact as possible" in an effort to ease the transition back to a studio show, whenever that may happen. But she's been happy with their work so far.
"We seem to be getting a good response from our audience," she said. "People seem eager to hear Trevor's take on what's going on in the world and laugh if and when possible."
Sarah Shevenock previously worked at Morning Consult as a reporter covering the business of entertainment.
We want to hear from you. Reach out to this author or your Morning Consult team with any questions or comments.
Contact Us