In Michigan Senate Race, John James Wants to Look Beyond the 'Myopic Fixation' on Trump
In 2017, Sen. Gary Peters' challenger said he supported the president '2,000 percent,' and Democrats are working in the presidential battleground to ensure voters don't forget it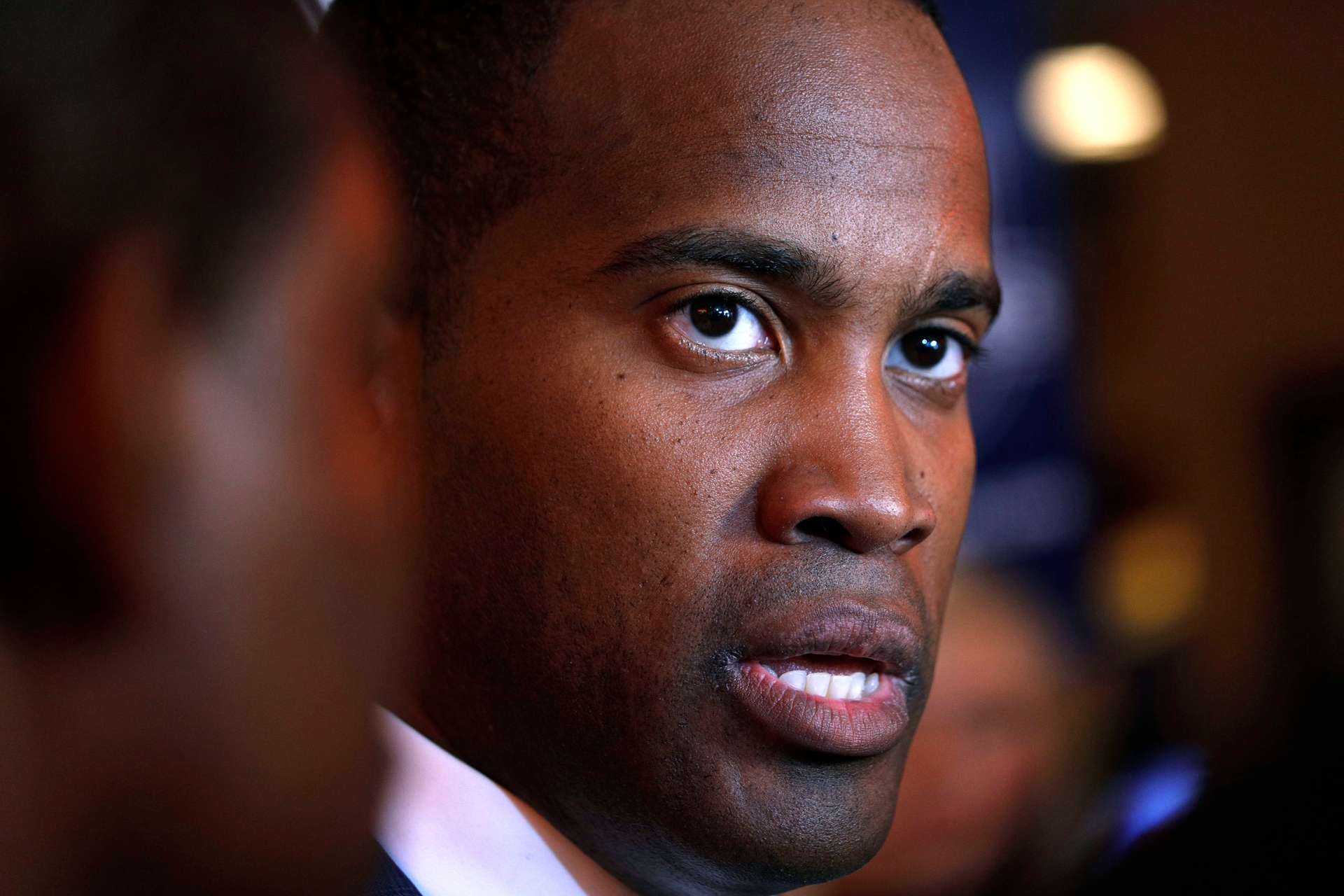 This is the second in our "Majority Makers" series, a race-by-race look at the contests that will decide control of the Senate in 2021. See our previous dive in Iowa here.
To listen to pollsters and strategists talk about this year's Senate race in Michigan, the contest is a lot about President Donald Trump. But to hear it described by John James, the Republican challenging Democratic Sen. Gary Peters, it's one that should be about almost everything else.
"We're competing in a world that has growing spheres of communist influence like China that think in terms of dynasties and centuries, and we can't get out of our own way in terms of quarters and election cycles," James, a businessman and combat veteran, said in an interview earlier this month. "This myopic fixation on the president is not serving Michigan and it's not serving America."
The Republican Party's fervor for Trump helped push James to prominence in 2018, when he won the president's decisive endorsement for the Republican nomination in an unsuccessful bid to oust Sen. Debbie Stabenow (D-Mich.) after telling The Detroit News in Sept. 2017 that he supported Trump "2,000 percent."
Asked nearly three years later if that's still the case, James let out a brief chuckle before launching into an animated critique of the question, which he said is fed to a political press thirsting for "clicks and eyeballs" by Democrats who care more about winning and hiding his rival's record than Michiganders. After about a minute, he confirmed he still supports the president. But the roundabout route to that answer underscored the dilemma facing an older millennial already pitching a post-Trump vision for the Republican Party in a state where recent polls show a comfortable lead for former Vice President Joe Biden. 
They've made it about everybody but John James.
James campaign strategist Stu Sandler
"Gary Peters has a 30-year record of ineffectiveness, and I think once people look at the two candidates side by side, they'll realize John is the better candidate," said Stu Sandler, a Michigan Republican strategist working for James' campaign. "But it's getting them to that part of the argument" that has proven difficult in the current political environment. 
"They've made it about everybody but John James," he added.
Political handicappers are united in rating the race -- one of two highly contested offensive targets for Senate Republicans as the Democrats seek control of the chamber -- as favoring Democrats. Strategists on both sides of the aisle are also unified in their view that the contest will tighten. Democrats continue to be haunted by Trump's surprise victory over Hillary Clinton in 2016, when he won Michigan by less than a percentage point. 
"No one is taking Michigan for granted in terms of the presidential election. We have to do the work to win," said Jill Alper, a veteran Democratic strategist based in the state. "It's just not the best time to be a Republican, and not the best time to be a Trump Republican when you're an ill-defined candidate running for the U.S. Senate."
James described the Wolverine State as fiercely purple, with a 14-person House delegation that was split down the middle until Rep. Justin Amash left the Republican Party to become an independent. He acknowledged that in order to beat Peters, he'll need votes from some Biden backers, and pointed to 2018 as evidence that elusive ticket-splitters do exist: In a year when Michiganders elected Democratic Gov. Gretchen Whitmer by a 9-point margin, James ran 6 points behind Stabenow.
Bernie Porn, a Michigan-based pollster and president of EPIC-MRA, said head-to-head data has shown Peters tracking pretty closely to Biden. In EPIC-MRA's latest public survey, conducted May 30-June 3, 51 percent of likely Michigan voters said they'd vote for Peters and 53 percent said they would vote for Biden. Morning Consult polling has shown Peters is consistently one of the senators least known by his or her state's voters, and the EPIC-MRA survey released last month showed roughly equal shares of voters have opinions about the incumbent and James, though Peters was viewed more favorably.
"I'm assuming that as they near the election that Peters will have been able to solidify Democrats even more, and run roughly with what Biden is doing among independents," he said. "Of course, everything can change: If the economy starts to improve, that'll tighten up the race, but it's hard to believe that it will change that dramatically given what Trump has done and what he may do in future."
While first-time candidates such as James can benefit from the lessons of a losing bid, prior campaigns also produce baggage, and in James' case, it came in the form of a ream of selfie-style video clips he filmed on the trail last time around. Many are no longer available on James' social platforms, but Democrats still have them, and, backed by the "2,000 percent" remark, have used them to tie James to the president's policies -- particularly on health care and coverage for people with pre-existing conditions, issues where Democrats are more trusted by voters.
"It's about '2,000 percent' for Trump, and also what that means to the average person," said Peters' campaign manager Dan Farough in an interview. "He's really trying to have it both ways when it comes to Trump. One moment he's '2,000 percent' behind Trump. Then you have a different presentation to average folks."
It's about '2,000 percent' for Trump, and also what that means to the average person.
Peters campaign manager Dan Farough
To that end, James is asking voters to think beyond the president. He spoke of Trump as someone who, at a maximum, will only be around for another four years -- shorter than the six-year term he is seeking -- and spoke fondly of a potential bipartisan Senate delegation serving Michiganders. 
"Stabenow-James, Democrat-Republican, male-female: Everybody's voice will be heard," he said. "Michigan needs to be able to have representation regardless of who is in the majority or who is in the White House. Representation matters."
The unrest over issues involving race that swelled after the police killing of George Floyd has put new urgency behind the question of representation for James, who is Black. Race has featured more prominently in James' recent campaign commercials, including one in early June that called Floyd's killing as a "cowardly act of evil" but also condemned the looting and burning that followed it, and another released Sunday that praised "the only country where you can go from slave to senator in four generations, and from poverty to prosperity in one." 
On Trump's handling of the resurgent Black Lives Matter protests, James said the problems that led to the recent demonstrations "preceded Donald Trump and will succeed him unless we get our act together." He aligned himself with South Carolina Sen. Tim Scott, saying he'd have joined the Senate's only Black Republican in leading the chamber's policing reform debate. He also noted Biden's own record of support for tough-on-crime legislation as a senator and criticized Peters for not moving the needle during his time in Washington.
"If folks say that President Trump has fanned the flames, then we have to look at the people who started the fire to begin with," he said.
Eli Yokley is Morning Consult's U.S. politics analyst. Prior to his current role, Eli was Morning Consult's senior reporter covering U.S. politics. Eli joined Morning Consult in 2016 from Roll Call, where he reported on House and Senate campaigns after five years of covering state-level politics in the Show Me State while studying at the University of Missouri in Columbia, including contributions to The New York Times, Politico and The Daily Beast. Follow him on Twitter @eyokley. Interested in connecting with Eli to discuss his analysis or for a media engagement or speaking opportunity? Email [email protected].
We want to hear from you. Reach out to this author or your Morning Consult team with any questions or comments.
Contact Us