Millennials, Not Gen Zers, Are Driving the Recent Physical and Digital Collectibles Boom
Millennials are twice as likely as Gen Zers to collect physical items and three times as likely to buy and sell NFTs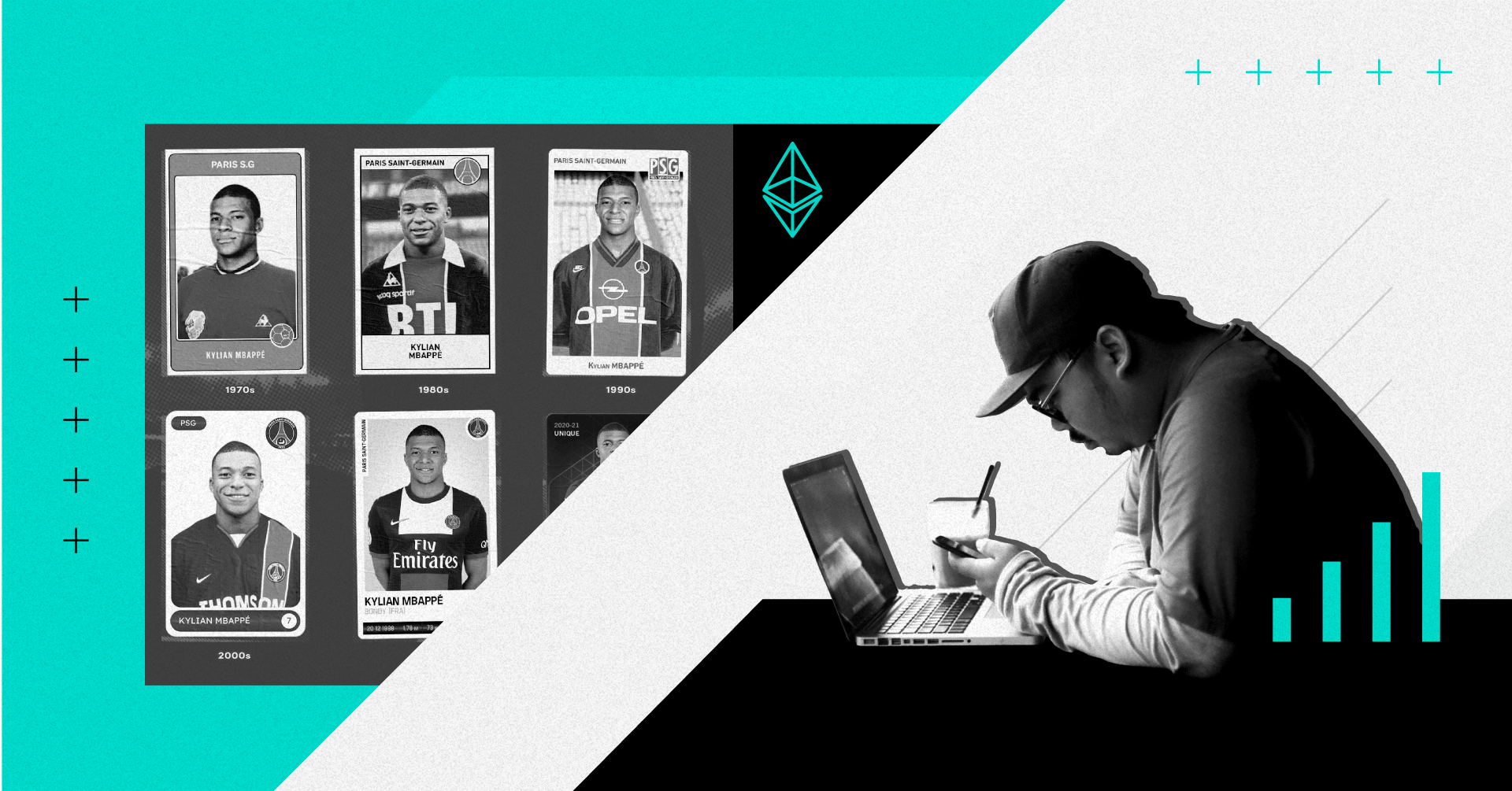 Key Takeaways
1 in 3 Americans consider themselves collectors of physical items.

Men were twice as likely as women to identify as collectors.

About half of physical collectors said they're interested in trying NFTs.
With the COVID-19 pandemic dramatically reducing consumers' ability to spend disposable income on travel, dining out and other in-person experiences over the past year, some consumers have turned to other hobbies to fill the entertainment void. As a result, the market for collectibles -- from sports cards to sports cars -- has surged. 
In recent months, that same momentum has sparked exponential growth in the world of digital collectibles minted as NFTs, or non-fungible tokens. During the first three months of 2021, NFTs have generated more than $1.5 billion worth of transactions, according to DappRadar.com, up 2,627 percent quarter-over-quarter. The most eye-popping acquisitions -- from a $69 million piece of digital art to a six-figure video highlight of a LeBron James dunk -- have made international headlines and further elevated interest in the nascent market.
New research on Americans' hobby habits suggests that male millennials are likely most responsible for fueling the demand for collectibles.
In a Morning Consult survey conducted March 17-22, 1 in 3 U.S. adults said they collect some sort of physical item as either a hobby or investment, with 10 percent of respondents identifying themselves as avid collectors. Another 20 percent of adults said they are former collectors. 
By generation, millennials were most likely to engage in collecting, with 42 percent saying they do so, compared to 37 percent of Gen Xers, 29 percent of baby boomers and 20 percent of Gen Zers. The sample of Gen Zers included adults between the ages of 18 and 24.
Even with regard to digital assets like NFTs, fewer Gen Z respondents said they were involved than millennials and Gen Xers. Just 4 percent of Gen Zers said they collect NFTs, such as NBA Top Shot "moments" or digital artwork, as either a hobby or investment, a fraction of the 23 percent of millennials and 8 percent of Gen Xers who claimed to be engaged in the space.
While Morning Consult's polling, which is conducted online, is inherently more likely to attract NFT users than phone polling, the findings are consistent with other research that shows millennials are more attuned with NFTs overall.
There is already significant crossover between physical and digital collectors, with 1 in 4 self-identified collectors of tangible items indicating they also engage with NFTs. About half of physical collectors said they would be either "very" or "somewhat" interested in acquiring NFTs in the future. Meanwhile, 86 percent of individuals already collecting NFTs said they are also physical hobbyists.
Longtime trading card companies such as Panini America and Topps have already sought to tap into this overlap by inserting redemption codes for digital cards into traditional packs of physical cards.
Executives behind two prominent sports-themed NFT projects said their user bases are made up primarily of millennials.
Animoca Brands CEO Yat Siu, whose company specializes in blockchain gaming and collectibles, said the roughly 12,000 users engaging with its F1 Delta Time ecosystem tend to skew "older," at least by gaming and tech standards. 
"It's mostly older men playing the game," Siu said. "Older meaning -- let's call it late 20s or early 30s and onwards. We've got some guys playing who look like they're 60."
NFTs from Delta Time, a motorsports game licensed by the Formula 1 open-wheel racing series and based around a collection of digital cars, parts, drivers and tracks that can be bought and sold on the Ethereum blockchain, have generated more than $5.2 million worth of peer-to-peer sales at an average of about $640 per item, according to Nonfungible.com.
Brian O'Hagan, who leads growth at Sorare, said via email that the company's digital soccer game of the same name and related NFTs have also appealed primarily to millennials: 34 percent of users are between the ages of 25 and 34 (all millennials) and 27 percent of users are between the ages of 34 and 54 (a mix of millennials and Gen Xers). By comparison, 28 percent of users are adult Gen Zers between the ages of 18 and 25. 
Sorare's digital player cards have generated more than $40.6 million worth of sales at an average of about $168 each, per Nonfungible.com.
O'Hagan theorized that the lack of engagement in collectibles among Gen Zers can be chalked up to their lack of disposable income relative to older peers, who are more likely to be gainfully employed.
Individuals engaging with both F1 Delta Time and Sorare are also overwhelmingly male. While men are more likely to identify as sports fans and both projects feature male sports figures, there is a broader disparity between men and women in both physical and digital collecting. 
In the Morning Consult survey, 45 percent of male respondents said they engage in some sort of physical collecting, roughly twice the share of women who identified as collectors. Men were also about three times as likely as women to identify as "avid" collectors.
The disparity between men and women was even more pronounced in the nascent realm of digital collectibles, with 15 percent of male respondents saying they collect NFTs, compared to 4 percent of female respondents.
Alexis Ohanian, co-founder of Reddit and an investor in Sorare, recently opined on Twitter about the potential of NFTs to raise the profile of female athletes and creators. Ohanian, who is married to tennis star Serena Williams, also believes there is an untapped market of potential female hobbyists. 
"Women-as-investors in these assets will change the game," Ohanian tweeted.
O'Hagan said that the vast majority of collectibles on today's market are male-centric, and that Sorare is in the process of creating NFTs featuring female athletes. Dapper Labs, creators of NBA Top Shot, the internet's most popular NFT program to date, also said it is working with the WNBA to introduce women players into the Top Shot collection. 
Caty Tedman, head of marketing and partnerships at Dapper Labs, said in a recent webinar that the WNBA's summer schedule will allow NFTs featuring moments from the women's league to help Top Shot maintain engagement during the NBA offseason.
"We think about it as a full-year season," Tedman said. "There is no offseason for NFTs."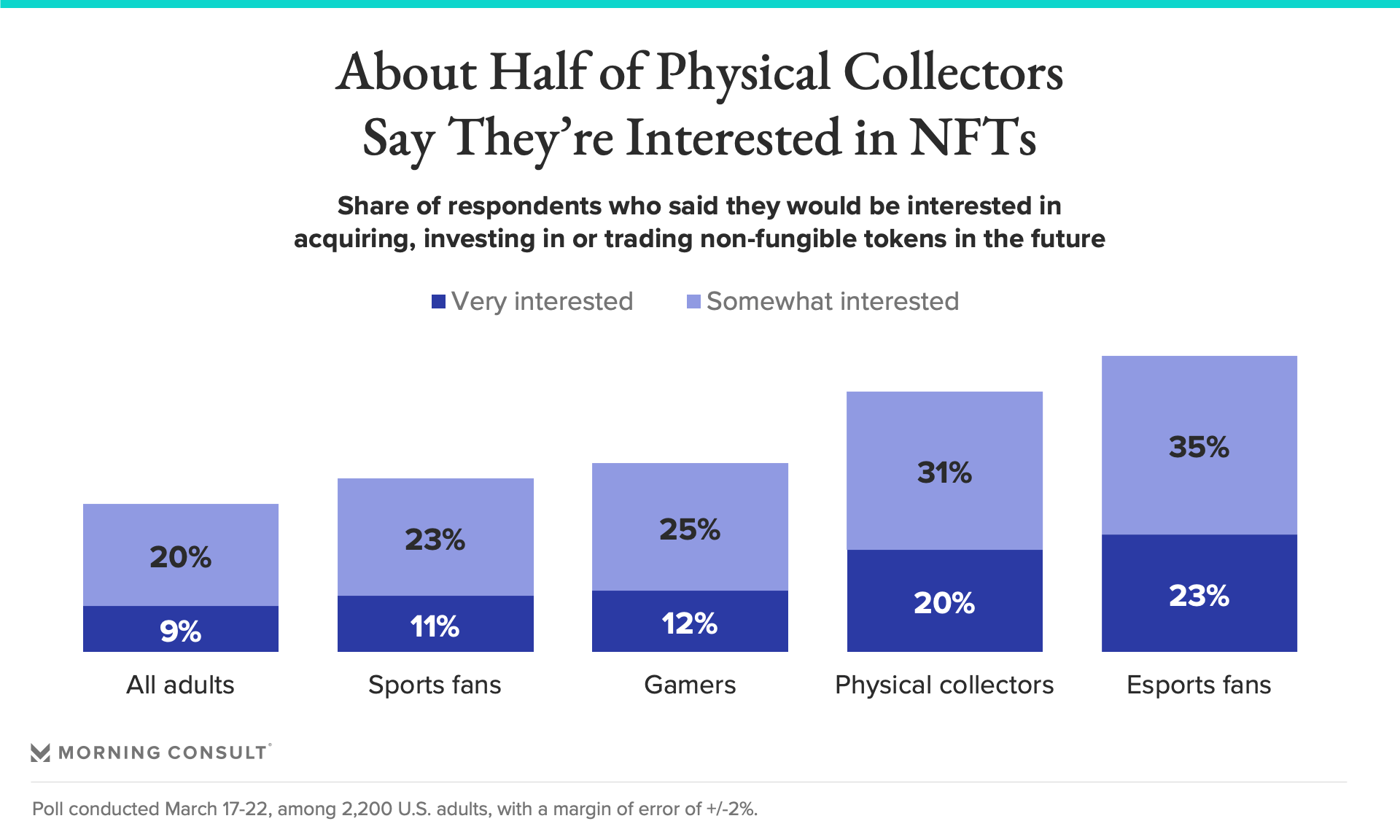 Overall, 16 percent of the 2,200 U.S. adults surveyed said they were "very" or "somewhat" familiar with the concept of NFTs prior to being provided with a definition of the digital asset class. By comparison, 21 percent of respondents said they were familiar with NBA Top Shot by name, and 39 percent said they were familiar with cryptocurrency.
The survey was conducted just ahead of NBC's "Saturday Night Live" comedy sketch about NFTs. The March 27 episode averaged more than 5 million total Live+Same Day viewers, according to ShowBuzzDaily, and the YouTube video of the NFT skit has been viewed more than 2 million times. 
Twenty-nine percent of U.S. adults said they would be interested in acquiring or trading NFTs in the future, with 9 percent saying they'd be "very" interested and another 20 percent "somewhat" interested in doing so.
Sports fans were slightly more likely than the average adult to say they would be interested in getting into the market for NFTs, with 34 percent expressing interest. Twenty-nine percent of sports fans said they would be interested in owning an NFT issued by their favorite team or athlete, such as a digital trading card or commemorative artwork.
Thirty-seven percent of self-identified video game fans said they would be interested in NFTs, and esports fans were especially enthusiastic about NFTs, with 58 percent saying they'd be interested in being involved in the market.
Sports organizations and other brands with popular intellectual property are now scrambling to capitalize on NFT fever, but with COVID-19 vaccines being rolled out and a light at the end of the pandemic tunnel seemingly in sight, it remains to be seen whether the fervent demand for collectibles -- both physical and digital -- is here to stay. 
Alex Silverman previously worked at Morning Consult as a reporter covering the business of sports.
We want to hear from you. Reach out to this author or your Morning Consult team with any questions or comments.
Contact Us