After Moving All-Star Game, MLB Becomes Latest League to Fall Out of Favor With Republicans
Sentiment toward MLB among members of the GOP plummeted last week after its decision to relocate All-Star Game from Atlanta
Key Takeaways
MLB's net favorability rating among Republicans fell 35 percentage points, from 47 points in mid-March to 12 points at the end of last week.

Democrats now have a more positive view of each of the four major U.S. sports leagues than Republicans.
MLB is the latest sports property to fall out of favor with Republicans following its decision to pull its upcoming All-Star Game and draft out of Atlanta in response to Georgia's new voting law that changes how elections are administered. As a result, Republicans now have a less favorable view than Democrats of all four major U.S. sports leagues. 
New data from Morning Consult Brand Intelligence, which tracks consumer attitudes, indicates that MLB's net favorability rating among Republicans plummeted from 47 percentage points in mid-March to just 12 points at the end of last week, following the league's decision to relocate its events. Net favorability is calculated by taking the difference between the share of respondents with a positive opinion of the league and the share with a negative opinion.
MLB had the highest net favorability rating among Republicans of the four major sports leagues prior to the All-Star Game decision, but last week dropped below that of both the NHL and NFL.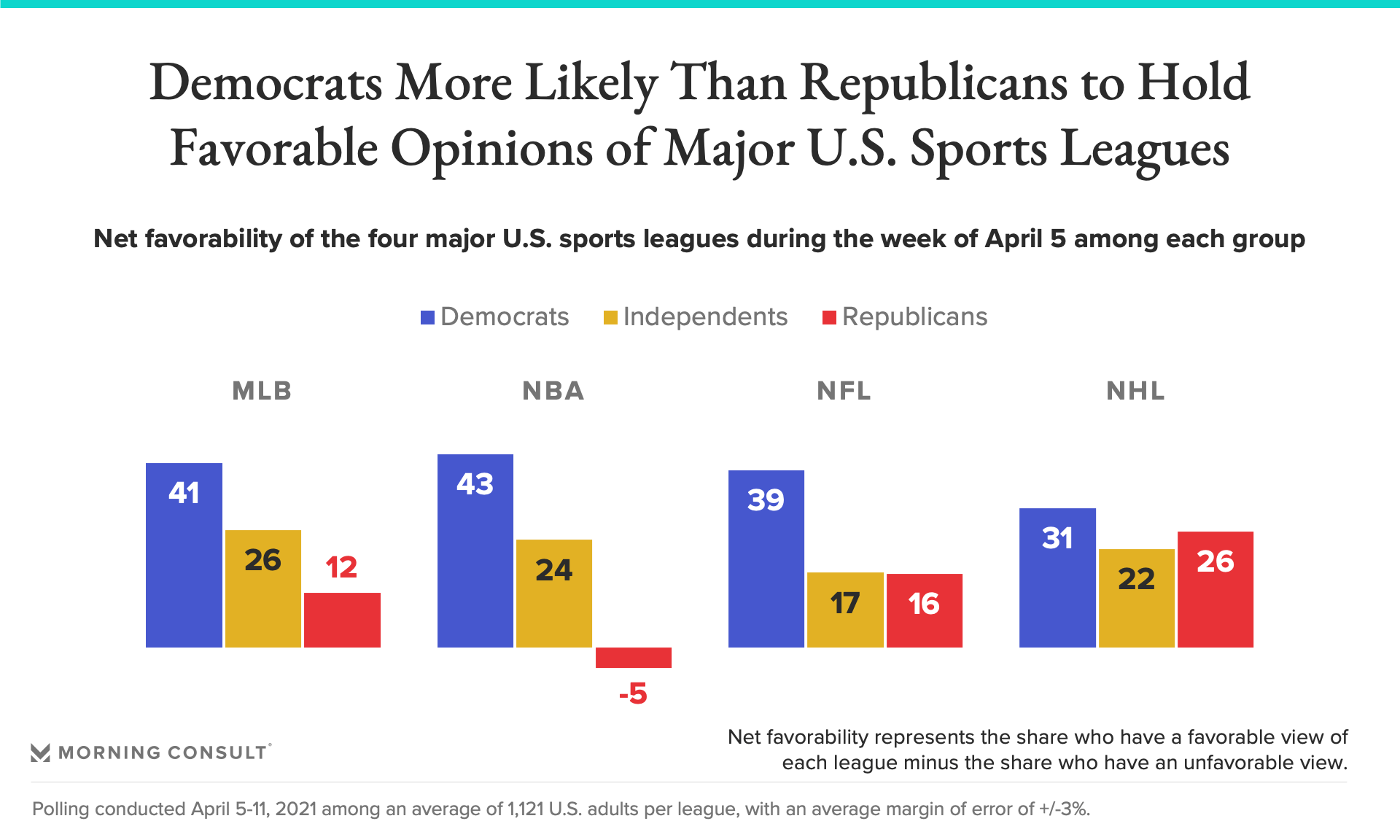 Last month, Georgia Republican Gov. Brian Kemp signed a law that made numerous changes to how elections are administered. It requires Georgians to present a photo ID in order to vote absentee, and it empowers the state elections board, whose members are appointed by the state Legislature, to designate a single person to take control of county election boards with typically bipartisan compositions. Advocates of the new law say it will ensure confidence in elections. Detractors say it will restrict voting access, particularly for people of color, while also creating new opportunities for partisan interference in the administration of elections.
Supporters of MLB's decision viewed it as an example of an institution using its influence to affect positive societal change, while critics, including Sen. Ted Cruz (R-Texas), saw it as another league "going woke" or taking performative, over-the-top action to score points with a politically progressive segment of the population.
As of last week, Democrats had a more positive view of all four major U.S. sports leagues than Republicans. 
Baseball isn't the first sport to see its net favorability among Republicans significantly decrease as a result of either players or the league itself embracing social justice issues. The NFL's popularity among Republicans took a major hit in 2017 after then-President Donald Trump rebuked NFL players for kneeling during the national anthem, and the NBA's stock hit new lows among Republicans last summer for its embrace of the Black Lives Matter movement. 
MLB might have more to lose, however, if it falls out of favor with conservative lawmakers.
On Tuesday, Republican Sens. Cruz, Mike Lee of Utah and Josh Hawley of Missouri threatened to strip the league of its long-standing federal antitrust exemption, which allows the league to cap the wages of minor league players, deny clubs the opportunity to relocate and pool intellectual property rights, according to Sportico. 
The lawmakers made clear that the relocation of the All-Star Game was the impetus for the new legislation, with Cruz criticizing the progressive influence on the league's decision-making.
MLB has not yet stated any position on the proposed legislation and did not immediately respond to a request for comment.
Alex Silverman previously worked at Morning Consult as a reporter covering the business of sports.
We want to hear from you. Reach out to this author or your Morning Consult team with any questions or comments.
Contact Us