Despite Division on Progress, Politics and Tradition, Most Americans Still Support Playing National Anthem at Sporting Events
Mavericks owner Mark Cuban said Morning Consult's poll results suggest that "10s of millions of Americans think we can do something better"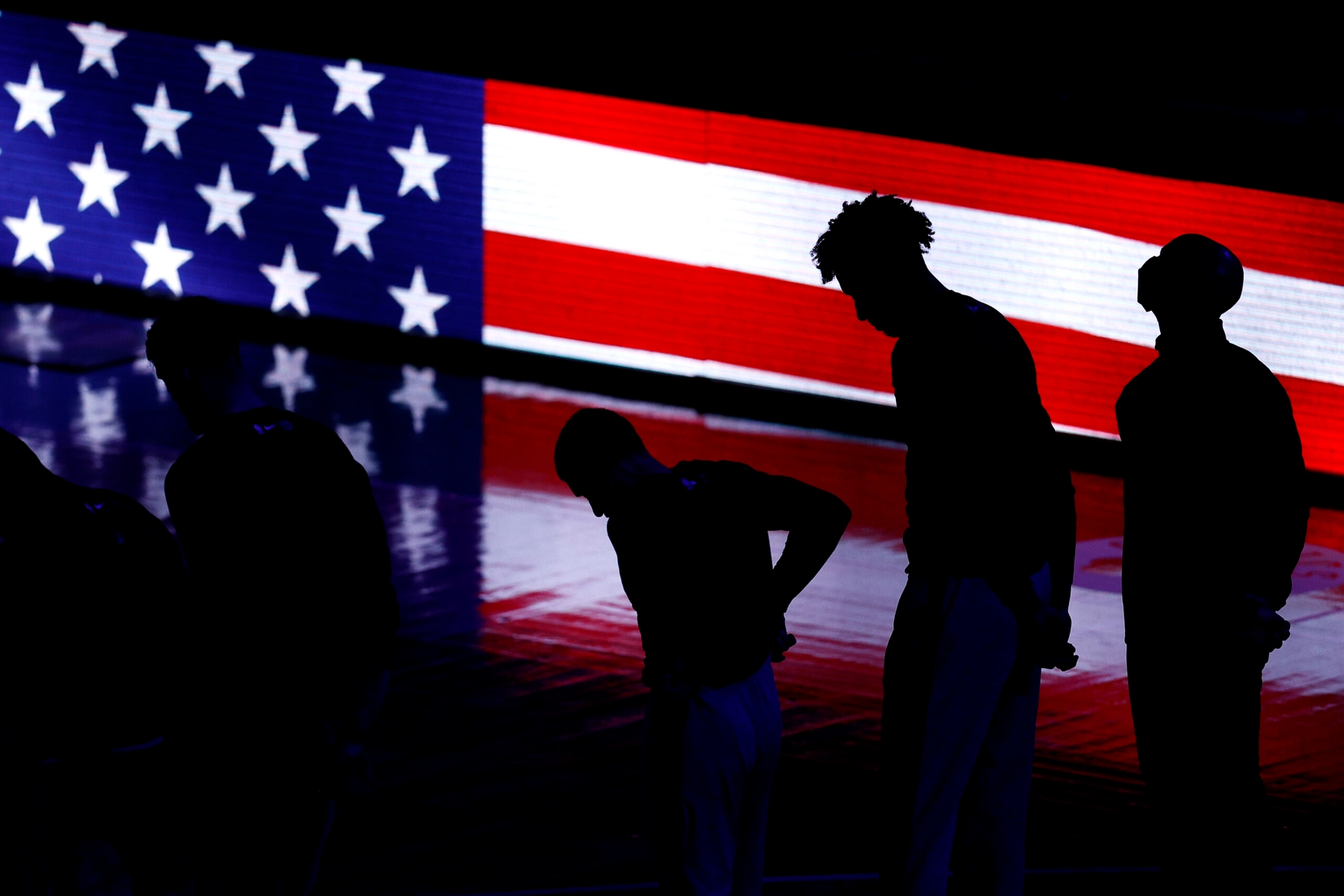 Key Takeaways
81% of white people believe "The Star-Spangled Banner" should be played before games, compared to 70% of Hispanic and 60% of Black adults.

55% of U.S. adults agree that Americans "don't care enough about preserving traditions anymore."

46% of U.S. adults agree with the notion that "social justice warriors are ruining sports."
The NBA had a good sense of which way the wind of public opinion was blowing when it declared last week that all teams would continue playing the national anthem prior to tipoff, overruling a decision made by Dallas Mavericks owner Mark Cuban to do away with the tradition out of respect for those who "feel that the anthem does not represent them."
In a new Morning Consult poll, 76 percent of U.S. adults said the national anthem should be played prior to professional sporting events, including 60 percent who said it should "definitely" be part of the pregame routine. Seventy-eight percent of self-identified sports fans and 77 percent of NBA fans expressed support for the playing of the national anthem.
More than half of Americans said it is "very important" to them that the anthem continue to be played prior to games, and 70 percent of respondents agreed that playing the national anthem before sporting events is "a tradition worth preserving."
To many Americans, efforts like Cuban's exemplify a broader disregard for tradition in the name of social progress, as well as a push by so-called social justice warriors to politicize sports. More than half of those polled agreed that Americans "don't care enough about preserving traditions anymore," while just less than half agreed with the notion that "social justice warriors are ruining sports."
The Mavericks didn't play the national anthem before their first 13 preseason and regular-season games this season, but it wasn't until Feb. 8, their first game with fans in attendance, that fans and the media noticed the team had stopped playing the anthem. Cuban, an outspoken billionaire, told The New York Times that he decided in November to do away with the anthem ritual.
When the Mavericks' departure from tradition started making headlines, the NBA quickly made a public statement saying that all teams would be required to play the anthem "in keeping with longstanding league policy." Cuban agreed to follow the policy, while adding in a statement that the Mavericks still "loudly hear the voices of those who feel that the anthem does not represent them."
In response to Morning Consult's poll results, Cuban said in an email that the 10 percent of respondents opposed to the playing of the anthem means that "10s of millions of Americans think we can do something better." He also suggested that many Americans are being influenced by the loudest voices in their own bubbles, or those who share the same core beliefs that they do.
"In this polarized environment, people are being told how to feel," Cuban said. "As someone who has been in the eye of the storm for a while, people will get all hyped up because the filter bubble they are in gets them hyped up. Talk to them outside of that bubble and they will say something different."
Following the Mavericks' decision to drop the national anthem, Texas Lt. Gov. Dan Patrick, a Republican, vowed to prioritize the not-yet-filed Star Spangled Banner Protection Act, which he said would require the anthem be played "at all events which receive public funding."
The conversation about Cuban's decision to do away with the ritual is the latest example of the national anthem becoming a lightning rod. Since former NFL quarterback Colin Kaepernick first took a knee during the national anthem in 2016, the anthem has become fertile ground for athletes to protest police brutality and racial inequality. 
In turn, resentment for professional sports organizations and athletes has grown among a segment of the population that takes issue with what they perceive to be disrespect to the country, flag or armed forces. Previous Morning Consult research has found this sentiment is one of many factors that has negatively impacted sports viewership both prior to and amid the COVID-19 pandemic.
"The Star-Spangled Banner" was officially designated the national anthem of the United States in 1931 but made its first documented sports appearance at a baseball game during the Civil War in 1862. The tradition picked up steam during World War I and became ubiquitous in the wake of World War II.
While white Americans were the most likely to support the playing of the anthem at 81 percent, the majority of Hispanic (70 percent), Black (60 percent) and other non-white (56 percent) respondents also indicated they favor the tradition.
Support for the anthem was almost unanimous among Republicans at 92 percent, while 68 percent of Democrats and 73 percent of independents said the song should be played prior to competition.
Millennials, Gen Xers and baby boomers all supported the playing of the national anthem at a similar rate, with about 4 in 5 responding in the affirmative. But among Gen Z adults -- who were born either just before or after the Sept. 11, 2001 attacks and came of age as national anthem protests in sports proliferated -- only 56 percent said the anthem should be played before games.
The share of millennials who said it is "very" or "somewhat" important that the national anthem continue to be played was 72 percent, compared to 78 percent among Gen Xers and 81 percent among baby boomers.
Among Americans who said the anthem tradition is worth preserving, 46 percent said they would be less likely to watch their favorite team if they stopped playing the national anthem at home games, and the same share said they would be less likely to attend a sporting event if they knew the anthem would not be played prior to competition. Thirty-six percent of all U.S. adults and 33 percent of sports fans took the same positions.
While the share of Americans in favor of playing the anthem is more than seven times as large as the opposition, opinion on whether kneeling during the national anthem is an appropriate form of protest remains far more polarizing, with 36 percent of adults saying kneeling is acceptable and 43 percent saying it is unacceptable. Sixty-two percent of those who are open to athletes kneeling in protest said they believe the national anthem should be played.
The issue of whether the national anthem should be played before sporting events sits at the intersection of some of the broader cultural issues dividing Democrats and Republicans; whites and non-whites; and younger and older generations. 
Asked to choose between a more progressive and more traditional vision for the country, respondents were nearly twice as likely to side with a more traditional view. Twenty-nine percent said it is more important that "institutions change as society evolves" (progress), while 52 percent said it was more important that "the traditions that define our country are preserved" (tradition). 
Democrats, Black adults and Gen Zers were all more likely to choose progress over tradition. Hispanic adults were split almost evenly.
On another big-picture question, 55 percent of U.S. adults agreed that Americans in general "don't care enough about preserving traditions anymore," including 72 percent of Republicans, 52 percent of independents and 44 percent of Democrats. 
Republicans were more likely to say they have heard either "a lot" or "some" news about the Mavericks' decision to stop playing the national anthem than Democrats by a margin of 47 percent to 39 percent, a reflection of the partisan divide in the media. Among independents, 33 percent were familiar with the story.
Alex Silverman previously worked at Morning Consult as a reporter covering the business of sports.
We want to hear from you. Reach out to this author or your Morning Consult team with any questions or comments.
Contact Us