MLB Pace-of-Play Changes Unlikely to Help Baseball Viewership
43 percent of poll respondents said rule changes would have no impact on decision to watch ball games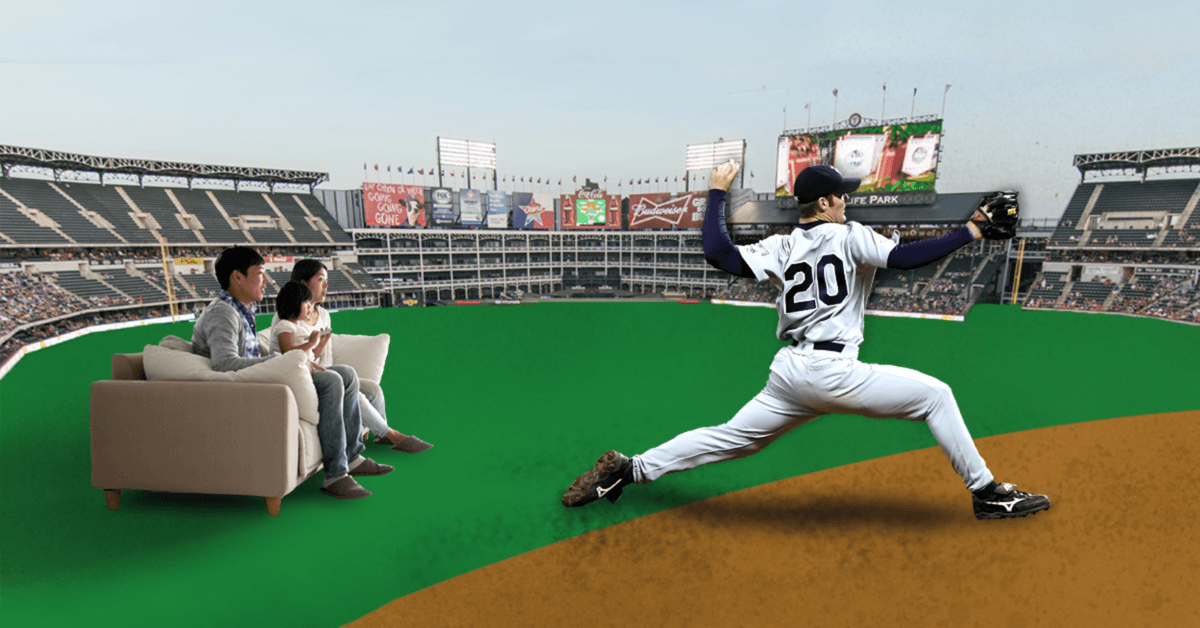 Key Takeaways
Ahead of the 2018 season, 53% of survey respondents age 65 and older said they were very or somewhat likely to watch a baseball game.

43% of 18- to 29-year-olds said the same.
As Major League Baseball gears up for its 2018 season opening day on March 29, a new Morning Consult survey shows that older Americans are more likely to watch baseball than younger adults, despite changes to appeal to a wider fan base.
The poll, which surveyed 2,201 U.S. adults from March 15-17, found that 53 percent of respondents age 65 and older said they were very or somewhat likely to watch a baseball game this season, while 43 percent of 18- to 29-years-olds expressed similar interest. The poll has a margin of error of plus or minus 2 percentage points.
A 2017 study conducted by Magna Global for Street & Smith's SportsBusiness Journal found that the median age of an MLB viewer is increasing. In 2006, the study noted, the median viewer age was 52, while in 2016 it was 57, with 7 percent of viewers under the age of 18.
Andrew Zimbalist, an economics professor and sports business expert at Smith College, said the fragmentation of the media market and a shift toward iPhone apps and other forms of ready entertainment could be causing a decline in young viewers.
"Baseball has appealed to older and older demographics, and as the 60- and 70- and 80-year-olds die off, they need to replace them, or they're going to lose a part of their place in American culture," Zimbalist said in a March 26 phone interview.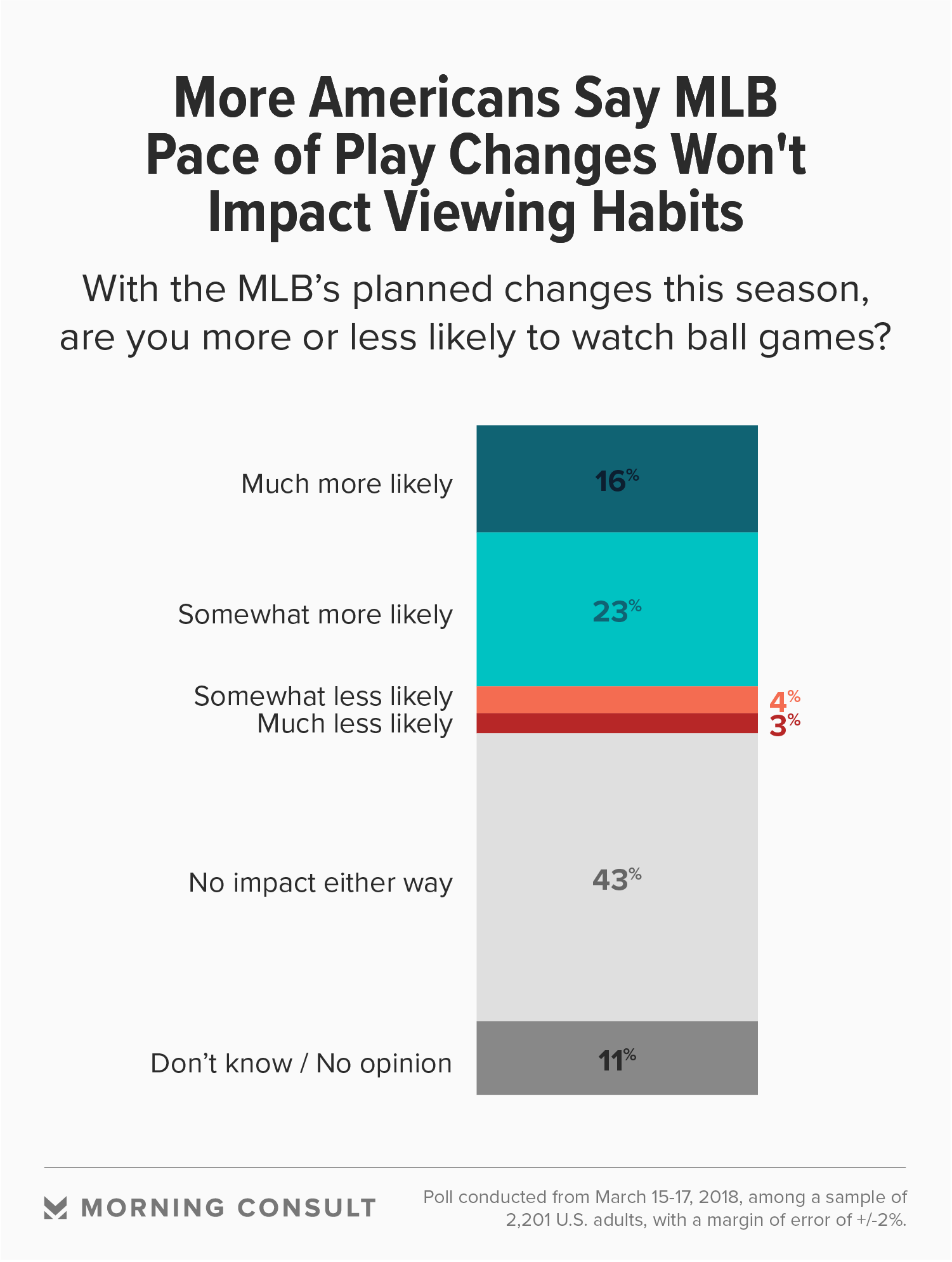 MLB Commissioner Rob Manfred has cited the length of baseball games and pace of play as fan concerns that need to be addressed. Prior to the start of the 2018 season, Manfred announced MLB was incorporating several changes meant to speed up games, including limiting the number of visits to the pitcher's mound and shortening commercial breaks.
"I think the first and most important principle is that pace of game is a fan issue," Manfred said during a Feb. 20 press conference discussing the new rule changes.
MLB previously introduced pace-of-play changes prior to the 2015 regular season to lessen downtime within games, shortening the average game time to 2 hours and 56 minutes. But game length has since increased, with the average regular season contest in 2017 taking 3 hours and 5 minutes, according to an Oct. 2 report from The Associated Press.
Polling of the new rule changes found that a 43 percent plurality said the effort had no impact on whether they would watch baseball games during the upcoming season. Thirty-nine percent said the changes made them somewhat more likely or much more likely to watch a baseball game, while 7 percent said it made them somewhat less likely or much less likely to tune in.
Factors that survey respondents deemed somewhat or very important in determining whether or not to watch an MLB game include whether the contest features their favorite team (58 percent) or what else is on TV at the time (53 percent).
Over the past few years, MLB has also made efforts to expand its fanbase through social media by showcasing select games on popular digital platforms.
Daniel Durbin, director of the University of Southern California's Annenberg Institute of Sports, Media and Society, said MLB's growing online presence — reaching younger and new fans through its MLB-TV app and expanded highlights and box scores — "gives MLB some hope for future fans."
But Durbin said the changing media market makes it difficult to impact viewership by changing the nature of a baseball game.
"Baseball is defined by its stops in action," Durbin said in a March 26 email. "Fans have to be socialized into talking, checking stats, socializing during those breaks. That's more difficult online, where constant visual stimulation is the name of the game. So, simply changing a few rules regarding play really isn't likely to make a major impact."
Facebook Inc. announced a partnership with MLB earlier this month to air 25 afternoon games in an exclusive deal, offering the games to U.S.-based users through the company's video feature. MLB and Facebook previously finalized a partnership last season to stream 20 select games a week.
A Facebook spokesperson said in an email March 26 that users will have access to game recaps and weekly club recaps for all 30 MLB teams in addition to the live-streamed games, noting that fans can expect game experiences to be active and engaging, with soon-to-be-announced broadcast talent and social integrations.
The first game of the 2018 season, between the Chicago Cubs and the Miami Marlins, is scheduled to start at 12:40 p.m. EDT March 29.
Edward Graham previously worked at Morning Consult as a reporter covering tech.
We want to hear from you. Reach out to this author or your Morning Consult team with any questions or comments.
Contact Us