Biden's Initial Approval Rating Is Higher Than Trump's Ever Was
Most voters give Biden positive marks for his job performance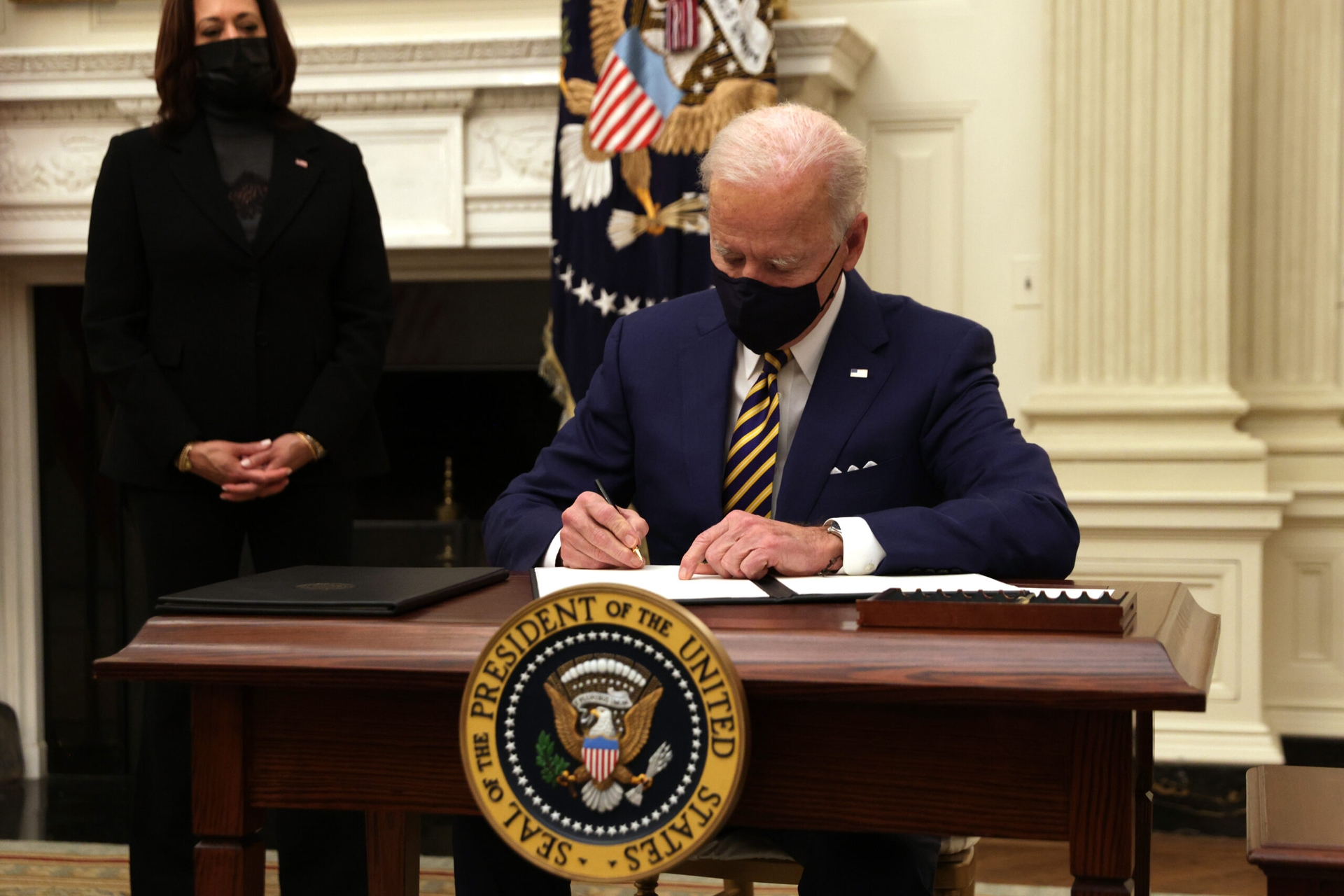 Key Takeaways
56% of voters approve of Biden's job performance, compared with 46% who approved of Donald Trump's work at a similar point in 2017.

91% of Democrats approve of Biden versus 83% of Republicans who said the same of Trump at this time four years ago.

52% of voters hold favorable views of Vice President Kamala Harris, up 2 points from pre-inauguration polling, while 40% view her unfavorably, down 3 points over that time frame.
As the nation faces a pandemic, a weakened economy and political unrest that began under his predecessor, Joe Biden is enjoying a honeymoon with its voters.
Morning Consult Political Intelligence tracking conducted during the 46th president's first few days in office shows 56 percent of voters approve of his job performance, while 34 percent disapprove. Biden's approval rating is 4 percentage points higher than the 52 percent who approved of former President Donald Trump in an early March 2017 poll from Morning Consult and Politico -- his best-ever showing during his presidency -- and it looks even stronger compared to polling conducted at a similar point four years ago, when 46 percent approved of Trump's initial work.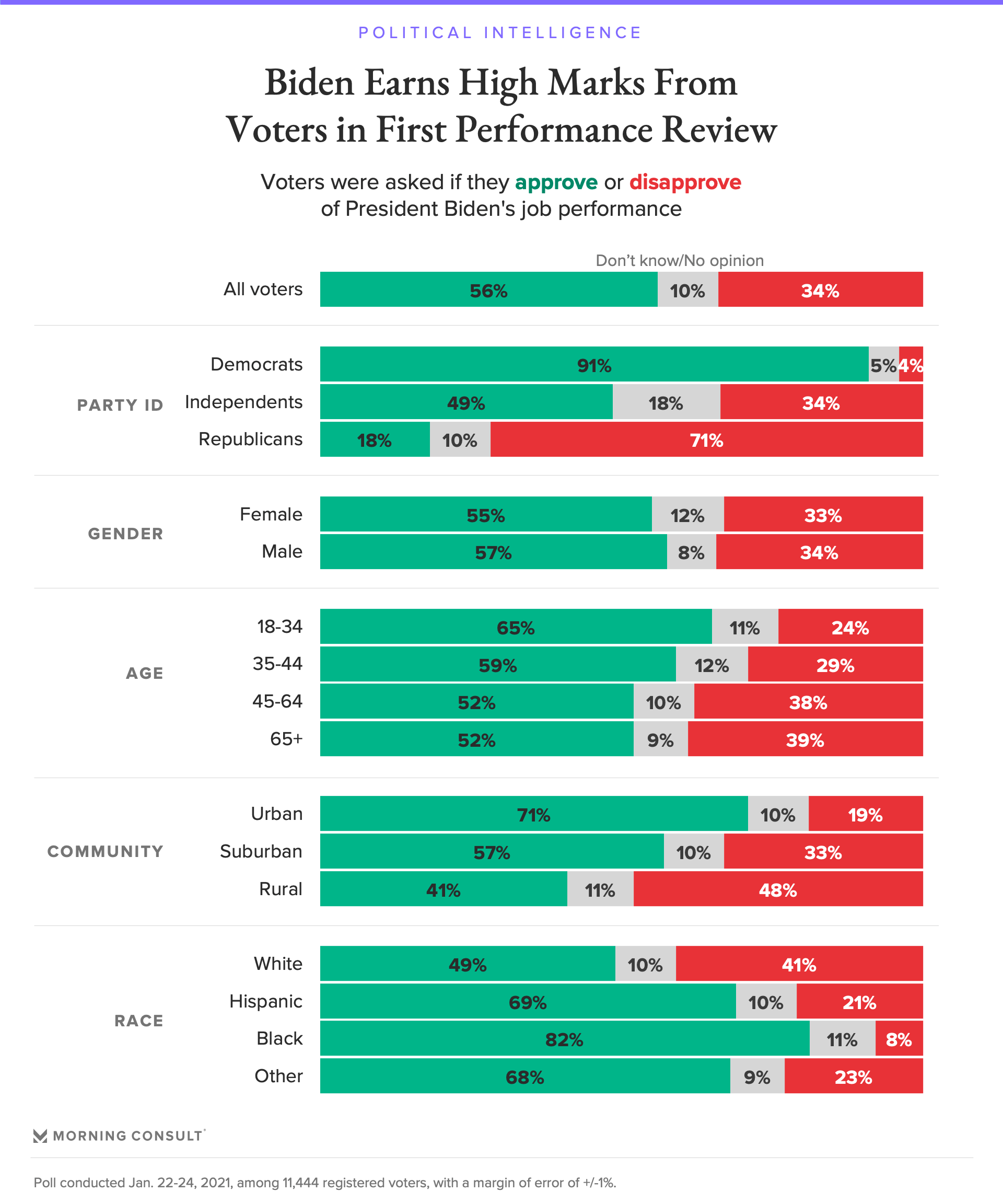 Echoing Morning Consult's pre-inauguration findings, Biden's superior early marks are driven by a more unified base, as well as more support among self-described independent voters: 91 percent of Democrats approve of Biden's initial job performance, compared with 83 percent of Republicans who said the same of Trump in January 2017, and 49 percent of independents back Biden's early approach -- up 8 points from Trump's four years ago.
The Jan. 22-24 poll of more than 11,000 registered voters, which has a 1-point margin of error, came after Biden's Jan. 20 inaugural address that focused on bridging America's political divide received a warm reception from most voters, including those of the opposition party.
When it comes to his job approval, 18 percent of Republican voters back Biden's early performance, while 71 percent disapprove, similar to the shares of Democrats who said the same of Trump after his inauguration. But, there are signs that their initial dislike of him, at least personally, is weakening after the fierce campaign and brutal transition period. 
Comparing the latest responses to thousands gathered Jan. 17-19, the share of Republican voters who view Biden favorably increased 3 percentage points, to 18 percent, while the share who held unfavorable views fell 4 points, to 79 percent. The responses from GOP voters gathered before the inauguration had a 1-point margin of error, while the latest polling had a 2-point margin of error among that group.
That improvement -- along with similar gains among independents -- contributed to Biden yielding his highest favorability rating among the overall population since Morning Consult began daily tracking of the metric in May 2020. According to the latest polling, 58 percent of voters hold favorable views of the new president (up 3 points since before his inauguration) while 38 percent hold unfavorable opinions (down 4 points), giving Biden a bigger popularity bounce than the one he saw after his successful 2020 party convention.
Like Biden, Vice President Kamala Harris is also seeing her popularity nationwide reach new peaks during her first days in office. Over half of voters (52 percent) view her favorably, up 2 points since pre-inauguration surveys and 6 points since the November election. The share of voters who view her unfavorably fell 4 points since Nov. 3, to 40 percent, with the bulk of the movement coming after she was sworn in.
Positive public sentiment about America's new leaders was joined by a big improvement in optimism about the direction the country is headed. Since the day before Biden's inauguration, the share of U.S. adults who said the country had gotten off on the wrong track, which had reached a Morning Consult high following the Jan. 6 Capitol riot and political unrest, fell 17 points, to 60 percent, while the share who said the country was heading in the right direction increased by an identical amount, to 40 percent, the highest its been since early March, when the coronavirus profoundly changed American life.
The improvement in optimism was driven by Democrats: 59 percent now say the country is headed in the right direction, up 37 points since before Biden's inauguration -- mirroring a surge detected among Republicans four years ago after Trump took office.
Eli Yokley is Morning Consult's U.S. politics analyst. Prior to his current role, Eli was Morning Consult's senior reporter covering U.S. politics. Eli joined Morning Consult in 2016 from Roll Call, where he reported on House and Senate campaigns after five years of covering state-level politics in the Show Me State while studying at the University of Missouri in Columbia, including contributions to The New York Times, Politico and The Daily Beast. Follow him on Twitter @eyokley. Interested in connecting with Eli to discuss his analysis or for a media engagement or speaking opportunity? Email [email protected].
We want to hear from you. Reach out to this author or your Morning Consult team with any questions or comments.
Contact Us