'American Idol' Is Back for Its 17th Season, But People Like the Earlier Ones Better
55% of U.S. adults said they preferred the original version of 'Idol;' 9% prefer the revival that began airing in 2018
Key Takeaways
70% of those surveyed said that they had a favorable opinion of "American Idol" judges Lionel Richie and Jennifer Lopez.

Nicki Minaj was the least popular judge, with 35% of the public saying they have an unfavorable opinion of her.
"American Idol" returns on Sunday for the premiere of its 17th season -- and the start of its second season since it was rebooted on ABC last year. New polling shows that most people prefer the original run of the singing competition series, which initially aired on Fox, with a majority also saying they were a bigger fan of the show in the earlier seasons.   
A Morning Consult/The Hollywood Reporter survey found that 55 percent of U.S. adults said they preferred the original version of "American Idol," compared to 9 percent that prefer the revival that began airing in 2018.
Thirty-seven percent of respondents also said they think the show, which first aired in 2002 and went off the air in 2016 until the reboot began airing in March 2018, has been on the air for too long. An additional 21 percent said it has been running for the right amount of time, and 17 percent said it hasn't been on air too long.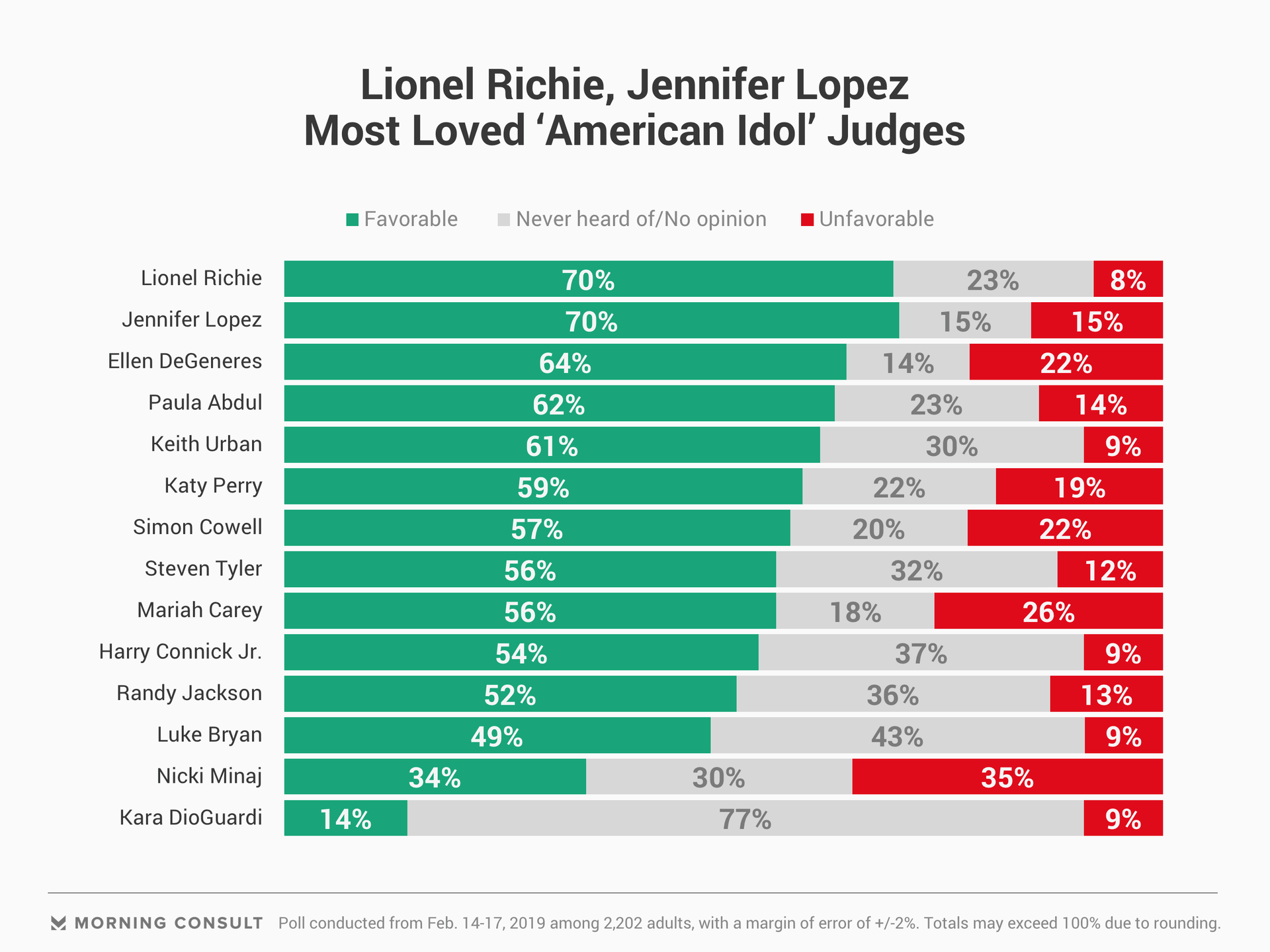 In 2011, the Wednesday night "American Idol" broadcast averaged roughly 23.9 million viewers, securing its place as the No. 1 regularly scheduled prime-time TV program that year, according to Nielsen data. In 2012, it slipped to No. 2, averaging about 18 million viewers. By 2013, the Wednesday night "American Idol" had slipped to No. 7, bringing in an average of 13.4 million viewers each week.
The revived "American Idol," which brought back host Ryan Seacrest alongside new judges Katy Perry, Lionel Richie and Luke Bryan in 2018, saw an average audience projection -- an average of the number of people over the age of 2 watching for a minute -- of about 7.9 million people during the season.
The reboot did not crack Nielsen's Top 10 prime-time TV programs during the first year, with just one reality program, the Tuesday night edition of "America's Got Talent," making the list at No. 9 with an average of roughly 14.3 million viewers. A Fast Company report on MoffettNathanson data noted that major television networks -- including "American Idol's" two homes, Fox and ABC -- saw declines in audience reach from 2014-2018, with ABC dropping 12 percent and Fox falling 28 percent.
Despite the revival's relatively lower viewership (average audience projection for the first version of the show peaked at around 30 million during its fifth season, but Seasons 14 and 15 came in at less than a third of that figure), revival judge Richie, returning Sunday for Season 17, is one of the most popular among survey respondents: Seventy percent of U.S. adults said they had a favorable opinion of him.
Jennifer Lopez, who sat in the judge's chair for five seasons during the show's original run, was equally as popular among respondents.
Nicki Minaj, who served as a judge during the show's 12th season alongside Mariah Carey, Keith Urban and Randy Jackson, was the least popular judge, with 35 percent of the public saying they have an unfavorable opinion of her, compared to 34 percent who found her favorable. Minaj and Carey were involved in on-camera arguments throughout the season they both served as judges, with Carey saying that she hired extra security after Minaj allegedly threatened her during a taping of the show.
Among the original judges that served on the show for the first eight seasons -- Paula Abdul, Simon Cowell and Randy Jackson -- Abdul had the highest favorability with 62 percent, followed by Cowell at 57 percent and Jackson at 52 percent.
In 2019, "American Idol" faces a crowded field of singing competition shows, including "The Voice," "The Masked Singer," "The Four" and "America's Got Talent," which all premiered after "American Idol." During its inaugural season, the rebooted "American Idol" was topped in the ratings by "The Voice" on several occasions.
Sarah Shevenock previously worked at Morning Consult as a reporter covering the business of entertainment.
We want to hear from you. Reach out to this author or your Morning Consult team with any questions or comments.
Contact Us