Most Sports Fans Back Teams' White House Visits Under Trump Administration
Also, roughly half think athletes should accept president's invitation, regardless of personal political beliefs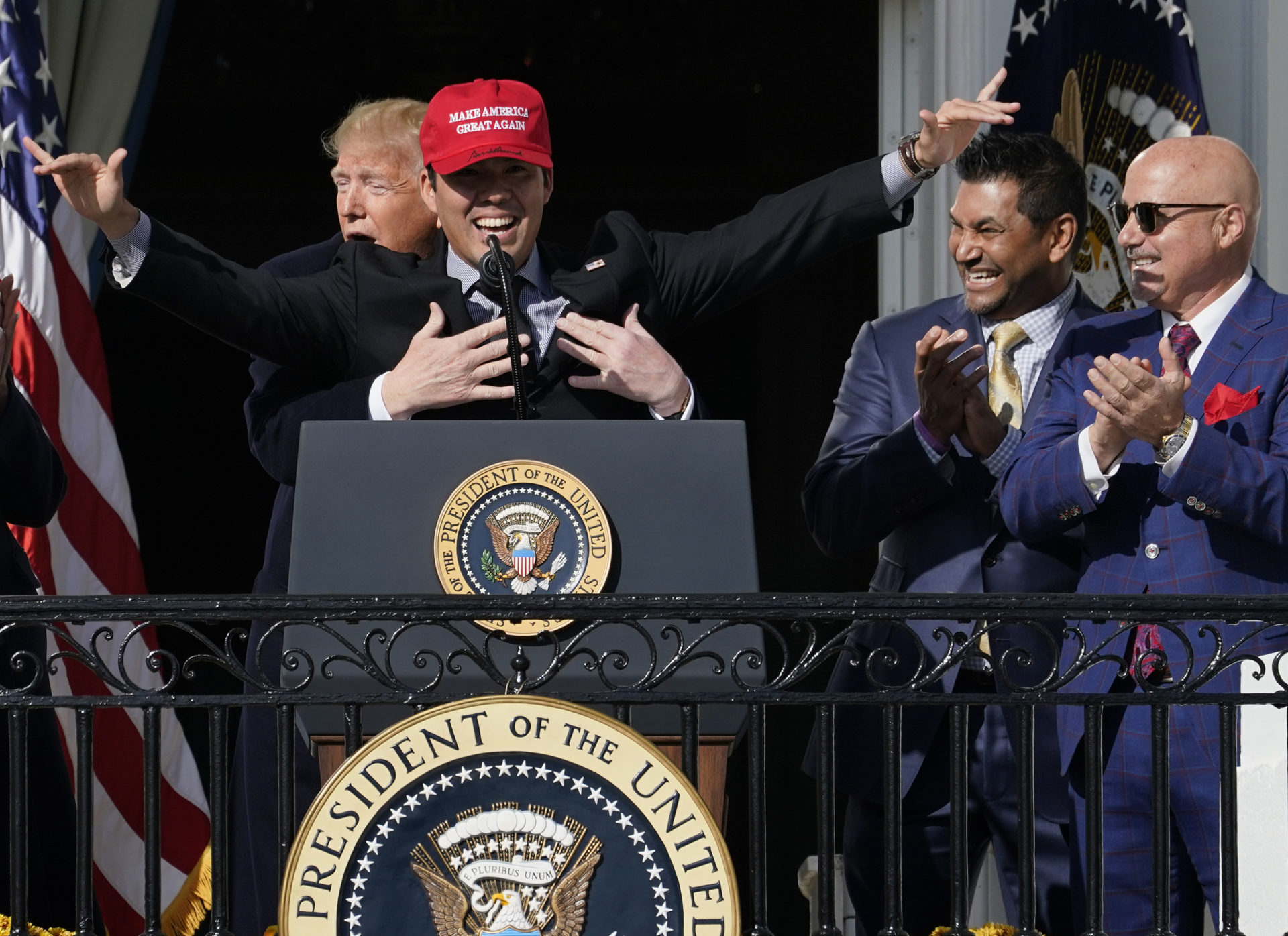 Key Takeaways
3 in 4 avid sports fans have a favorable view of the championship teams' tradition of visiting the White House.

11 of 25 championship teams in major U.S. professional and college sports since the beginning of 2017 have celebrated with Trump at the White House.
White House visits by championship-winning sports teams have been less frequent and come under greater scrutiny under Donald Trump's presidency than during the Obama administration, but the majority of avid sports fans in the United States still view the tradition favorably, according to new polling, and roughly half believe athletes should visit the White House no matter who is in it. 
A Morning Consult survey conducted from Nov. 12-15 found that 75 percent of those identifying as avid sports fans said they have a favorable opinion of the tradition, compared to 11 percent who said they view the custom unfavorably. 
Fifty-two percent also agreed that athletes should visit the White House when invited regardless of their individual political views or who holds the office, compared to 38 percent who disagreed with this position.
The poll surveyed 2,200 adults and has a margin of error of 2 percentage points. The subsample of 474 avid sports fans has a 5-point margin of error.
Even under a polarizing Republican president like Trump, 54 percent of all Democrats surveyed, not just avid sports fans, expressed a positive sentiment regarding the practice of winning teams visiting the White House. But 57 percent of Democrats disagreed with the notion that athletes should go regardless of ideology or the sitting president, while 30 percent agreed with it. 
Among Republicans, the tradition of White House celebrations for title-winning teams polled favorably at 73 percent. In addition, 76 percent of all Republicans said athletes should accept the White House's invitation regardless of personal politics or who is in office, while 13 percent disagreed.
Since the beginning of 2017, only 11 of 25 title-winning teams from major United States professional and collegiate sports have visited the White House to celebrate with the President. This count includes teams from the NFL, NBA, MLB, NHL, MLS, WNBA, Division I college football, Division I men's college basketball and Division I women's college basketball. It excludes recent championship teams in these leagues from Canada, MLS' Toronto FC and the NBA's Toronto Raptors, as well as teams representing the United States in international competitions, including the 2019 World Cup-winning women's national soccer team and medal-winning Olympians from the 2018 Pyeongchang Games.
The figures contrast to those seen during the eight years of the Obama administration, when 68 of 72 title-winning teams celebrated their achievements with the president in Washington.
Even among those organizations that have visited the Trump White House, several players have individually opted not to attend as part of their teams' delegation.
While several organizations have been vocal about their decisions not to attend -- the 2017 Golden State Warriors, for instance -- it is unclear how many of the 14 non-attending teams chose not to visit and how many the White House did not invite.
The 2019 MLS Cup champion Seattle Sounders, the most recent championship-winning team in major American sports, are not expected to travel to Washington, D.C., to meet the president. Both the organization and the White House declined to comment on whether an invitation had been extended or whether a visit was in the works. 
One team-recognized Sounders supporters group, Gorilla FC, said it hoped the team would decline an invitation from Trump if it received one. 
"As a supporter group who espouses the values of anti-racism, anti-sexism, and anti-homophobia, as well as building community, we hope that the Sounders would decline any request to visit the White House," Gorilla FC vice president Cameron Collins said in a statement on behalf of the self-identified antifa group. "While there may have been a time where such a visit could be appropriate, we live in extraordinary times."
Since Trump's inauguration, all three of MLB's World Series champions and the NHL's Stanley Cup champions have celebrated their titles with Trump at the White House. He also hosted the NFL's Super Bowl-winning New England Patriots following their victory in 2017, though they did not make a return visit after winning again earlier this year. So far, the president has yet to host a championship team from the NBA, men's college basketball or MLS.
Baylor women's basketball became the first major women's sports team to visit under the current administration after winning this year's national title. None of the three WNBA champions since Trump's inauguration have celebrated with the president. 
The United States women's national soccer team hadn't advanced to the 2019 World Cup Final yet when captain Megan Rapinoe pre-emptively turned down a visit to White House, where the team had celebrated with Obama after winning the same title four years earlier. 
Alex Silverman previously worked at Morning Consult as a reporter covering the business of sports.
We want to hear from you. Reach out to this author or your Morning Consult team with any questions or comments.
Contact Us