Movie Subscription Services Are Nice, but People Would Rather Have Cheaper Tickets
66% said they'd go to movies more often for discounted admission vs. 26% who said same of subscription services
Key Takeaways
45% of adults said expensive tickets were a major reason they didn't go to movie theaters more frequently.

39% said a variety of movie options to choose from was a major reason they go to movie theaters.
This time last year, MoviePass was being lambasted on social media by users of the movie ticket subscription service who just wanted to see the latest "Mission: Impossible" film -- but couldn't. The service, which at the time was offering the unsustainable bargain of one movie a day for $9.95 a month, was running out of money and experiencing the first of many challenges it would see before the end of 2018. 
But even as MoviePass' popularity waned, more and more theater chains began exploring their own subscription services. They are on the right track — a June 20-23 Morning Consult survey found that cost is the top reason people don't go to the cinema — but in terms of the biggest draws, simple discounts for snacks and tickets far outranked the ticket subscription service model that so many chains have been experimenting with. 
The sheer number of theater subscription services  — currently there are five in addition to MoviePass — and the rules and regulations about how and where they can be used, can make the attempt to make movies more affordable in fact more difficult for the consumer. 
"The current model isn't working for a lot of people," said Anna Feder, film curator for the Bright Lights film series at Emerson College, "both in terms of choice and in terms of price point."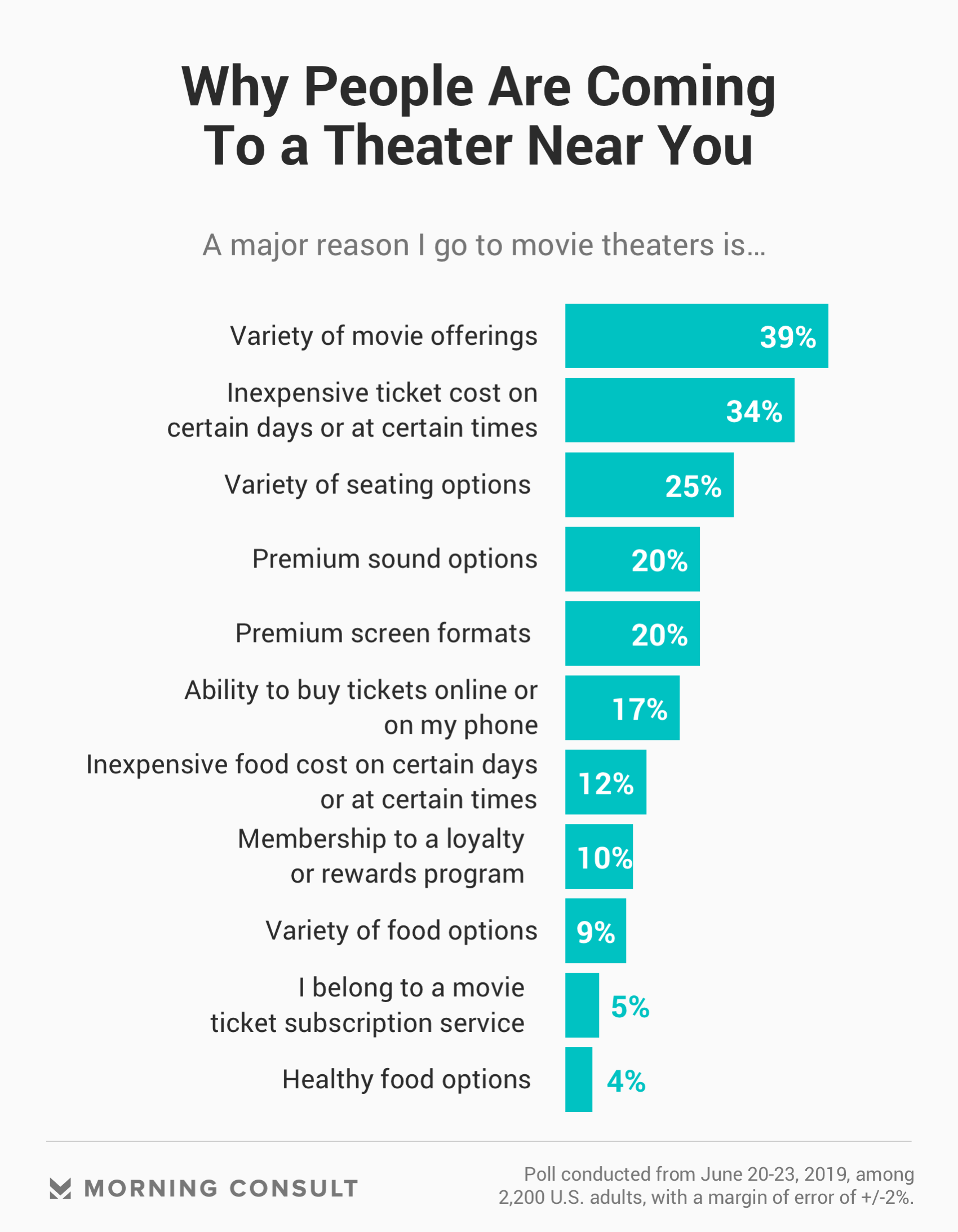 Among the reasons to go to the movies, a "variety of movie offerings" ranked No. 1, with 39 percent of respondents saying it was a major reason they went to theaters. But after a number of sequels, such as "Men in Black: International" and "Dark Phoenix," failed to meet box office expectations, industry experts were quick to throw around accusations of sequel fatigue -- even though some of the highest-grossing films of the summer ("Avengers: Endgame," for starters) were also sequels. 
"People always want variety," said Shawn Robbins, chief analyst for BoxOffice.com. "We see original movies from time to time can really break out, but at the same time, we see these big sequels like the Marvel movies and 'John Wick' do really well." 
Robbins said it doesn't matter if a film is an original, a sequel or a remake: Audiences are simply looking for "good movies." 
Forty-five percent of adults said tickets being too expensive was a major reason they didn't go to movie theaters more often, and 31 percent said the same about food options. 
While going to the movie theater is "the premiere way to see content, price definitely comes into play," said Paul​ Dergarabedian, a senior media analyst with Comscore Inc.
Analysts acknowledged that a trip to the movies can be costly, but note that it is typically less expensive than other entertainment options such as sporting events or live theater. In 2018, the average price for a movie ticket in the United States was $9.11, per the National Association of Theatre Owners. For comparison, during the 2018-2019 Broadway season, the average ticket cost $123.87.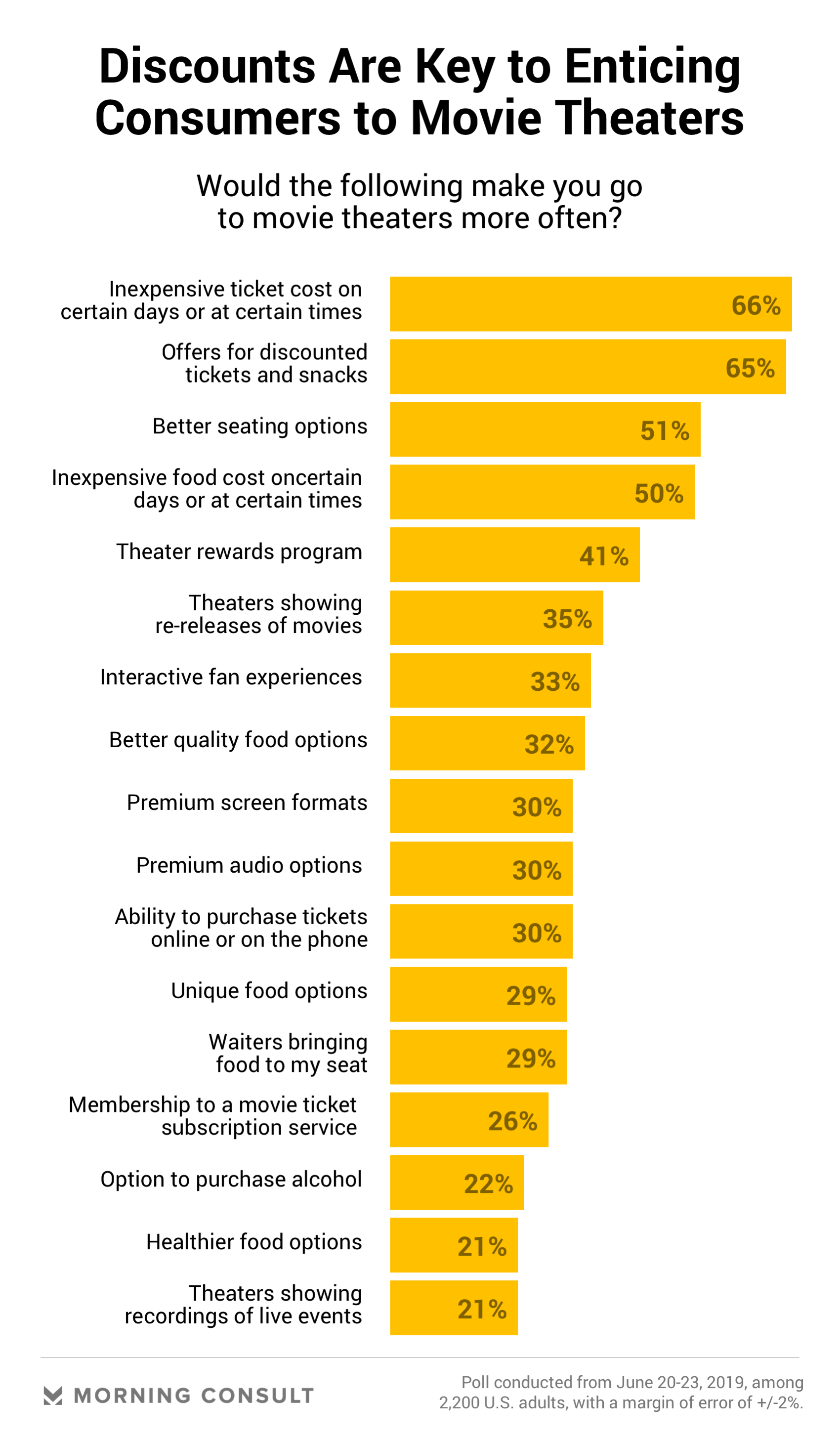 Robbins said that people are price-sensitive when it comes to movies because they are more likely to view a negative moviegoing experience as a waste of money compared to a negative experience at a highly interactive event such as a sporting event. 
"If you go see a movie you don't like and you don't feel like it deserves the money, you're not wrong for feeling that way," he said. But it's an emotional reaction rather than a practical one, he said, and disappointed moviegoers should also remember that it's a relatively affordable form of entertainment.
When consumers were asked what would make them go to the movies more frequently, 66 percent said inexpensive tickets on certain days or at certain times would bring them to theaters more often, and 65 percent said the same about offers for discounted tickets and snacks. 
Dergarabedian pointed to Comscore data showing that Tuesdays -- the day that some theater chains offer discounted tickets and snacks -- are often the midweek leader for box office grosses. 
Per its website, MoviePass is no longer accepting new subscribers. However, there are still a plethora of options for consumers to choose from. Last year, AMC Theaters introduced AMC Stubs A-List, a service that allows moviegoers to see three movies a week for around $22, depending on where they live. Cinemark's Movie Club offers subscribers one movie a month, in addition to discounts on tickets and snacks, while Alamo Drafthouse is beta testing a subscription service that offers unlimited movies. And just this week, Regal Cinemas launched a service allowing moviegoers to see unlimited 2D movies starting at $18 a month. 
Previous Morning Consult/The Hollywood Reporter polling has found that $24 is the ideal price point for a service offering unlimited movies. 
Twenty-six percent of respondents in the June 20-23 poll said membership to a movie ticket subscription service would make them go more frequently. 
Feder said that familiarity with as companies such as Netflix Inc. and Spotify Technology SA has made consumers comfortable with subscription services in general. 
She said that although MoviePass' model may not have been sustainable, it did provide some insight into what features would work -- a key one being choice. 
"It makes sense to try to create a subscription service like MoviePass where you could go to your multiplex, but you could also go see a foreign film at the local art house theater," Feder said.
This story has been updated to include additional context for Robbins' quote about audience responses to film.
Sarah Shevenock previously worked at Morning Consult as a reporter covering the business of entertainment.
We want to hear from you. Reach out to this author or your Morning Consult team with any questions or comments.
Contact Us