Sports Fans Support Osaka Skipping French Open Press, but Still Want to Hear From Athletes After Games
72% of sports fans said they were in favor of Osaka prioritizing her mental health over media obligations
Key Takeaways
57% of sports fans and 73% of tennis fans are interested in what athletes have to say after they compete.

36% of sports fans supported organizers' $15,000 fine of Osaka for skipping her first-round press conference.
Naomi Osaka, the No. 2-ranked women's tennis player in the world, bucked the established order of professional sports with her refusal to speak to the media at mandatory news conferences following her matches at the French Open. The 23-year-old Japanese star cited her mental health to justify the decision not to answer questions and, subsequently, her withdrawal on Monday from the Grand Slam event.
New research indicates that sports fans largely supported Osaka's decision not to speak to the media based on her mental health concerns, but that the sports industry could face backlash if athletes staying silent after competition becomes a broader trend.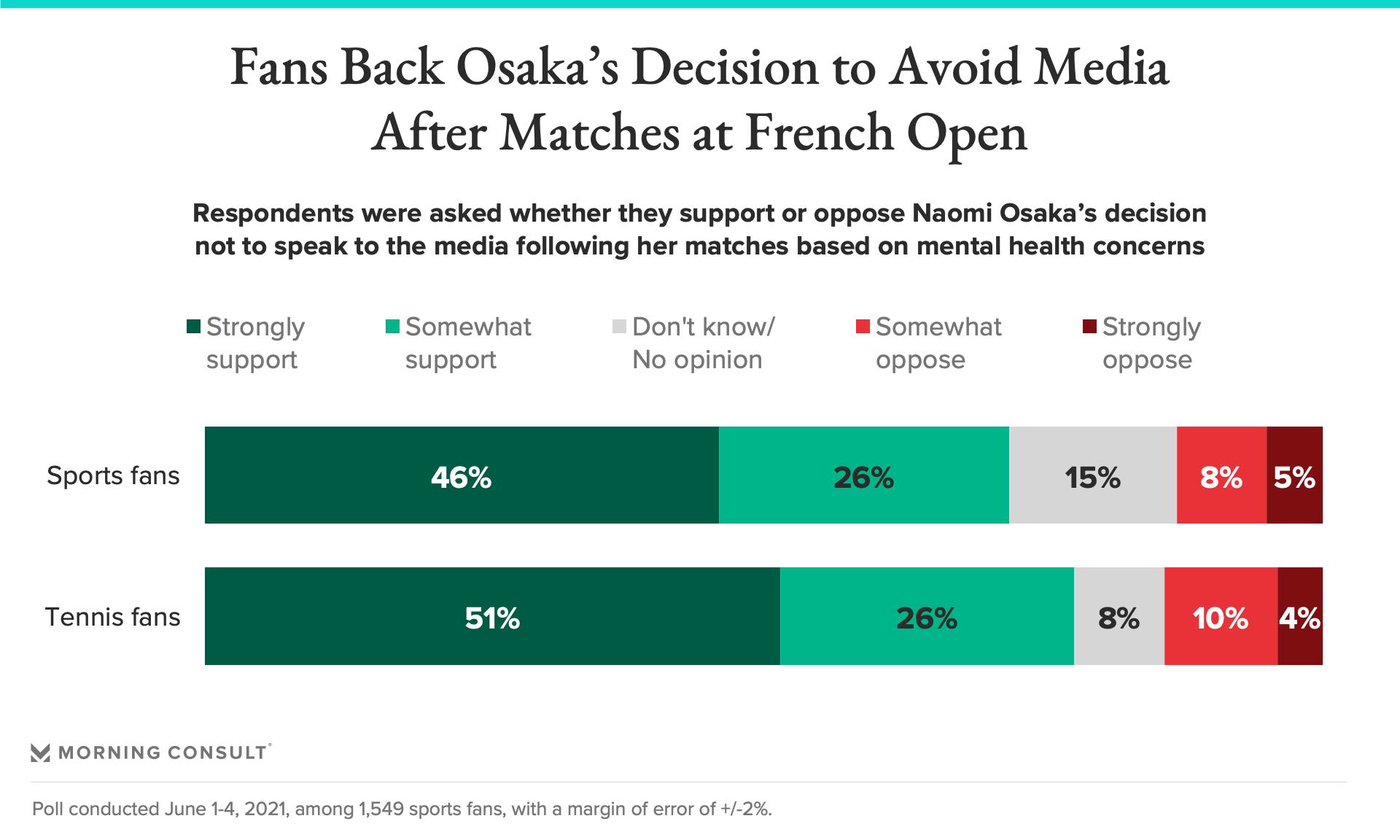 In a Morning Consult poll conducted June 1-4, 72 percent of sports fans backed Osaka's stand against participating in postmatch press conferences for the sake of her mental well-being, more than five times the share of fans who opposed the move. By comparison, 36 percent of fans said they supported the $15,000 fine imposed by tournament organizers for skipping her media availability following Osaka's first-round win, compared with 47 percent who opposed it.
Osaka, at the age of 20, catapulted to stardom following her 2018 victory over Serena Williams in the U.S. Open final. Now 23, her estimated earnings of $55.2 million from June 2020 through May 2021 is a record for a female athlete, according to Sportico. More than 90 percent of that can be attributed to endorsements from the likes of Nike Inc., Coca-Cola Co. subsidiary BodyArmor, Levi Strauss & Co., Louis Vuitton, watchmaker TAG Heuer S.A. and several others.
Prior to the start of the French Open last month, Osaka said on social media that she would not take part in press conferences after matches because doing so takes a toll on athletes' mental health. In addition to fining Osaka after she skipped the news conference, event organizers said in a statement that she could face additional sanctions, including disqualification, for subsequent violations, which led to Osaka announcing on Instagram her withdrawal from the tournament. She also revealed for the first time that she had experienced "long bouts of depression" since the star-making U.S. Open title win. 
Her handling of the situation appears to have won her some supporters, according to the poll of 1,549 U.S. sports fans, which has a margin of error of 2 percentage points. At the start of the survey, 71 percent of sports fans indicated they had heard of Osaka. Forty-six percent of fans had a favorable opinion of her, while just 5 percent viewed her unfavorably. 
After a series of questions informing respondents about the circumstances of her refusal to speak to the media and withdrawal, the share of sports fans with a favorable opinion of Osaka jumped 22 points, to 68 percent, while the unfavorable group grew by just 5 points, to 10 percent.
While it remains to be seen whether other prominent athletes follow Osaka's lead in eschewing media obligations, the survey results make it clear that fans still want to hear what athletes have to say after games. Fifty-seven percent of sports fans said they're interested in hearing from professional athletes following their events, including 17 percent who said they are "very" interested. 
Among respondents who identified specifically as tennis fans, nearly 3 in 4 said they are interested in postgame comments from players, including 28 percent who said they're "very" interested. Sixty-nine percent of millennial fans and 59 percent of adult Generation Z fans said they want to hear from athletes after games.
In addition, 37 percent of sports fans and 45 percent of tennis fans said they support professional athletes being contractually obligated to talk to the media.
Alex Silverman previously worked at Morning Consult as a reporter covering the business of sports.
We want to hear from you. Reach out to this author or your Morning Consult team with any questions or comments.
Contact Us