Nearly Half of Consumers Want All Episodes At Once
But streaming services are headed in the other direction
Key Takeaways
49% of adults say they prefer if a streaming service releases all of a program's episodes at the same time.

44% of adults, including 55% of adults under 45, want to watch all of a season's episodes at one time.
Consumers have been ready to chill and binge their favorite television shows since Netflix Inc. staked a claim on the format in 2013 with the release of "House of Cards." But as new players stray from this precedent -- finding a middle ground between binge mode and the traditional weekly release schedule of network and cable TV -- polling shows that young people especially prefer to have their episodes all at once. 
An Oct. 24-28 Morning Consult/The Hollywood Reporter poll found that 49 percent of the 2,329 adults surveyed, including 63 percent of current streaming subscribers, prefer streaming services to release all episodes at once. Alternatively, 14 percent said they liked a few episodes to be released at the start followed by weekly releases, and an equal share preferred one episode to be released each week.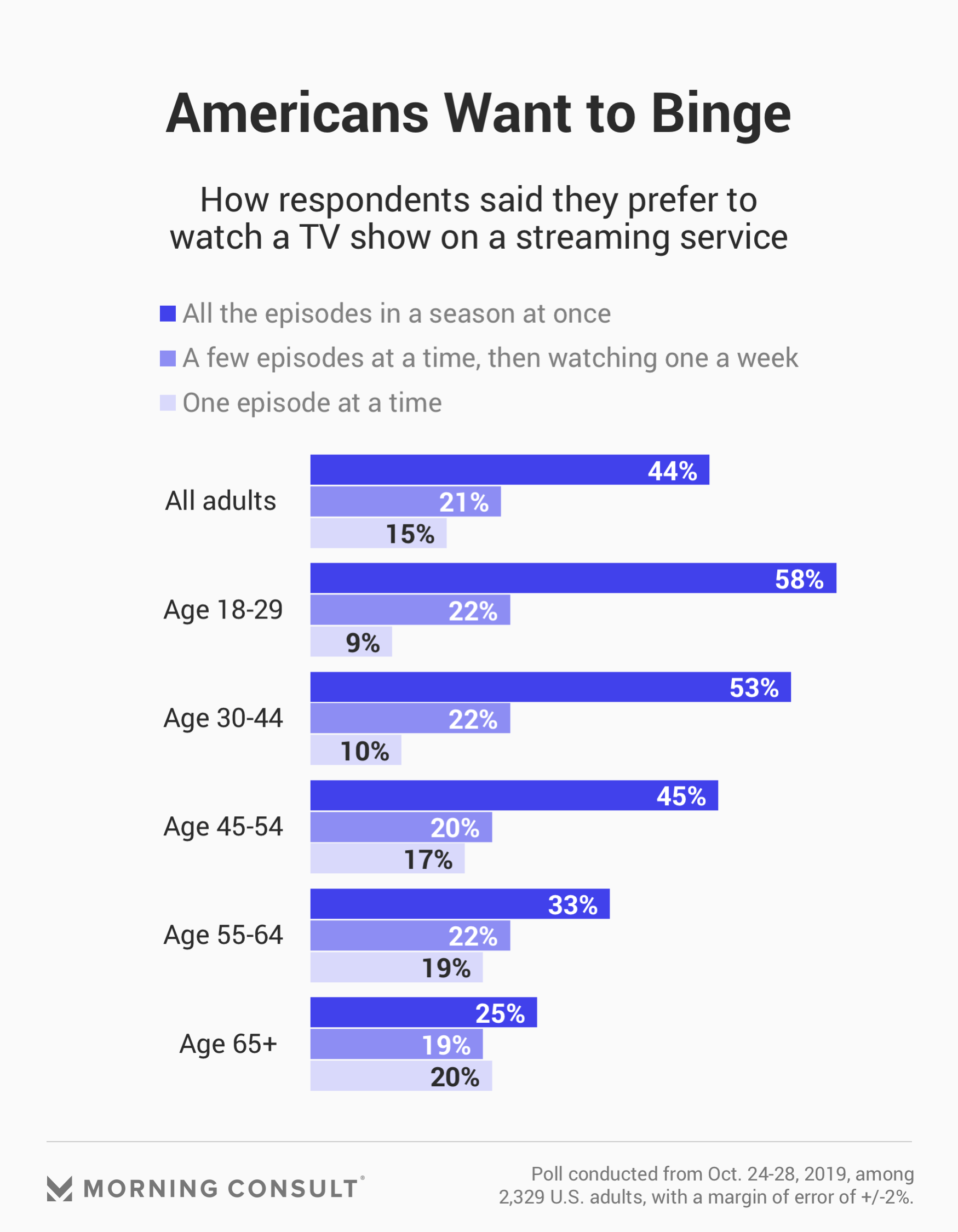 The poll's margin of error is 2 percentage points. 
While Netflix has made itself synonymous with binge-watching, one of its competitors -- Hulu -- has strayed from that model. While it has released full seasons of some originals, including "Looking for Alaska," others, such as "The Handmaid's Tale," release a few episodes at once before moving on to a weekly schedule. And new players are following that model. 
While entire seasons of certain shows, including "Dickinson," were released Friday, Apple Inc. premiered three episodes of each of its other originals, including "The Morning Show," and plans to release new episodes of those shows weekly. Walt Disney Co.'s Disney+, which is set to launch Nov. 12, will also reportedly make use of a weekly release schedule. And just last week, Kevin Reilly, WarnerMedia's chief content officer, appeared interested in the idea of releasing HBO Max's original content on a weekly basis, per a tweet from Deadline's Dade Hayes. 
Apple and WarnerMedia declined to comment for this story. Disney, Netflix and Hulu did not respond to requests for comment. 
A 44 percent plurality of those surveyed said they like to watch all episodes at once, while 21 percent said they liked to watch a few episodes, after which they'd catch one a week. Fifteen percent said they liked to watch one at a time. 
Younger consumers -- specifically those under the age of 45 -- were more likely to prefer episodes to be released all at once, and to want to watch them all at once: Fifty-five percent of them preferred to watch all episodes of a show in one sitting, and 60 percent liked all episodes to be released at the same time. Seventy-three percent of adults in this demographic currently subscribe to a streaming service, compared to 61 percent of all adults.  
Brett Sappington, the senior director of research at Parks Associates, says the full-season model appeals to younger consumers because they like to have "control over their content." 
But Brad Adgate, a media consultant with BIA Advisory Services, a market research firm that specializes in broadcast media, said that a weekly release could be a way to minimize churn, or losing subscribers after they watch the content they want. 
And as Sappington points out, a streaming platform needs more than a release schedule -- regardless of whether it's all at once or in weekly doses -- to retain long-term subscribers.
"If all you have to offer consumers is a single series," he said, "you're not going to keep them for long regardless."
Sarah Shevenock previously worked at Morning Consult as a reporter covering the business of entertainment.
We want to hear from you. Reach out to this author or your Morning Consult team with any questions or comments.
Contact Us