Net Approval for Trump's Coronavirus Response Falls to 2 Points
44 percent of voters approve of the president's handling, while 42 percent disapprove
Key Takeaways
Trump's net approval in handling the coronavirus dropped 38 points in less than a month.

Net approval for the CDC's handling of the coronavirus fell from 76 points to 56.

39% of voters say they would "definitely" get tested for COVID-19, while 34% say they would "probably" do so.
Despite efforts by the White House to reassure Americans that the coronavirus outbreak is contained while cases continue to mount, voters are growing increasingly wary of the government's response, with approval of President Donald Trump's handling of the situation plummeting over the course of the first full month of the U.S. outbreak.
More than 2 in 5 voters (42 percent) disapprove of the president's attempts to contain the spread of the coronavirus, according to a Morning Consult survey conducted March 3-5, while 44 percent approve. The difference — or net approval — is now 2 points, down from 40 points less than one month ago.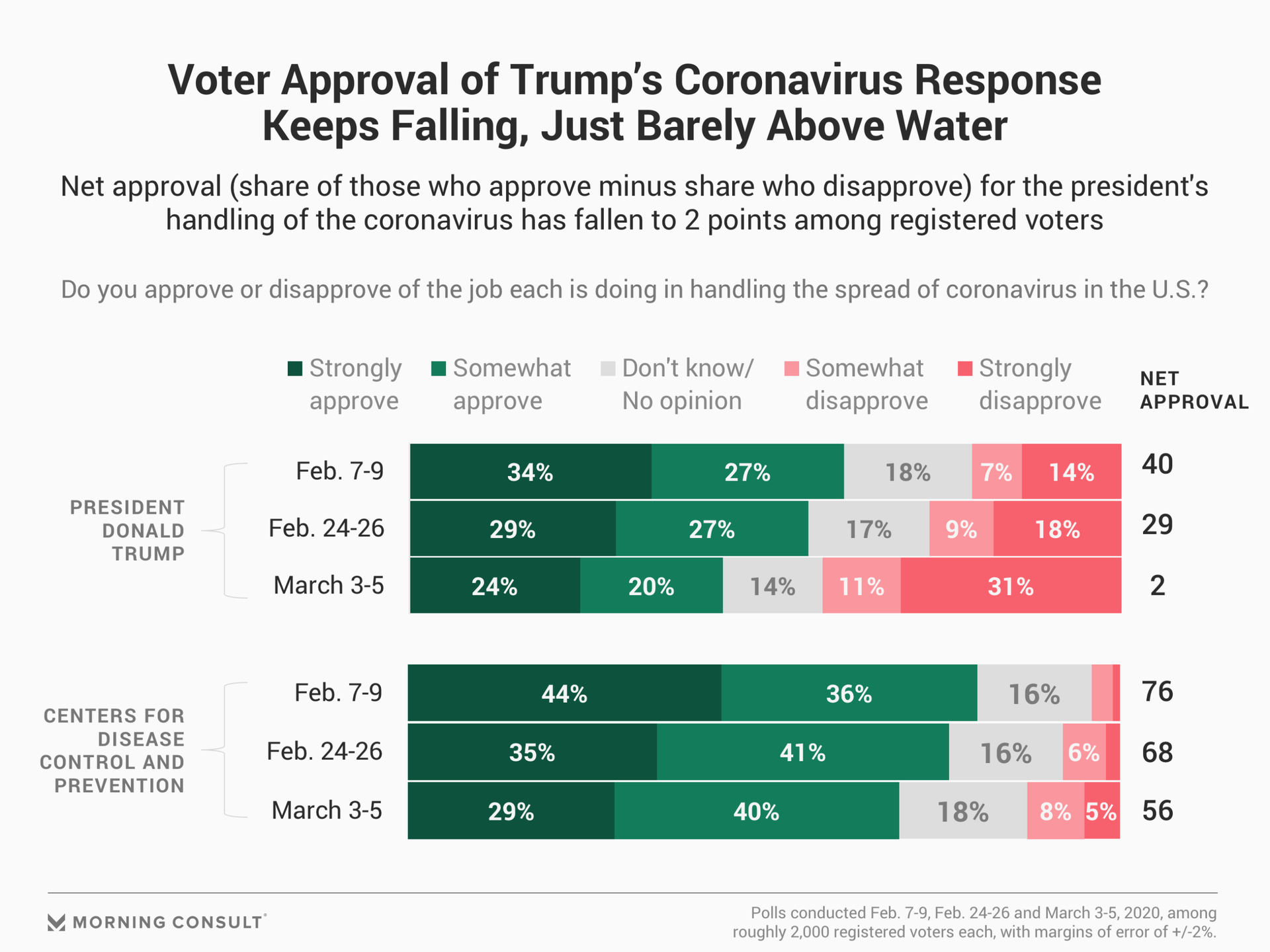 The survey of 1,990 registered voters, which has a margin of error of 2 percentage points, was taken as bicameral lawmakers were finalizing an $8.3 billion emergency supplemental package to boost the U.S. response, after the Trump administration initially requested $1.25 billion in new funding. The president planned to sign that bill Friday at the Centers for Disease Control and Prevention headquarters in Atlanta, but did so in Washington instead, canceling the trip amid reports of a suspected case in Georgia's capital. After the person tested negative, White House Press Secretary Stephanie Grisham said the trip is back on.
The president and his coronavirus task force have appeared on television several times in recent days, with conflicting remarks on the severity of the outbreak that has now killed 14 Americans and sent several states and localities into a state of emergency. Leadership of the task force has gone through several iterations, with Health and Human Services Secretary Alex Azar taking a backseat to Vice President Mike Pence and Ambassador-at-Large Deborah L. Birx, while federal officials have been forced to walk back previous statements about the United States' testing capacity.
On Friday morning, White House economic adviser Larry Kudlow said he will "still argue to you that this is contained." Those remarks followed a 44 percent jump in the number of U.S. cases between Thursday and Friday, from 162 to 233 Friday morning.
Even as Trump and his closest allies attempt to quell fear in public remarks, White House officials are privately considering deferring taxes for the cruise, travel and airline industries, according to recent reports, suggesting they understand the magnitude of the outbreak.
The poll comes as the outbreak grows political, with the White House under increasing scrutiny for disorganization and a series of early mishaps that concealed the accelerating trajectory of the epidemic. Satisfaction with Trump's handling of the outbreak continues to vary by region, with net approval underwater in the West and the Northeast, where the outbreak is concentrated.
Approval of the CDC's response also continues to fall, with net approval for the agency's handling dropping from 76 points in the first week of February to 56 points in the most recent poll. Early this week, in a surprising reversal, the CDC removed data on how many people have been tested nationwide from its website. And despite Pence's promise of roughly 1.5 million tests becoming available this week, local officials are still limited to testing only a few thousand people a day.
Entering a new phase of the outbreak in which community transmission is well underway, public health officials are shifting focus to testing and treatment, and the poll found 73 percent of voters are thinking of getting tested. Republicans were 12 points less likely than Democrats to say they would "definitely" get tested (35 percent vs. 47 percent) and are generally less concerned about the outbreak.
However, price is still a barrier for many who are on the fence about testing. Among voters who either said they would "probably" get tested or rejected the idea altogether, 54 percent cited the cost as a reason (29 percent said it was a "major" reason, and 25 percent said it was minor). And 41 percent said a lack of trust in the accuracy of the test contributed to their hesitation.
Even as states and insurers move to eliminate patient cost-sharing, the 61 percent of workers covered by self-insured plans are unaffected by states deciding to waive co-pays for COVID-19 testing, given that states have no regulatory authority over those plans.
Yusra Murad previously worked at Morning Consult as a reporter covering health.
We want to hear from you. Reach out to this author or your Morning Consult team with any questions or comments.
Contact Us