Documentaries Find a Regular Home in Netflix's Top 10
While true crime stories are popular, experts predict increased interest in sports, music titles
Key Takeaways
On average, documentaries and docuseries have spent eight days in Netflix's U.S. Top 10 after their premieres this year. 

Documentaries were featured in the Top 10 rankings 27 out of 30 days last month. 

Docuseries had a slightly longer run (nine days) in the U.S. Top 10 compared to documentary features (six days).
A colorful big cat owner. A notorious art heist. An in-depth look at fishing's impact on the environment.
These are just some of the documentaries and docuseries that have found an audience on Netflix in recent months. And a new Morning Consult analysis of the streaming giant's U.S. Top 10 rankings finds that documentaries make up an important part of its offerings, especially as Netflix looks to bulk up on content.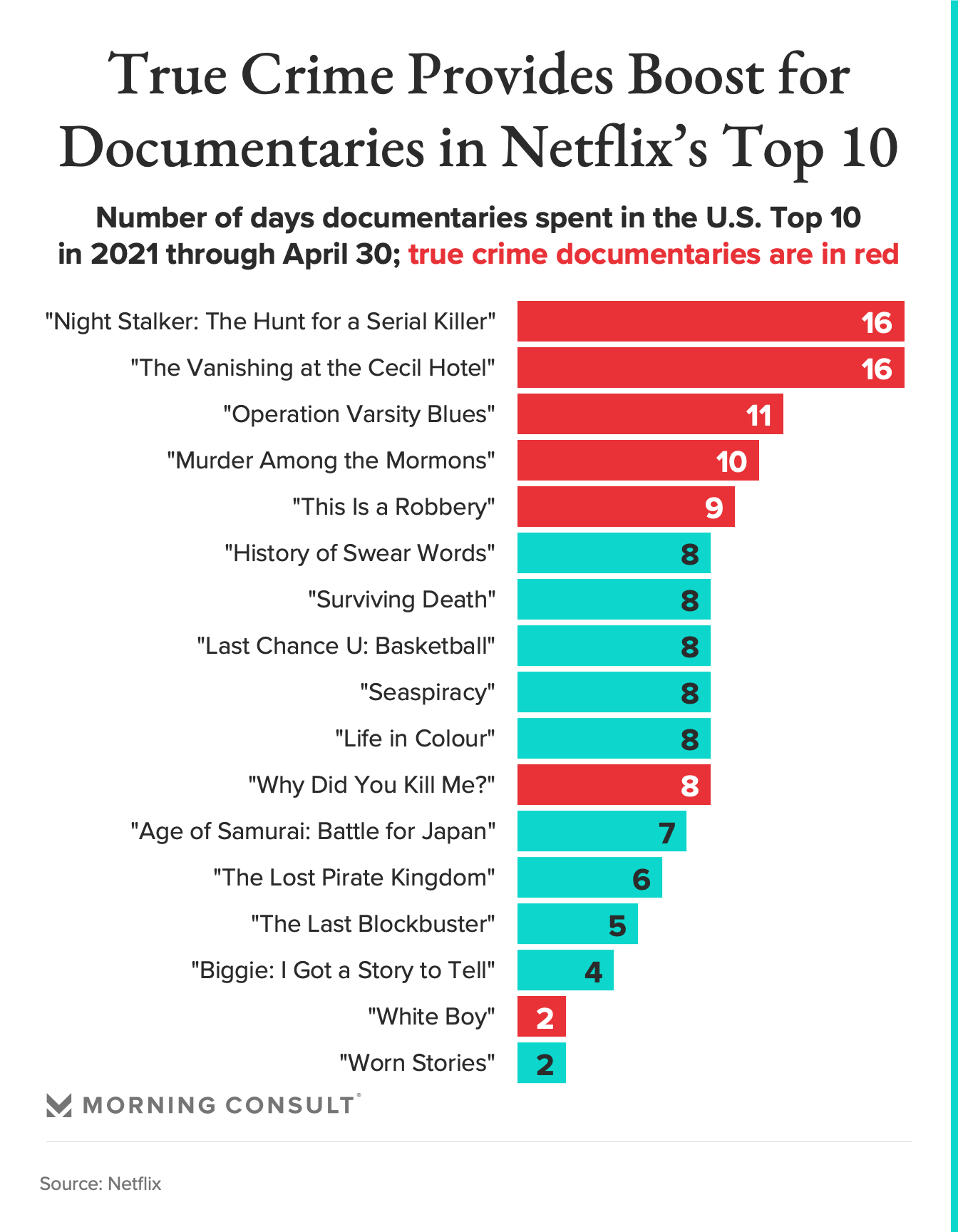 On average, documentaries and docuseries released in 2021 have spent eight days in Netflix's U.S. Top 10 after their debuts, according to analysis of the service's rankings through April 30. Docuseries with multiple episodes, including "History of Swear Words'' and "Last Chance U: Basketball,'' spent roughly nine days in the rankings, while documentary features, including "Why Did You Kill Me?" and "Seaspiracy," spent closer to six days in the Top 10, which is determined by calculating how many accounts watch at least two minutes of a show. Overall, the genre was in the Top 10 for 27 days last month. 
Nick Cicero, vice president of strategy for Conviva, a streaming analytics company, said documentaries play an important role for streamers because they can lead consumers to discover related content also available on the service. 
"Streaming services rely on content discovery algorithms to really tap into user preferences and provide personalization and recommendations. So that's really crucial to drive viewers deeper and deeper into a streaming catalog," Cicero said. "Documentaries, in particular, help drive a lot of the stickiness by complementing scripted shows, and vice versa." 
Experts said the younger viewers who flock to streaming services have been exposed to the documentary genre through reality TV such as "Keeping Up With the Kardashians" and YouTube, which makes watching documentaries on streaming platforms a palatable entertainment option. 
The coronavirus pandemic also increased the genre's output, according to Bryn Mooser, chief executive of nonfiction studio XTR and founder of the documentary streaming channel, Documentary+.  
"The documentary industry didn't really shut down because production could continue," Mooser said. "You have small crews, one-on-one interviews that you can do very safely, things are happening in the edit room."
Documentaries traditionally have lower budgets than scripted content, he said, an added benefit for production companies and streaming services facing financial challenges during the pandemic.  
True crime series "Night Stalker: The Hunt for a Serial Killer" and "Crime Scene: The Vanishing at the Cecil Hotel" have been the year's most popular documentaries, with each spending 16 days in the rankings through April 30. In fact, the most popular documentaries featured in the 2021 rankings have all focused on true crime, with "Operation Varsity Blues," "Murder Among the Mormons" and "This Is a Robbery: The World's Biggest Art Heist" rounding out the top five. 
But Netflix, which added about 4 million subscribers in 2021's first quarter, faces stiff competition from other streamers in the documentary space. 
Musicians Billie Eilish, Taylor Swift and Pink have, or are set to debut, documentaries on Apple TV+, Disney+ and Prime Video, respectively, while WarnerMedia continues to flesh out its HBO Max offerings with political and true crime documentaries from HBO. 
Discovery+, which launched in January, has made documentary programming one of its core offerings, and continues to strike deals for more nonfiction stories, while Hulu has found success with its "The New York Times Presents" series of stand-alone documentaries, including February's "Framing Britney Spears." 
Subgenres such as sports and music documentaries are likely to gain more popularity in the near future, Mooser said, due in part to consumers' pent-up demand to attend concerts and sporting events. 
Netflix appears committed to documentaries, though, releasing the true crime docuseries "The Sons of Sam: A Descent Into Darkness" on Wednesday, with "Money, Explained" and "High on the Hog: How African American Cuisine Transformed America" to follow later this month. 
Overall, children's programs and drama series were most popular on the streamer last month. "CoComelon" spent 29 days in the Top 10, while "The Serpent" and "Who Killed Sara?" ranked for 25 and 23 days, respectively. "Nicky, Ricky, Dicky & Dawn" was fourth, and the U.S. version of "The Circle" rounded out the top five.
Sarah Shevenock previously worked at Morning Consult as a reporter covering the business of entertainment.
We want to hear from you. Reach out to this author or your Morning Consult team with any questions or comments.
Contact Us