New Progressive Campaigns Are Trying TikTok Despite Establishment Reluctance
Communications pros say video platform holds distinct advantages for political newcomers seeking to reach Gen Z
Joshua Collins is bracing for the day when he's called the "TikTok candidate." When it comes, he thinks political pundits will mock him for using a nontraditional campaign tool -- the same way they did when Rep. Alexandria Ocasio-Cortez (D-N.Y.) relied on Instagram's stories feature during her 2018 run.
But in a way, Collins already is the TikTok candidate: The political newcomer, who is running for Congress in the Democratic primary to replace retiring Rep. Denny Heck in Washington's 10th District, has amassed more than 26,000 TikTok followers since he posted his first video three months ago. 
TikTok has "allowed me to reach people who are completely disconnected, completely tuned out from politics and with just some basic ideas that they agree with," Collins said, noting that about half of a recent campaign event's roughly 30 attendees first heard about him on the platform. Today, the 26-year-old truck driver remains one of the most prolific candidates on TikTok. 
"I have been using social media the way pretty much any young person would to reach voters and volunteers and also donors who generally don't support typical politicians," he said.
Collins sees TikTok as a way to appeal to a key demographic that the U.S. Census Bureau estimated in 2018 makes up 9 percent of the 10th District: voters between the ages of 18 and 24.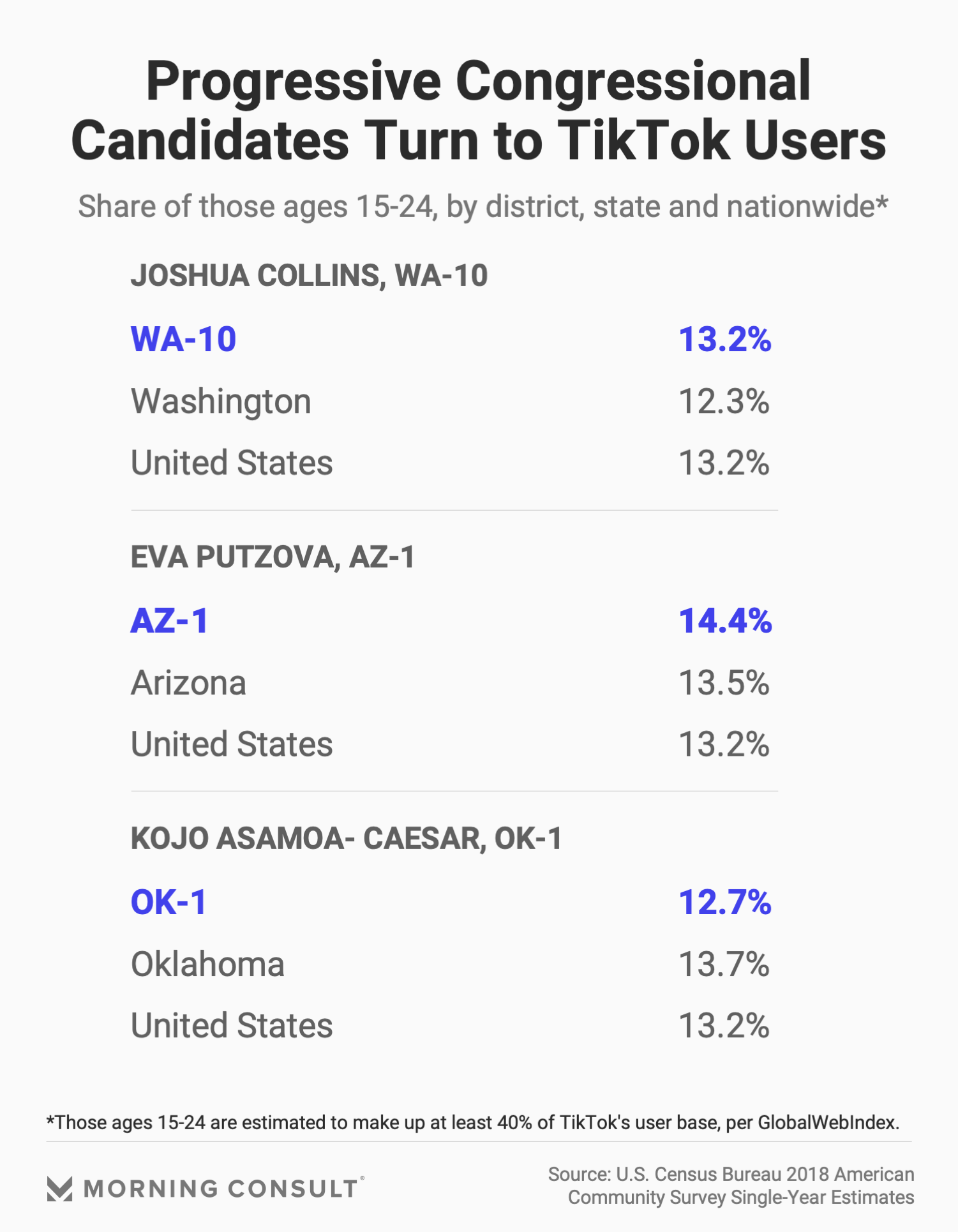 And Collins isn't the only one. Despite the national security and privacy concerns that have kept more established national campaigns away from the platform, a burgeoning group of political newcomers are starting to turn to the app with the same goal in mind: Finding a low-cost way to build name recognition and raise money from Generation Z, which is expected to make up a tenth of eligible voters this year. And some are already finding success with minimal effort, with Skyler Johnson, a 19-year-old college student running for New York state Senate, reaching nearly 2,000 TikTok followers in his first three days. 
A TikTok spokesperson said that while the company is actively preparing for the growth of political content on the platform -- pointing to recently expanded community guidelines, which also address misinformation, and its ban on political advertising as examples -- it doesn't have plans to lean into political content by helping campaigns navigate the platform or providing other similar services.
Annie Levene, a partner at Washington, D.C.-based Rising Tide Interactive, a digital marketing agency that works with Democratic politicians and advocacy groups, said smaller, less established campaigns are finding it easier to add the platform to their roster of digital tools precisely because of their size. While larger campaigns can get bogged down in acquiring necessary approvals from their own teams for each piece of social media content, new campaigns are better positioned to quickly create and post a video.
"It's all about that viral moment or moving whatever is trending forward, and when you need to go through stages of approval and make sure that it passes policy and comms, then you might miss that moment," Levene said. "So part of what makes TikTok really engaging isn't quite yet set up for a political campaign to succeed." 
There isn't much of a presidential or incumbent congressional presence -- besides Democratic presidential contender Andrew Yang's reported account -- on TikTok, which has been plagued by national security concerns: The Democratic National Committee confirmed a Wall Street Journal report earlier this month that the party organization issued guidance recommending candidates not use the app due to its Chinese ownership, citing concerns about TikTok "potentially sending data back to the Chinese government." 
Aside from Collins, most candidates on TikTok are still in the early stages of building their accounts, with at most three videos and a handful of followers so far. And none of the campaigns who spoke with Morning Consult appear to be banking on the app for fundraising, given the app has never been used in an election cycle before and success is uncertain. 
But these campaigns did say that the security issues surrounding the platform aren't a concern to them right now, and they ultimately jumped onto the platform because of its ability to let them tap into a new voter base and a robust progressive community.
The progressive community is pretty well-established on TikTok, with the #Bernie2020 hashtag having amassed more than 85.8 million views and meme videos about current events -- such as President Donald Trump's impeachment and the killing of Iranian military leader Qassem Soleimani -- flooding the platform daily.
Having an established audience "takes a lot of the thought and the legwork out" of finding voters, said Steven Piasecki, the communications director for progressive Democrat Eva Putzova, who is running against Democratic Rep. Tom O'Halleran in Arizona's 1st District. Since Arizona's 1st District is one of the largest geographically -- with Piasecki estimating it takes about eight hours to drive across -- the campaign sees TikTok as an avenue to engage voters who might not be able to attend campaign events. So far, the Putzova campaign just has two TikTok videos from December.
Adam O'Connor, the communications director for Kojo Asamoa-Caesar, a progressive running to oust Republican Rep. Kevin Hern in Oklahoma's 1st District, said he sees TikTok as a way to attract potential donors outside home districts, noting that success for progressive campaigns means being "able to build a lot of excitement and generate small-dollar funding" nationwide. Asamoa-Caesar's campaign has posted three videos in the last month. 
And although a TikTok spokesperson said geolocation data doesn't factor into the algorithm that determines what appears in a user's "For You" page, Johnson said the majority of his 2,307 followers appear to be from his state -- making it an effective local campaign tool. He has accrued more than 100,000 views since he joined the platform in early January.
"Young people feel disenfranchised from politics pretty often," Johnson said, so seeing a young candidate on the platform "can really help people get engaged again." 
But unless a politician with more name recognition, such as Sen. Bernie Sanders (I-Vt.), joins TikTok, Collins believes he'll continue to be the most popular candidate on the platform. As for the return on investment, Collins has posted more than 90 videos, but spent just two hours total creating them over the past three months. And until recently, he was the only person managing his campaign's social media accounts.
Now, the political newcomer is being recognized in public.
"None of the other apps really resulted in that as much," he said, "whereas with TikTok, I've gotten recognized at Taco Bell and the dog park -- random places that are nonpolitical."
Sam Sabin previously worked at Morning Consult as a reporter covering tech.
We want to hear from you. Reach out to this author or your Morning Consult team with any questions or comments.
Contact Us