Drew Brees, Patrick Mahomes Top List of NFL's Most-Liked Skill Players Ahead of 2021 Playoffs
The Saints quarterback's popularity dipped following controversial comments in June, but has quickly rebounded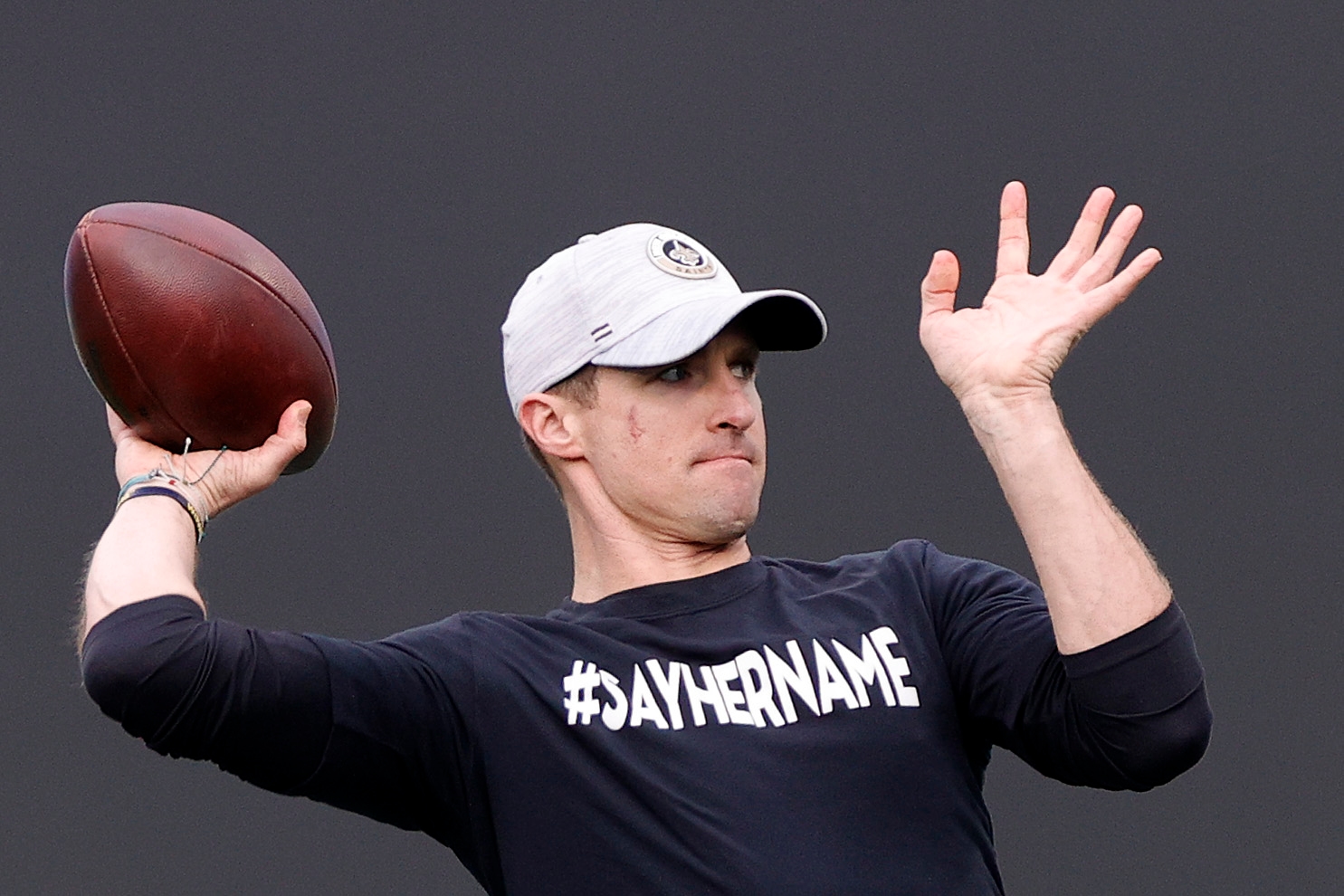 Key Takeaways
Tom Brady's net favorability is up 11 points from the same time last season after his move to the Buccaneers.

In the past year, Mahomes has narrowed a 15-point net favorability gap between himself and Brees to 2 points.

Sentiment toward Browns quarterback Baker Mayfield jumped 22 points year-over-year following a spate of TV commercials.
Six months and another winning season removed from polarizing remarks about players kneeling during the national anthem, New Orleans Saints quarterback Drew Brees is once again the most-liked skill-position player in the NFL, according to a new Morning Consult survey.
Public sentiment toward Brees fluctuated throughout 2020, as indicated by four separate surveys taken between December 2019 and December 2020. 
In June, Brees' net favorability dipped to 27 in the aftermath of his comments on players protesting police brutality, dropping him from the most-liked skill-position player in two previous polls to No. 5. Asked in an interview with Yahoo Finance about the possibility of players kneeling for the national anthem during the 2020 season, Bress said he would "never agree with anybody disrespecting the flag." Following backlash from some fans and other NFL players, including teammates, Brees walked the remarks back, which subsequently drew the Twitter ire of President Donald Trump.
Kansas City Chiefs quarterback Patrick Mahomes took the No. 2 spot in the Dec. 22-23 poll with a net favorability rating of 35, up from 27 a year ago. Between the 2019 and 2020 polls, Mahomes was named Super Bowl MVP in February and signed a record-setting contract with the Chiefs reportedly worth up to $503 million. The share of U.S. adults who indicated they had heard of Mahomes increased from 50 percent to 60 percent between the two surveys.
Fellow Super Bowl-winning quarterbacks Aaron Rodgers of the Green Bay Packers and Russell Wilson of the Seattle Seahawks ranked third and fourth respectively, with Arizona Cardinals wide receiver Larry Fitzgerald rounding out the top five. Rob Gronkowski of the Tampa Bay Buccaneers was the most-liked tight end, while Derrick Henry of the Tennessee Titans was the running back with the highest net favorability rating.
Tom Brady finished tied for eighth in net favorability despite ranking as the most well-known player in the survey by a wide margin: 90 percent of respondents knew Brady by name, compared to 69 percent who knew Brees. Brady's move from the New England Patriots to the Buccaneers, however, seemingly boosted his likeability, as his net favorability score jumped from 12 in December 2019 to 23 last month.
Cleveland Browns quarterback Baker Mayfield saw significant gains in 2020, jumping to the No. 6 spot on the list with a net favorability of 24 after ranking outside the top 100 a year ago, with name recognition increasing from 44 percent to 50 percent among the general public. Mayfield was a regular presence on television during the latter half of 2020, starring in ads for Hulu, Progressive Corp., footwear brand Allen Edmonds and the NFL's Game Pass service.
At least 537 U.S. adults were asked about each of the 164 quarterbacks, running backs, wide receivers and tight ends included in the survey, with results carrying a margin of error of 4 percent.
Alex Silverman previously worked at Morning Consult as a reporter covering the business of sports.
We want to hear from you. Reach out to this author or your Morning Consult team with any questions or comments.
Contact Us