Trump Trails Biden Nationwide and in North Carolina as RNC Kicks Off
Democratic nominee has respective 10- and 3-point leads among likely U.S. and N.C. voters
Key Takeaways
52% of likely voters say they'd vote for Joe Biden if the election were held today, compared with 42% who said they'd opt for President Trump.

In North Carolina, 49% of likely voters are backing Biden vs. 46% for Trump, with college-educated whites evenly split between the two at 48% each.

Trump family members Melania, Donald Jr. and Ivanka -- all scheduled to speak this week -- are among the GOP's most popular figures.
As President Donald Trump looks to reboot his campaign with the Republican National Convention, new Morning Consult polling shows him trailing his Democratic rival, former Vice President Joe Biden, both nationwide and in North Carolina, a pivotal swing state and the site of the scaled-down party gathering due to the coronavirus pandemic.
Biden leads Trump by 10 percentage points nationally, 52 percent to 42 percent, according to surveys of 13,272 likely voters conducted Aug. 21-23 following the conclusion of the largely virtual Democratic National Convention in Milwaukee. The national poll had a 1-point margin of error.
While the margin is not a significant improvement on where Biden stood heading into last week's gathering, it nonetheless leaves the Democratic Party in a much stronger position than its standing coming out of its Philadelphia confab four years ago, when Hillary Clinton led then-candidate Trump by just 3 points, 43 percent to 40 percent. 
And in addition to Biden's 10-point advantage among likely voters -- which ties a Morning Consult high -- the latest national polling also finds a record-high 51 percent of likely voters with a favorable view of him over the past three days, compared with a record-low unfavorability rating of 46 percent. Trump, by comparison, begins his own party's renominating shindig 12 points underwater, with 43 percent of likely voters viewing him favorably nationwide and 55 percent taking the opposite view. 
Things look a little better for the president in North Carolina, where responses collected Aug. 14-23 among 1,541 likely voters in the state show him trailing Biden by 3 points, 49 percent to 46 percent, just inside the poll's 2-point margin of error. Biden's slim edge in the Tar Heel State is driven partly by his superior standing with moderates, who are backing the Delawarean by a 41-point margin.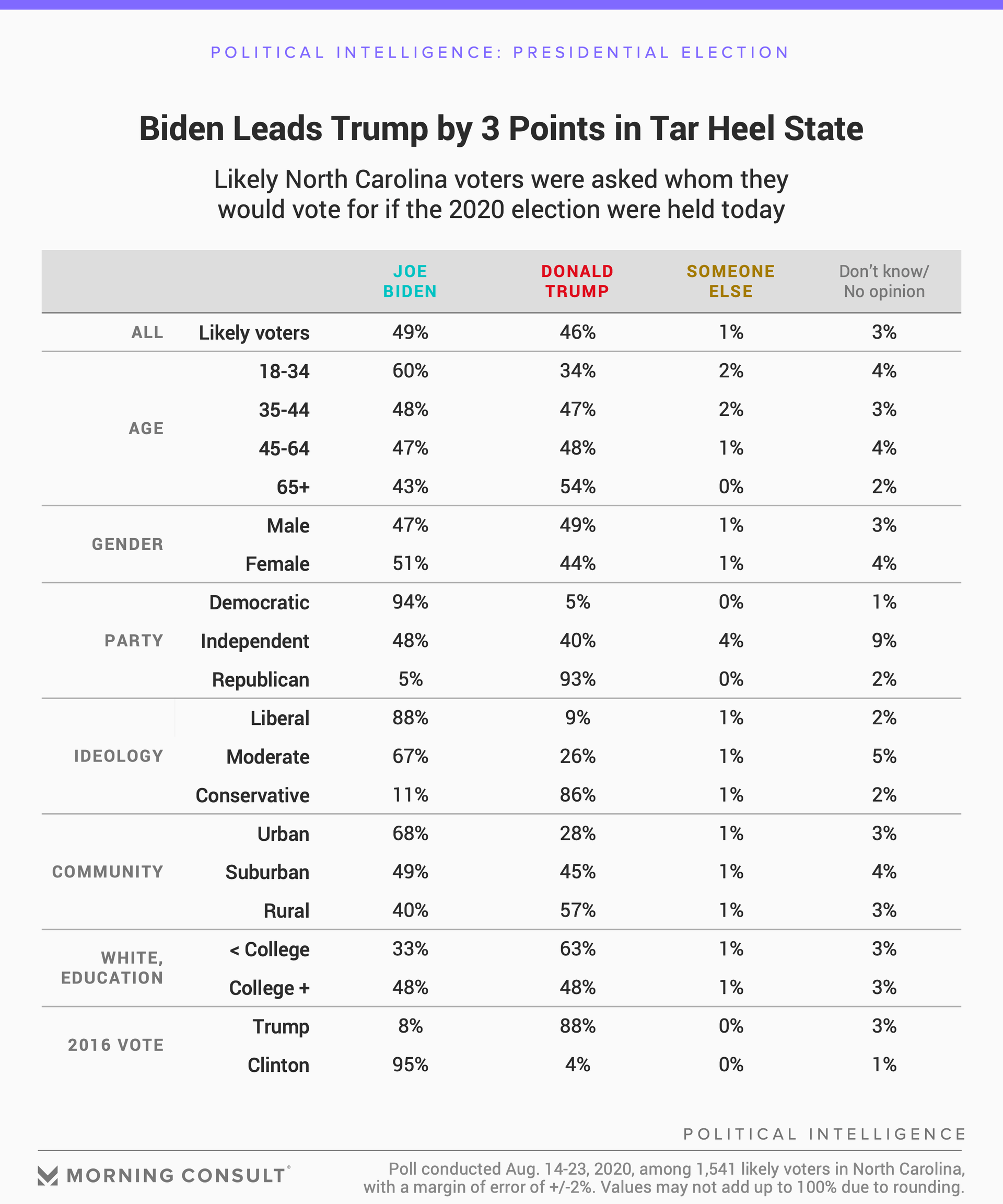 Trump's struggles with white, college-educated voters have been a defining feature of his presidency, but he can find some solace in how he is performing with that demographic in North Carolina, where the bloc is split between him and Biden at 48 percent each.
Those are much better figures for the president than Morning Consult polling found earlier this month in Wisconsin, where Trump trailed Biden with the group by 23 points, 58 percent to 35 percent. Additionally, while Trump led Biden by 12 points among white voters without a college degree in the Badger State, that margin balloons to 30 points in North Carolina.
Trump is making this week's convention a family affair, awarding coveted speaking slots not just to first lady Melania, but also to each of his adult children -- Donald Jr., Eric, Ivanka and Tiffany. It's no secret that since his inauguration in 2017, the president has remade much of the Republican Party in his image, but new Morning Consult/Politico polling lays bare just how much reshaping has occurred.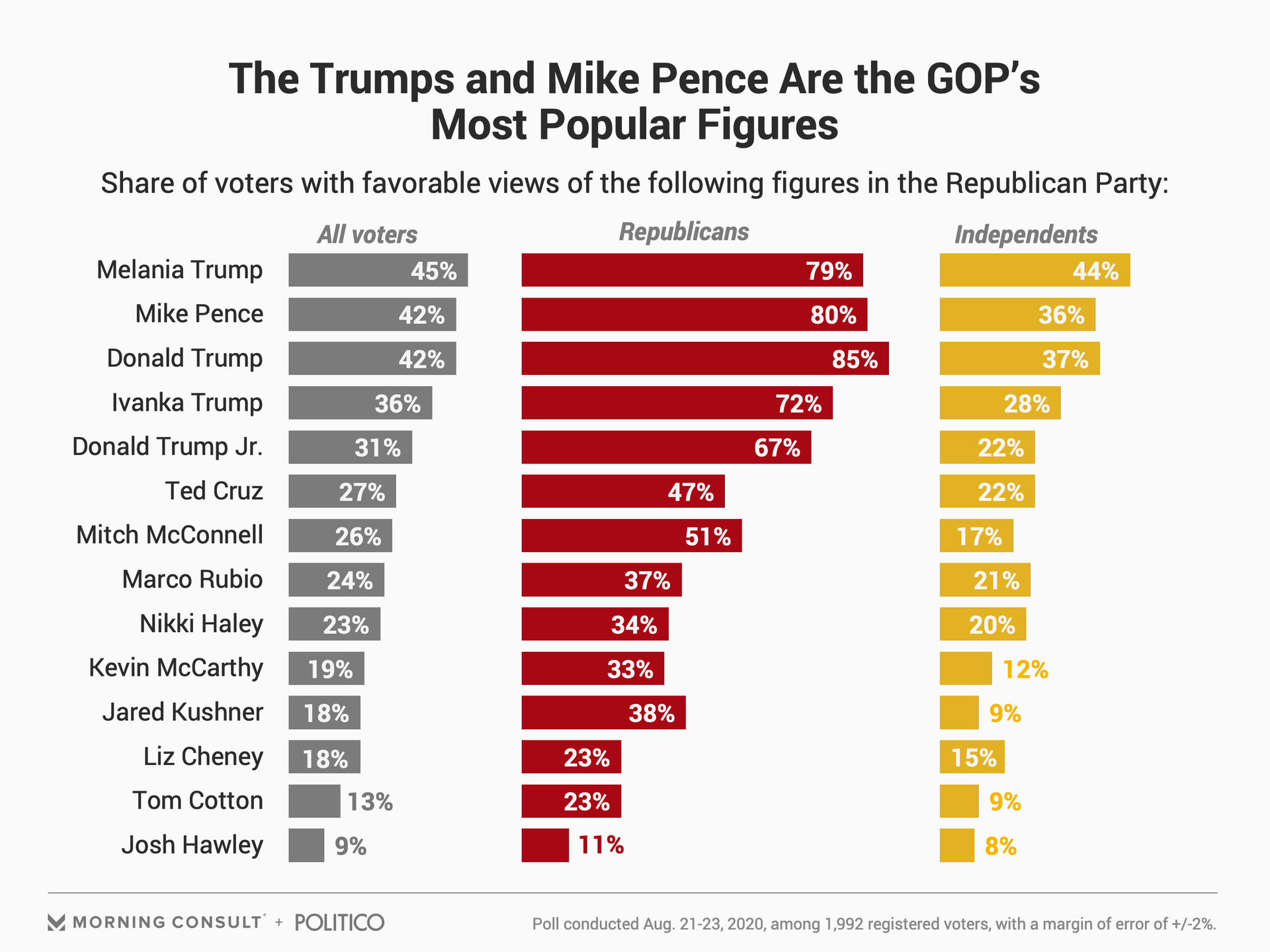 Four of the five most popular GOP figures are Trumps, led by Melania at 45 percent, who boasts more crossover appeal than her husband or his children. And Donald Jr., who has taken an active campaigning role, and Ivanka, a senior White House adviser, are a lot more popular with GOP voters than any of the high-profile elected Republican lawmakers listed on the survey, from Senate Majority Leader Mitch McConnell of Kentucky and House Minority Leader Kevin McCarthy of California to Sens. Ted Cruz of Texas and Marco Rubio of Florida, who both vied for their party's presidential nod in 2016.
The Morning Consult/Politico poll was conducted Aug. 21-23 among 1,992 registered voters, with a 2-point margin of error.
Cameron Easley is Morning Consult's lead analyst for U.S. politics. Prior to moving into his current role, he led Morning Consult's editorial coverage of U.S. politics and elections from 2016 through 2022. Cameron joined Morning Consult from Roll Call, where he was managing editor. He graduated from the University of North Carolina at Chapel Hill. Follow him on Twitter @cameron_easley. Interested in connecting with Cameron to discuss his analysis or for a media engagement or speaking opportunity? Email [email protected].
We want to hear from you. Reach out to this author or your Morning Consult team with any questions or comments.
Contact Us