In N.C. Senate Race, Tillis' Struggles With GOP Base Have Cunningham Seeking Votes in 'Unlikely Places'
The GOP incumbent is currently underperforming Trump by double digits among Republicans in the Tar Heel State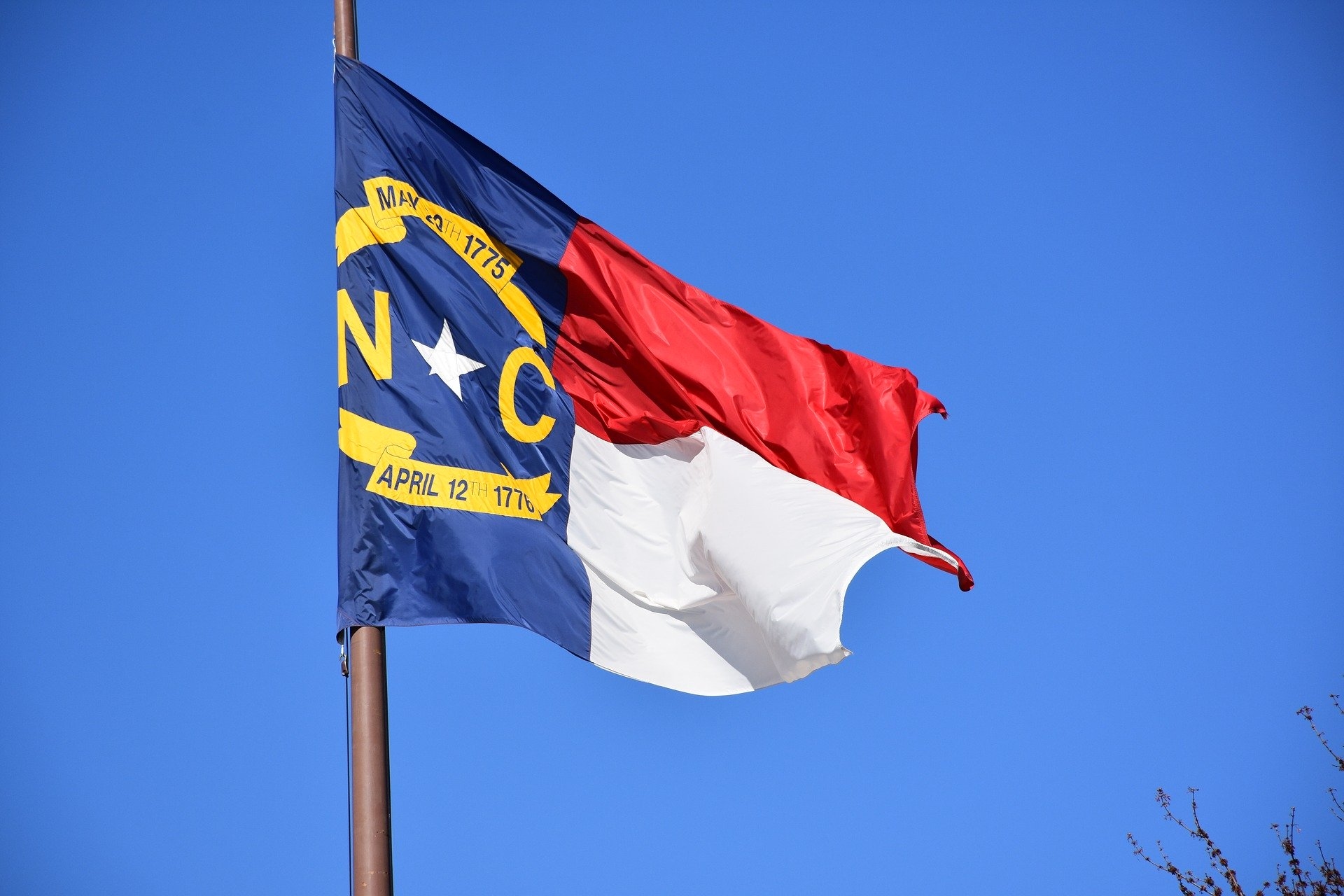 As North Carolina Sen. Thom Tillis faces former state Sen. Cal Cunningham (D) in a tough re-election race, polling shows the Republican incumbent underperforming President Donald Trump's standing in the battleground state, indicating a missing piece of the coalition he'll need to win re-election in November: unity in his party's base. 
It's a gap his Democratic rival is planning to use to his advantage as he seeks to unseat one of the Senate's most vulnerable incumbents in a race that could tip control of the chamber.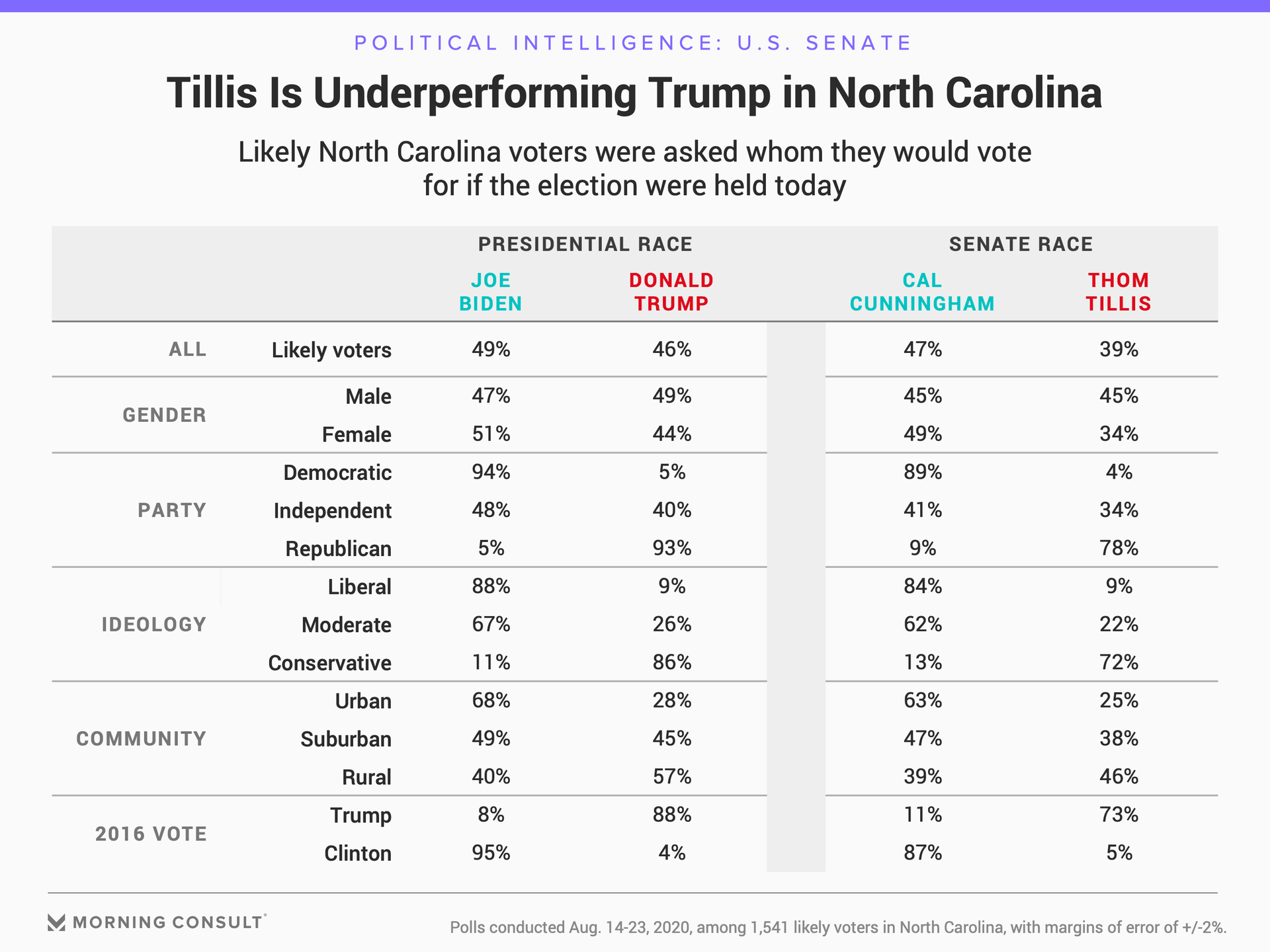 "There are a lot of Trump voters that I'm hearing from that are going to split tickets," Cunningham said in an Aug. 20 interview with Morning Consult. Tillis, Cunningham said, "has found a way to alienate much of the electorate here, and I'm actively seeking support -- including in unlikely constituencies and unlikely places."
Cunningham has an opening, according to the latest Morning Consult polling of 1,541 likely North Carolina voters conducted Aug. 14-23. Tillis trails his Democratic rival by 8 percentage points, 47 percent to 39 percent, in a state where former Vice President Joe Biden holds a narrow 49 percent to 46 percent lead over Trump. Compared with the president's standing, Republican voters and those who voted for Trump in 2016 are both 15 points less likely to say they'll vote for Tillis in November. The poll has a 2-point margin of error.
Morgan Jackson, a Cunningham campaign strategist, said the Democrat isn't spending much time criticizing the president on the campaign trail, and he isn't proactively talking about him much, either.
"No reason to coalesce the Trump base behind Tillis," he said.
In recent days, the National Republican Senatorial Campaign Committee has made minor moves to do that rallying, putting a very small amount of cash behind ads on its "Clueless Cal" Facebook page -- used mainly to attack Cunningham -- that feature video of Trump praising Tillis and encouraging people to vote for him, according to the social platform's political ad library.
Tillis' weakness with Republican voters is not a surprise. In 2019, his home job approval fell among the party's base following a debate over Trump's emergency declaration to pay for construction of a U.S.-Mexico border barrier. Tillis vowed in a Washington Post op-ed to stand on principle on behalf of Congress against executive overreach, then voted against a resolution to block Trump's action.
There are a lot of Trump voters that I'm hearing from that are going to split tickets.
North Carolina Democratic Senate candidate Cal Cunningham
"He first alienates a lot of Trump supporters," Cunningham said in reference to the episode. "Then he reverses course in order to appeal to the president to get back in good graces and avoid the tweets and in the process then alienates moderate voters." 
It's that middle chunk of the electorate that hasn't yet made up its mind that Tillis' campaign believes it will win over and make up the gap. Tillis campaign strategist Paul Shumaker told donors in an Aug. 4 memo that many unaffiliated voters, whom he said make up a third of the state's voting population, aren't yet tuned in to the contest. 
"They are very much up for grabs," he wrote at the time.
In early advertising from the campaigns, Tillis has reintroduced himself to voters with messages targeting the economy (telling the camera that "my job is fighting for your job"), while Cunningham and his allies have focused his early messaging on health care, including attacks on Tillis' opposition to Medicaid expansion in the state, in an effort to update a tried and true Democratic strategy by connecting the issue to voters' concerns about the coronavirus pandemic.
In an interview with Morning Consult, Shumaker, a longtime Republican strategist from Raleigh, described a familiar GOP playbook that he said Tillis can use to win over support in the coming weeks as the campaign kicks into full gear. Moderate Tar Heels are receptive to messaging about law and order regarding the recent unrest surrounding Black Lives Matter protests, he said, but the bigger fight is challenging Democratic health care messaging.  
"If Democrats are able to maintain and appear to be right of center -- they're going to be compassionate about health care and good managers of your money -- they're most likely to prevail," he said. But "if Republicans can expose them for, one, not being good managers, and two, say, 'oh yes, here's the price tag for that health care,' then Republicans are going to prevail." 
That fight is coming to the state's airwaves in a race that one Republican strategist in Washington said could see as much as $100 million in spending before Election Day, like Tillis' 2014 victory did. A source familiar with spending on the race said Republicans have $36 million in advertising booked between now and Election Day, $10 million less than the Democrats in a contest where Cunningham's campaign -- like most other Democrats this cycle -- has a cash advantage over Tillis. 
Tillis' campaign recently released a spot aligning Cunningham with comments made by Biden about raising taxes and has deployed messaging hitting Cunningham for his former company, which accepted a loan from the Paycheck Protection Program that the Democrat criticized. 
An NRSC ad tied Cunningham to the likes of Sen. Bernie Sanders (I-Vt.), House Speaker Nancy Pelosi (D-Calif.) and Senate Minority Leader Chuck Schumer (D-N.Y.) -- a twofer in the effort to gain unaffiliated voter support and consolidate the Republican base. 
The latest polling shows Cunningham leading among North Carolina independents by 7 points (41 percent to 34 percent), while 16 percent are undecided. Among moderates, the gap widens to 40 points, 62 percent to 22 percent, with 12 percent undecided.
While Republicans don't believe they'll be able to brand Cunningham as the next member of "the Squad" on Capitol Hill, they do think they can make the case that his election would help enable more progressive policies, pointing to the pressure on Senate Democrats to eliminate the filibuster for legislation if they take control in January.
In his unsuccessful bid for the Democratic Senate nomination in 2010, Cunningham tweeted a petition to "end the filibuster," which linked to a page calling to stop the practice in its "current form." In last week's interview, he clarified that he doesn't want to eliminate the rule entirely, but believes lawmakers should be required to show up and give speeches if they want to block legislation. 
"I called for reforming the filibuster," he said, which he said is currently being used to stifle debate in the Senate. "I think that hurts the legitimacy of the institution, and I think it runs counter to the very purpose that we have a separate U.S. Senate to carry out."
On another institutional question, Cunningham would not say whether he would support Schumer to be the Democratic leader in the next Congress, but took a swipe at Senate Majority Leader Mitch McConnell (R-Ky.), saying, "I can think of 47 better leaders than the Grim Reaper."
As far as the national party is concerned, Cunningham said he tuned in to last week's Democratic National Convention to listen for plans and liked what he heard about health care. Asked whether there were any gaps between him and Biden, he paused, then said he's been listening to North Carolinians, and added Trump's focus on trade deals hits at something very important to the state.
His reticence about Biden and national Democratic figures reflects a desire to keep the focus on the conversation around health care and the pandemic that has given him an early advantage over Tillis since his March primary, and his cautious approach to Trump in a state his strategist said is "as purple as you could get in 2020."
"If we do what we're supposed to do, it's going to be about North Carolina and we're going to stay out of the national food fight as much as possible," Cunningham said. "I think North Carolinians expect me to figure out how to work with whomever the next president is, one way or the other." 
Eli Yokley is Morning Consult's U.S. politics analyst. Prior to his current role, Eli was Morning Consult's senior reporter covering U.S. politics. Eli joined Morning Consult in 2016 from Roll Call, where he reported on House and Senate campaigns after five years of covering state-level politics in the Show Me State while studying at the University of Missouri in Columbia, including contributions to The New York Times, Politico and The Daily Beast. Follow him on Twitter @eyokley. Interested in connecting with Eli to discuss his analysis or for a media engagement or speaking opportunity? Email [email protected].
We want to hear from you. Reach out to this author or your Morning Consult team with any questions or comments.
Contact Us