Biden Leads Trump in Wisconsin as Democratic Convention Begins
Former VP's 6-point edge includes backing from the oldest voters, moderates and college-educated whites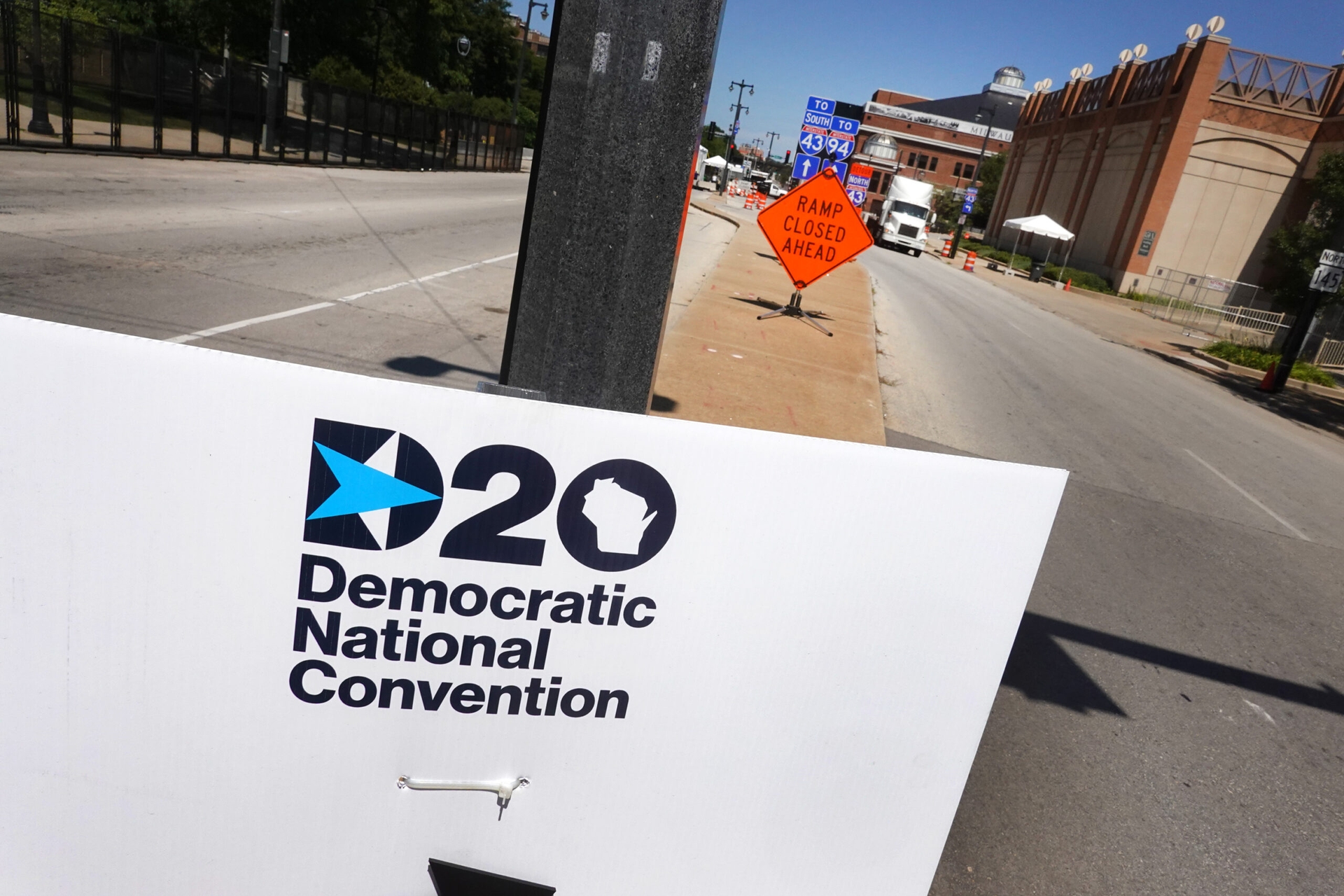 Key Takeaways
Biden leads Trump 49% to 43% among likely voters in Wisconsin.

Trump has a 12-point advantage in the Badger State among white voters without a college degree, while Biden leads with the state's college-educated voters by 23 points.
Former Vice President Joe Biden is polling ahead of President Donald Trump in Wisconsin as Democrats open their effectively virtual national convention, originally slated to take place in Milwaukee, but state party leaders expect nothing but a nail-biter when votes from the pivotal battleground state are counted in November. 
A new Morning Consult poll found Biden leads Trump by 6 percentage points, 49 percent to 43 percent, among likely voters in Wisconsin, while another 7 percent said they would either vote for someone else or are undecided. The poll of 788 Wisconsin likely voters was conducted Aug. 7-16, and has a margin of error of 3 points.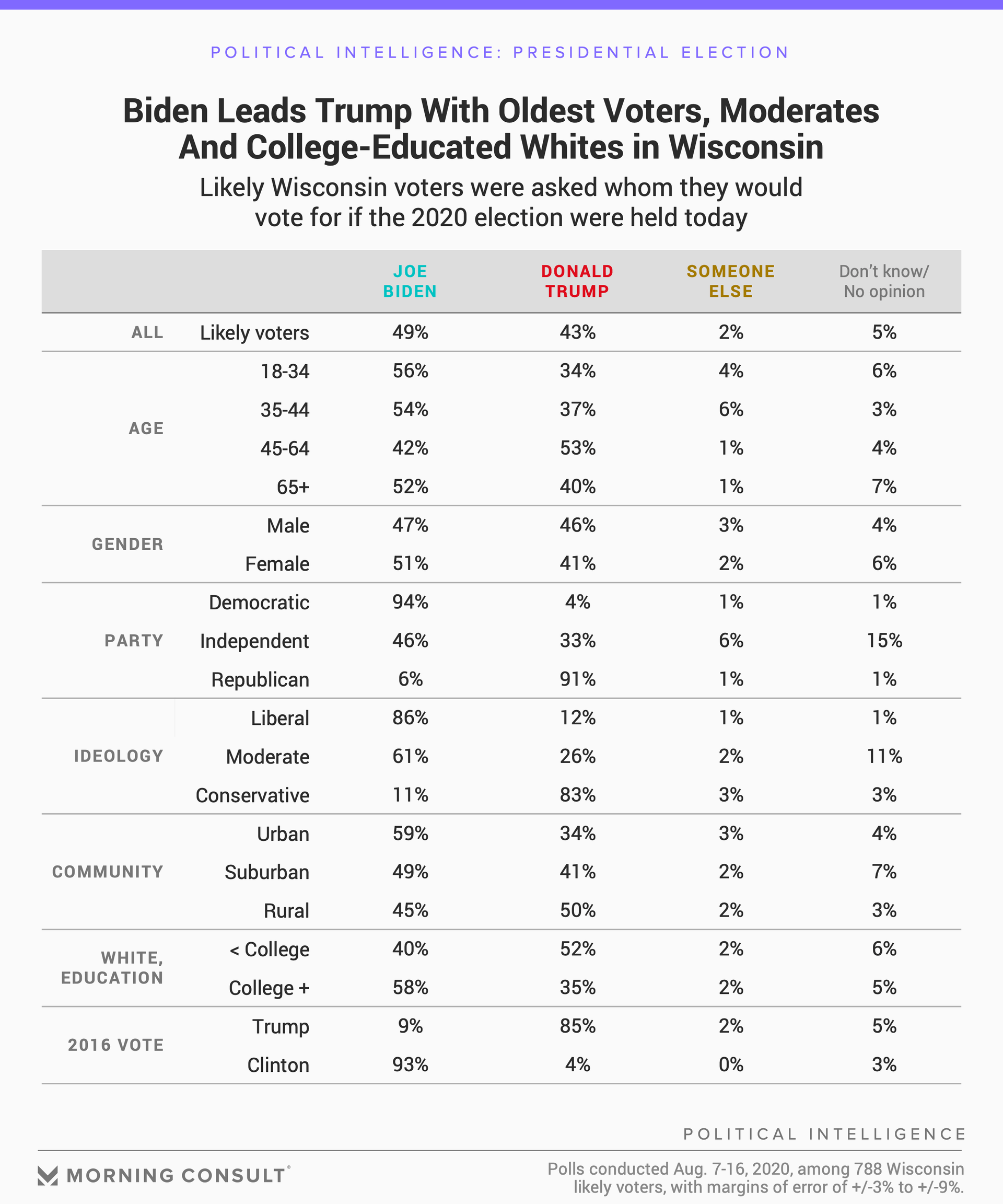 Heading into the Democratic National Convention, Biden leads Trump by 8 points among voters nationwide, 51 percent to 43 percent. That poll surveyed 11,809 likely voters from Aug. 14-16, with a 1-point margin of error.
"Despite the fact that Biden is lapping Trump in the polls, nobody thinks they can let their guard down for a second, and people are pouring hours in every night to call and text voters," Ben Wikler, the Wisconsin Democratic Party chairman, said in a Sunday interview. "When we've talked to voters who've gone back and forth, they're overwhelmingly planning to vote for Biden, but we know that things can change in a heartbeat."
The Wisconsin poll found Biden leads Trump with the state's suburban electorate by 8 points, 49 percent to 41 percent, and by 10 points among women, 51 percent to 41 percent. Trump has a 12-point advantage among white Wisconsinites without a college degree, while Biden nearly doubles that edge among the state's college-educated voters, leading the group by 23 points.
Morning Consult's daily tracking of the race shows a largely stable contest over the past few months, with one significant exception: Since early May, Biden has turned the tables on Trump with Wisconsin independents, who now back the former vice president by 13 points, 46 percent to 33 percent. On May 5, when tracking began, Biden trailed Trump with the group by 3 points, 39 percent to 42 percent.
After polling in the lead-up to the 2016 election showed Democrat Hillary Clinton with a 6- to 8-point lead over her Republican rival, Trump won the state by nearly 23,000 votes -- less than a percentage point. Two years later, Democrat Tony Evers beat incumbent Gov. Scott Walker (R) by a similar margin.
That context fuels Republican Party of Wisconsin Chairman Andrew Hitt's belief that the presidential contest in the state is "razor thin" this time around, with coverage of the race reminding him of the near-certain Clinton victory projected there four years ago. 
"If you recall in 2016, in June he was down by nine, down by seven in October, and down by six two days before the election," he said. "It's going to come down to ground game and execution, and getting your message directly to the voters."
For Republicans, Hitt said, that means trying to fire up the party's voters with old-fashioned door-knocking led by a party staff that's been in place for over a year. For Democrats, Wikler said the efforts have been focused on digital and phone outreach, mindful of voters' concerns about the coronavirus pandemic.
The Democratic National Convention's decision to forgo a major in-person event in Milwaukee could chip away at an advantage Democrats had hoped to secure in the battleground state. Past research, highlighted by Wikler in an April interview, has shown "conventions significantly affect the presidential candidates' county-level vote shares" in and around the places where they're held, and that Democrats are more likely to gain support in the host communities than Republicans due to their urban bent. 
As things stand, it looks like the GOP will have more high-profile party figures campaigning in the Badger State amid the culmination of the Democratic nominating process. While Trump's campaign is hosting a number of events in Wisconsin this week, including a visit from the president himself on Monday, Biden will not be traveling to the state and instead plans to address it remotely from Delaware. 
Hitt likened Biden's absence to the Clinton campaign's decision not to send the former secretary of state to Wisconsin during the general election campaign, and noted that Biden hasn't campaigned there in person since the 2018 midterms, when he stumped for Evers and Democratic Sen. Tammy Baldwin. 
"We all need to be careful about coronavirus," he said. "But you can't tell me Joe Biden couldn't get on a private plane and accept his nomination here, even if just symbolically to an empty room -- especially knowing that Hillary Clinton failed to come to Wisconsin."
The state has been the target of television advertising from Biden's campaign and its allies, as well as from Trump's campaign and a supporting super PAC, according to a July report from the Wesleyan Media Project. Both campaigns have reserved ad time in Wisconsin for the fall campaign. 
Wikler said the notion that Biden's campaign is neglecting the state doesn't pass the smell test. 
"In a time when grandparents aren't seeing their grandkids in person, people understand things are operating differently," he said. "Every Wisconsinite is going to know that Joe Biden cares about winning Wisconsin votes, and that he cares about Wisconsin voters." 
Eli Yokley is Morning Consult's U.S. politics analyst. Prior to his current role, Eli was Morning Consult's senior reporter covering U.S. politics. Eli joined Morning Consult in 2016 from Roll Call, where he reported on House and Senate campaigns after five years of covering state-level politics in the Show Me State while studying at the University of Missouri in Columbia, including contributions to The New York Times, Politico and The Daily Beast. Follow him on Twitter @eyokley. Interested in connecting with Eli to discuss his analysis or for a media engagement or speaking opportunity? Email [email protected].
We want to hear from you. Reach out to this author or your Morning Consult team with any questions or comments.
Contact Us