Baby Boomers and the Tokyo Olympics: New Data Raises Questions About the Typically Reliable Generation's Plan to Tune In
Viewership appetite among older generation could raise "red flag" for NBC, expert says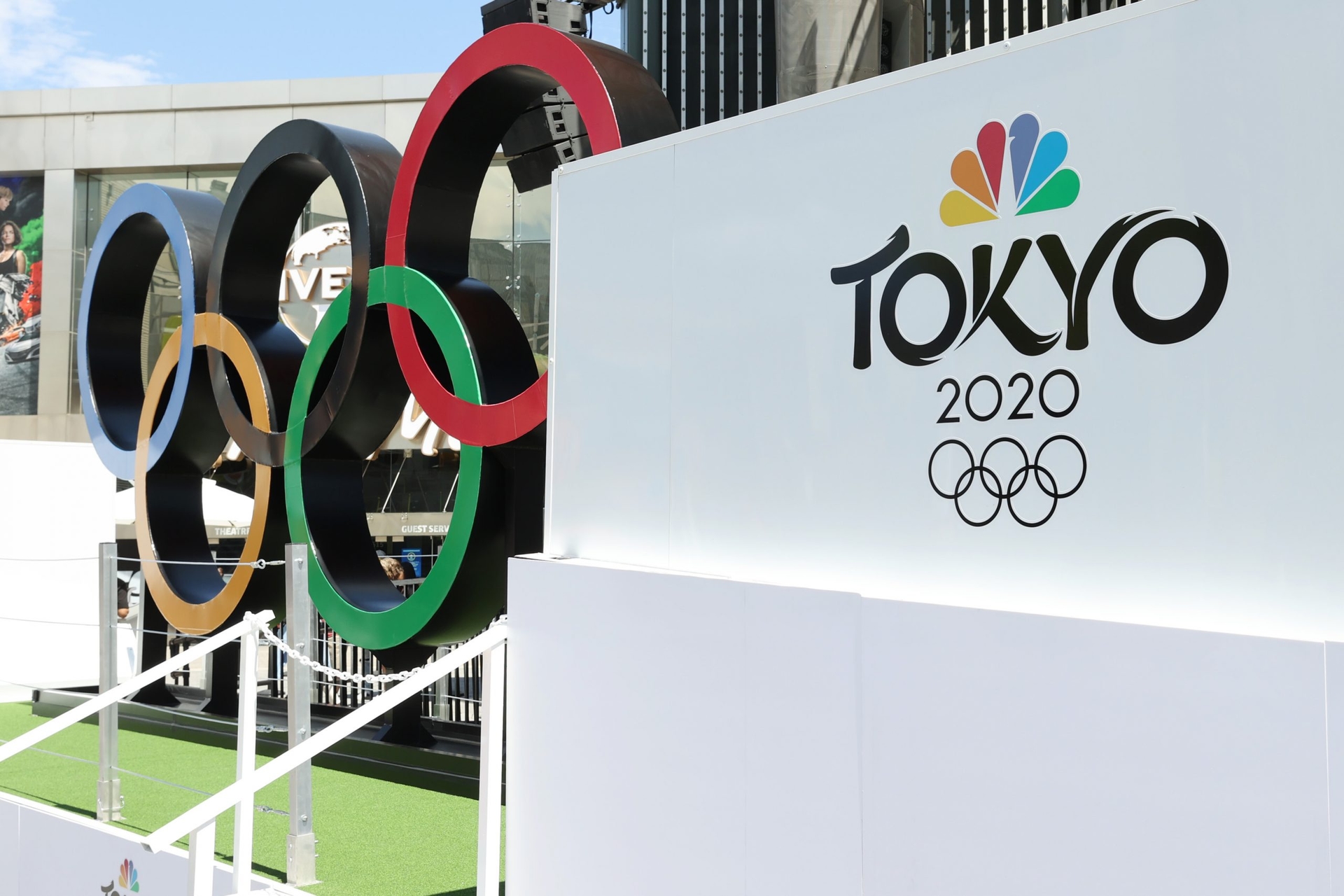 Key Takeaways
51% of U.S. adults plan to watch the Tokyo Games, including 18% who plan to watch "a lot."

41% of American adults are aware the next Olympics will take place this summer in Tokyo, up from 29% in late May.
Baby boomers tend to be the bread and butter of linear TV audiences, particularly in the case of the Olympic Games, which, according to a former NBC researcher, typically have a median viewership age in the mid-50s.
New research, however, raises questions about whether older Americans will tune into this summer's Tokyo Olympics at as high of a rate as in previous years. 
In Morning Consult's fourth pre-Olympics survey, 51 percent of U.S. adults said they plan to watch the Tokyo Olympics, including 18 percent who plan to watch "a lot" and 33 percent who plan to watch "some" of the games, which take place July 23 to Aug. 8. As is typical when tracking viewership intent ahead of a major sporting or entertainment event, that number has declined over the past several months from a high of 61 percent in March.
Viewership intent among millennials, Gen Xers and baby boomers was virtually the same, with just over half of each generational cohort saying they intend to watch at least some of the Olympics, according to the July 9-13 survey of percent, Gen Z adults were the least likely to say they plan to tune into the Tokyo Games and were twice as likely as the average adult to say they don't know whether or not they'll watch.
Joe Brown, a media consultant who tracked viewership for nearly a decade as an NBC researcher, said he was surprised baby boomers didn't plan to tune in at a higher rate than millennials or Gen Xers, given that Olympic viewers tend to skew older.
"Either millennials and Gen X are finally going to come on board, and this is going to be this fantastic young Olympics, which, let's face it, is not going to happen," Brown said, "or is there a little bit of a red flag around baby boomers and whether they're going to show up for this Olympics?"
Millennials, however, are typically more likely than other generations when surveyed to say they plan to do a particular activity in the future, Brown said, which could account for elevated viewership intent among the group.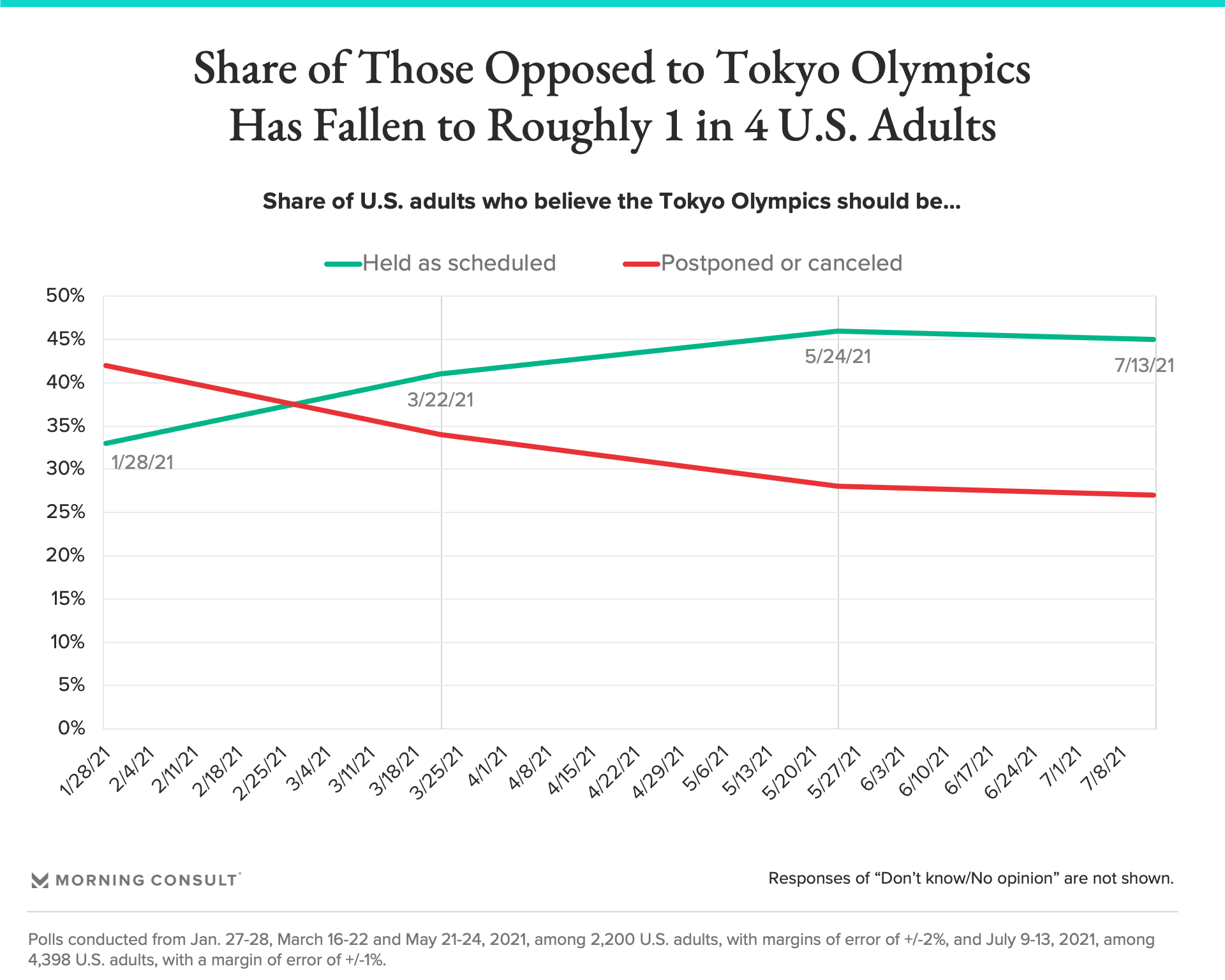 Baby boomers were also slightly more likely than younger adults to suggest that the Tokyo Games should not proceed as planned, given concerns about the COVID-19 pandemic, with 34 percent saying the event should be postponed or canceled, compared to 27 percent of adults overall, according to the survey, which carries a margin of error of 1 percentage point. 
While those are smaller shares than the 44 percent of baby boomers and 45 percent of adults who believe the games should be held as scheduled, Brown suggested it's enough opposition to cause concern for NBC.
Patrick Crakes, a media consultant and former Fox Sports executive, pushed back on the idea that opposition to the Olympics taking place would impact viewership.
"People can be unhappy with something and still watch or still participate, and I think most people do that," Crakes said.
Meanwhile, awareness of the Tokyo Games has increased significantly over the past two months. 
In the latest survey, 41 percent of U.S. adults correctly identified that the next Olympic Games were scheduled for this summer in Tokyo, up from 29 percent in May and 26 percent in March. The uncharacteristically tight time frame between the postponed Tokyo Summer Games and the upcoming Beijing Winter Games in February was likely a cause of confusion for some respondents, Brown said, adding that awareness will continue to grow in the days leading up to the opening ceremony.
Both Brown and Crakes suggested the Tokyo Games will likely draw smaller average audiences in primetime on NBC than the most recent Summer Games -- Rio de Janeiro in 2016 -- given an overall decline in TV viewership as consumers choose between more entertainment options than ever before. They both, however, suggested NBC's prime-time presentation could attract a larger share of TV viewers on average than the Rio Games and will almost certainly be the most-viewed TV program for 17 straight nights, the duration of the event.
Through the first 15 nights of the Rio Games, NBC said it attracted about two-and-a-half times as many viewers as the other three broadcast networks — ABC, CBS and Fox — combined. Crakes said it would be a major win for NBC if it could increase this gap during this summer's games.
In addition to TV ratings, sign-ups for NBC's subscription streaming service, Peacock, will be a key gauge of success for the network. The platform will be the exclusive home of live gymnastics, basketball and track and field coverage, three of the most popular Summer Olympic events.
The July survey found that 1 in 4 potential Olympic viewers expect to watch some of the games via a streaming service.
As of the company's most recent earnings release, Peacock had signed up 42 million users, though NBC did not specify how many are paid subscribers.
Alex Silverman previously worked at Morning Consult as a reporter covering the business of sports.
We want to hear from you. Reach out to this author or your Morning Consult team with any questions or comments.
Contact Us