Survey Shows High U.S. Awareness, Viewership Intent for Tokyo Olympics, but Pandemic Presents Other Concerns
A vaccinated summer could lead to 'NBC's lowest-rated Summer Olympics,' former network researcher said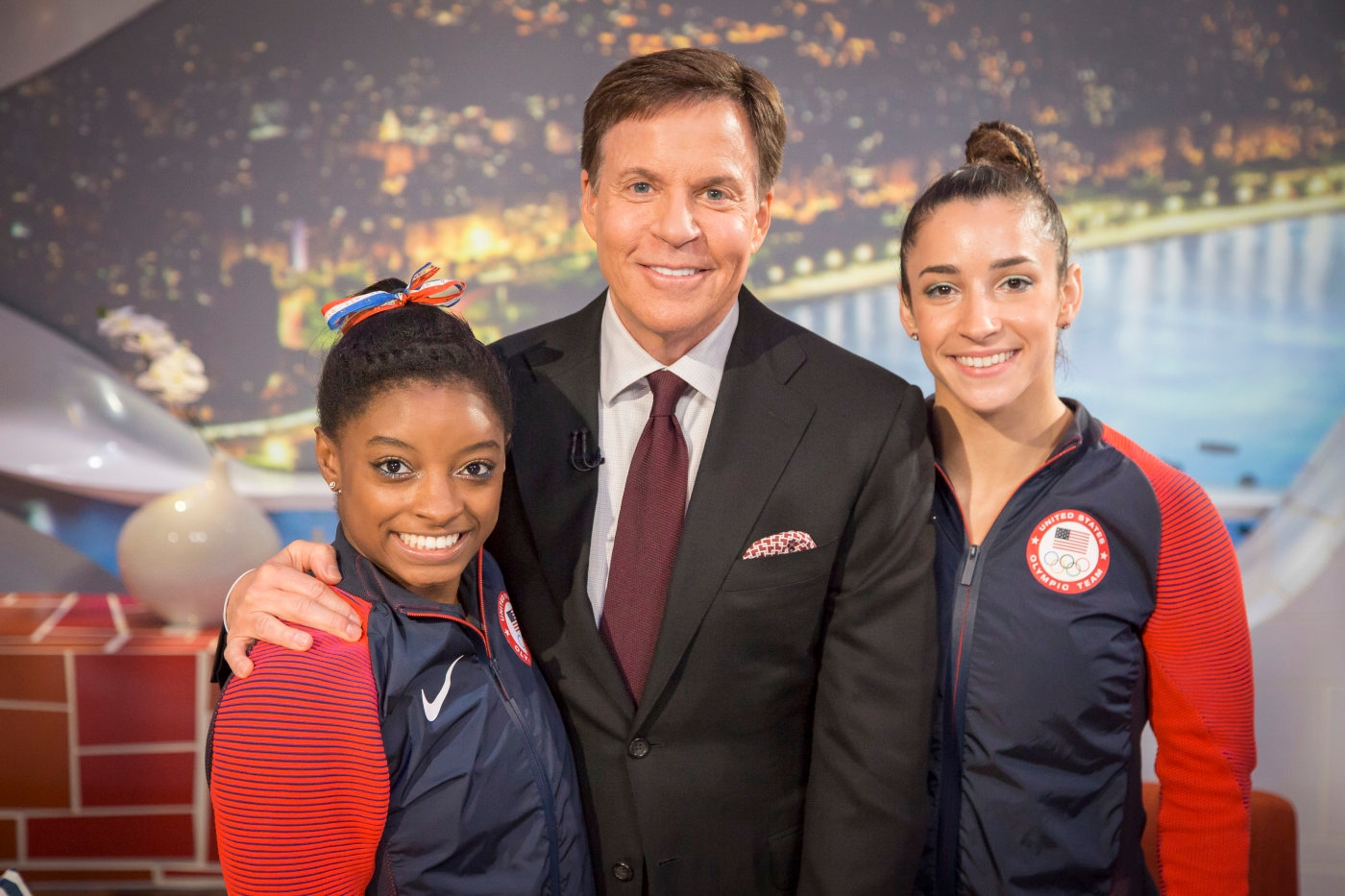 Key Takeaways
36% of U.S. adults were aware the next Olympics are slated for this summer, while 40% correctly identified Tokyo as the host city.

61% of respondents said they expect to watch "a lot" or "some" of the Tokyo Games.

Americans were most interested in watching gymnastics (70%) and swimming (62%), with baseball/softball (48%) leading the new Tokyo sports.
Each Olympic year, U.S. broadcaster NBCUniversal shifts its promotion of the upcoming games into high gear 100 days prior to the opening ceremony. With that milestone for this summer's Tokyo Games just two weeks away, expert analysis of new Morning Consult data indicates the U.S. Olympic broadcaster is starting from a fairly strong position.
In a Morning Consult poll conducted March 16-22, 36 percent of U.S. adults were aware that the next Olympics are scheduled to be held this summer, while 40 percent of Americans correctly identified Tokyo as the host city. Joe Brown, a former researcher for the Comcast Inc.-owned media group who now runs JWB3 Media Insights, said awareness of the "when" and "where" of this summer's games is "relatively positive" compared to this point in past Olympic cycles.
"Typically, we'd be saying we're four months out, but the reality is we're eight months behind when it should have been," Brown said, acknowledging last summer's postponement due to the pandemic likely put the games on Americans' radar. "It's very unique that you're building the second awareness cycle."
Normally, Brown said he would expect those awareness figures to jump up to between 60 and 70 percent in the three weeks leading up to the games.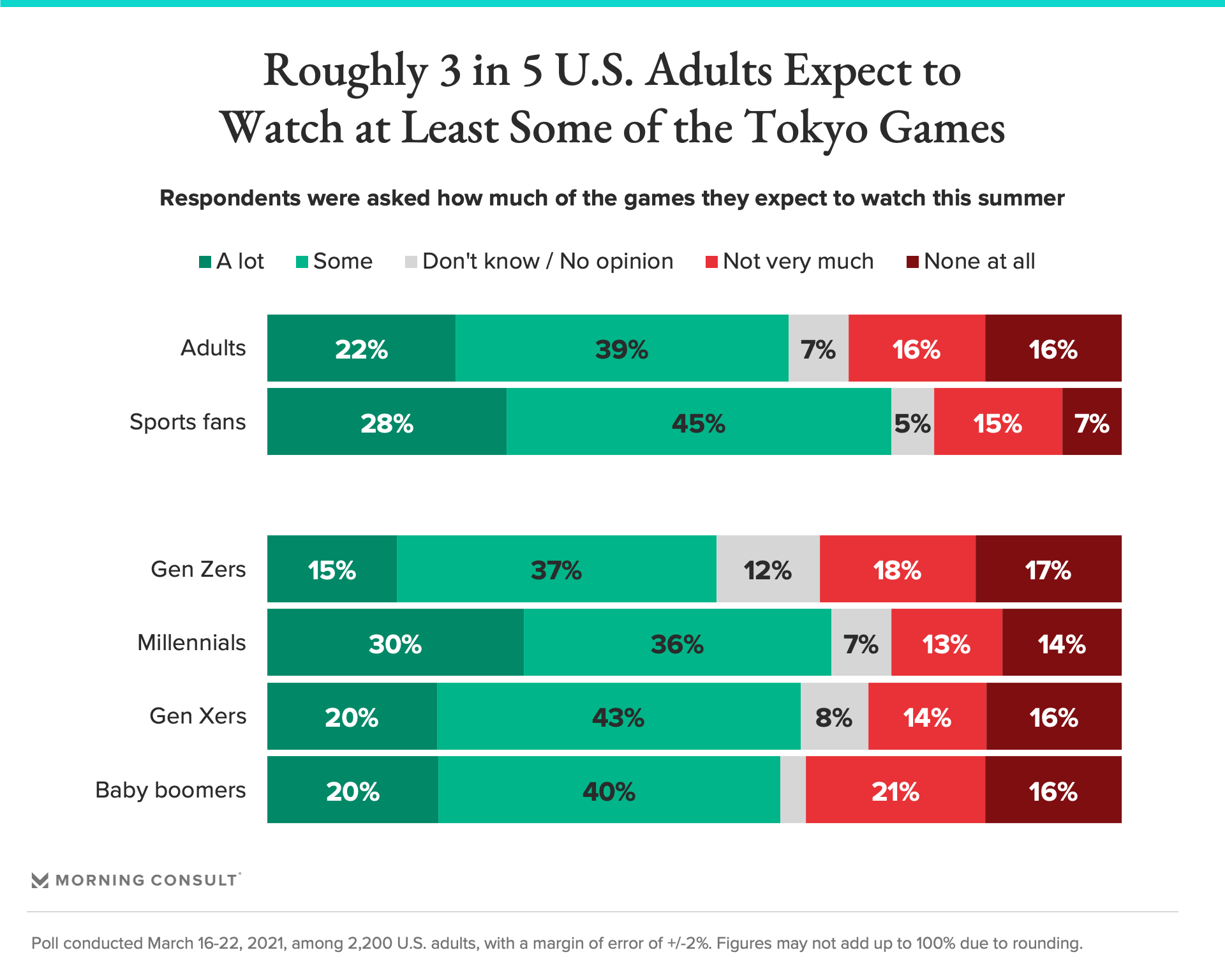 Another indicator NBC researchers will have their eye on over the next few months is viewership intent. In Morning Consult's survey, 61 percent of U.S. adults said they expect to watch "a lot" or "some" of the Tokyo Games, assuming they are held as planned from July 23-Aug. 8. Among sports fans, 73 percent said they plan to watch at least a portion of the games.
"Looking at prior research, that's a little better than Rio at this point," Brown said. "And I think that's about interest in Tokyo as a host city. Intent typically follows interest in the host city. You saw it peak for London, and when we get to LA in '28, it'll be incredibly high."
While Brown believes both awareness and intent are in a good place with just under four months until the Tokyo Games, he sees a few potential causes for concern as it pertains to viewership for the Olympics this summer.
First, roughly 1 in 3 U.S. adults indicated in the survey that they still believe the games should be either postponed again or canceled. Historically speaking, that's a red flag.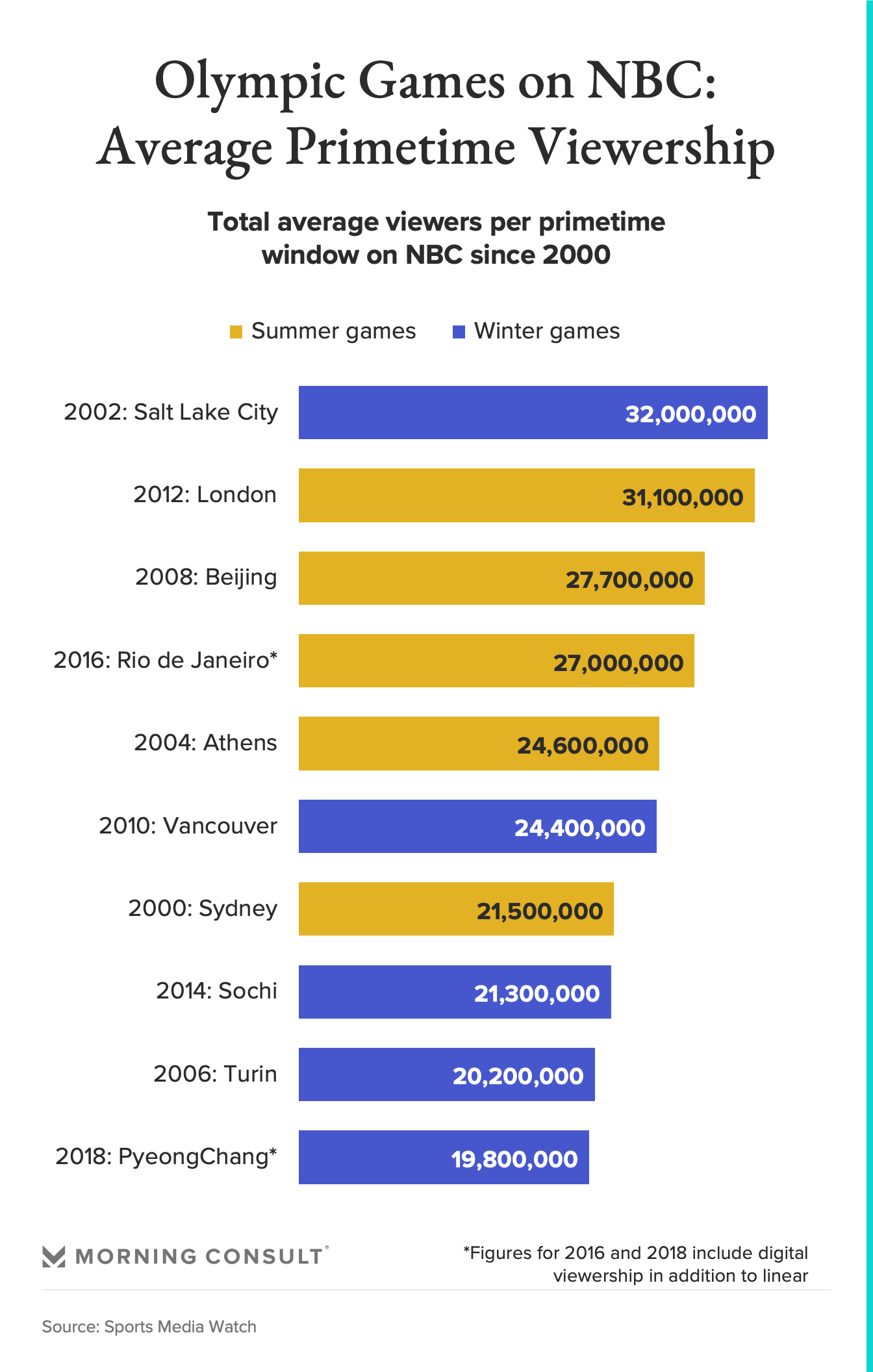 "Anytime the Olympics has had controversy with the host, the ratings have suffered," Brown said. "Athens was not a great Olympics from a viewership point of view -- that was one where everybody was worried about terrorism. And Rio, everyone was worried about Zika and the venues not being ready, and Rio opened very soft."
The only Summer Games to draw smaller primetime audiences than Athens in 2004 and Rio de Janeiro in 2016 was Sydney in 2000, which suffered from a dramatic time difference that forced NBC to air all events on delay.
While there is also a significant 13-hour time difference between New York and Tokyo, many key events like swimming and track are scheduled to be held in the morning in Japan, meaning they can be shown live in U.S. primetime.
In addition to the "controversy" factor, Brown suggested the success of nationwide vaccination efforts after a yearlong lockdown could lead to more days and nights out, and, as a result, less time spent in front of the TV.
"As people get vaccinated, they're going to want to do the things they haven't been able to do for the past year," he said. "What they have been for the past year is stuck inside watching TV. This summer, they're going to want to go to concerts, they're going to want to go to restaurants, they're going to want to go back out to sporting events."
The Tokyo Games could also suffer from a lack of star power, most notably due to the retirements of American swimmer Michael Phelps and Jamaican sprinter Usain Bolt. Of the 15 American athletes included in the Morning Consult survey, only tennis star Serena Williams and decorated gymnast Simone Biles were known by more than half of U.S. adults.
Given the pandemic-related uncertainty, lack of popular personalities and the decline in traditional television viewership in recent years, Brown said there is potential for the Tokyo Games to be "NBC's lowest-rated Summer Olympics."
As for which events might generate the most interest in Tokyo, the usual Summer Games favorites of gymnastics and swimming seem likely to lead the way. Seventy percent of U.S. adults said they would be either "very" or "somewhat" interested in watching gymnastics, while 62 percent expressed interest in watching swimming at the Olympics. 
Diving (54 percent), beach volleyball (54 percent), track and field (52 percent), basketball (52 percent) and indoor volleyball (51 percent) were the only other sports that appealed to more than half of respondents. Brown noted a medal run by the U.S. women's national soccer team would also be a boon for NBC.
Among the five new sports for Tokyo, baseball/softball (48 percent) and surfing (47 percent) generated the most interest among survey respondents, followed by karate (45 percent) skateboarding (43 percent) and sport climbing (34 percent).
Alex Silverman previously worked at Morning Consult as a reporter covering the business of sports.
We want to hear from you. Reach out to this author or your Morning Consult team with any questions or comments.
Contact Us