Past Time for the Pastimes? NFL and MLB Lose Ground With Gen Z
NBA and MLS are growing in popularity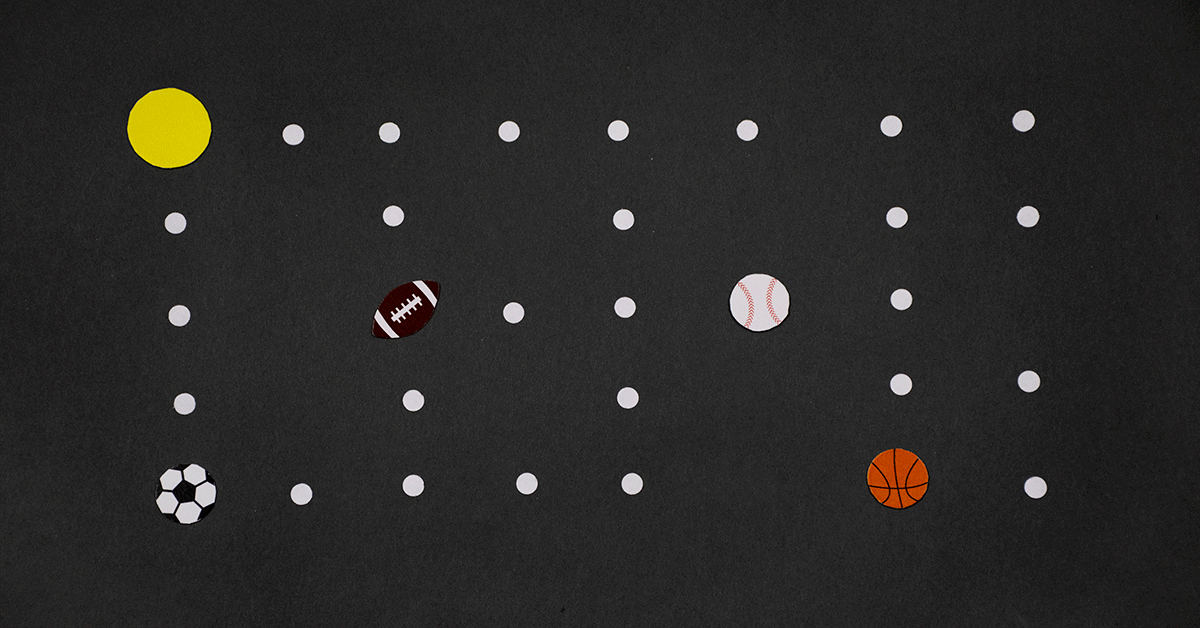 Key Takeaways
52% of Generation Z prefer the National Football League or Major League Baseball, compared with 68% of all adults.

Major League Soccer (12%) pulls almost even with MLB (15%) among Generation Z.

37% of Gen Zers still say NFL is their favorite league.
The professional leagues for America's two pastimes, baseball and football, are at risk of losing their primacy in the sports world, with other leagues closing the gap among the youngest fans.
A Morning Consult survey of 15,995 U.S. adults suggests the relative duopoly of Major League Baseball and the National Football League is under threat, with the National Basketball Association and Major League Soccer becoming more popular among Generation Z, or those ages 18 to 21.
While 68 percent of all adults polled chose MLB or the NFL as their favorite professional sports league, that share fell to 52 percent among the youngest adults. Forty percent of those respondents also said they preferred the NBA or MLS, compared with 23 percent of all adults.
The survey has a margin of error of 1 percentage point, while the Gen Z results are based on 1,279 respondents and have a 3 point margin of error.
The NFL dethroned pro baseball as the top spectator sport in the 1970s on the back of ABC's Monday Night Football, quickly becoming the dominant primetime television show during the fall. But experts say a failure to adapt could push the NFL off its pedestal as America's favorite pastime in the near future.
Part of the shift comes from cord-cutting, as fewer young people tune in for live broadcasts of games on major networks and opt instead to stream games online.
Daniel Durbin, a professor at the University of Southern California's Annenberg Institute of Sports, Media & Society, said network television's heyday of violent police dramas -- with a repetitive mixture of "six minutes of violence and then three minutes of a commercial" -- was "perfect for the structure of NFL football."
The emergence of streaming as a way to digest the action, without commercials, better lends itself to "flow sports" such as soccer or rugby, he said in an interview.
"What we're really finding with this group is that what it means to be a sports fan is different," Andrew Billings, a professor and director of the University of Alabama Program in Sports Communication, said in an interview last month about Gen Z.
Decades ago, sports fans would define themselves by whether they "watch a lot of sports on TV," Billings noted, but now fandom extends to other areas: listening to sports talk radio, following social media or apps, or playing sports video games.
Experts cited the popularity of EA Sports' FIFA Soccer video game series as a key driver of interest in global soccer, a rising tide that may well be lifting the popularity of MLS.
"So being a fan, especially to that younger age group, is not nearly as tied to the live competition as it is for people in older demographics," Billings said.
The transitory nature of social media and its effect on the collective U.S. attention span also better suit sports like basketball and soccer, with their easy-to-share highlight reels and the brilliance of individual stars. Social media has also elevated the profiles of those athletes, who are spending most of the game on the field of play and -- unlike football or baseball stars -- aren't partially concealed by helmets or time in the dugout.
Coming into the 2018 season, the NFL has seen its TV ratings fall by about 17 percent since the 2015 season, according to Nielsen average TV viewership figures. Younger fans prioritizing other leagues could exacerbate the decline.
A 2017 Magna Global study conducted for SportsBusiness Journal underscored the advantage the NBA and MLS have with younger fans, citing Nielsen statistics. The median age of MLS and NBA viewers in 2016 was 40 and 42, respectively, compared with a median age of 50 for the NFL viewer and 57 for MLB.
The study also found that the median age of MLB and NFL viewers both went up by four years compared to 2006, versus 1- and 2-year increases for the median MLS and NBA viewers.
And then there's the other elephant in the room regarding the league's long-term viability: Emerging science on the effects of repeated concussions is already draining the NFL's potential talent pool, with more parents refusing to let their children play the game.
"There certainly is a correlation between playing it and wanting to watch it or follow it at the college or pro level," Billing said. "So they need to work toward doing everything they can to make parents feel comfortable letting their kids play organized football."
That, coupled with the turn away from network TV viewing, suggests the NFL should be taking a harder look at its future.
"The NFL has been so dominant for so long" that the league doesn't see the latest dip as anything more "than a bump in the road, but they need to change their model," Durbin said. "If you stay on an irrelevant model for too long, you become irrelevant."
Gen Z adults were only 6 points less likely to rate the NFL as their favorite sports league, keeping the league's perch as the most popular sport among that group -- at least for now. The same can't be said for baseball: At 15 percent, the youngest adults were a full 10 points less likely to say they favor MLB than adults as a whole, within the margin of error compared to the 12 percent of Gen Zers who said they preferred MLS.
While the stop-and-start nature of football has been a feature, not a bug, when it comes to capitalizing on business opportunities, the NFL's predecessor as America's top sport, baseball, has seen its own stodgy pace reach new extremes.
The trend toward advanced metrics in the sport -- popularized by Oakland Athletics' General Manager Billy Beane and chronicled in Michael Lewis' 2003 book "Moneyball" -- has revolutionized the way front offices evaluate players and how managers coach.
But the new strategy has sapped entertainment value, Durbin and Billings said. The premium on home-run hitters has lengthened at-bats and increased strikeouts, reducing the time the ball is in play. In fact, according to independent statistical reference site Baseball-Reference.com, MLB batters struck out 41,207 times during the 2018 season, setting a record for the 11th season in a row. It was also the first season in league history to feature more strikeouts than hits.
Pitchers are also kept on stricter counts, leading to more pitching changes and more standing around. The average nine-inning game took 3 hours and 8 minutes last season, compared with 2 hours 46 minutes in 2005.
It's not just the length of the game, but the length you can count on, said Billings. While fans can reasonably expect basketball and soccer contests to clock in at around two hours, the length of baseball games are fickle.
"Baseball has a whole lot of traditionalists that are fighting changes, but ultimately, if they want to appeal to the younger fans, enforcing pitch clocks and finding other ways to speed up the game definitely have to be part of that equation," Billings said.
Cameron Easley is Morning Consult's lead analyst for U.S. politics. Prior to moving into his current role, he led Morning Consult's editorial coverage of U.S. politics and elections from 2016 through 2022. Cameron joined Morning Consult from Roll Call, where he was managing editor. He graduated from the University of North Carolina at Chapel Hill. Follow him on Twitter @cameron_easley. Interested in connecting with Cameron to discuss his analysis or for a media engagement or speaking opportunity? Email [email protected].
We want to hear from you. Reach out to this author or your Morning Consult team with any questions or comments.
Contact Us