Public Option Support Drops When Buttigieg's Retroactive Enrollment Included
Voter support dips by more than half when plan includes automatic enrollment, retroactive payment
Key Takeaways
63% of voters say they support a public option.

That share falls to 24% when voters are provided details on automatic enrollment and retroactive payment for people who choose not to buy coverage.

Roughly 1 in 3 voters say they would deny private coverage in favor of a government plan offering the same essential benefits as current ACA plans, as proposed by Buttigieg's "Medicare for All Who Want It."
After skating past expectations in Iowa and picking up a second-place finish in New Hampshire, former South Bend Mayor Pete Buttigieg of Indiana is on the heels of Democratic frontrunner Sen. Bernie Sanders (I-Vt.). Given the increased visibility will likely open both candidates' platforms to deeper scrutiny, a new Morning Consult/Politico poll finds some elements of Buttigieg's health plan could be a vulnerability as his opponents begin sifting through "Medicare for All Who Want It."
Though a proposal offering Americans the choice between a government-run health plan and private insurance has long been broadly popular, with 63 percent of voters (including half of Republicans) backing a public option in the most recent survey, further details about Buttigieg's plan cut support by more than half.
In an effort to achieve universal coverage, Buttigieg's $1.5 trillion plan would automatically enroll uninsured Americans in the government plan — and because people who choose not to enroll would still be covered, instead of paying monthly premiums, they would be billed retroactively at the end of the year.
Those two provisions, referred to as retroactive enrollment, send support for a public option down to 24 percent among voters, according to the survey. Among Republicans, support tumbles from 50 percent to 12 percent — lower than the 31 percent of GOP voters who said they support Medicare for All in a January poll. The Feb. 15-17 survey polled 1,990 registered voters and has a margin of error of 2 percentage points.
The Buttigieg campaign didn't specify how many people would be affected by retroactive enrollment but said it is likely to be small, anticipating the plan's "generous subsidies" for low-income Americans will make coverage affordable for many of the millions currently uninsured. Though the campaign has not finalized a mechanism for retroactively billing for premiums, which will be capped at 8.5 percent of one's income, it is likely to be through yearly tax filings, a spokesperson told Morning Consult.
The three extra words Buttigieg has added to Sanders' cornerstone "Medicare for All" succinctly illustrate where the two diverge on governing. While Sanders argues that no American should have to navigate the complex health care system, Buttigieg's pitch is that Americans should make that decision for themselves — the only choice no longer on the table will be the choice to stay uninsured.
Buttigieg's approach, favored by candidates pursuing moderate Democrats and swing voters wary of single-payer, has not yet confronted the same magnitude of opposition as Medicare for All. As Buttigieg steadies his position atop the polls, his campaign said it will continue to emphasize delivering universal coverage while maintaining people's choice.
Another open question is whether the public plan will attract enough people with job-based insurance to pave a "pathway" to Medicare for All, which Buttigieg champions as a reminder that while he supports the spirit of single-payer, there should be evidence Americans prefer a government-run plan before it's made compulsory.
But if enough people don't enroll in the public plan, critics warn, it could exacerbate existing disparities in quality of coverage, drawing low-income and sick Americans to the public program, which offers the same essential benefits as current plans on the Affordable Care Act exchange, while wealthier patients keep their private plans.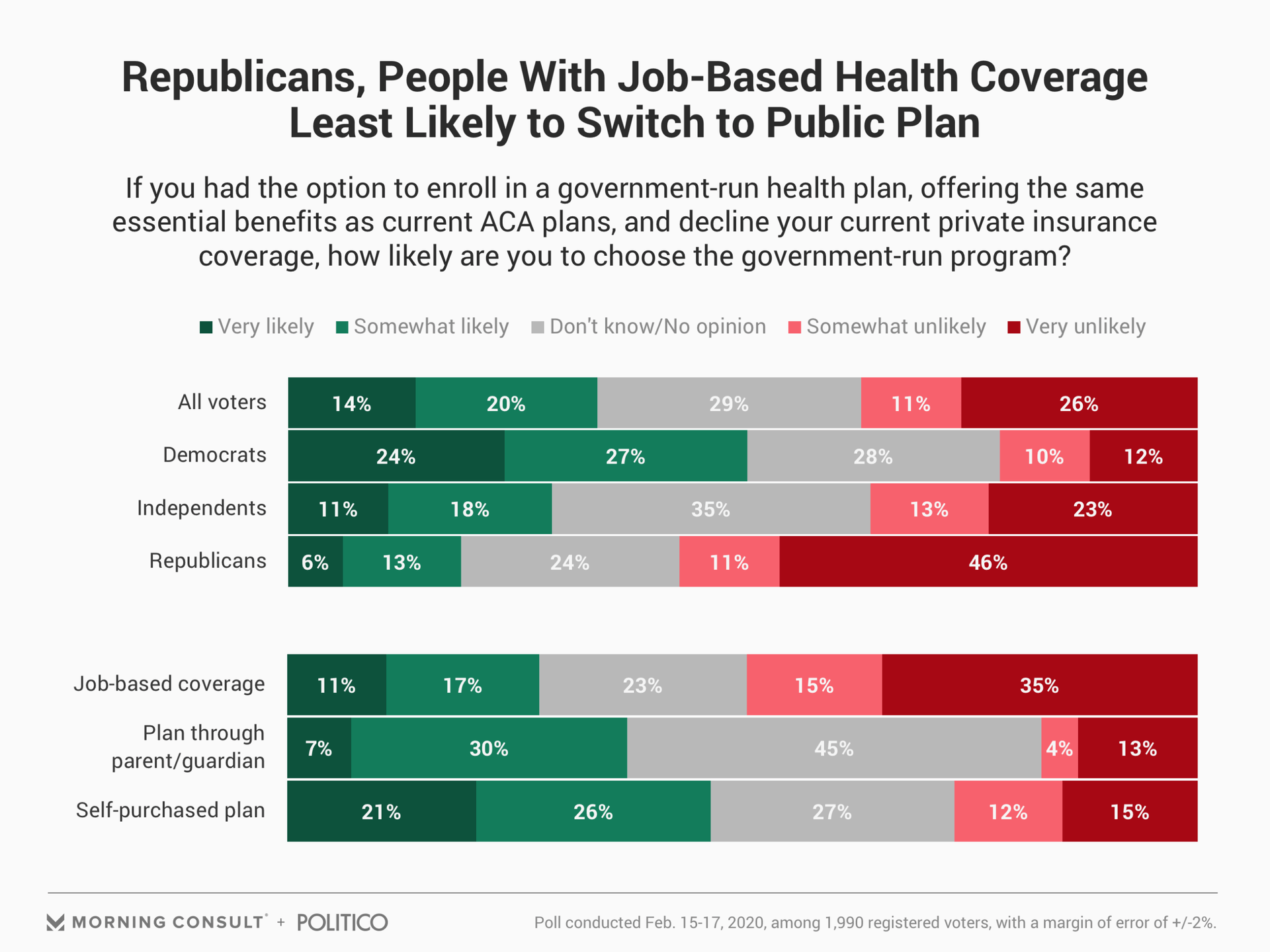 In the survey, 34 percent of voters said they were very or somewhat likely to choose the government-run plan over their private coverage — a figure resembling the Buttigieg campaign's own internal estimates, a spokesperson said. Among the 739 people with employer-sponsored insurance, that falls to 28 percent. (That subsample has a margin of error of 4 percentage points.)
An Urban Institute report modeling several different proposals found a plan similar to Buttigieg's — automatic enrollment in a public plan with enhanced subsidies — would motivate 10.2 percent of people with employer-sponsored insurance to switch.
Yusra Murad previously worked at Morning Consult as a reporter covering health.
We want to hear from you. Reach out to this author or your Morning Consult team with any questions or comments.
Contact Us