From the Host's Lips to the Audience's Ears: The Power of the Host-Read Podcast Ad
52% of podcast listeners said they're likely to take recommendations directly from podcast hosts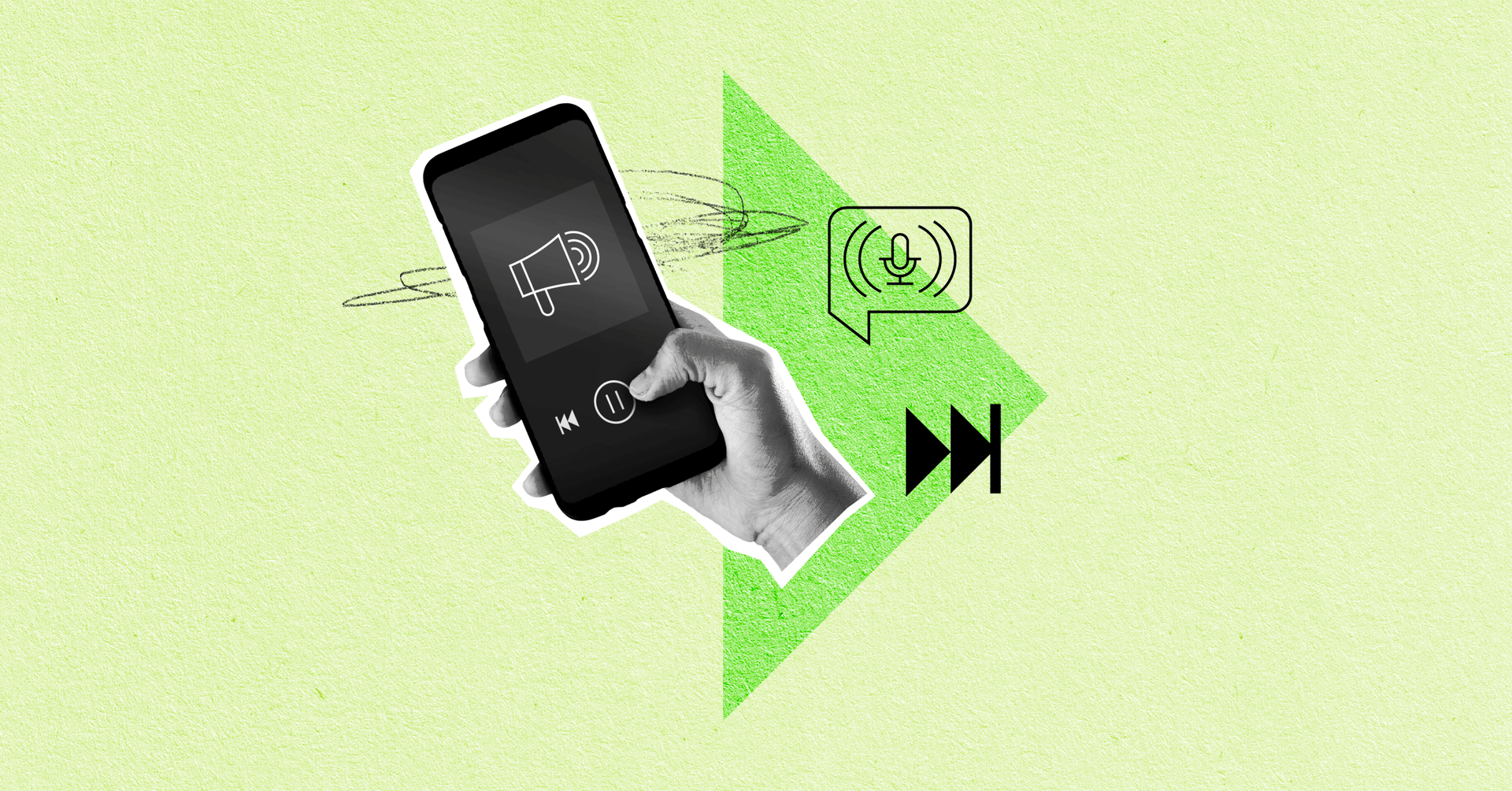 Read more stories about podcasting in Morning Consult's special report, 'The Public's Perceptions on Podcasts.'
"The presenting sponsor of 'Pod Save America' is ZipRecruiter," is a refrain that the political podcast's 2.5 million listeners hear every week. 
"It takes a special sort of person to dress up as a ghoul slash demon slash rodent for several hours every night and scare the crap out of people," starts host Jon Favreau, reading an ad for the job marketplace sponsor tied to hiring Halloween performers.
"But enough about Kellyanne Conway," cuts in host Tommy Vietor, right before the third host, Jon Lovett, adds, "I was going to say, 'And yet Stephen Miller wakes up and puts on a suit and does it every single day.'"
The guys laugh. Presumably, some of their millions of listeners do, too. 
Clearly, this was not the copy ZipRecruiter provided to the Pod Save America hosts, but companies who take a chance on a host-read ad are making the smarter move, according to Morning Consult data. With podcast ad spending expected to total $1 billion in 2021, per eMarketer forecasting, host-read ads appear to be one of the more effective ways for companies to cut through the clutter of ads consumers hear across platforms on a daily basis.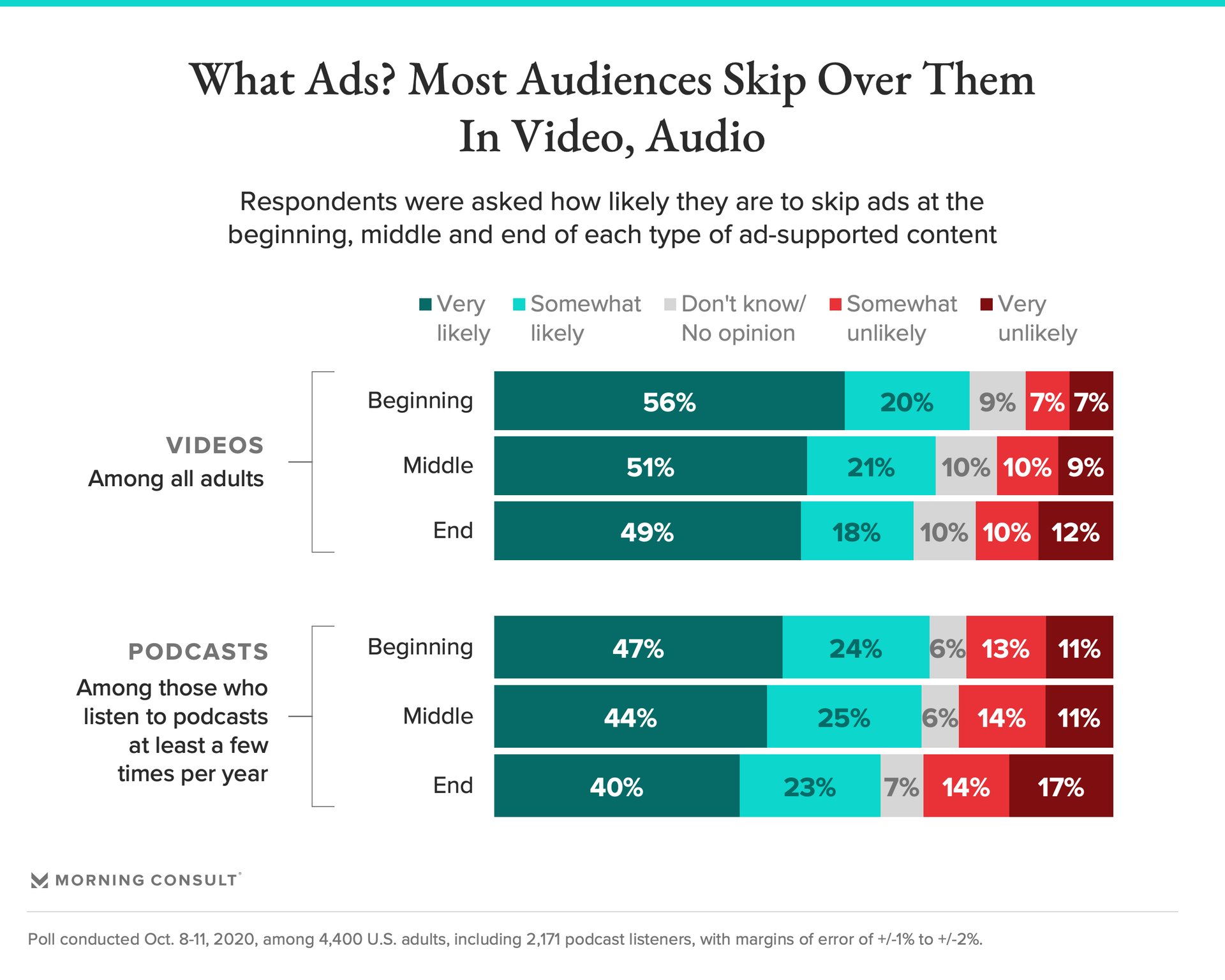 When it comes to traditional, pre-recorded ads on podcasts, listeners are likely to press the skip button. Among those who indicated they listen to podcasts at least a few times a year, 67 percent on average are likely to skip ads at the beginning, middle and end of a podcast, according to a Morning Consult survey. The Oct. 8-11 poll was among 4,400 U.S. adults, including 2,171 podcast listeners.
While that number is slightly smaller than the share of adults on average who said they skip ads on video platforms such as YouTube (72 percent), it still indicates that pre-recorded podcasts ads might not be reaching most listeners.
When it comes to host-read endorsements on podcasts, however, the survey and conversations with major podcast companies offer a different story. 
More than half (52 percent) of podcast listeners said they're more likely to try a product or service if it's recommended by the host of their favorite podcast, up 17 percentage points from the share who said they're more likely to take a recommendation from a pre-recorded ad not read by the host. 
Men are more likely to take suggestions from the favorite podcasts hosts than women; millennials are most open to recommendations compared to other generations. 
"There's no technological answer I can give you for why host read ads are the best," said Krystina Rubino, head of offline growth marketing with a specialty in podcast advertising at marketing firm Right Side Up. "It's a human thing. The best ones are when the host and audience are super tight, but also when the hosts are super picky and don't take just any advertiser who comes along." 
Good podcast hosts command the full attention of listeners throughout the duration of their shows, and, perhaps more importantly, build enough trust among their audiences that listeners turn to them for purchasing suggestions. 
At Crooked Media, founded in 2017 by former Obama administration staffers Favreau, Lovett and Vietor, the ad sales team won't accept pre-produced ads at all, said Giancarlo Bizzarro, Crooked Media's head of sales and a former podcast ad buyer.
"If you want to run on the network, it has to be the hosts of the shows doing the reads," he said. "And they don't run products that they don't use."
With more than 1 billion total downloads and 12.2 million weekly downloads across 18 shows, Crooked Media is selective of the brands it sells ads to. And at a cost-per-thousand impressions, or CPM, of $30 for the majority of its shows, advertisers could pay up to $75,000 to have hosts give them a 60-second shoutout in the network's most popular podcasts. 
The strategy seems to be paying off for all parties, including listeners. 
"People reach out to us specifically and say they never skip an ad on 'Pod Save America,'" Bizzarro said. "I have listeners who write in and say they'll skip to the ads because they're hilarious."
Among news shows, host-read ads are less common, as their journalist hosts try to avoid giving endorsements, but other podcast genres embrace this model. The hosts of "My Favorite Murder," a true crime podcast that regularly holds a spot in the top 10 on Apple Podcasts and Spotify, can often be found reading sponsor's ads with various degrees of ad libbing. 
Brands that opt for host-read ads traditionally give podcasters at least some creative freedom, with some sponsors providing scripts that hosts may stray from, and others simply providing bullet points for hosts to mention as they see fit.
Despite thriving off of the host-read model alone, Bizzarro said Crooked Media has discussed the possibility of selling ads programmatically to be dynamically inserted — and eventually swapped for new ads — as opposed to having the host read the ads as they're recording the podcast. Some in the industry think that move could attract more advertisers who are used to that format. 
But ultimately, Crooked Media sees time and time again that their listeners, hosts and advertisers prefer the naturally read host endorsement.
Even through the pandemic, the podcast industry remained relatively strong. Streams and downloads dipped overall in March and April, but started to bounce back soon after. By May, eMarketer was still predicting growth in the second half of the year, with U.S. listeners on track to surpass 100 million this year. That trend is reflected in ad sales as well, podcast executives said, and some attribute the positive growth to the host read.
After a 40 percent drop in advertisers when COVID-19 first landed in the United States, comedy podcast network Headgum experienced "two of the biggest months we've ever had as a business" in September and October, said co-founder Marty Michael.
He theorized that the network's comedic host-read ads were especially attractive as listeners yearned for levity and content free of interruptions. 
"As consumers, we are masters at getting to the content we want and weeding through advertising, so the best way to break through is to serve ads as part of the content," he said.
At Acast, a global podcast company that offers hosting, analytics and monetization services to creators, and one of the pioneers of dynamic insertion in podcasting, existing advertisers doubled down on their investments in the space as lockdowns lifted, even as they slashed ad budgets for other platforms, said Nick Southwell-Keely, Acast's U.S. director of sales and brand partnerships. 
That's likely due to the nature of the relationship between podcast host and listener, he said.
"You're not going to listen to a podcast by accident," Southwell-Keely said. "People pay subscription services to avoid ads, but in podcasts, they're willing to engage with the ads. 
"A lot of brands and their agencies are seeing the opportunity in the podcast space," he said.
Alyssa Meyers previously worked at Morning Consult as a reporter covering brands and marketing.
We want to hear from you. Reach out to this author or your Morning Consult team with any questions or comments.
Contact Us