The Paycheck Protection Program Has Run Dry, and Voter Support for Government Aid to Many Industries Is Fading
Aid to small businesses and restaurants remains broadly popular
Key Takeaways
Net support for federal government aid to small businesses dropped 6 percentage points from last March, to plus-73 in a new survey.

Net support for technology companies fell 22 points over the past 14 months, to minus-6.

55% of voters say the U.S. economy is still hurting and needs more stimulus.
By the time the Small Business Administration's Paycheck Protection Program ran out of money for most borrowers last week, it had distributed billions of dollars to companies across the country, providing much-needed aid to local economies as they ground to a halt last year amid the raging coronavirus pandemic.
Throughout the PPP's lifespan, the ideas behind it have resonated with voters. But over time, voter backing for the federal government aid to certain industries has decreased nearly across the board, although assistance to some businesses remains popular, a new Morning Consult survey shows.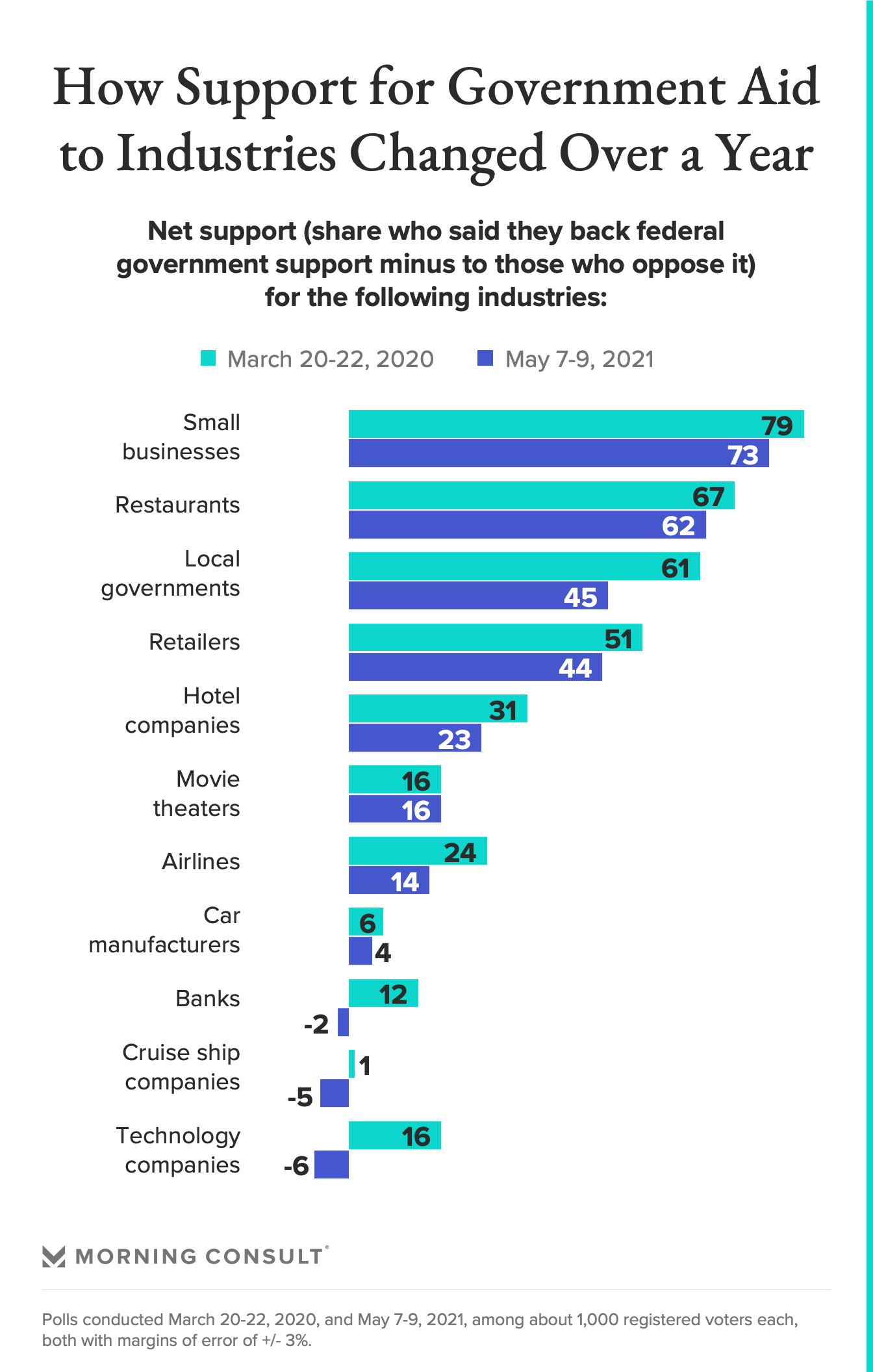 For small businesses -- the sector with the highest levels of voter backing for government pandemic aid -- net support (the share in support minus the share opposed) dropped 6 percentage points from March 2020 to May 2021. In the restaurant business, support has fallen 5 points.
Overall, support for government aid to small businesses and restaurants had backing in the new survey from 82 percent and 77 percent of voters, respectively.
The surveys, conducted March 20-22, 2020, and May 7-9, 2021, each polled about 1,000 registered voters and have 3-point margins of error.
Many other industries and sectors saw double-digit declines in net support over the past 14 months.
Net support for local government aid, a major point of contention between congressional Republicans and Democrats during economic aid negotiations during the Trump administration, fell 16 points between the two surveys. Technology companies, beleaguered by major reputation hits over the past year, experienced the largest drop in net share, from plus-16 in net support in March of last year to minus-6 this month, a decline of 22 points. 
Net support for other hard-hit industries during the coronavirus pandemic also dropped substantially: Hotel companies saw an 8-point drop in net support and airline companies' net support for federal aid fell 10 points.
While support on an industrywide basis has fallen, U.S. voters still largely believe that the economy needs a boost. More than half (55 percent) agreed that the country's economy is still hurting and needs more stimulus from Congress to recover quickly, compared to the 31 percent who feel that the country's economy is recovering quickly and doesn't need additional assistance from Congress. 
Between the two choices, results were split among Republican voters: 43 percent said the economy doesn't need more assistance, while 42 percent said that it does.
Democrats were more likely to say that the economy needs more assistance (68 percent) compared with 22 percent who said it doesn't need more, while independent voters were also more likely to say more economic help is needed, 51 percent versus 31 percent. 
Correction: A previous version of the chart titled "How Support for Government Aid to Industries Changed Over a Year" mislabeled the data for 2020 and 2021.
Claire Williams previously worked at Morning Consult as a reporter covering finances.
We want to hear from you. Reach out to this author or your Morning Consult team with any questions or comments.
Contact Us