Public Supports Solar Mandates in States
Majority of adults in poll also say they would consider installing solar panels on their house
Key Takeaways
58% of U.S. adults would think about adding solar to their home.

Westerners are 16 points more likely than those in the Northeast to say they'd mull installing residential solar.
A majority of American adults would be in favor of their state requiring solar installations on new homes -- a show of support for policies that, if enacted, could raise the price of new homes as well as their resale value.
Sixty-three percent of respondents would support such a state mandate, according to a June 14-18 Morning Consult poll.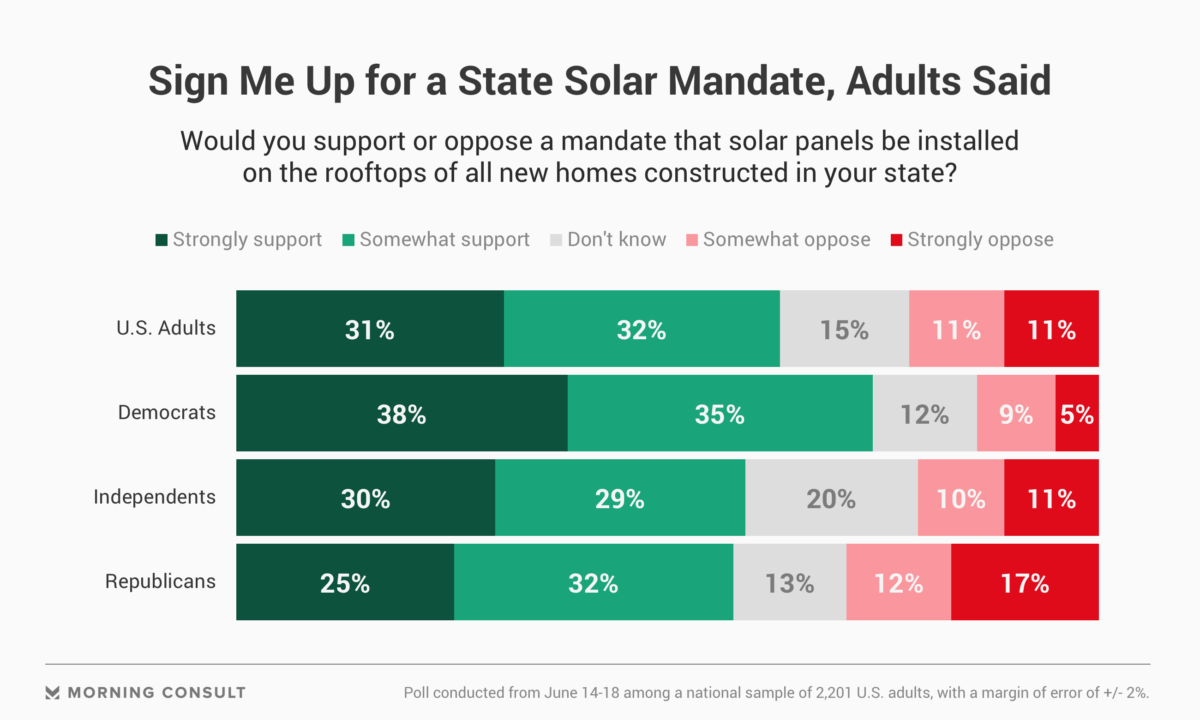 "That's shockingly good," said Tom Werner, chief executive and chairman of the board of directors of SunPower Corp., in an interview last week. SunPower, headquartered in San Jose, Calif., and an affiliate of Total Solar International SAS, designs and manufactures solar cells and panels and installs solar systems globally.  
The first and only such U.S. mandate that houses be built with solar was adopted in California in May, when the California Energy Commission voted unanimously to adopt new building standards that would require most new homes constructed in the state to be built with solar panels starting in 2020.
However, beyond California, there don't appear to be other states with any similar initiatives in the works, Dan Whitten, vice president of communications at the trade group Solar Energy Industries Association, said in an interview last week. Whitten added that such a policy might not be right for every state.
Support for a state home solar mandate was strongest among Democrats, at 73 percent, with 57 percent of Republicans saying they would support one.
Housing Costs
Separate polling from May 25-31 indicated a strong show of support for solar, with 58 percent of U.S. adults saying they would consider installing solar on their houses. Other respondents were closely split between those who said no (22 percent) and those who were unsure or without an opinion (20 percent).
"It's pretty encouraging, especially since it's not a 58/42 split," said Whitten. More than two-thirds of those who expressed an opinion, Whitten noted, said they were interested in solar.
Both the May and June surveys polled 2,201 adults and have a margin of error of 2 percentage points.
People said they would consider solar even as 53 percent said in May that it's harder for first-time homebuyers to afford a home now than it was five years ago. Only 14 percent said it is less difficult now, and another 18 percent said it's about the same.
Members of the National Association of Home Builders are concerned about the California solar mandate, said Michael Neal, the group's assistant vice president for forecasting and analysis, in an interview last week. The association expects the requirement to raise house construction costs and home prices and to impact first-time and entry-level homebuyers most dramatically, he said.
California's solar requirement is happening at a time when "millennials are supposed to personify this unleashing of pent-up demand," said Neal. "They're now going to be facing these higher house prices."
Still, California homeowners with solar panels will likely be able to offset some of those higher costs due to energy cost savings from the technology, he said. Saving money on energy bills was the top reason people selected for why they would consider installing solar panels, with 88 percent picking that option, according to the May poll.
But high levels of voiced support for solar do not always translate directly into new business for solar installers. Whitten said polling typically shows that most people like solar. "And then as you go into deeper levels of commitments, the numbers start to fall," he said.
Excitement over the prospect of solar also varies by region: 64 percent of residents in the West, as designated by the U.S. Census Bureau, said in the May poll that they would consider installing solar panels on their houses, compared to 48 percent of those polled in the Northeast.
Werner attributed the difference mostly to the amount of sun in each region and to state policies. But Whitten said it might be showing how people perceive the value of solar in those regions "and probably means we need to do a better job in the Northeast of making that case for solar."
In 2017, annual U.S. residential solar market investment -- or installed capacity multiplied by the average price of solar -- stood at more than $6.52 billion, according to data from GTM Research at Wood Mackenzie Ltd., a market analysis and advisory group.
Annual investment is projected to slow its pace to a little over $6 billion in investment in 2018 and $5.97 billion in 2019, the data indicates, before picking up in subsequent years. In an email on Friday, a spokesperson for SEIA attributed the drop in part to quickly falling solar prices.
Jacqueline Toth previously worked at Morning Consult as a reporter covering energy and climate change.
We want to hear from you. Reach out to this author or your Morning Consult team with any questions or comments.
Contact Us