Belief in QAnon Wavers Slightly Among Adults After Capitol Riots, Inauguration
After group's prophecies failed to pan out, small share of QAnon believers begin to jump ship
Key Takeaways
18% of those who had heard of QAnon said they believed the group's claims were at least somewhat accurate, down 6 points since October.

24% of Republicans who had heard of QAnon said they believe QAnon's claims, a 14-point decrease from the 38% who said the same in October.
In QAnon's belief system, President Joe Biden's inauguration was never supposed to happen, with many anticipating former President Donald Trump would've found a way to maintain power and arrest Democrats for running a human trafficking ring.
But now that those beliefs have been shattered, a small share of adherents might've gotten the wake-up call they needed to leave the group's lies behind, a recent Morning Consult survey suggests.
Belief that QAnon's claims are at least somewhat accurate dropped 6 percentage points among all adults who had heard of the group to 18 percent in a Jan. 28-30 poll, from 24 percent in October. A slightly smaller share (14 percent) said the same thing in a Jan. 8-11 survey -- shortly after the Jan. 6 attacks on the U.S. Capitol building brought on by many QAnon believers and members of extremist groups.
Among Republicans who have heard of QAnon, that drop was steeper, with 24 percent saying QAnon's claims are at least somewhat accurate -- a 14-point decrease from the 38 percent who said the same in October.
The Jan. 28-30 survey was conducted among 2,200 U.S. adults and has a 2-point margin of error. The margin of error for the sample of adults who have heard of QAnon is 3 points.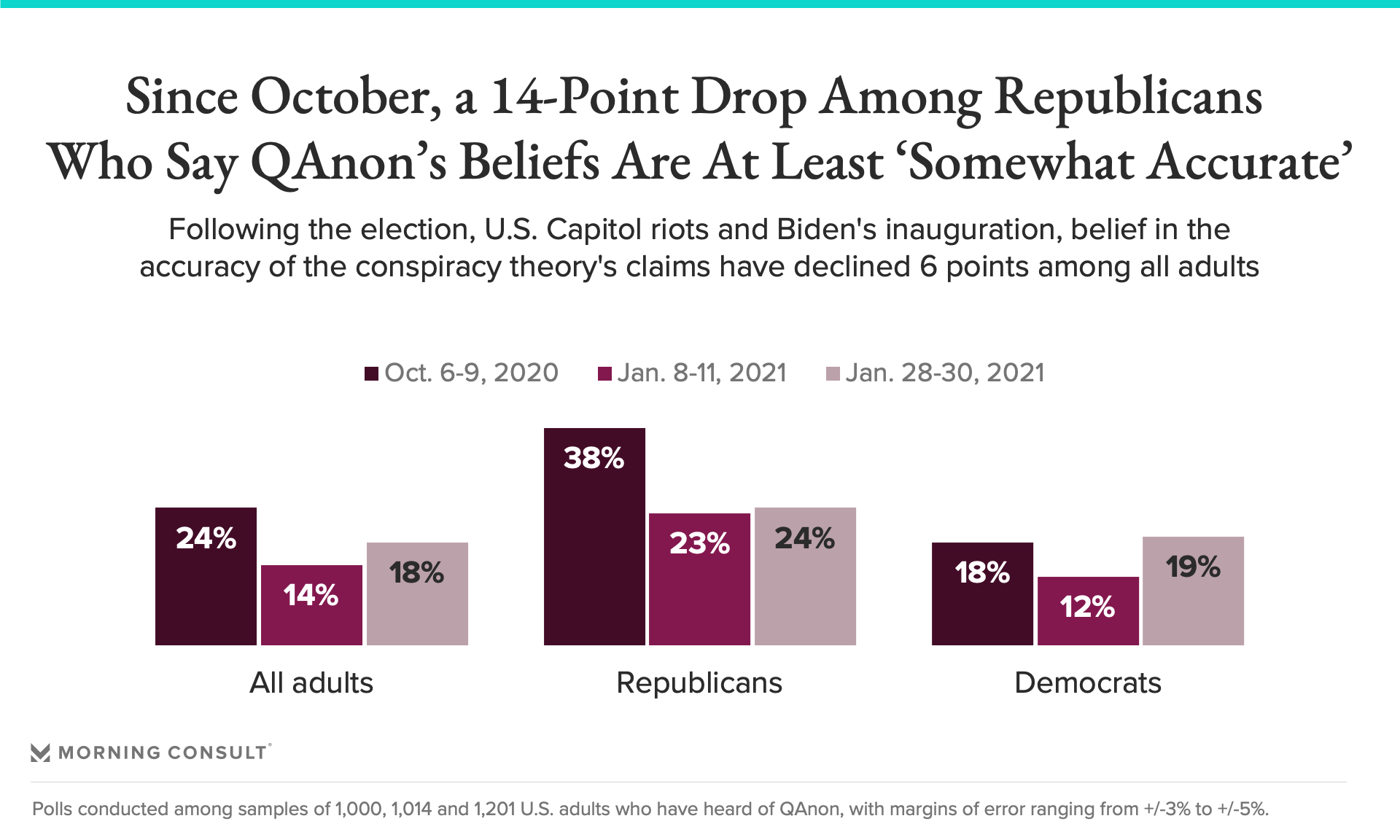 While shares of those who believe in the conspiracy theory have dwindled, awareness has grown. Thirty-six percent of adults said in the latest survey that they had heard either "a lot" or "some" about QAnon, compared to 27 percent who said the same in October of last year.
As awareness has soared following the Capitol attacks and Biden's inauguration, social media companies have started to crack down further on the sources of QAnon information in an effort to keep more people from being exposed to its beliefs, including through bans or temporary restrictions on Trump's ability to use their platforms.
Facebook has also said it will no longer recommend political groups for users to join, with The Wall Street Journal reporting that the company's own internal data indicates that 70 percent of its top 100 "civic" groups have been hotbeds for misinformation and violence.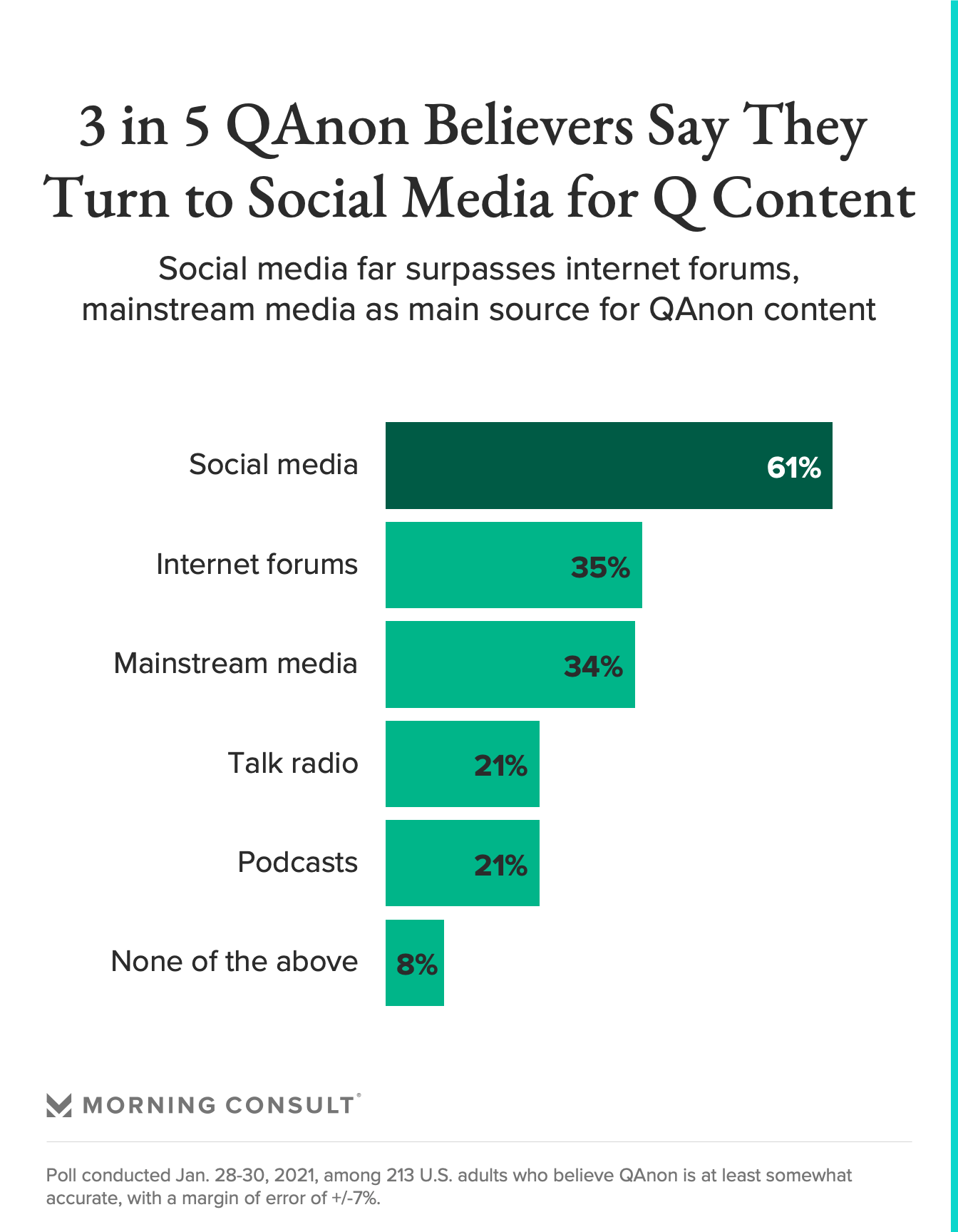 Focusing energy on moderating QAnon's social media forums seems to be the most fruitful approach to stemming the tide of misinformation. Sixty-one percent of the 213 adults who said they believe QAnon's ideas are accurate said they got their information about the group from social media, compared with 35 percent who pointed to internet forums and 34 percent who cited the mainstream media.
But Angelo Carusone, president of Media Matters for America, a media watchdog that monitors "conservative misinformation," said many of the measures taken by mainstream social media sites appear to be reactionary and not preventive, an approach that he said falls short of fully combatting the growth of QAnon and other extremist groups.
"If they focused on more of the prevention work, we wouldn't have to always go through these banned boom-and-bust cycles," Carusone said. "Because of the mass exoduses that they started to create, it doesn't mean that those people disappeared. They're still organizing."
Many predict that QAnon believers aren't going anywhere long term. Fifty-four percent of survey respondents -- and 55 percent of those who positively engage in QAnon content -- said that even if the group's central theories are disproven, they expect adherents to keep believing in the movement.
The share of adults who said they believe the spread of QAnon theories on social media is a major problem has also increased since October, with 47 percent saying so in the latest survey compared to 40 percent previously.
While the number of believers seems to be wavering slightly, Carusone is still worried about what will happen now that Trump, who was seen as a central authoritative figure to the group's theories, is out of office and they're without a clear public figurehead.
"You now have a lot of people who are basically just raw nerves exposed, that really still believe that the threat exists, but no longer believe that there's anything there that can protect them from it," he said. "Therefore, they are then obligated to take matters into their own hands." 
Sam Sabin previously worked at Morning Consult as a reporter covering tech.
We want to hear from you. Reach out to this author or your Morning Consult team with any questions or comments.
Contact Us