Nearly 2 in 5 Say Social Media Companies' Decisions to Temporarily Suspend Trump's Account Are 'Exactly Right'
And 37% say the president should be banned from social media if he's spreading election misinformation
Key Takeaways
50% of adults said Trump's social media accounts should've been suspended earlier.

69% of Republicans said some of the companies' suspensions went "too far," while 43% of Democrats said they "don't go far enough."
After years of relying on mainstream social media companies like Twitter Inc. and Facebook Inc. to distribute his unfiltered messages to the American people, President Donald Trump's relationship with those platforms was completely dismantled in a matter of days when company after company announced they'd either temporarily suspend or effectively ban his accounts. 
According to a new Morning Consult survey, the social media platforms appear to have the backing of a plurality of the public, with 39 percent of adults saying that moves to temporarily suspend the president to ensure a peaceful transition of power are "exactly right." 
However, support varies widely across party lines: 69 percent of Republicans said the suspensions, which changed to permanent bans for some platforms after the survey went into the field, went "too far," while 43 percent of Democrats said the moves "don't go far enough."
Half of all respondents also said that they believed Trump's social media accounts should have been suspended by the platforms earlier, while 26 percent said they should've never been suspended and 12 percent said they were suspended at the right time. 
The survey was conducted Jan. 8-11 among 2,200 U.S. adults, entering the field shortly before Twitter's permanent suspension was announced Friday evening and a chain of tech companies began to remove Trump from the platforms and other companies affiliated with radical supporters of the president over the weekend. The survey has a margin of error of 2 percentage points.
Trump's relationship with mainstream social media companies reached a tipping point last week after a mob of his supporters stormed the U.S. Capitol building -- resulting in at least five deaths -- to stop the certification of the 2020 presidential election results. For most of his presidency, Trump has refused to denounce violent acts from extremist supporters, many of whom believe a QAnon-linked conspiracy that there will be a "Great Awakening" where lawmakers are arrested and executed in a public forum. The attacks Wednesday involved both those who follow QAnon, as well as members of militia groups like the Proud Boys.
Twitter responded by permanently banning Trump for repeatedly violating its policies against inciting or glorifying violence, while Facebook has said it has indefinitely suspended the president at least through Inauguration Day on Jan. 20. Facebook, Twitter and YouTube also removed a video response Trump published on his accounts while the attacks were ongoing where he repeated accusations that the election was stolen but told rioters they needed to go home and that "we love you, you're very special." 
Consequences for spreading election misinformation
In addition to a plurality in the Morning Consult survey saying that the moves to temporarily suspend the president were "exactly right" following last week's violent attack, 37 percent said Trump should be permanently banned from social media if he spreads election misinformation online, including for sharing content questioning the outcome of the 2020 presidential election -- the largest share among any of the 12 public figures and institutions tested. 
That share is much lower among Republicans, with 15 percent saying Trump should be permanently banned for spreading election misinformation. Forty-six percent said he shouldn't be suspended or banned, and a quarter said he should be temporarily suspended.
"A politician" ranked second, with 29 percent saying he or she should be banned for spreading such information.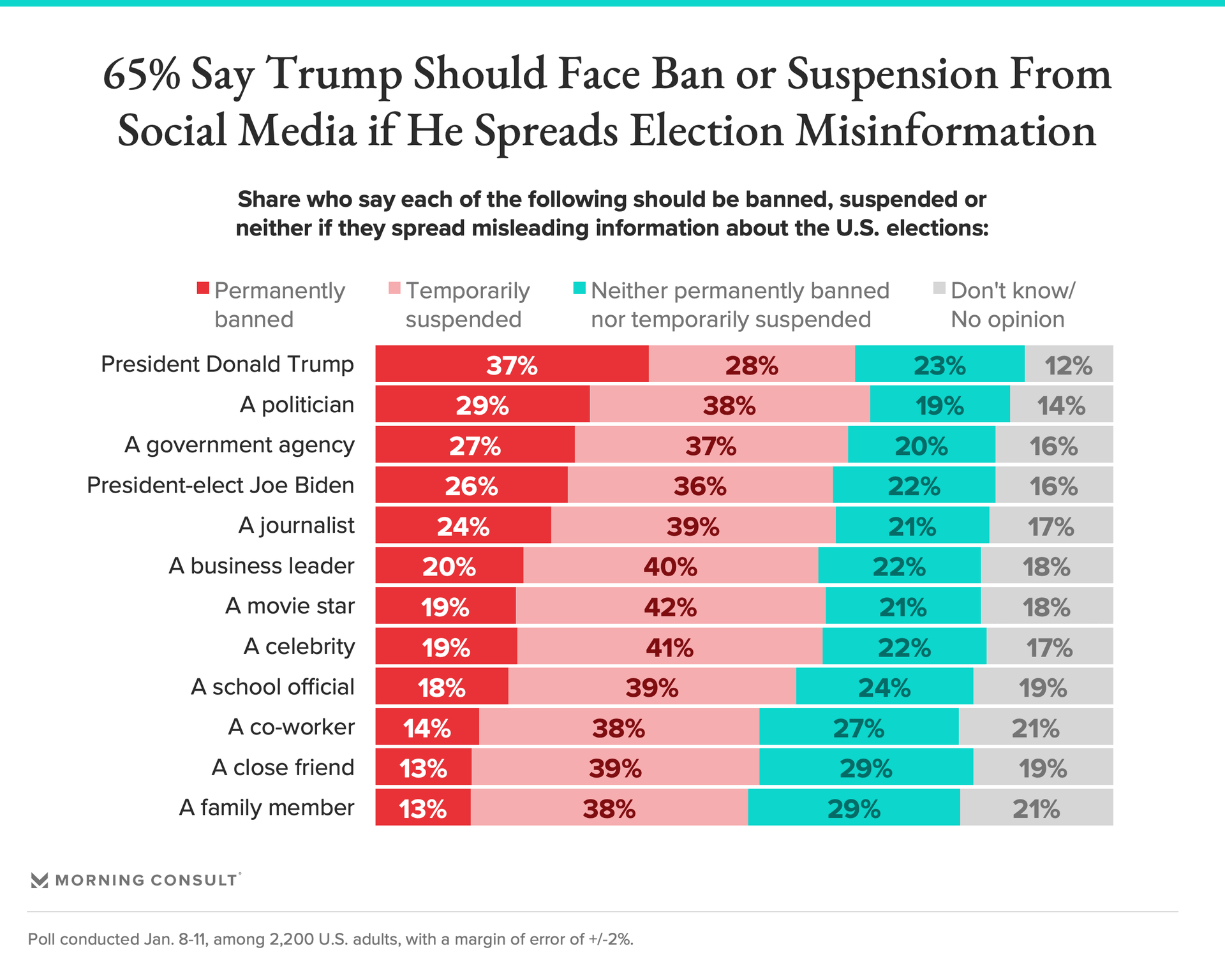 But Trump isn't the only one feeling the fallout from Wednesday's events. Social media companies are also preparing to face a barrage of Washington scrutiny for their collective failure to crack down on the posts shared weeks ahead of time planning violence. Rioters were reportedly publicly talking about their plans across both fringe and mainstream social media sites, including Facebook, Twitter, Reddit, TikTok and Parler. 
Nearly half of the respondents (47 percent) also said that social media companies do a "poor" job of preventing the spread of content from terrorists or militia groups, which would include the Proud Boys. 
The share of adults who say the spread of conspiracy theories, including those promoting QAnon, through social media is a "major problem" has jumped 16 percentage points, to 56 percent in the January survey from 40 percent in an Oct. 6-8 poll.
With Democrats controlling both Congress and the White House later this month, continued antitrust crackdowns and possible reform of Section 230 of the Communications Decency Act, which affords online platforms both liability protections for what their users post and the ability to regulate "objectionable" content on their sites, are sure to gain more steam following the Capitol Hill attack.
So far, a majority of adults (65 percent) have either heard not much or nothing at all about Section 230, with that response remaining within the margin of error among both Democrats and Republicans. 
However, adults still believe that the user who originally posts an item spreading ideas from terrorists or militia groups are most legally responsible for its impact, with 50 percent saying they're "always legally responsible" for the content compared to 29 percent who said the same about both the social media platforms and the users who subsequently share the post. 
Sam Sabin previously worked at Morning Consult as a reporter covering tech.
We want to hear from you. Reach out to this author or your Morning Consult team with any questions or comments.
Contact Us